XTB is a Forex and CFDs broker that provides a platform for trading foreign exchange (forex) currency pairs, indices, oil, precious metals, agriculture commodities, and CFDs (Contract For Differences) on stocks and ETFs (Exchange-Traded Fund).
XTB was established in 2002 as X-Trade in Warsaw, Poland and became XTB in 2004. The broker is regulated by the UK Financial Conduct Authority and other financial regulators in Cyprus and Belize.
In our review of XTB, we examine the trading conditions, fees, payment methods, deposit/withdrawals, tradable instruments, trading platforms and customer support of the broker.
XTB Review Summary
Broker Name
XTB United Kingdom
Establishment Date
2002
Website
www.xtb.com
Address
XTB Limited, Level 9, One Canada Square, Canary Wharf, E14 5AA, London, United Kingdom
Minimum Deposit
£0
Maximum Leverage
1:30
Regulation
FCA, CySEC, FSC Belize
Trading Platforms
MT4 and XTB xStation 5 available on PC, Mac, Web, Android, & iOS
Visit XTB
XTB Pros
Regulated in the UK
Offers commission-free account
Has negative balance protection
Fast processing of deposits and withdrawals
XTB Cons
Does not have 24/7 customer support
Charges dormant account fees
Does not offer professional accounts
Is XTB a good broker?
XTB is the trading name of XTB Group, which is regulated in different jurisdictions under different names. The various regulations of XTB make them trustworthy and safe for traders in the UK.
Here are the regulations of XTB in different countries.
1) Financial Conduct Authority (FCA): XTB is regulated by the FCA as 'XTB Limited' and authorised to offer financial services in the UK, with reference number 522157, issued in. UK traders are registered under this registration.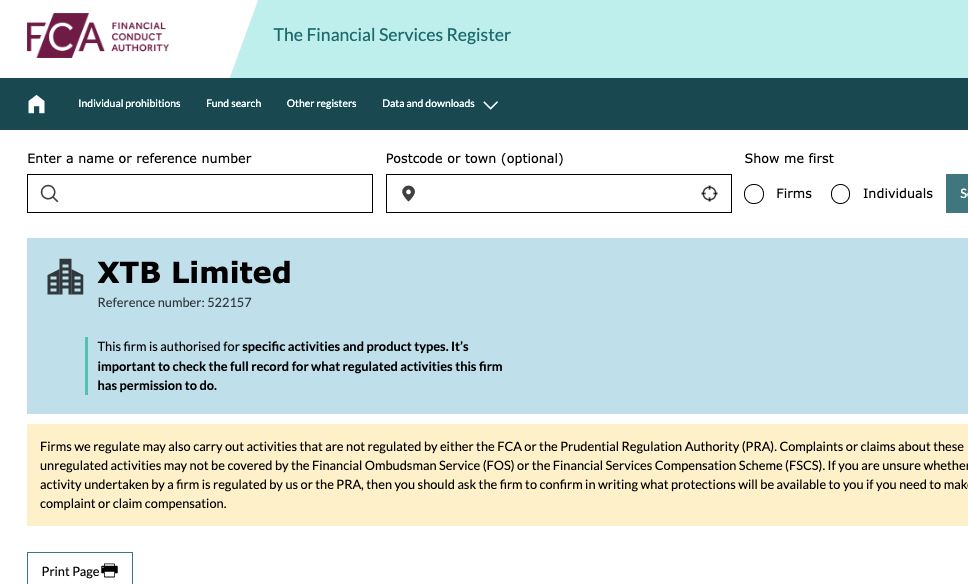 2) Cyprus Securities and Exchange Commission (CySEC): XTB is regulated in Europe by CySEC and licensed to offer investment services under the name 'XTB Ltd', with license number 169/12, issued in 2012. XTB serves clients in the EU area through this license.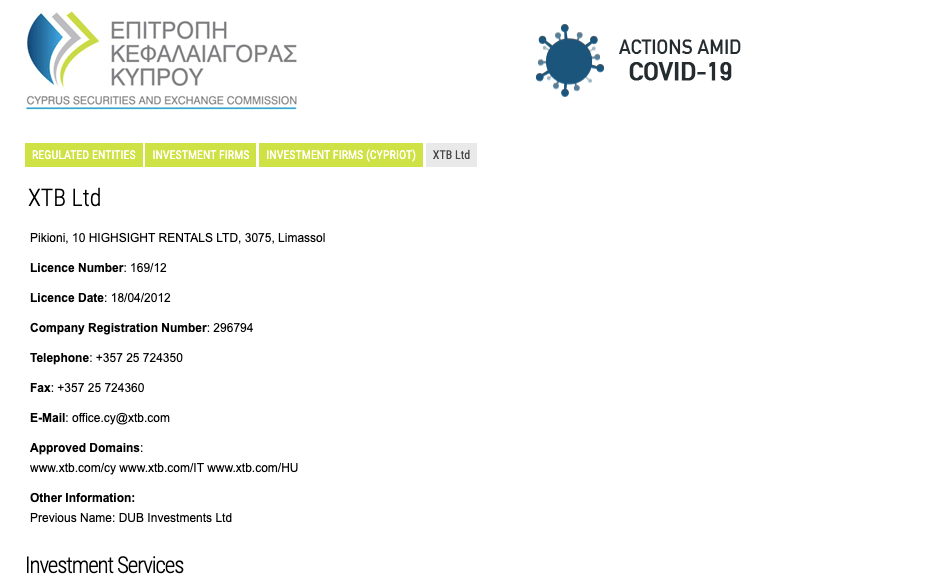 3) Financial Services Conduct Authority (FSCA), South Africa: XTB is regulated in South Africa as XTB Africa Pty Ltd by the FSCA and authorised to provide financial services, with FSP (Financial Services Provider) number 49970, issued in 2021.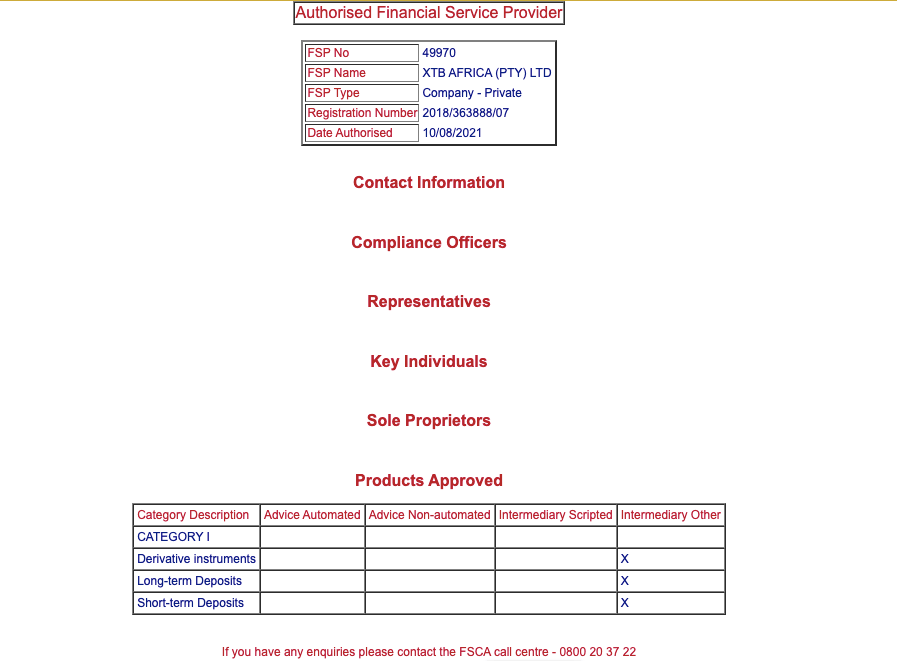 4) Financial Services Commission (FSC), Belize: XTB is licensed in Belize as XTB International Limited, through which the broker serves clients outside the UK and EU area.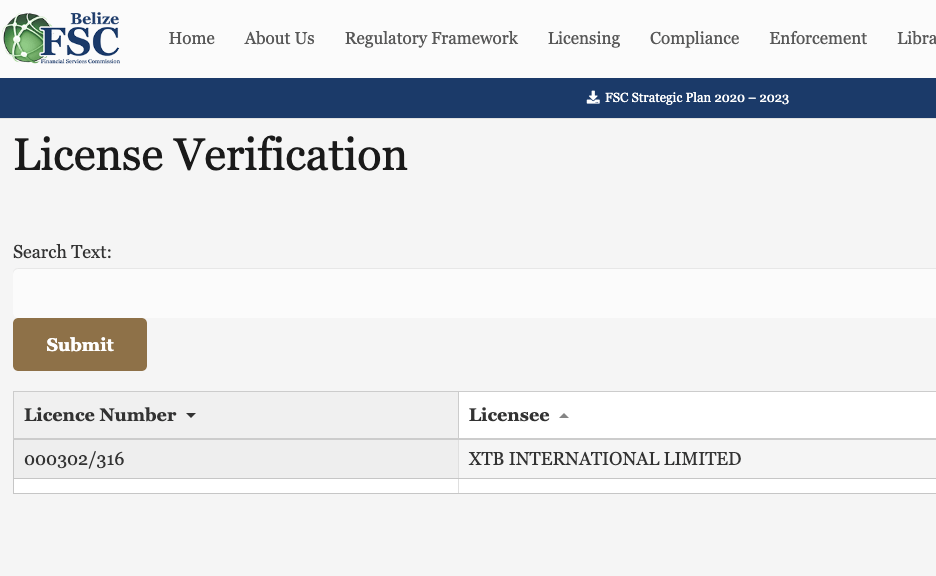 5) Dubai Financial Services Authority (DFSA): XTB is licensed in the United Arab Emirates as XTB MENA Limited. The broker was licensed in 2021 under DFSA reference number F006316. Their range of operation in the country includes carrying on authorised financial services with or for retail clients

XTB Leverage
Leverage on XTB depends on the instrument you are trading. The maximum leverage on XTB is 1:30, which means that you can open a trade position worth up to 30 times the value of your deposit.
For example, with a deposit of £1,000, you can place a trade worth £30,000. Note that the maximum leverage here is for major forex pairs and other instruments have lower leverage.
XTB Account Types
XTB offers only one account type for retail traders, with no option for professional traders. Although you can create a demo account on XTB and practice trading with virtual money before putting your real money into it, XTB does not offer swap-free Islamic Accounts to Muslim traders in the UK. You can get Islamic Account with XTB if you live outside the UK and EU area under the XTB International regulation.
Find an overview of the account type on XTB UK, below:
1) Standard Account: The XTB Standard Account is designed for retail traders who are new traders or not very experienced with trading financial instruments. This is the default account you get when you signup on XTB, and you can trade forex pairs, indices, commodities and CFDs on stocks and ETFs with it.
You do not pay any commission fees for opening or closing trade positions with this account, spreads start from 1 pip for major pairs like EURUSD, and you pay swap fees whenever you keep a trade position open past the closing time of the market.
There is no mandatory minimum deposit for this account although a minimum trade lot of 0.01 is required. This account has negative balance protection which means you cannot lose more than the money you deposited to the platform, so if a trade is unsuccessful, any negative balance will be reset to zero.
The maximum leverage for the Standard Account on XTB is 1:30 for major forex pairs; 1:20 for minor forex pairs, major indices, and gold; 1:10 for other indices and commodities; and 1:5 for stocks and ETFs CFDs.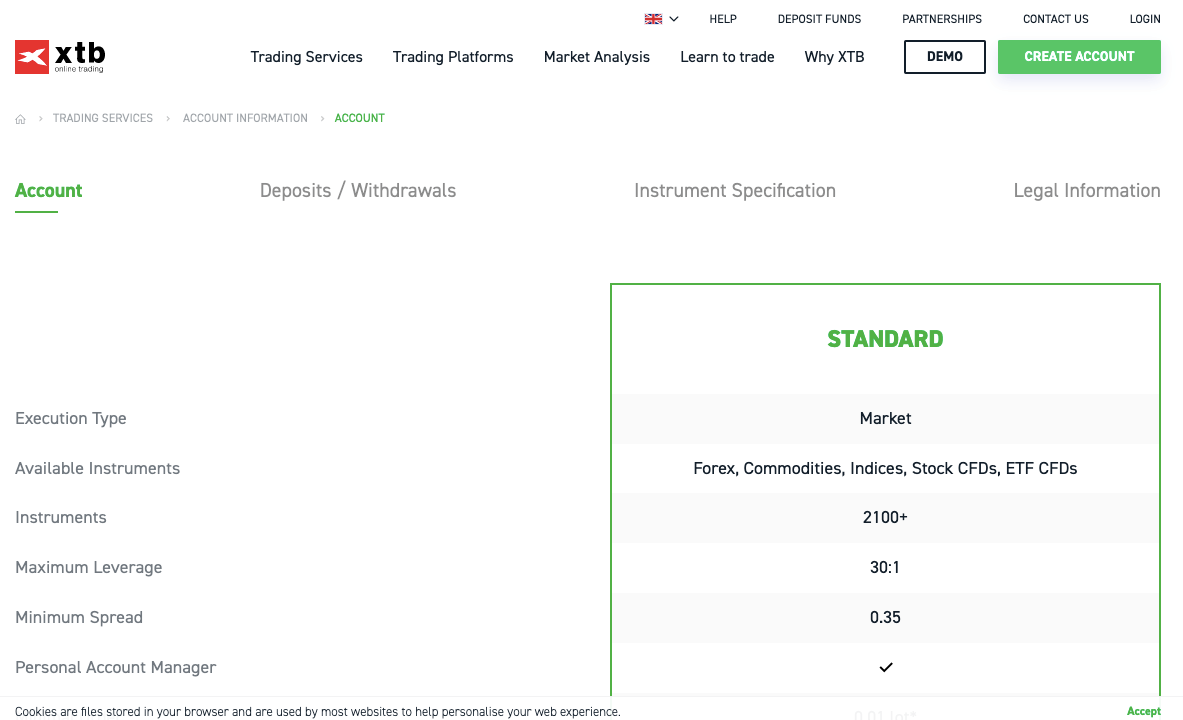 XTB Base Account Currency
XTB offers 3 account base currencies, which are Euros – EUR, British Pound sterling – GBP, United States Dollar – USD, and Hungarian Forint – HUF. Your trading account currency on XTB is used to measure your trades, deposits, withdrawals, and fees.
XTB Fees
Fees on XTB depend on the instrument you are trading, your account type, and how long you keep a trade position open. Find an overview of the trading and non-trading fees on XTB below:
Trading fees
1) Spreads: When you trade a financial instrument on XTB, the broker adds a markup to the ask price. The difference between the ask (sell) and bid (buy) price is called a spread, measured in pips. The spreads you pay on the platform depend on the financial instrument you are trading.
The minimum spreads for major instrument pairs on XTB are shown below:
| Instrument/Pair | Spreads |
| --- | --- |
| EUR/USD | 0.6 pips |
| GBP/USD | 1.7 pips |
| EUR/GBP | 0.9 pips |
| Gold | 0.3 pips |
2) Commission fees: XTB charges zero commission fees on trades. This means that whenever you open or close a trade position, you do not pay any commission fee except the spread.
3) Swap fees: Whenever you do not close a trade position before the market closing time of the instrument, it rolls over to the next trading day, and you will be charged swap fees or overnight funding costs. This fee is based on the instrument you are trading, its spread, the size of your trade, and whether your position is long (buy) or short (sell).
The market closing time varies for different instruments, while forex pairs are open 24 hours from Sunday 11 PM to Friday at 10 PM, some instruments' trading hours close at 5 PM and others at 10 PM.
Non-trading fees
1) Deposit and Withdrawal fees: XTB offers free deposits for bank transfers and cards, while e-wallets like Skrill incur a deposit charge of 2% of the transaction value. XTB does not charge any fees for withdrawal that meets the recommended minimum withdrawal, which is £60. Any withdrawals less than this amount will attract a withdrawal fee of £12
2) Account Inactivity charges: If you do not perform any trade on your account after 1 year, and no deposit has been made for 90 days consecutively, your account is categorised as inactive and inactivity charges of €10 will be incurred every month on any balance in your account.
How to Open XTB Account in UK?
Follow these steps to open a trading account on XTB.
Step 1) Visit the XTB UK website via www.xtb.com and click on the 'CREATE ACCOUNT' button highlighted in green colour.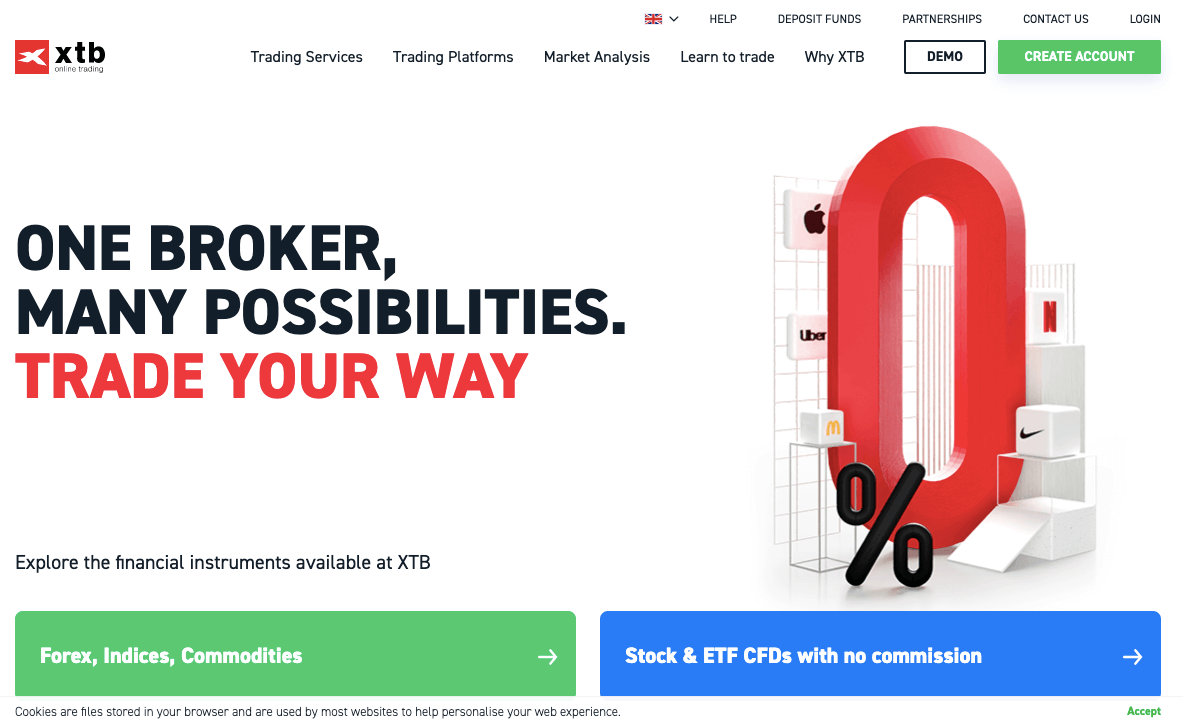 Step 2) Type in your email and check the boxes for data policy and consent to receive commercial information, then click 'NEXT STEP'.
Step 3) Create a password and click 'NEXT STEP'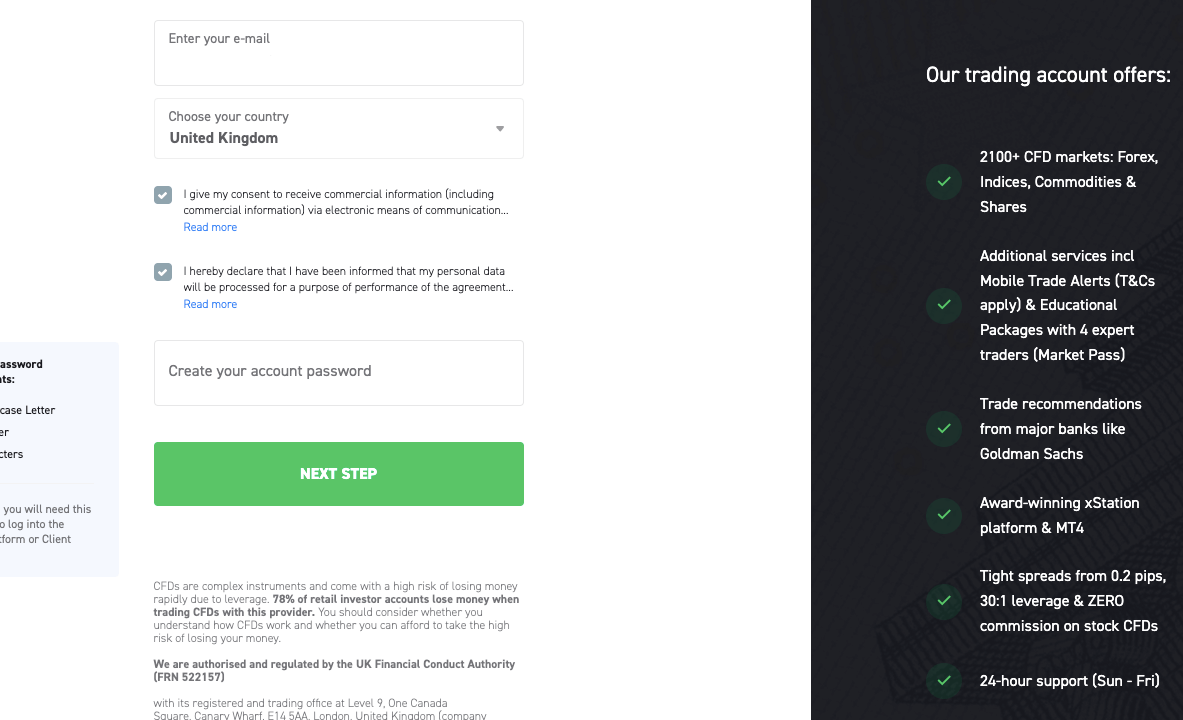 Step 4) Provide your full name, phone number, date of birth, and national insurance number, and check the box to indicate you are not a US citizen, then click 'NEXT STEP'.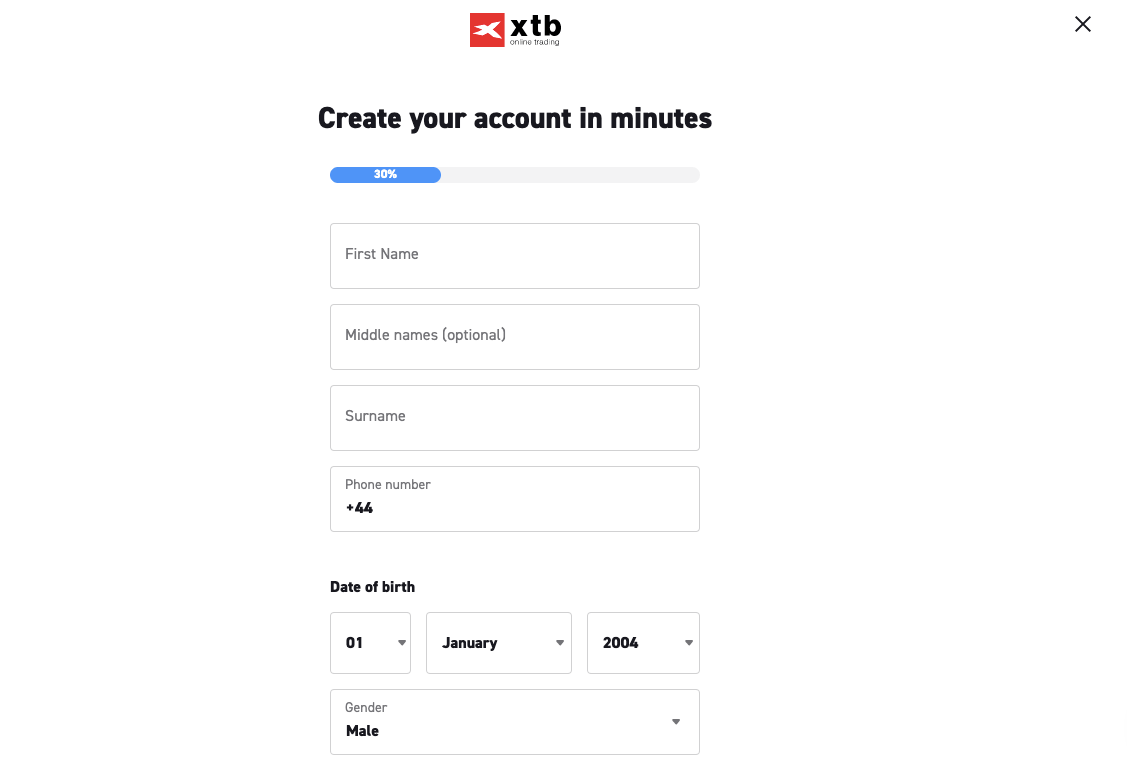 Step 5) Provide your residential address.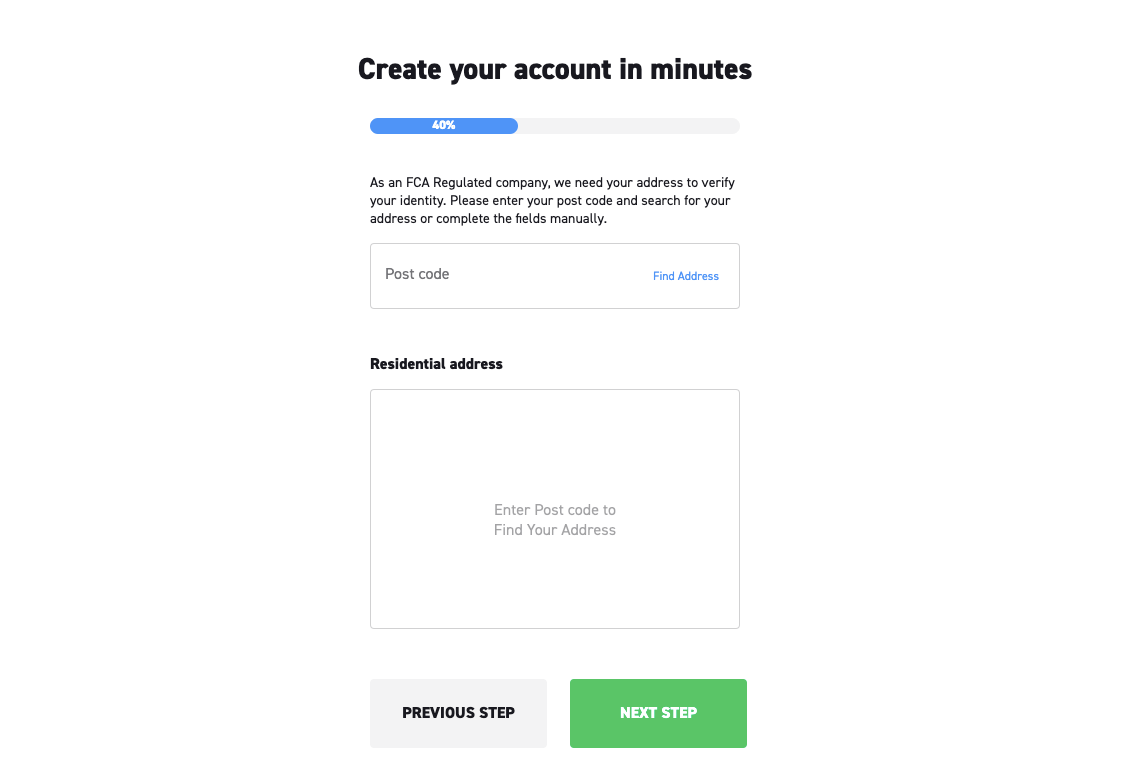 Step 6) Choose your preferred account currency.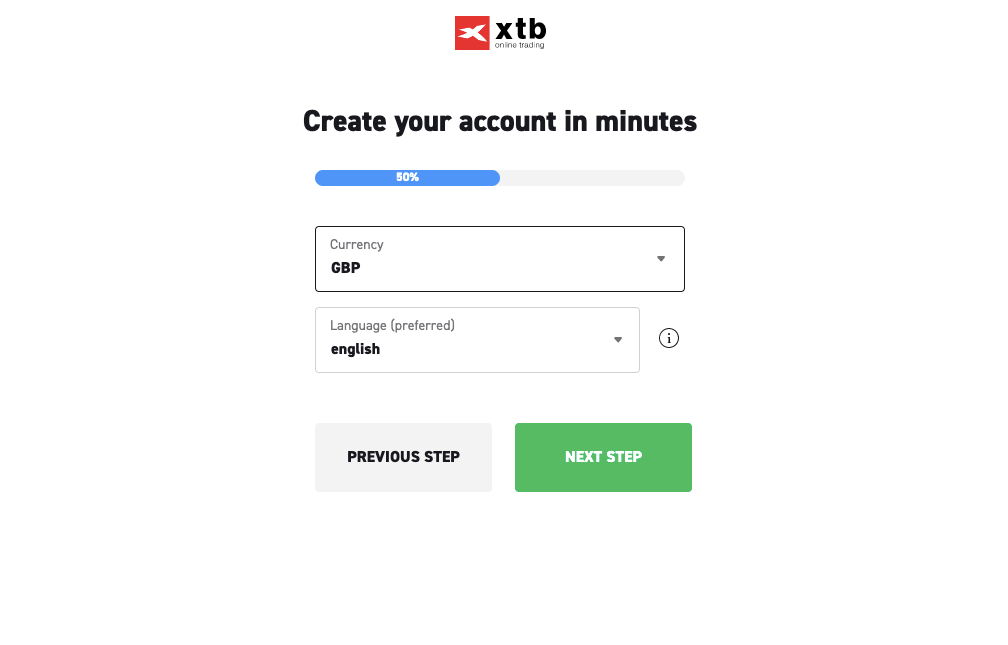 Step 7) Answer questions about your employment/financial status and experience/knowledge in trading financial markets then click 'NEXT STEP'.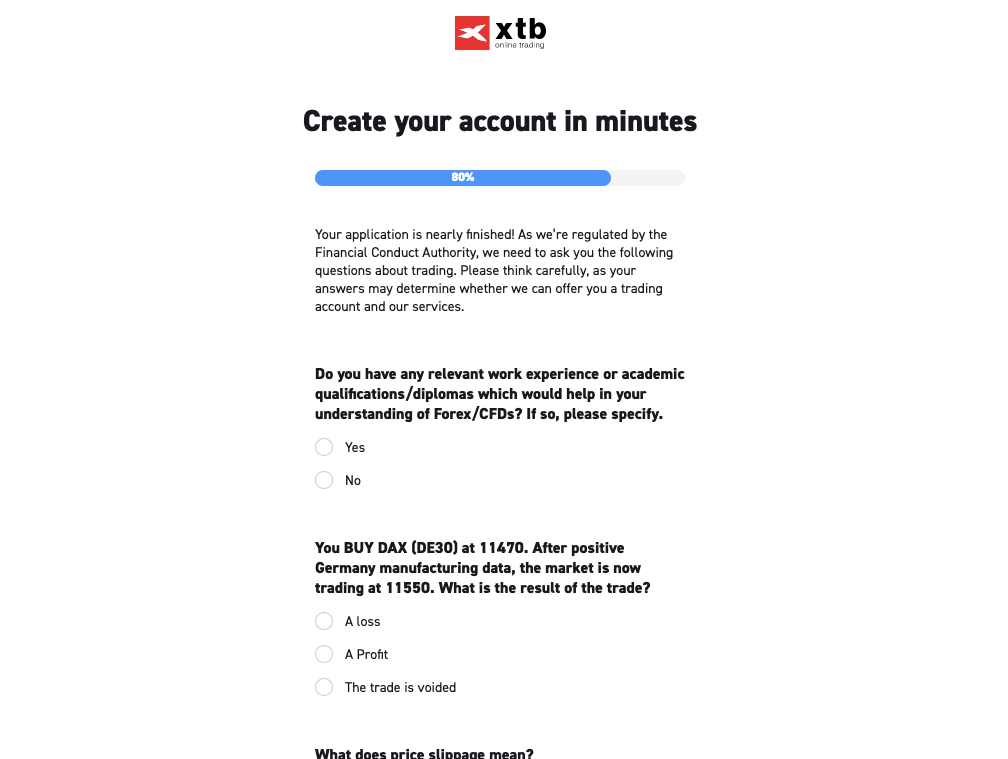 Step 8) Check the box to accept the terms and conditions of XTB, then click on 'NEXT STEP'.
Step 9) Click on the link sent to your inbox to verify your email, after which you will be redirected to the XTB website homepage, where you will need to log in to your 'Client office' and upload documents to verify your identity and address.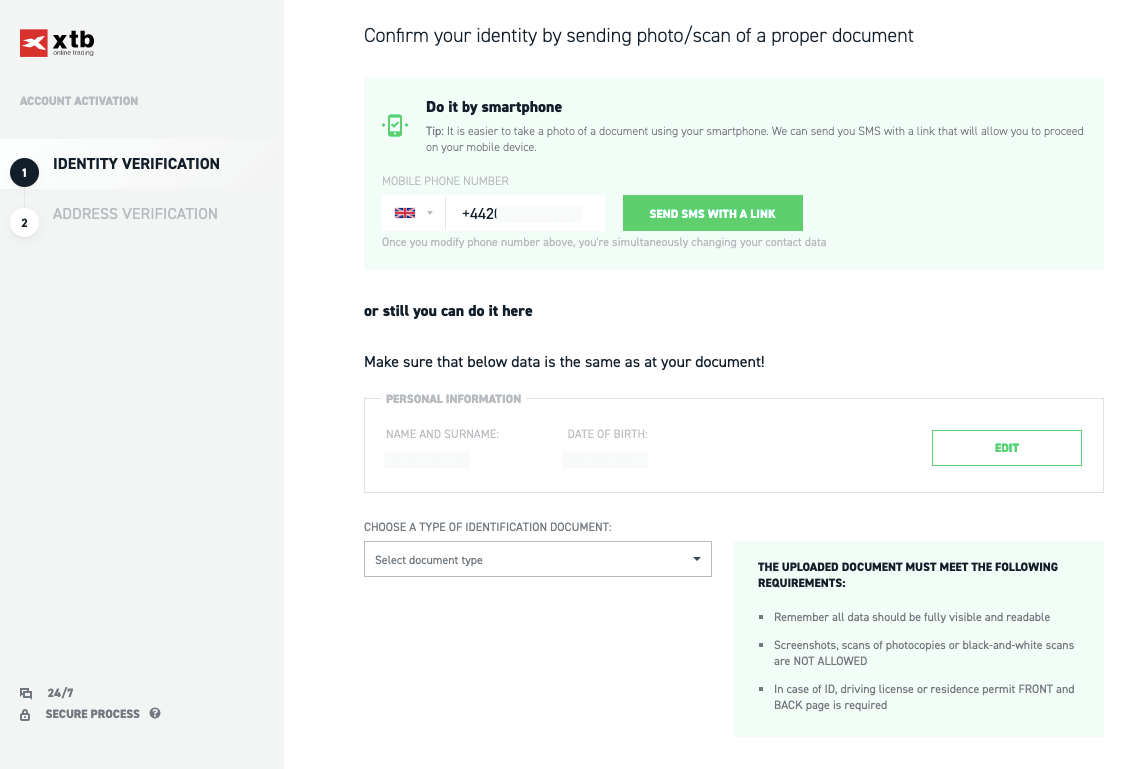 XTB Deposits & Withdrawals
Payment methods accepted by XTB for deposits and withdrawals are cards, bank transfers and e-wallets (Skrill). Find a summary of deposit and withdrawal options below: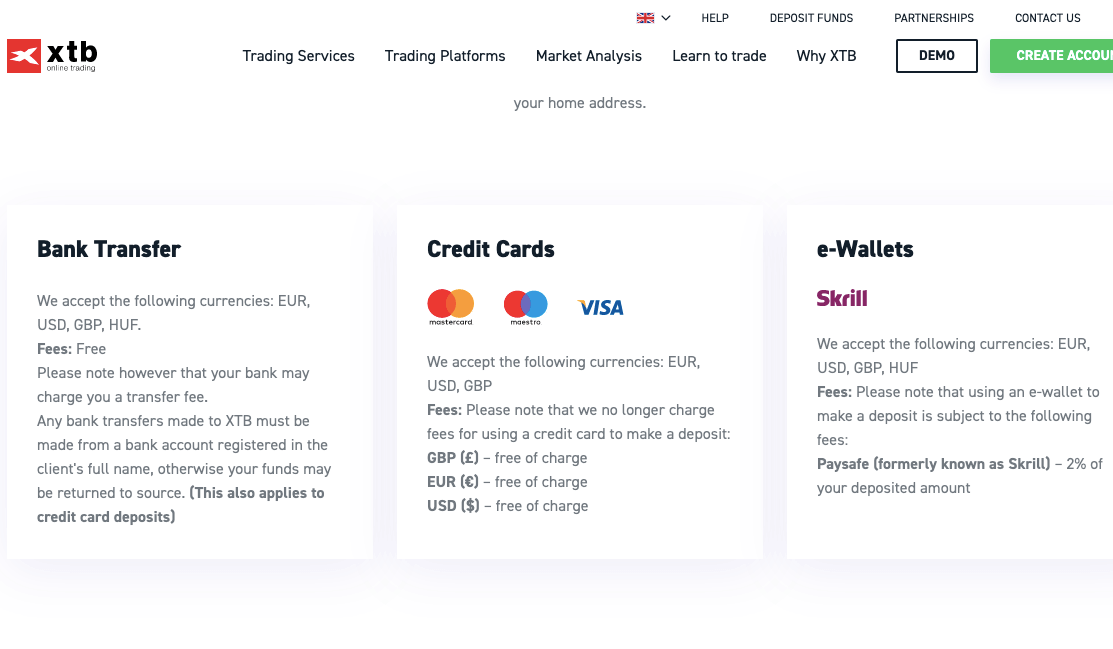 What is the XTB minimum deposit?
There is no mandatory minimum deposit for XTB accounts, you can deposit any amount you want. This applies to all payment methods.
While cards and Skrill deposits on XTB are credited immediately, it can take up to 1 business day for deposits via bank transfers to be credited
How do I deposit money into XTB?
Follow these simple steps to deposit funds into XTB Account:
Step 1) Log in to your XTB dashboard, by clicking the 'Login' on the XTB homepage then 'Client office' or visit co.xtb.com/#/login.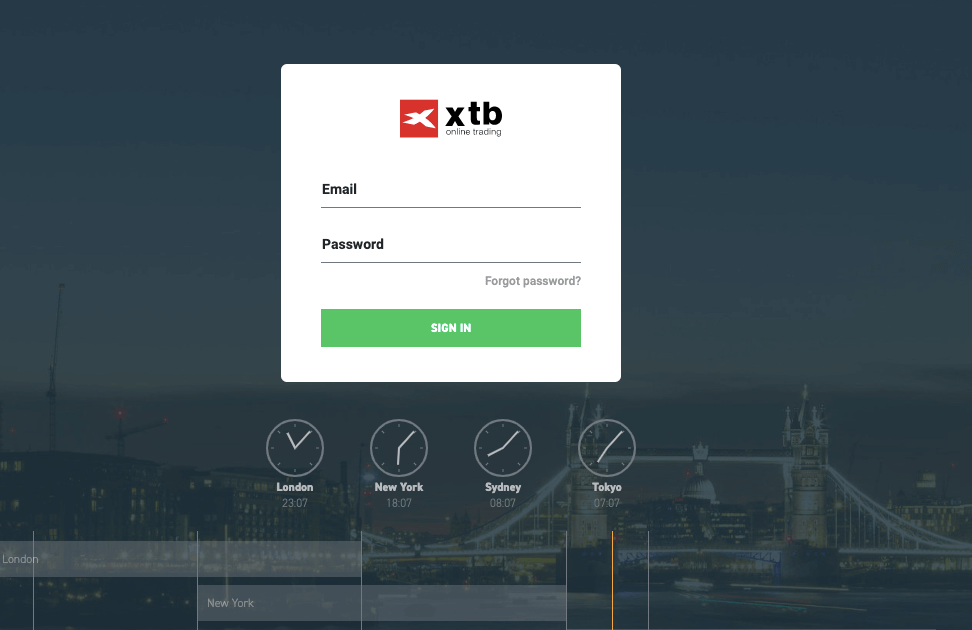 Step 2) Click on the 'Deposits' tab then select the trading account you want to deposit funds to.
Step 3) Select a payment method and follow the on-screen instructions to complete the withdrawal.
What is the XTB Minimum withdrawal?
The recommended minimum withdrawal on XTB is £60, although you can withdraw an amount smaller than this, you will pay a withdrawal fee of £12.
All withdrawals initiated before 1:00 PM GMT are processed the same day, and requests made after 1:00 PM, are processed on the next business day.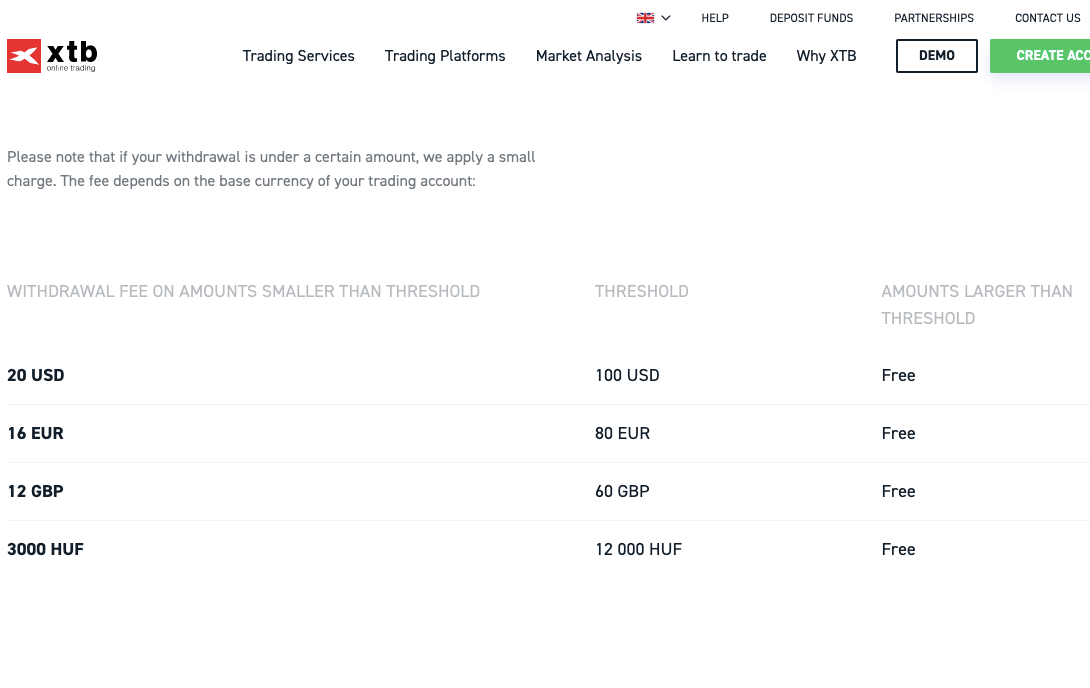 How to Withdraw Funds from XTB
Follow these simple steps to withdraw money from your XTB Account:
Step 1) Login to your XTB Client office and click on 'Withdraw' tab.
Step 2) Select the account you want to withdraw funds from.
Step 3) Select a payment method and follow the on-screen instructions to complete your withdrawal. withdrawal.
XTB Trading Instruments
Here is a breakdown of the financial instruments you can trade on XTB:
| Instrument | Availability | Number |
| --- | --- | --- |
| Forex | Yes | 57 currency pairs on XTB |
| Commodities | Yes | 26 commodities on XTB (Oil, Metals, and Agriculture) |
| Indices | Yes | 39 indices on XTB (AUS200, UK100, EU50, and others) |
| Stocks CFDs | Yes | 1,853 stocks on XTB (US, Belgium, UK stocks and others) |
| ETF CFDs | Yes | 139 ETFs on XTB |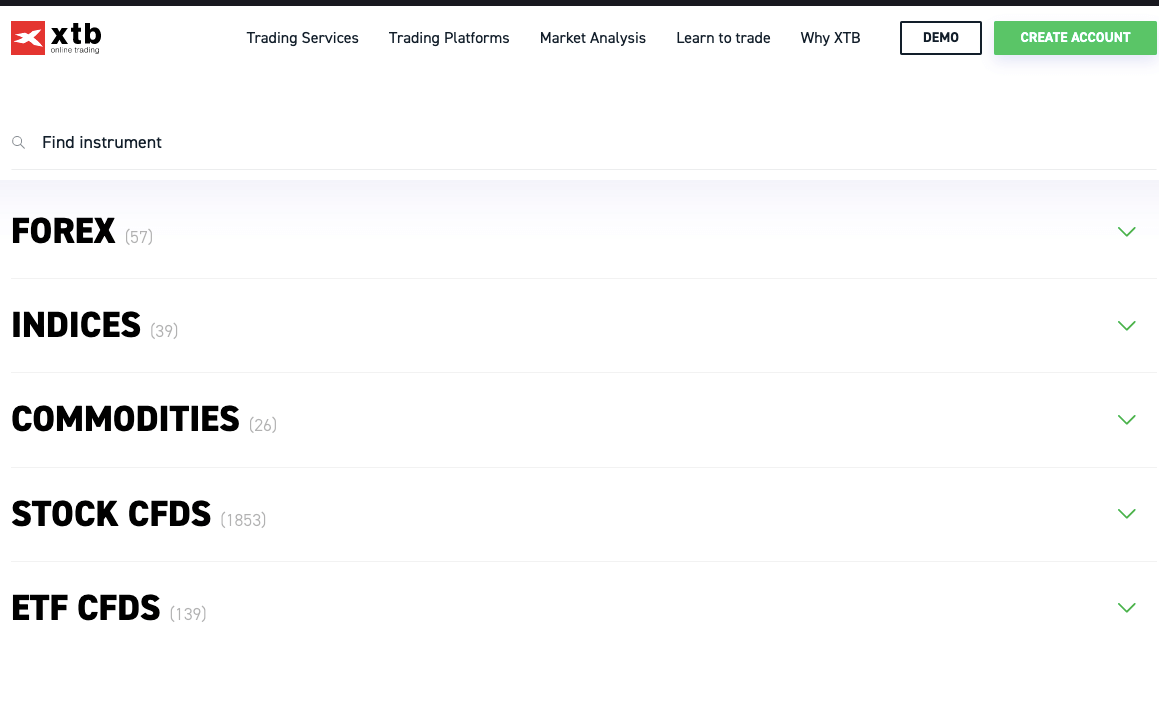 XTB Trading Platforms
Trading platforms supported by XTB are:
1) MetaTrader 4: XTB supports the MT4 trading application for trading financial markets. You can access the platform on the web, desktop (Mac and PC), and mobile devices (Android and iOS).
Update: XTB no longer supports MT4 as a third-party trading platform.
2) XTB xStation 5: The xStation 5 is proprietary trading application developed by XTB that you can use to trade financial instruments. You can download the application to your desktop/laptop, use the web terminal or download the xStation by XTB mobile app on Google Play Store and Apple App Store.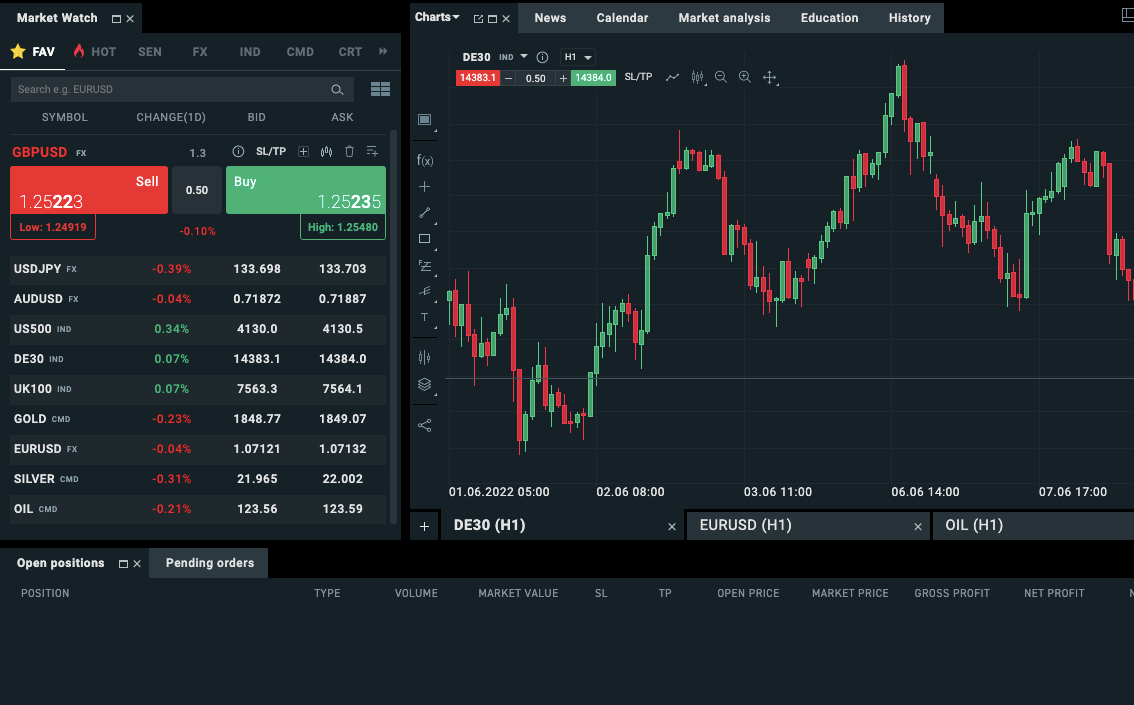 XTB UK Education and Research
The broker's education content can be found under the 'Learn To Trade' tab on their homepage. Here is how you can learn with XTB.
Articles: This is the first of XTB's education tools. The section contains articles that are written to cover all manner of forex trading concepts. The articles are divided into 14 sections. They are displayed in the picture below.

The number of articles ranges from 7-20 per section. Beside each article is the estimated time it will take to read it. As you can also see in the picture, the articles are structured. You can choose what you want to read about. It is not all mixed together.
Finally, there is a section referred to as 'trending topics'. It is a mixture of the articles that are most read so you can know what other traders are reading about.
Webinars: First, there is a scheduled webinar that holds every Wednesday at 5:45 pm (UK time). During this webinar, an expert analyzes the market after which a live discussion begins. You can ask questions from the experts and XTB's account managers. The only downside with the webinar is that is available on xStation 5 only.
XTB Trading Courses: XTB has a selection of videos that can help you begin your trading journey. According to the info on their website, there are about four courses. They are
-Beginner's Guide to Trading contains 5 video lessons
-Top Trading Strategies: 13 video lessons with an ebook
-How to Create a CFD Stock Portfolio: 6 video lessons with a bonus content
-How to Develop a Trading Mindset: an online course that lasts for 12 hours
The courses are free. You will also be granted access to XTB's exclusive WhatsApp group which is run by the company's market analyst. XTB trading courses are available to their clients only.
Market Analysis: XTB's market analysis is quite broad. However, the part that is important for learning and research is the market calendar. This is handy for your fundamental analysis. With the economic calendar, you can see the key economic events, previous data, and forecasts.
More importantly, the events are filtered based on the significance of their impact on the market. This helps you focus your research on high-impact events only.
There is also the XTB Market News. It is like the advanced version of the market calendar. This is because it goes deeper into huge economic events and news. In addition, there is news about individual companies, industries, and sectors. This is useful for you if you trade stock CFDs.
Another crucial importance of XTB Market News is that it shows market sentiment for certain CFDs. You can tell where the momentum of the market is predominantly swinging. It looks like the picture below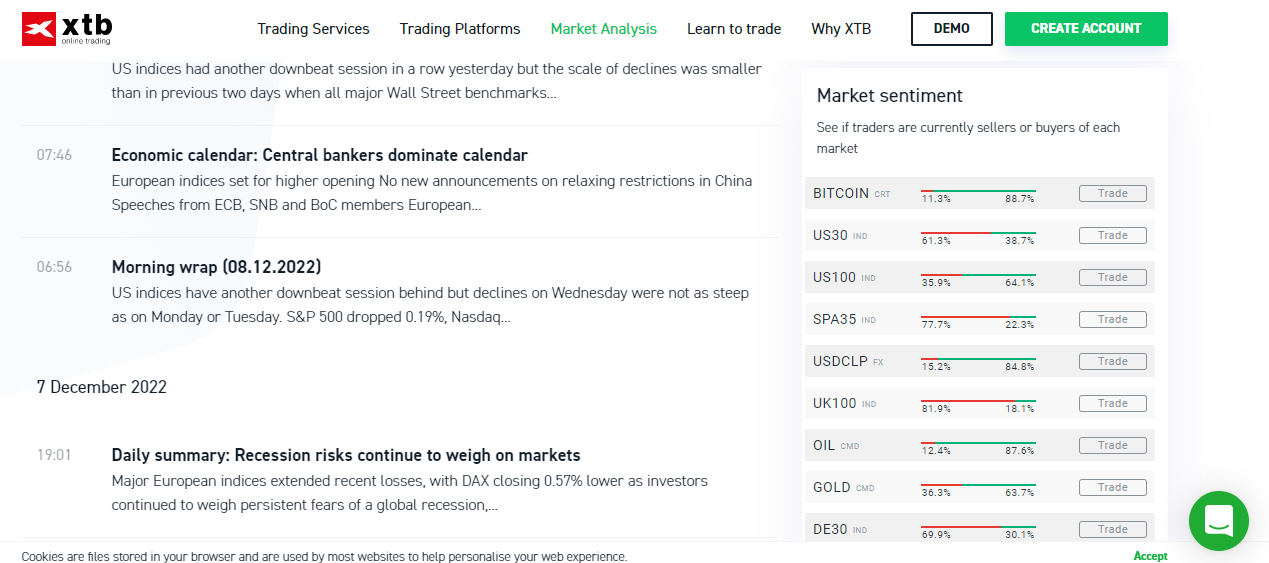 Finally, the market news is arranged according to recent dates so you only get the latest news.
eBooks: XTB, under their 'Learn to Trade' tab, have a number of ebooks. These books are in portable document file (pdf) format. They are free to download so you can access them without cost. Some of the books include:
-Forex Trading for Beginners
-Commodities trading for Beginners
-Indices trading for Beginners
-Technical Analysis:Trading Guides
-Fundamental Analysis:Trading Guide
-An Investor's Guide to Inflation, etc.
XTB UK Customer Service
XTB UK offers online customer support to traders via the following channels:
1) Live chat support: XTB offers live chat support to traders via their website and it is available from 9:00 AM to 6:00 PM Mondays to Fridays. When you first initiate a chat, the XTB chatbot responds and immediately transfers you to a live agent.
When our team tested it, there was no wait time before an agent was connected to us. You are not required to submit your name or email to chat with an agent, although if you start the chat outside the hours in which live agents are available, the chatbot which is available 24/7 will request an email so that live agents can reach out to you when they are back online.
The answers we received from the chat were relevant. To initiate a chat, click on the live chat icon on the XTB website, then click send 'Send us a message'. You can also choose to search for a topic you need information about and relevant articles will be suggested to you.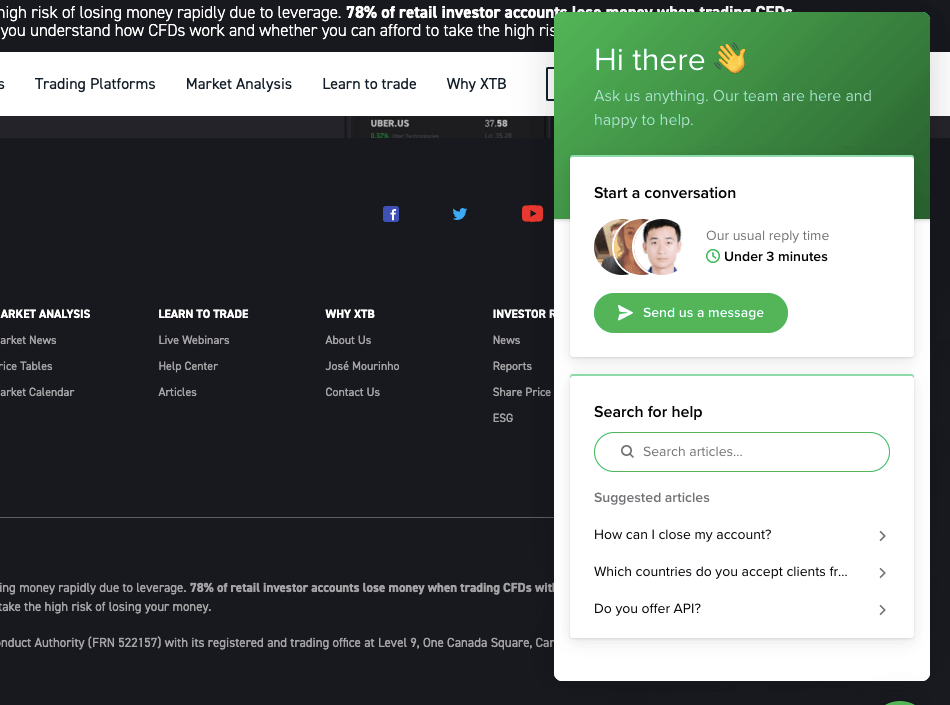 2) Email support: XTB also offers email support to customers and is available from 9:00 AM to 6:00 PM on working days. We sent an inquiry to the email support of XTB and did not get any response after several hours. The XTB email address is [email protected].
3) Phone support: XTB has a phone line for customer support through which clients in the UK can make inquiries. The XTB phone number for customer service is ​​+44 (0) 20 3695 3085.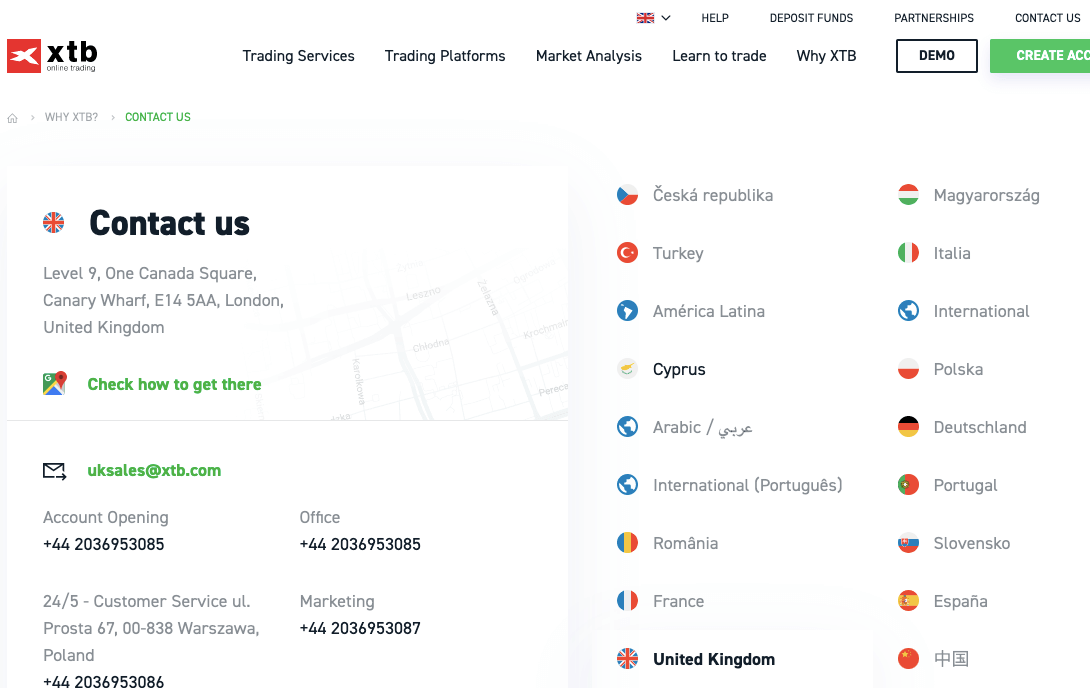 Do we Recommend XTB UK?
Because of the various regulations that XTB is under, they are obliged to ensure the protection of client funds, which makes them safe for traders. They also offer negative balance protection for retail clients.
XTB fees are moderate with zero commission fees charged on trades by retail clients and the spreads are competitive. Although XTB offers free deposits for all payment methods except Skrill, XTB charges withdrawal fees for amounts less than the threshold minimum withdrawal and account inactivity fees after 1 year.
The broker supports only 2 trading platforms and the account opening process is longer than what other brokers regulated in the UK have. The customer is also not so good, as only the live chat support is readily available during working hours on business days.
We recommend that you go through our review again and visit the broker's website and probably ask any questions you have via their live chat to help you decide if the broker meets your requirement. If you are looking to open a professional account, then you will have to signup with another broker.
XTB UK FAQs
Is XTB good for beginners?
XTB is a good Forex and CFDs broker for beginners because they have negative balance protection for retail clients, with no mandatory minimum deposit and no dormant account fees are charged until after 1 year of inactivity.
They also have a demo account that beginners can use to practice before they put in real money. Beginners can also access the trading platforms of XTB from multiple devices, including mobile apps on Android and iOS.
What type of broker is XTB?
XTB is an STP (Straight Through Processing) broker with no dealing desk. XTB is not a market maker.
Can you buy stocks on XTB?
You can trade 1,853 stocks on XTB UK. The stocks of companies in the UK, US, France, Belgium, Italy, Germany, and other countries are available on XTB.
Can you trade Crypto on XTB?
XTB does not offer the trading of crypto assets to clients in the UK.
Visit
Note: Your capital is at risk
Note: We may earn a commission if you decide to sign up with the broker via the referral links in this review. This help us cover the expenses of running this website, but this does not affect our honest & transparent review process. Thanks for your support.