Not all forex brokers offer features that are suitable for beginner traders. For example, a broker with a complex fee structure of commissions & spreads may not be easy to understand for new traders.
Before we look into any other points, if you are a beginner trader, then you should only sign up with a forex broker that is regulated by the Financial Conduct Authority (FCA).
An unregulated broker could cheat you. If you do not want to lose your money to fraudulent brokers, make sure your forex broker is regulated.
Plus, there are certain characteristics and factors that beginners must consider before choosing a forex or contract for difference (CFD) broker. One of the important points is the ease of access & transparency, and easy understanding of their fee structure.
Other factors to consider include minimum deposits, trading and non-trading fees, trading platforms (is it easy to use), and educational materials. We have reviewed seven brokers based on these factors. Let's see their brief comparison in the table below.
Show More
Comparison of Best Forex Brokers for Beginners in the UK
| Broker | FCA Regulated | Trading Platforms | Min. Deposit | Visit |
| --- | --- | --- | --- | --- |
| City Index | Yes | MT4, City Index Mobile App, Web Trader | £100 | Visit Broker |
| eToro | Yes | eToro Proprietary Trading App | $10 | Visit Broker |
| CMC Markets | Yes | MT4, CMC Mobile App, CMC Web trader | No minimum deposit | Visit Broker |
| Capital.com | Yes | MT4, Capital.com Web Platform, Capital.com CFD Trading App | £20 | Visit Broker |
| Plus500 | Yes | Plus500 trading platform | Depends on funding method | Visit Broker |
| Pepperstone | Yes | MT4, MT5, cTrader | No minimum deposit | Visit Broker |
| Admiral Markets | Yes | MT4, MT5, Admirals Mobile App | £250 (Trade.MT5 account) | Visit Broker |
Note: The minimum deposit is as per information on these brokers' websites in Jan. 2023. Please see our methodology below.
Best Forex Brokers for Beginners in the UK
Let us take a deeper look at these forex brokers. This will help you know have a more comprehensive knowledge of them and their trading conditions.
#1 City Index- Overall Best Forex Brokers for Beginners
City Index is considered low-risk because they are regulated with the FCA. Their FCA firm number is 446717. Though they do not have in-house videos and webinars. City Index is good for beginners because of their detailed FAQs and topical contents.
City Index has an office in London and is the overall best forex broker for beginners. If you sign up with them, you can carry out CFD trading or spread betting on currency pairs, indices, shares, gold, oil, and other commodities. You need only £100 to open an account.
City Index's fees are not high because the spread for major pairs is low. They charge no commissions for CFD trading and spread betting except for shares CFD. For non-trading fees, they do not charge funding/withdrawal fees. The only non-trading fee you might have to pay is the £12 account inactivity fee and the premium fee for guaranteed stop-loss orders.
City Index offers support for traders via their email – [email protected]. You can also get support through their live chat. There might be a few seconds of holding time on the live chat. With email support, the response typically arrives within a day.
City Index Pros
Execution is fast
Fast customer support response
Good customer support
Guaranteed stop loss order
No deposit and withdrawal charges
City Index Cons
Minimum deposit is high
Inactivity fee
Dealing desk intervention
No video education contnent
#2 eToro – UK Broker with Copy Trading Platform
eToro is a copy trading platform that is suitable for beginners. They are licensed with the FCA under firm number 583263. eToro offers education in form of the eToro Academy and eToro Plus. Traders can access courses on trading and investing there. They also have the Bull Club where you can watch top investors share their thoughts.
As a social trading platform, eToro has a lot to offer beginners. Their combination of trading and investing stands them out compared to other brokers. Apart from trading CFDs, you can buy stocks and other financial instruments for capital gains.
eToro does not charge commissions for CFDs and has low swaps. Their spread for major pairs is high compared to other brokers. They do not charge commissions so fees are calculated with the spread. You do not pay any fee for funding your account. Withdrawals attract $5.There is also a monthly account inactivity fee of $10.
eToro has different minimum deposits per country. In the UK the minimum deposit is $10 so newbie traders can always start small. You can get support from eToro via FAQs and email. Email responses arrive within some minutes.
eToro Pros
Low minimum deposit so you can start small
Easy-to-use web platform and mobile app
Education via eToro Academy and eToro Plus
eToro Cons
Withdrawal fees
No guaranteed stop loss
Inactivity fee
#3 CMC Markets – FCA Regulated Broker with Web Platform
Regulated with the FCA as CMC Markets UK Plc, CMC Markets is considered low risk. Their firm number is 173730. Beginners can learn about forex trading through their learn hub and trading guides. Learn Hub covers different forex trading strategies while trading guides cover forex education. Opto sessions are podcasts you can listen to from industry experts.
CMC Markets have the most currency pairs (over 300) compared to other brokers. This means beginners get to open a buy or sell contract in different currencies. In addition to MT4, CMC Markets also offer their Next Generation trading platform that is easy to use with fast execution.
CMC Markets also offer other CFDs like indices, commodities, shares, and treasuries. Shares CFDs are over 9000 in number.
The minimum spread for major pairs is low – 0.90 for GBP/USD, and 0.70 for EUR/USD. CMC Markets is a zero-commission broker. There is no commission charged on forex trading. They also charge zero fees for deposits and withdrawals.
Guaranteed stop-loss orders and account inactivity attract charges. As a beginner, you can get support via email and UK mobile number that can be found on their website.
CMC Markets Pros
No minimum deposit is enforced
Multiple education resources
You do not pay extra commission s on trades
Wide range of instruments
Their Next Generation platform is good for beginners
#4 Capital.com – Forex Broker with Investmate Education App
Capital.com is regulated with the FCA so they are considered low risk. Their firm number is 793714. Capital.com offers education to beginners in different ways. In their trading guides, there are contents and glossaries on trading. There is also a webinar section on their website. Furthermore, they offer Investmate. Investmate offers courses and content across different levels of experience. Beginners can take advantage of this to become advanced in their trading knowledge.
Capital.com does not charge commissions. They charge their trading fees from the moderately high spread. The typical spread for GBP/USD is 1.3 pips while that of EUR/USD is 0.6 pips.
Capital.com requires a minimum deposit of £20. This is one of the lowest among brokers with a specific minimum deposit.
They also offer 138 currency pairs, 33 commodities CFDs, 37 indices CFDs, and 115 ETF CFDs for retail traders.
Convenient deposit and withdrawal methods via PayPal, Skrill, Neteller, and credit/debit cards. Capital.com has good customer support for beginners as well. It is available through email and live chat. We had no holding time when we tested the live chat.
Capital.com Pros
Minimum deposit is low
Guaranteed stop loss orders
Education content are available on their mobile platorms
Their Investmate's app combines trading and investment education.
No deposit and withdrawal charges
Capital.com Cons
Spreads are high
Capital.com's website might be difficult for beginners to navigate
#5 Plus500 – Forex Broker with Easy-to-Use Trading Platforms
Plus500 is a low-risk broker because they are regulated with the FCA. Their FRN is 509909. Plus 500 offers learning to beginners via two means – the plus500 eBook and the trader's guides. The trader's guide is a video compilation of different trading concepts. The eBook is good for those who love reading. The eBook contains information about Plus500, their platform, and instruments. Beginners also get to learn key trading terminologies
The minimum deposit depends on your preferred method of deposit. It is £100 for credit/debit cards and electronic wallets. If you want to fund your account via bank transfer, the minimum deposit is £500.
Plus500 does not charge an extra commission per standard lot. There is a £10 account inactivity fee. Plus500 covers your deposit/withdrawal fees.
Guaranteed stop-loss orders are charged by wider spreads and there are currency conversion charges too. Newbie traders have access to 67 currency pairs, 22 commodities, 96 ETFs, 27 indices, and 1000+ shares. They are all CFDs. Plus500 does not support MT4, MT5, or any other trading platform. They only offer their trading platform. The platform is available on multiple devices and operating systems.
You can get support via email and WhatsApp.
Plus500 Pros
Low spreads
Unlimited demo acccount
Good mobile app
E-books are available for learning.
#6 Pepperstone – Regulated Forex Broker with cTrader
Pepperstone is regulated with the FCA so they are considered low risk. For learning, pepperstone have contents that are tailored to beginners. There are also webinars on technical tools and how to use them. To further help newbie traders, there is also a course on how to use the MT4 trading platform, and trade CFDs, and shares too. There is also an article on trading terminologies.
Pepperstone offers a Standard Account, Razor Account, and Spread Betting Account. The Razor Account is ECN type with raw spreads. No minimum deposit is required for these accounts but Peppersotne recommends £200.
Pepperstone charges an extra commission per standard lot. The commission applies to the Razor Account only. The commission also varies based on your trading platform. Pepperstone supports MT4, MT5, and cTrader. The commission on MetaTrader is £2.25 per standard lot. On cTrader, the commission is $3 per standard lot.
There are no charges for account inactivity.
You can deposit your funds via credit/debit card, PayPal, and bank transfer without extra charges. For support, you can contact Pepperstone via email and live chat.
Pepperstone Pros
Low spreads
No inactivity fee
Extensive and detailed education articles and videos
Website is easy to navigate
Multiple account choice
Pepperstone Cons
Recommended minimum deposit is high
No guaranteed stop loss for risk management
#7 Admiral Markets – CFD Broker with Comprehensive Trading Courses
Admiral Markets is regulated with the FCA as Admiral Markets UK Ltd. Their FCA reference number is 595450 so they are considered low risk. Admiral Markets has the most comprehensive education system compared to other brokers. Beginners can access courses on forex trading and webinars. Ebooks, glossaries, and articles are also supplied for learning.
Admiral Markets offer 6 accounts – Trade.MT5, Invest.MT5, Zero.MT5, Bet.MT5, Trade.MT4, and Zero.MT4. The minimum for all accounts is £250 except for Invest. MT5 (£1) and Bets.MT5 (£100).
The maximum leverage for forex pairs is 30:1.
Admiral Markets offers 50 currency pairs, 28 commodities CFDs, 42 indices CFDs, 3212 stocks CFDs, and 371 ETF CFDs. There is no extra commission per standard lot. Admiral Markets get their compensation from the spread. You also pay a swap for holding trades overnight.
An inactivity fee is charged after 24 months of dormancy on your account. The fee is €10 per month. No guaranteed stop-loss order. However, there are volatility protection settings that you can set for slippage.
You can get support via email, live chat, Facebook messenger, and WhatsApp. We had two minutes of holding time when we tested their live chat. You can also make a phone call via the UK number on their website.
Admiral Markets Pros
Trading calculator useful for beginners is available
Articles, tutorials, webinars and trading videos
Two fee forex trading courses
E-books are also available
Admiral Markets Cons
Complex commission structure
Too many account types. This may overwhelm a beginner.
Can You Learn Forex Trading from Brokers Only?
Forex brokers charge you for their services. However, most of them have free educational content that can help you as a beginner. The only downside is that not all brokers have a detailed and comprehensive learning structure. Only a few brokers have content that can guide you from being a beginner to an advanced trader.
So do you go to third-party tutors/trainers? This has its own downsides as well. One of them is that most third-party trainers will charge high prices to train you. Aso, you can fall into a scam. Anyone can claim to have results in forex and set up a trading course without any proof or experience.
So it is less risky to utilize the content that comes with the brokers we have reviewed. They are regulated, free, and have experts on board to help your learning.
What Currency Pairs Should You Trade?
There are more than 70 currency pairs that you can trade. Though it might be less based on the broker you choose, you still cannot focus on all currency pairs available. As a beginner, your focus should be on the quality of your trades rather than quantity. Currency pairs are broadly classified into major pairs, minor pairs, and exotic pairs.
The recommended ones for beginners are the major pairs. Major pairs are the most traded currency pairs in forex trading. These pairs have the most liquidity in the industry. Because of this, forex brokers tend to charge low spreads for them. These pairs include EUR/USD, GBP/USD, USD/CAD, USD/CHF, USD/JPY, AUD/USD, and NZD/USD.
How to Choose a Forex Broker for Beginners in the UK
If you are a beginner in forex trading, then you must carefully do the due diligence based on a checklist, otherwise, it is very easy to fall for scam brokers that promise things you want to hear.
In this section, we will be taking you through so you can verify these steps yourself. These are factors you should consider before signing up with a forex broker.
1. FCA Regulation
The safety of your funds should be the most important factor you consider. An unregulated forex broker is not safe for beginners. You could lose all of your money to fraud.
In addition, trading with a regulated broker guarantees the protection of your money under the Financial Services Compensation Scheme.
Under the scheme, retail traders can get compensated up to £85,000. The FCA regulates CFD brokers in the UK. All legit brokers display this in the footnote of their websites. Here is an example with Admiral Markets.

As you can see in the example above, Admiral Markets UK Ltd. is regulated, and they also mention their license no. But you must not simply trust the license number that you saw on the broker's website. You should verify it on the FCA's public register.
If the forex broker is regulated, it will show up on FCA's website. From Admiral Market's homepage, you can see that their registered name is Admiral Markets UK Ltd with reference number 595450. These are the details you need to verify with the FCA.
Here is how you do it. When you arrive at the FCA's homepage, scroll down till you see the search pane below. You need to enter the registered name or the reference number in the search bar displayed below. Select 'firms' and click on 'search'

If you follow this process, you will get the result displayed below.

Can you see how the name and number match the details we got from the CFD broker's website? This is proof that Admiral Markets' FCA regulation is valid. This is how you verify the license of forex brokers.
In addition, it is important that every beginner knows about clone firms. They are fraudsters who try to scam traders. They create a company similar in name or operations to brokers that are truly licensed.
The FCA usually spots these brokers and expose them. So that as you verify your broker's regulation, you will see these fraudulent firms listed as well. Here is how it looks for Admiral Markets as an example.

Can you see how similar some of the names are? This is anther crucial reason to always check your broker's regulation. You get to verify their license and spot fake brokers masking as the real deal.
2. Trading Costs
Trading fees include commissions, swaps, and the spread. Some forex brokers charge all while some charge one or two out of the three. Speaking to the forex broker's support will offer a lot of clarity here.
Why is it important for beginners to know about trading costs? Simple. It affects your total profit or loss when
you close a trade.
You do not want to lose too much money to your CFD broker so it is important to check. Forex brokers usually display their trading costs under "Fees" or "Charges" on their websites.
The pictures below show Pepperstone's spreads and commissions: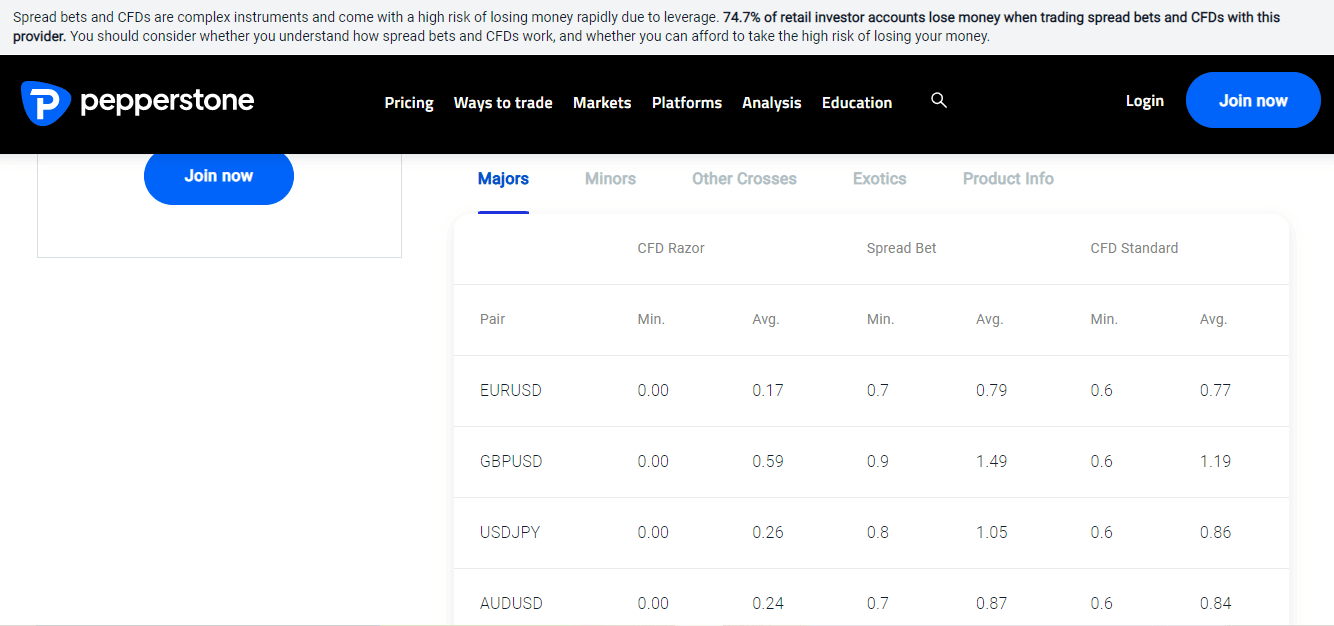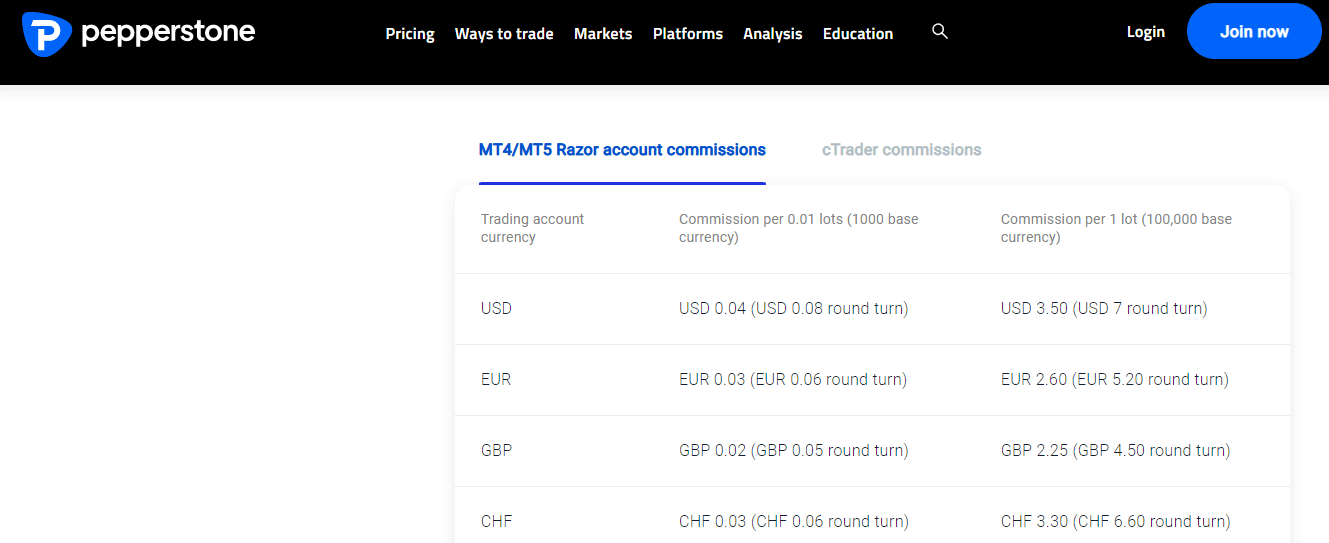 3. Account Types
Forex brokers offer different account types with different features. Some accounts are suitable for long-term traders, while some are suitable for short-term traders (scalpers).
Also, some brokers have accounts with normal spread, ECN account with raw spread, or zero spread. Accounts may also differ by minimum deposits, trading platforms, and the number of CFDs available.
You can see the picture below showing four different account types with different minimum deposits and base currencies.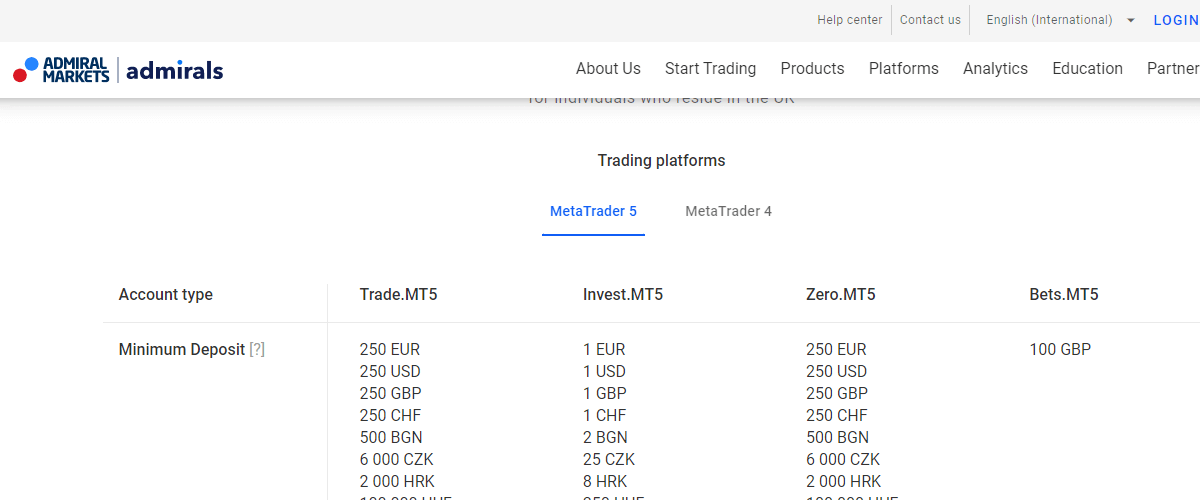 4. Demo Accounts
Starting on a demo account is crucial if you are a beginner, as there is no risk of actual losses involved.
A demo account mimics live trading conditions with virtual money. The account carries no risks and allows beginners to test their trading strategies. A demo account will also help you get familiar with trading costs and execution speed.
All forex brokers in our review offer a free demo account. But you should check the terms & conditions of the forex broker to check if their demo account is limited, with restricted access, or for a limited time period.
Forex brokers tend to make it easy for beginners to find their demo accounts. It is possible it is the first thing you see on the homepage. Some CFD brokers also place it with their account types or trading platforms. Let's see an example with Plus500. Right on their homepage, you see the demo account option immediately.

You can also read our review of the forex brokers with the best demo accounts in the UK.
5. Education
For a forex broker to be suitable for beginners, they need to offer good education and learning resources. They could be in form of e-books, courses, glossaries, tutorials, and webinars. The content should be organized such that you can learn progressively (beginner, intermediate, and advanced). Not all brokers have it this way so it is important to check this factor.
Here is how you can do this. We will use admiral markets as our example. Go to Admiral Markets' website and click on 'Education'. You will see a dropdown of all of their educational resources as shown below.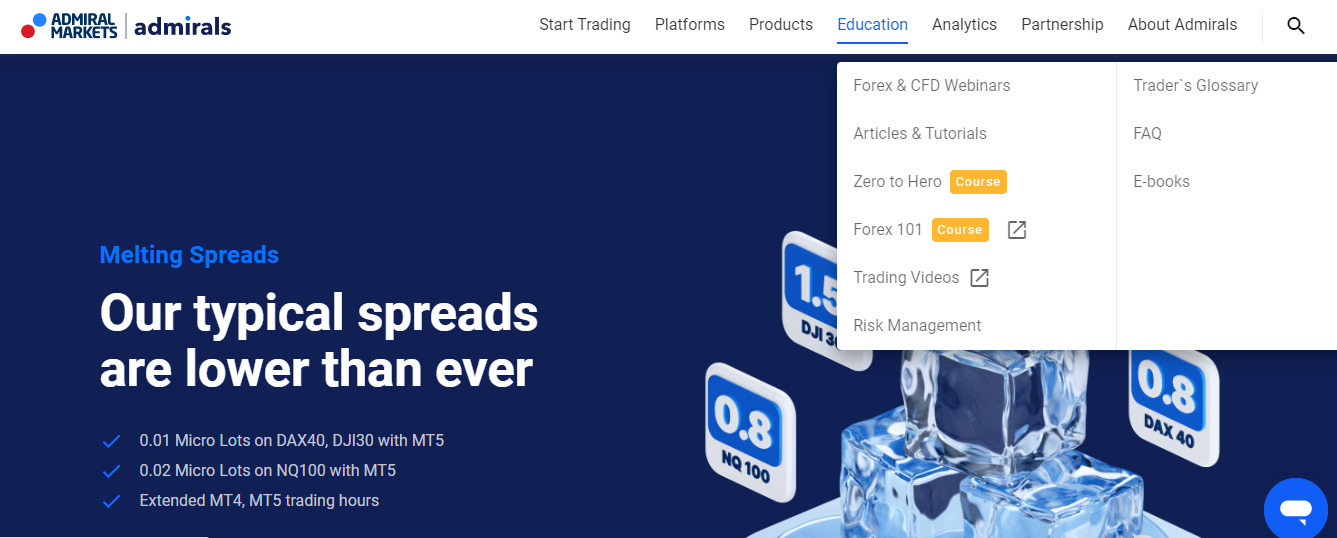 As you can see, Admiral Markets have two courses, articles and tutorials, trading videos, a glossary, e-books, and webinars. All you need to do is click on any of the contents to have access. If you click on 'Forex 101' for example, you will see the course portal as displayed below.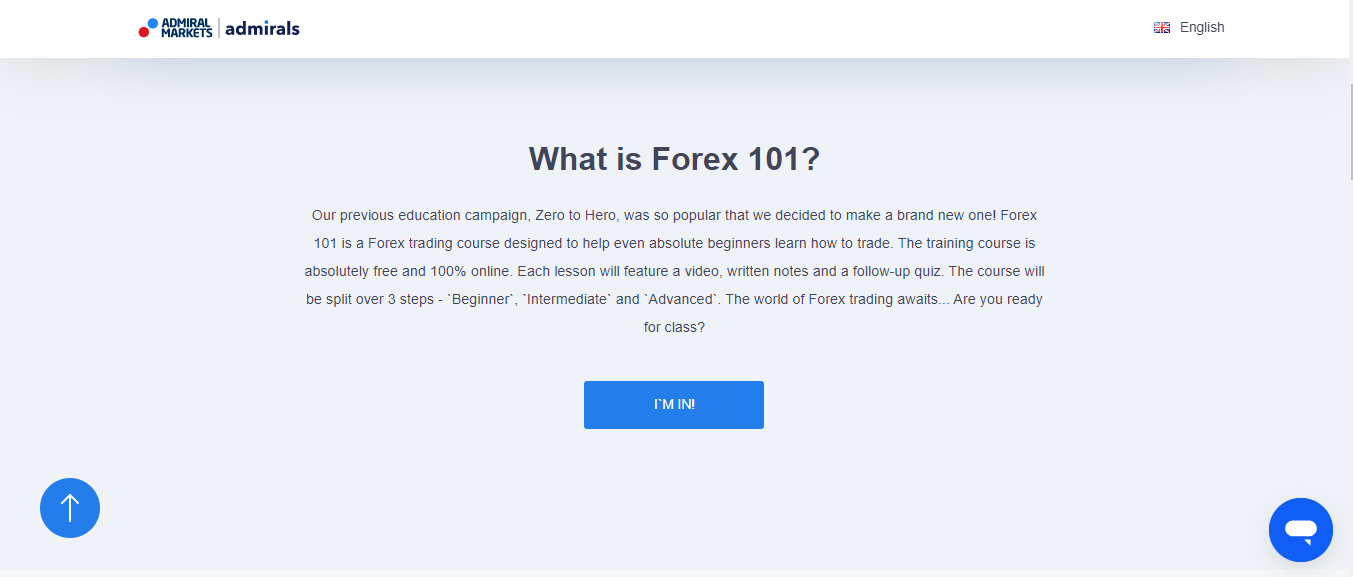 If you check the image, you can see that it states the course is organized into levels so you can study systematically. Good brokers always have a combination of resources to help beginners learn quickly. Here is a breakdown.
Courses: The courses should be organized and structured. Essentially, they should be divided into beginners, intermediate, and advanced levels. This is helpful for new traders. They can learn CFD trading one step at a time without getting things mixed up. Forex and Stock trading are important courses you should look out for.
Webinars: Learning does not stop as far as trading is concerned. Joining or watching webinars is one-way beginners can ensure continuous learning. Usually, webinars are not structured. They hold at regular intervals and brokers bring in experts to discuss different topics and concepts on trading. You should also check if you can find the recording of previous webinars.
Articles: If you prefer to learn via reading, then you should check if your broker has articles. Courses and webinars are usually in video format. With text content, you can read about different topics in CFD trading. If the articles are structured, its even better.
Finally, make sure the courses, webinars, and articles are free without extra costs. All brokers in this review do not charge any fees for their learning resources.
Tutorials: Not all brokers have tutorials but they can be quite useful too, especially on how to find your way around trading platforms. Whether it is the mobile, desktop, or web version, you might need help navigating them if you are a beginner. More importantly, they are usually in video format so it is easy to imitate what you are watching on your own platform.
Market Analysis: Successful trading is a combination of technical and fundamental analysis. Most traders have a technical outlook of the market and price movements. However, it takes a deeper understanding of geopolitics and macroeconomics to have a fundamental outlook.
Trying to learn on your own might be difficult because a random internet search does not give you a structured body of knowledge. However, if you keenly follow your broker's analysis in whatever format it is (text or video), you will get familiar with macroeconomics. Over a period of time, your fundamental and technical analysis will be top-notch.
This is because it is always well structured, focuses on different CFD classes, and is usually run by experts in conjunction with your broker.
Trading Tools: Analyzing the market can be tough for beginners in the early days. As you try to develop your technical analysis skills, these trading tools can help you. These tools vary with brokers. Some brokers don't even have them.
For brokers that have them, you can easily find the tools on their website. These tools are usually add-ins like Smart Trader Tools, AutoChartist, Market Scanner, and Trading Signal services.
Podcasts: Again, not all brokers have podcasts. Podcasts are usually in audio forms. Forex brokers that have this package for beginners usually invite experts to the podcast. The experts could be a part of the broker's team or a guest. On the podcast, there will be discussions around different trading concepts, news, and macroeconomic events.
6. Market Research and Analysis
In-house market analysis is key to developing as a beginning trader. You should choose a broker that researches and analyzes the market. There should also be regular updates on global market trends, technical analysis, and trade ideas. Using your broker's research can give you a soft landing till you grow and become good at carrying out independent research.
7. Is the Customer Support Good?
As a beginner, chances are that you will have a lot of questions for your brokers.
Many forex brokers have FAQs but they do not supply the needed answer all the time. This is why you should choose a forex broker with good customer support. This includes being reachable via multiple channels like email, phone calls, and live chat.
Also, responses should be quick and relevant to your questions. You can test the support of multiple brokers even if you do not have an account with them. This helps you to gauge their customer support by yourself.
Let's understand this with an example.
Here is an example of City Index's support below:
As you can see, City Index has live chat support as well as email, and phone support. Try to reach out via all these methods & see the response time, and the responses.
Are you okay with the responses? Were they slow? Did they resolve your queries? Did they have to escalate it?
You should ask your broker questions related to fees, risk management features, etc.
How to Open an Account as a Beginner
Since you know now, how to choose the broker that suits you as a beginner, you need to know how to open an account with one. The steps involved depend on the broker you choose but they are mostly similar. As an example, we will use Plus500 as a guide.
1) On Plus500's homepage, click 'Statrt Trading Now' at the middle of the page. Or 'Start Trading' at the top right corner of the page.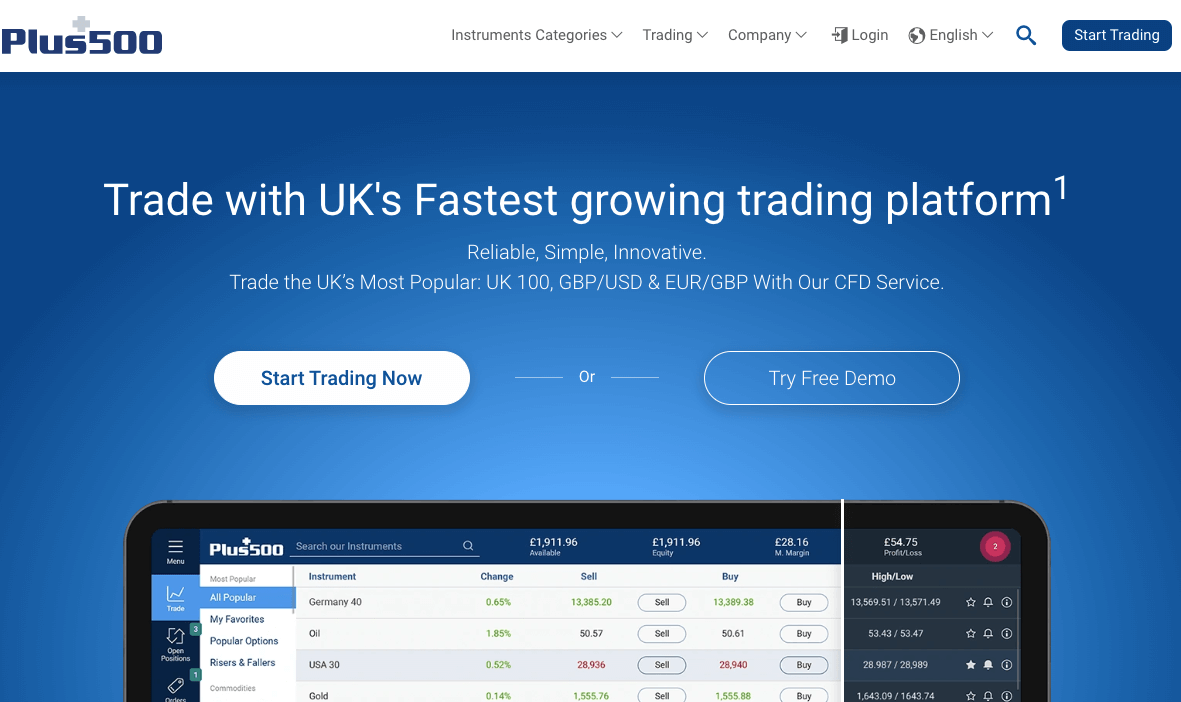 2) Enter your email and create a unique password to begin your registration. Then click 'Create Account'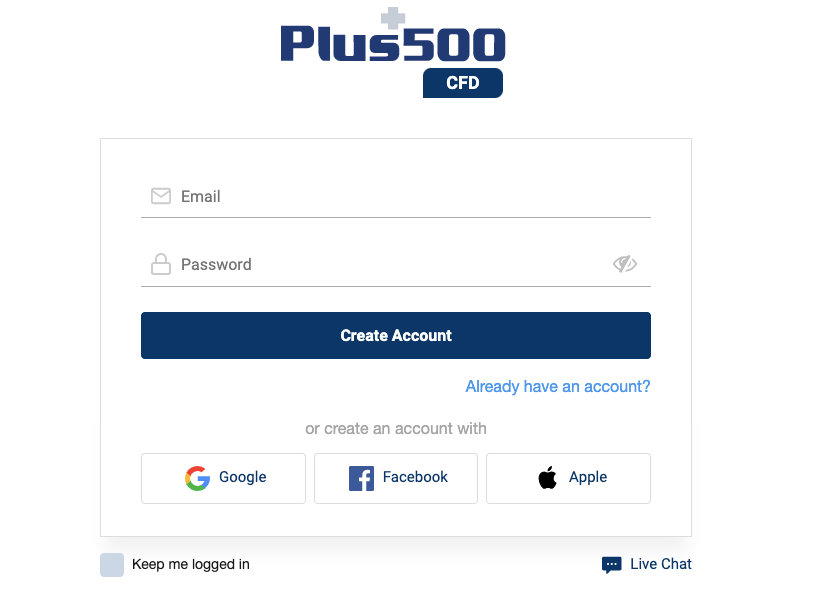 3) Click on the three bars on the left side of the WebTrader, then follow the 'Get Started' link to continue your registration.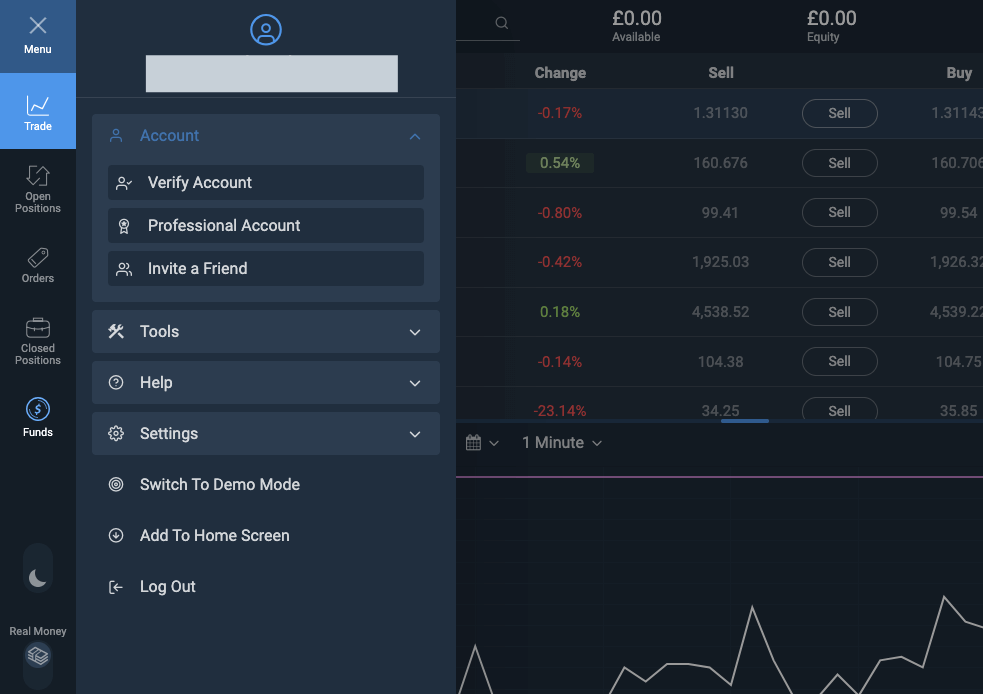 4) There are many details to supply here and it begins with entering your full name and date of birth on the personal details form provided. When you click 'Next', you will supply other details such as your address, trading experience, employment status, and income status.
After that, check the box to agree to the terms and conditions and click 'Finish'.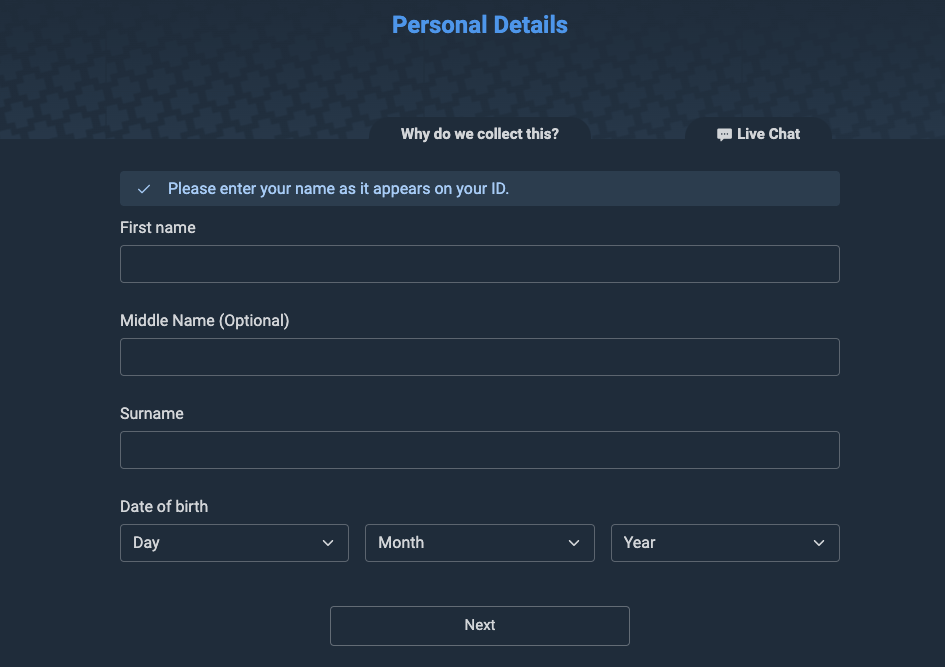 5) Verify your account. To do this, click on the menu (three bars) on the left, then select 'Account' and click on 'Verify Account'.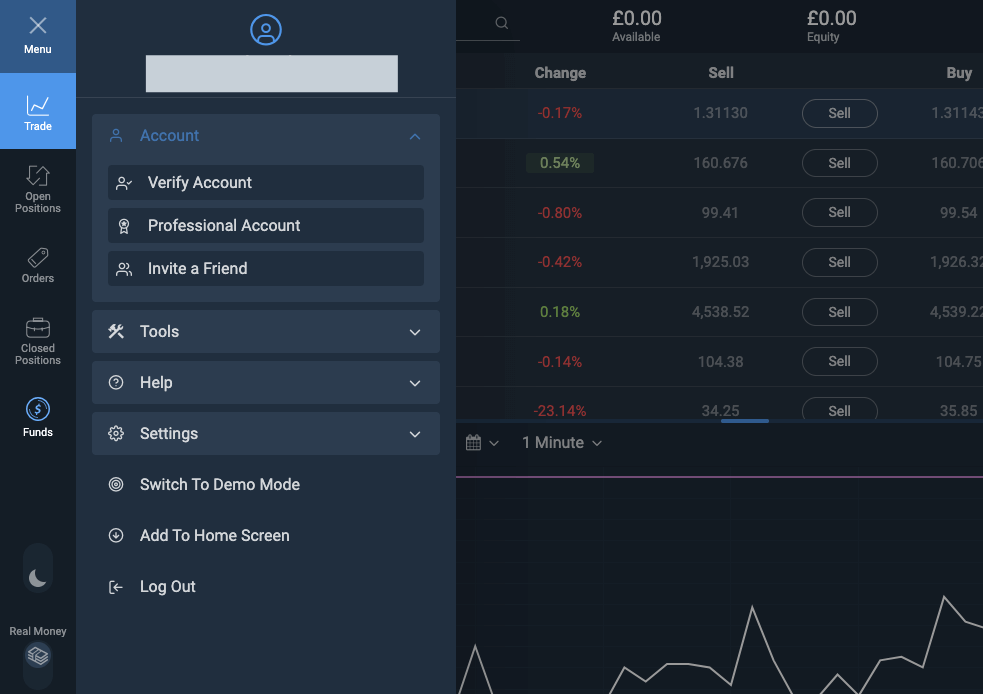 6) Upload the required documents. Once they are verified, you can deposit your funds and start trading.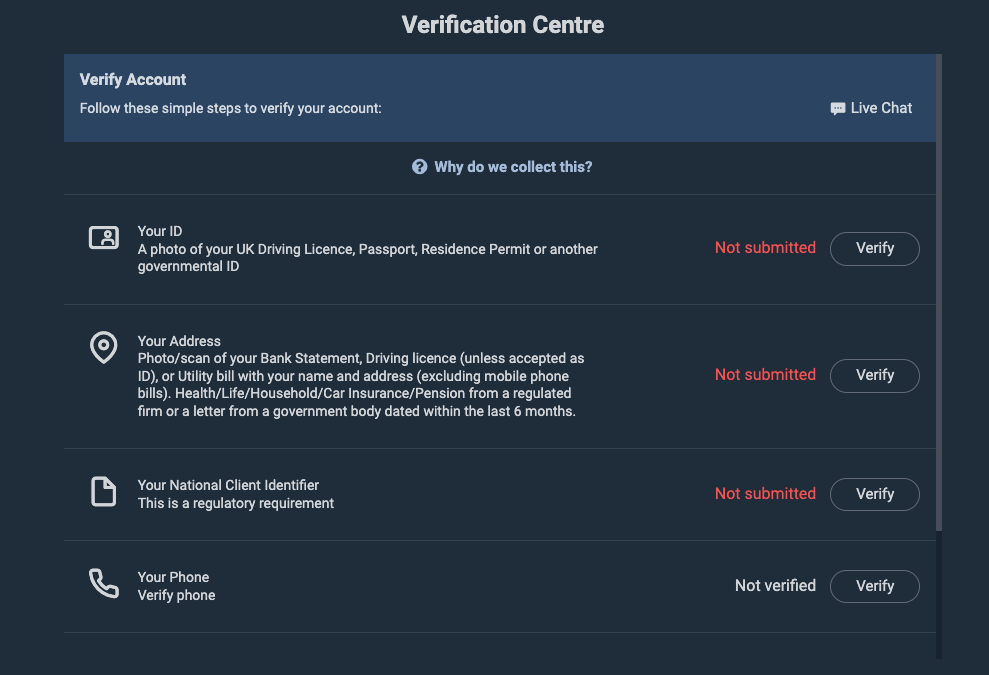 FAQs on Best Forex Brokers for Beginners UK
Which is the best forex broker for beginners in the UK?
Any forex broker that is regulated with FCA is considered safe. In addition to this, beginners should also check the forex broker's education tools. Videos, webinars, and courses are important plus regulation.
Which forex broker has the best education for beginners?
Most forex brokers offer education in one way or the other. According to our review, Capital.com and Admiral Markets have the best educational tools/guides for beginners. Admiral Markets have extensive videos & guides on trading on their website. While Capital.com have the Investmate education app.
Which MetaTrader is best for beginners?
MetaTrader 4 is the best for beginners starting out on their trading journey. You can read our review of UK's best MT4 brokers for more.
Which forex broker is safest?
A broker's safety is connected to their FCA license. If a broker is regulated with the FCA, you can consider them low risk. All the brokers in this review are regulated with the FCA so we consider them low-risk.
Which forex broker has the lowest minimum deposit?
Among the forex brokers we have reviewed with specific minimum deposits, eToro ($10) and Capital.com (£20) have the lowest minimum deposits.