OvalX ( previously ETX Capital) is a CFDs broker that allows you to trade financial instruments, including forex, commodities, cryptocurrencies, indices, and shares.
The company was founded in 1965 and its headquarters has been in London since then. OvalX is regulated by the FCA (Financial Conduct Authority) in the UK and their parent company (Monecor) is listed on the London Stock Exchange since 2008.
ETX Capital acquired Oval Money on 14th April 2021. Consequently, they rebranded in 2022 changing their name and logo to reflect the merger. ETX Capital is now known as OvalX.
In this review, you will find the details about this broker's trading conditions, fees, customer support, deposit and withdrawal methods, and available platforms for trading.
Important Update: OvalX has discontinued its trading services. As part of their closure, the broker has partnered with capital.com to enable their clients to continue their trading journey.
OvalX Review Summary
Broker Name
Monecor (London) Ltd
Establishment Date
2007
Website
www.ovalx.com/en-gb/
Address
26 Finsbury Square, London, EC2A 1DS
Minimum Deposit
£100 (card deposits)
Maximum Leverage
1:30
Regulation
FCA, CySEC, FSCA
Trading Platforms
MT4, OvalX Platform (Desktop and Mobile)
Visit OvalX
ETX Capital Pros
Regulated by FCA in the UK
Offers GBP account currency
Offers commission-free shares trading
Supports MetaTrader 4 and EAs
Does not charge inactive account fees
Offers negative balance protection for retail traders
ETX Capital Cons
Customer support not available 24/7
Has fewer trading instruments
Does not offer Islamic Account
Charges withdrawal fees for amounts less than £100
Is OvalX Safe for Traders?
OvaX's parent company is listed on a stock exchange and regulated by top-tier financial regulators, both of which make the platform safe for traders and have low risk.
The various regulations of OvalX are:
1) Financial Conduct Authority (FCA), United Kingdom: OvalX is authorised by the FCA to offer financial services in the UK as 'Monecor (London) Ltd' with reference number 124721, issued in 2001. The company is listed on the London Stock Exchange since 2008.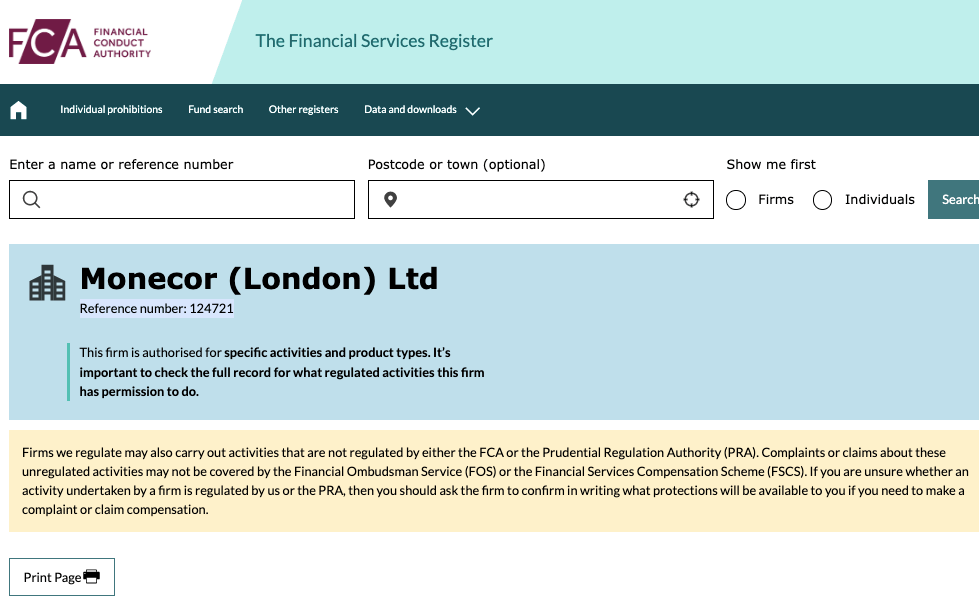 2) Cyprus Securities and Exchange Commission (CySEC): OvalX is licensed by CySEC as 'Monecor (Europe) Ltd' to offer investment services in Cyprus and other European Economic Areas (EEA), with a license number 096/08, issued in 2008.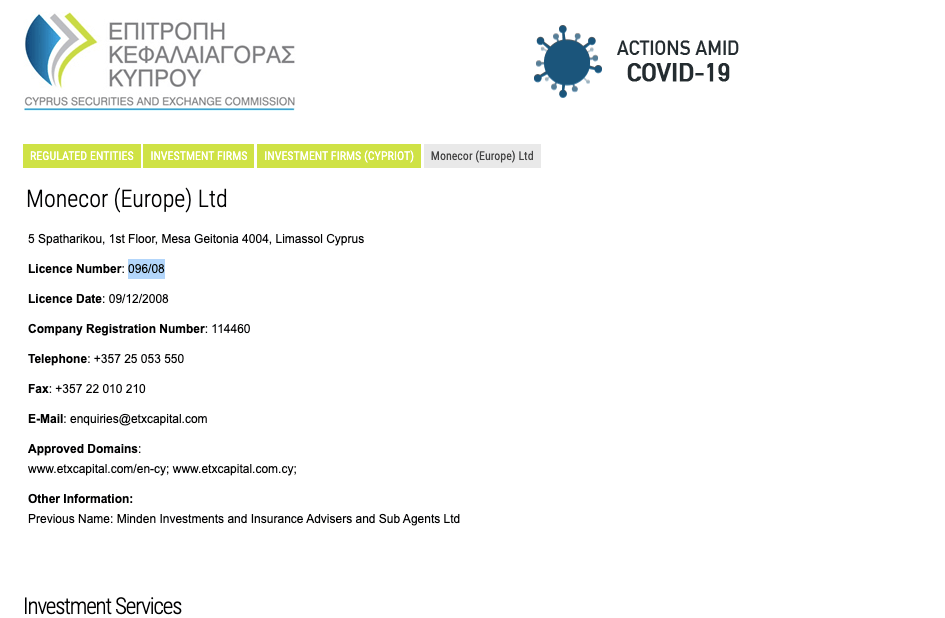 3) Financial Sector Conduct Authority (FSCA) in South Africa: OvalX is regulated in South Africa as 'Monecor (London) Ltd' to provide financial services, with FSP 096/08, issued in 2021.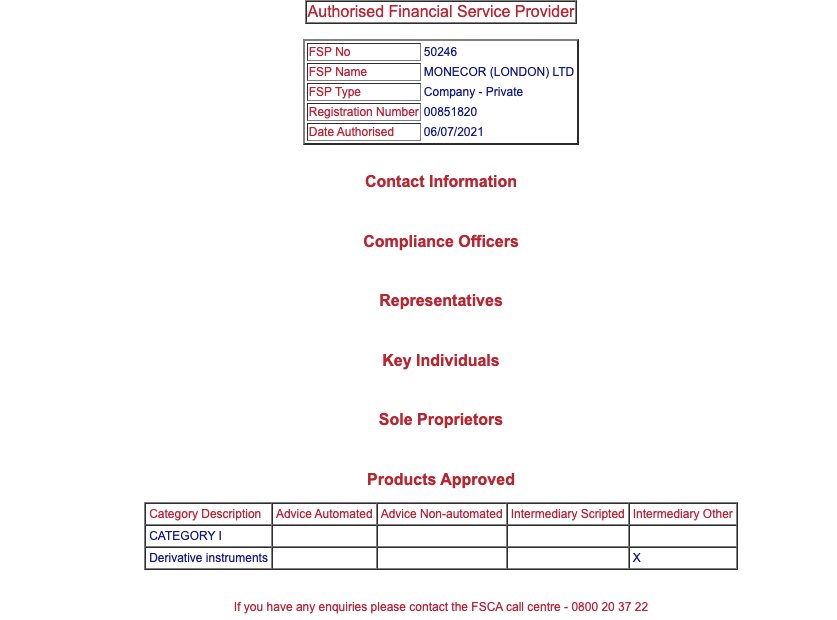 OvalX Leverage
OvalX operates a fixed leverage system as required by the FCA. The maximum leverage on OvalX is 1:30 for retail traders. This means that you can trade with 30 times the value of your investment, although some instruments have lower leverage.
Professional traders can trade with higher leverage of 1:200.
OvalX Account Types
OvalX offers 2 main account types; Standard Accounts for retail traders and Professional Accounts for professional clients. Both account types can be classified as Premium Accounts with special benefits if you maintain a minimum balance of £10,000.
OvalX does not offer a swap-free Islamic Account. However, they offer demo accounts for beginners to become familiar with the platform before they start trading with real money.
See the details of each account type below:
1) Standard Account: The OvalX Standard Account is designed for retail traders who have little or no trading experience, it is the default account you get upon signing up on the platform.
This account lets you trade forex, commodities, cryptocurrencies, indices, and shares, with a maximum leverage of 1:30.
Deposits and withdrawals are free of charge, there are no commission fees for opening or closing trading positions and spreads start from around 0.6 pips for major pairs like EURUSD. You also pay swap fees for holding a position open for more than 24 hours.
Standard Account holders have the protection of up to £85,000 from the Financial Services Compensation Scheme (FSCS) in the UK, in the event of insolvency and the broker is unable to pay any claims against them. This account also has negative balance protection, which means you cannot lose more than the money you invested.
The minimum balance required on this account is £100 for card deposits. With OvalX Standard Account, you can trade CFDs or trade spread bets. These are the two account types under the Standard Account.
2) Professional Account: The OvalX Professional Account is designed for experienced traders who are knowledgeable about CFDs and trading financial instruments.
This account offers higher leverage, up to 1:200 and you can trade forex, commodities, cryptocurrencies, indices, and shares.
To open a Professional Account on OvalX, you will need to first open a Standard Account, and then apply to customer support to have your account upgraded to a professional status.
You need to meet at least 2 of the following criteria for your Professional Account application to be approved:
You have placed at least 10 significant trade sizes each quarter over the last 12 months.
You have a financial portfolio exceeding €500,000 or its equivalent in GBP.
You have worked or currently working in the financial services sector for at least one year.
Deposits and withdrawals are free of charge, there are no commission fees for opening or closing trading positions and spreads start from around 0.6 pips for major pairs like EURUSD. You also pay swap fees for holding a position open for more than 24 hours.
Professional Accounts do not have negative balance protection, which means that if a trade is unsuccessful, you can lose all the money in your account and have an unpaid negative balance, and you will have to deposit more money in order to clear the negative balance.
The minimum balance required on this account is £100 and you will be required to submit additional documents like a bank statement and an employment letter before your application is approved.
3) Premium Account: The OvalX Premium Account is an automatic status that you gain when you maintain a cash balance of £10,000 or more on your account on the first day of each month. This applies to both Professional Accounts and Standard Accounts.
Being a Premium Account holder gives you access to more benefits, including a dedicated relationship manager who will answer your questions and help you out, unlimited withdrawals that are free of charge, and invitations to exclusive webinars where you can learn new things and ask the analysts on the platform your questions.
Note that if your balance is below £10,000 at the beginning of the month, Premium Account services will no longer be offered to you.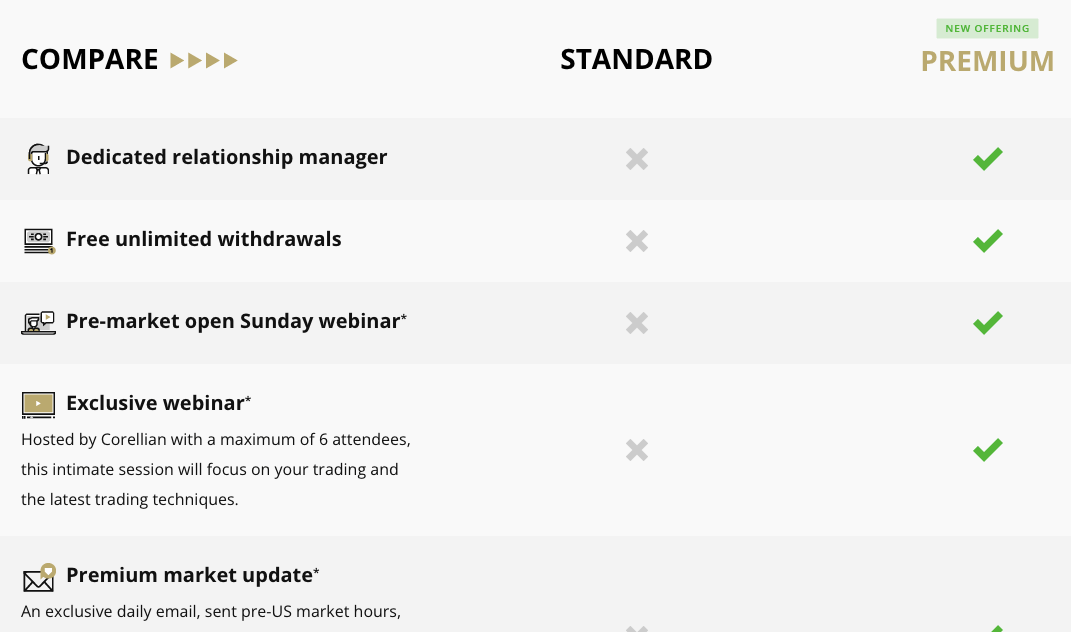 OvalX Account Base Currencies
When you register on ETX Capital, you have the choice of a base currency from three options: British Pound Sterling (GBP), Euros (EUR), or United States Dollars (USD).
You can make deposits in other currencies regardless of your chosen account base currency.
OvalX Overall Fees
The fees on OvalX depend on the account type you have and the trading platform you use. We compiled an overview of the trading and non-trading fees on ETX Capital below:
Trading fees
1) Spreads: Whenever you open a trade position with OvalX, you are charged spread fees, which are the difference between the buy price and sell price, this markup goes to the broker. Spreads on OvalX start from around 0.6 pips for major pairs like EURUSD.
OvalX operates a fixed spread system which varies depending on the trading platform you use. The average spread charges for major pairs on a Standard Account on the OvalX Platform and MT4 are shown on the table below:
| Instrument/Pair | OvalX Platform | MT4 |
| --- | --- | --- |
| EUR/USD | 0.6 pips | 0.8 pips |
| GBP/USD | 1.0 pips | 1.4 pips |
| EUR/GBP | 0.8 pips | 1.1 pips |
| Gold | 0.4 pips | 0.5 pips |
2) Commission fees: OvalX offers commission-free trading on all instruments, applicable to all account types. This means that you will not pay any additional fees for opening or closing trade positions, except the spread fees.
3) Swap fees: OvalX charges swap fees on trading positions held overnight, that is after 10 PM UK time. For example, if you hold a position overnight on the EUR/USD rate, you will be charged the interbank market rate for that currency pair plus 1.35% per annum.
Positions held overnight on a Wednesday will be subject to three days of swap charges, this is to cover for weekend charges, that is Saturday and Sunday.
Non-trading fees
1) Deposit and Withdrawal fees: OvalX does not charge any fees for deposits to your trading account. There are no extra fees for withdrawals too. However, your payment processor may charge an additional independent fee.
2) Account Inactivity charges: OvalX does not charge any fees on inactive accounts. You can leave your account dormant for as long as you want and any money you have in it will not be charged.
How to Open OvalX Account in UK?
To start trading on OvalX in the UK, follow the steps below to open an account.
Step 1) Go to the OvalX website at www.ovalx.com/en-gb, and click on the 'Open live account' button, highlighted in green at the centre of the page or 'Create Account' on the top right corner (on desktop).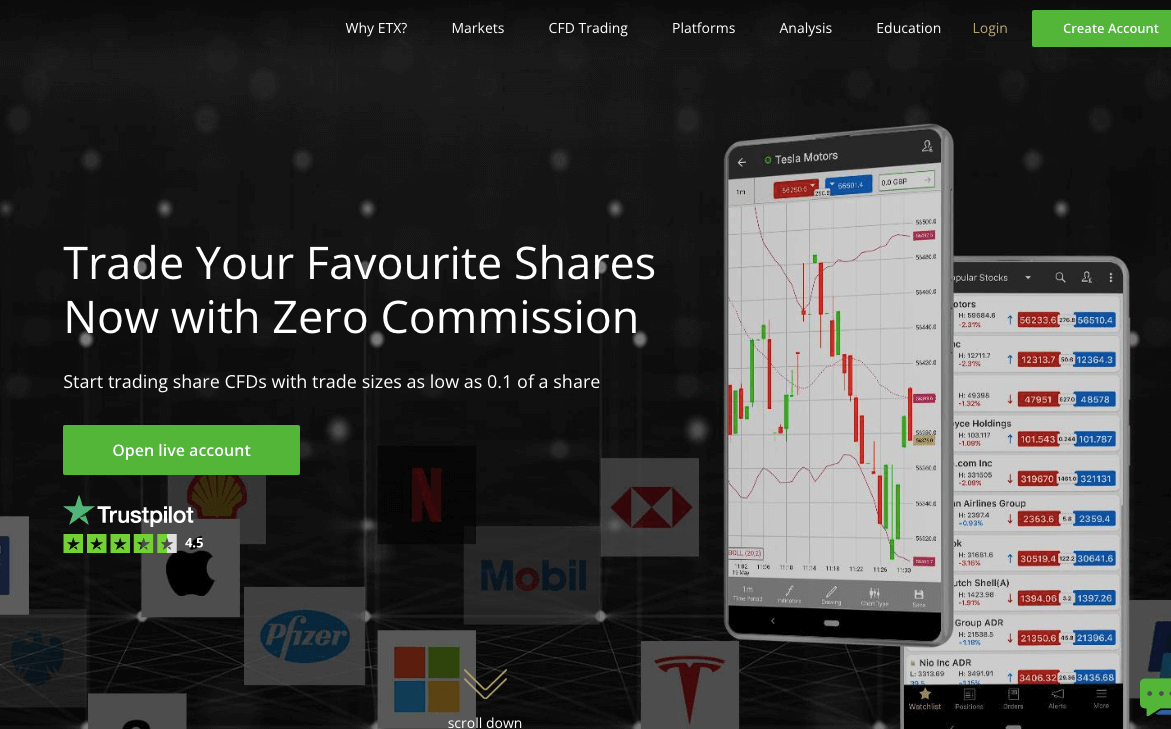 Step 2) On the signup page that appears, the United Kingdom will be selected automatically as your country of residence, click the 'Next' button, select your preferred trading platform, select CFD Trading or Spread Betting as account type, and choose your preferred base account currency, then click 'Next'.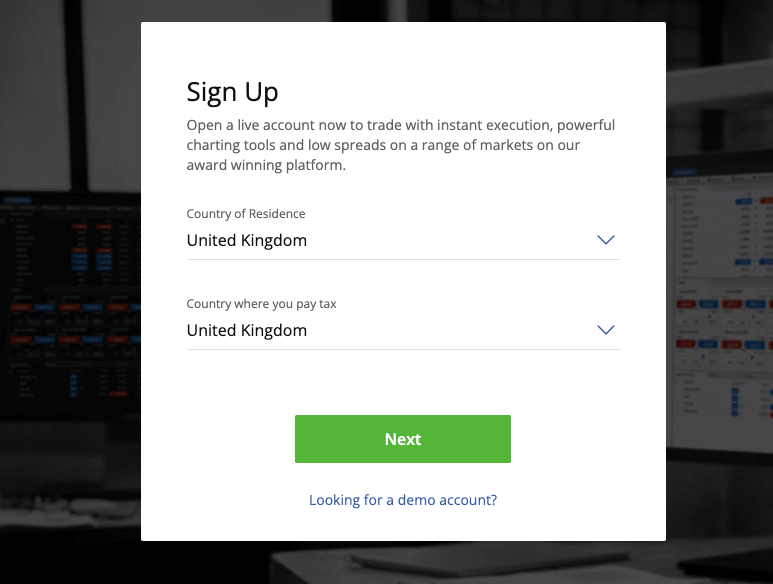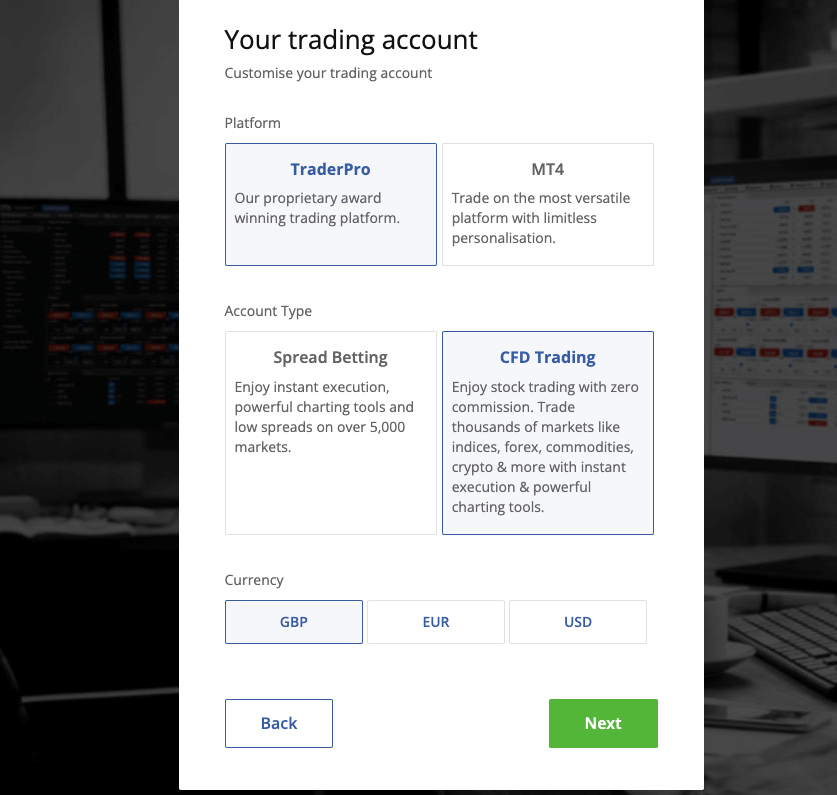 Step 3) Fill in your personal details on the form that appears, create a password and click 'Next'.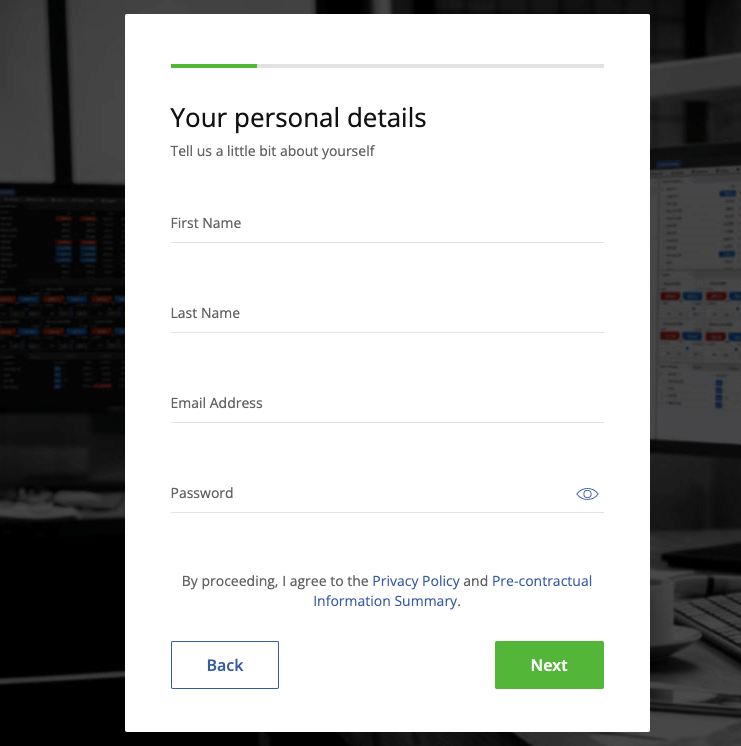 Step 4) You will be required to provide your date of birth and phone number, type in the details, and click on 'Next'.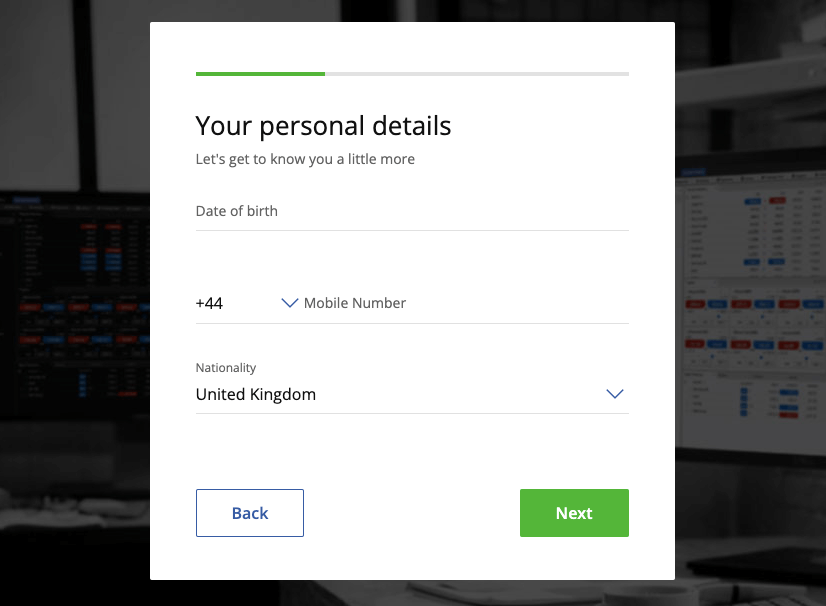 Step 5) Fill in your address on the form that appears and click on 'Next', then click on 'Confirm on the page that appears to proceed.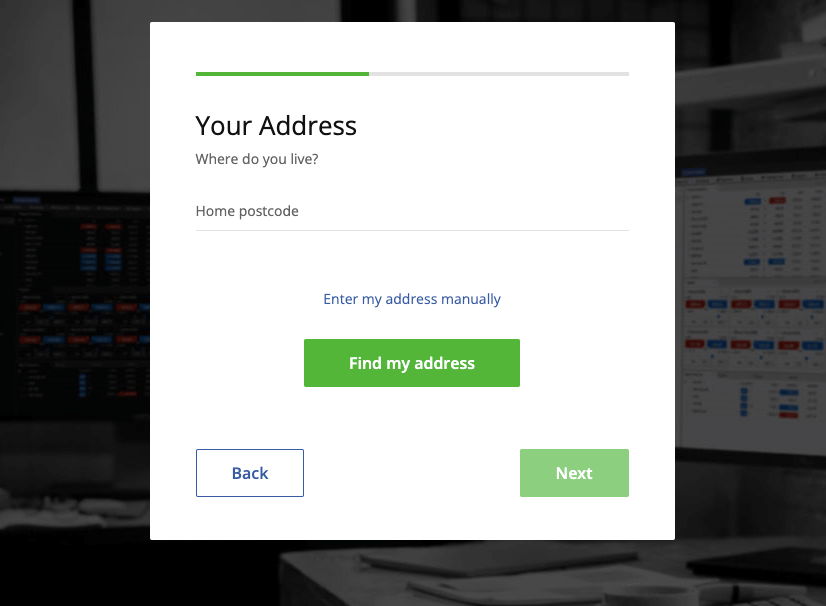 Step 6) You will be required to answer some questions about your employment status and experience trading financial instruments.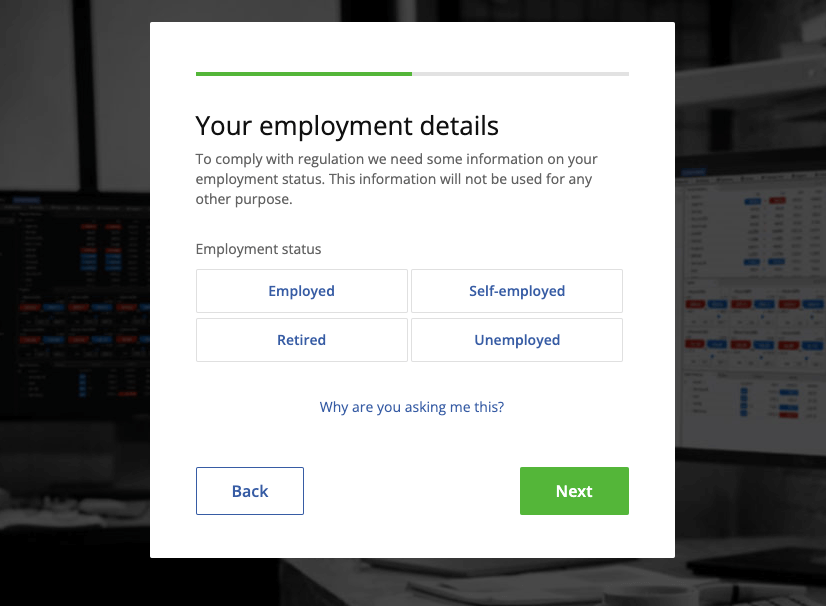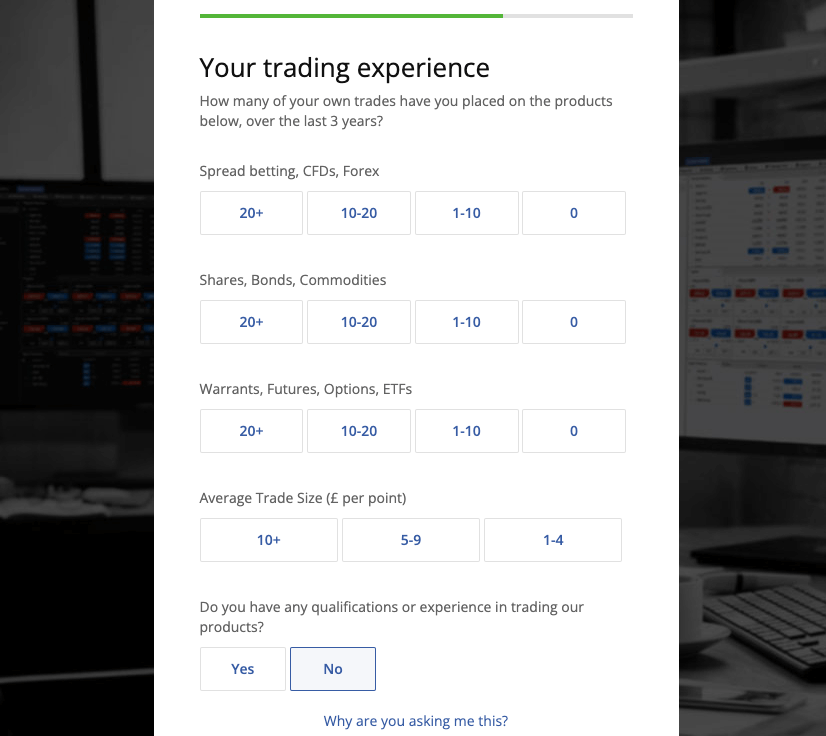 Step 7) Check the Terms and Policies, and click on 'I Agree' to complete your registration. You will also be required to agree to the Risk Warning, after which you will be taken to the ETX Capital dashboard, and required to verify your account.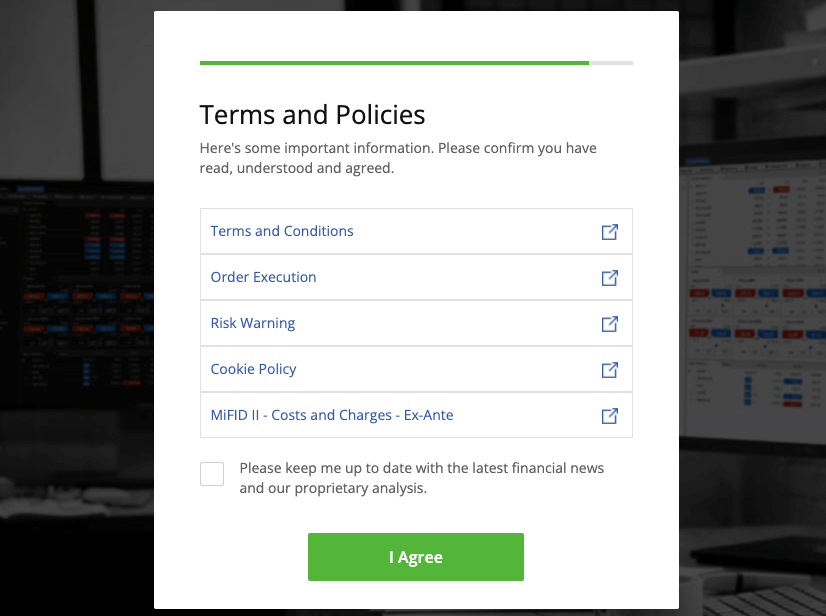 Step 8) To verify your account, First supply your insurance number in the space provided and click 'Submit'.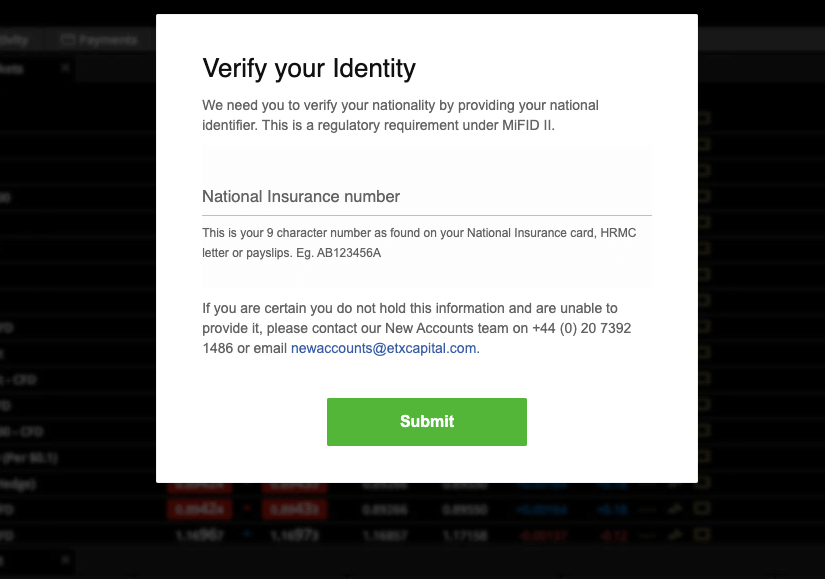 After you submit your insurance number, you will be redirected to the OvalX or MT4 platform dashboard, depending on the platform you chose earlier and required to activate your account.
Step 9) To activate your account, you will need to upload some identification documents.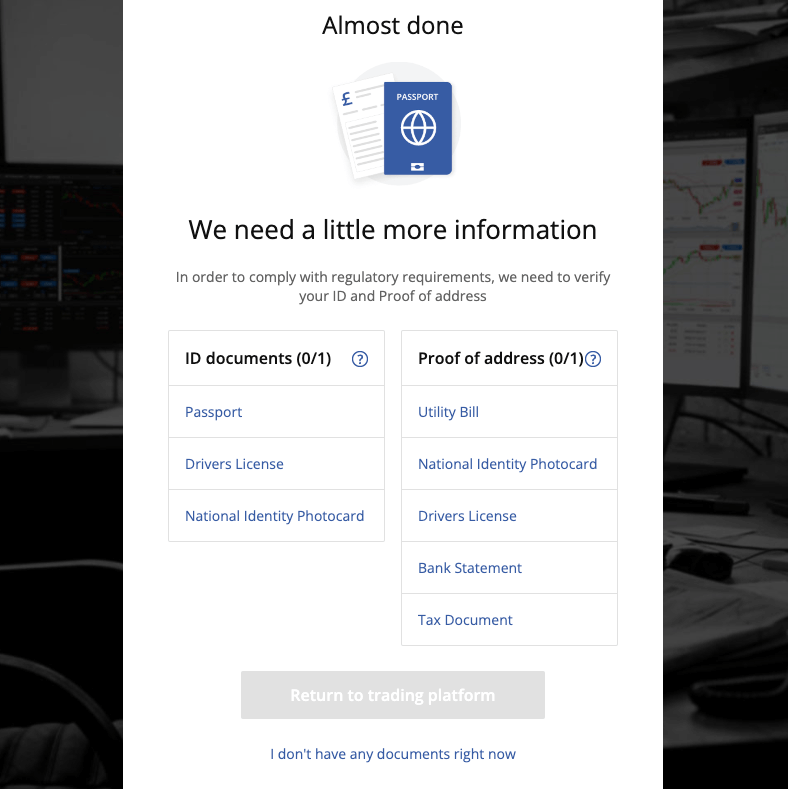 Upload one of any Identity documents and address documents, then click on 'Return to trading platform', where you can add and withdraw funds.
Note that you will be unable to add funds, trade, or withdraw funds until your account is activated.
OvalX Deposits & Withdrawals
OvalX supports a variety of payments method for deposits and withdrawals, including cards, e-wallets (Skrill & Neteller), and bank wire transfers. Deposits and withdrawals on OvalX are free of charge. You won't incur extra costs
Note that you can only deposit and withdraw funds on OvalX via an account that has the same name as the name on your trading account. Transactions via third-party accounts are not allowed.

What is the minimum deposit at OvalX?
The minimum deposit on OvalX is £100 for card payments, while bank transfers have no minimum deposits. Note that new accounts require a minimum of £250.
Card deposits on OvalX are credited instantly and bank deposits are handled manually by the accounts department and may take up to 5 business days for your account to be credited.
To deposit to your OvalX trading account, log in to your dashboard, click on 'Payments' on the top menu, then select 'Add Funds' and follow the on-screen instructions to complete the deposit.
What is OvalX Minimum withdrawal?
There is no minimum withdrawal at ETX Capital. Withdrawals can be initiated at any time of the day. While card withdrawals on OvalX are processed instantly, it takes 24 hours to receive funds transferred via e-wallets and 2-5 business days to receive withdrawals made to bank accounts.
To withdraw money from OvalX, log in to your dashboard, on the top menu, click on 'Payments', then select 'Withdraw Funds' and follow the on-screen instructions to complete the withdrawal.
OvalX Trading Instruments
You can trade a variety of financial instruments on OvalX. You may be unable to trade some of these instruments if you select the MT4 trading platform.
Find a breakdown of the tradable instruments on ETX Capital below:
| Instrument | Availability | Number |
| --- | --- | --- |
| Forex | Yes | 55 currency pairs on OvalX (12 majors, 17 emerging, and 26 forwards) |
| Commodities | Yes | 25 spot commodities on OvalX (4 Metals, 4 Energy Futures, 5 Metals Futures, 12 Soft Futures) |
| Bonds & Interest rates | Yes | 11 bonds on OvalX (Euro bund, French Oat, 10 Yr UK Gilt, and others. |
| Indices | Yes | 29 indices on OvalX (UK 100, Wall Street, France 40, and others) |
| Shares | Yes | 11 shares on OvalX (US, Eurozone, Uk, and others) |
| Commission-free shares | Yes | 250 commission-free shares |
| Cryptocurrencies | Yes | 7 Cryptocurrencies pairs on OvalX (Bitcoin, Ethereum, Litecoin, and Ripple) |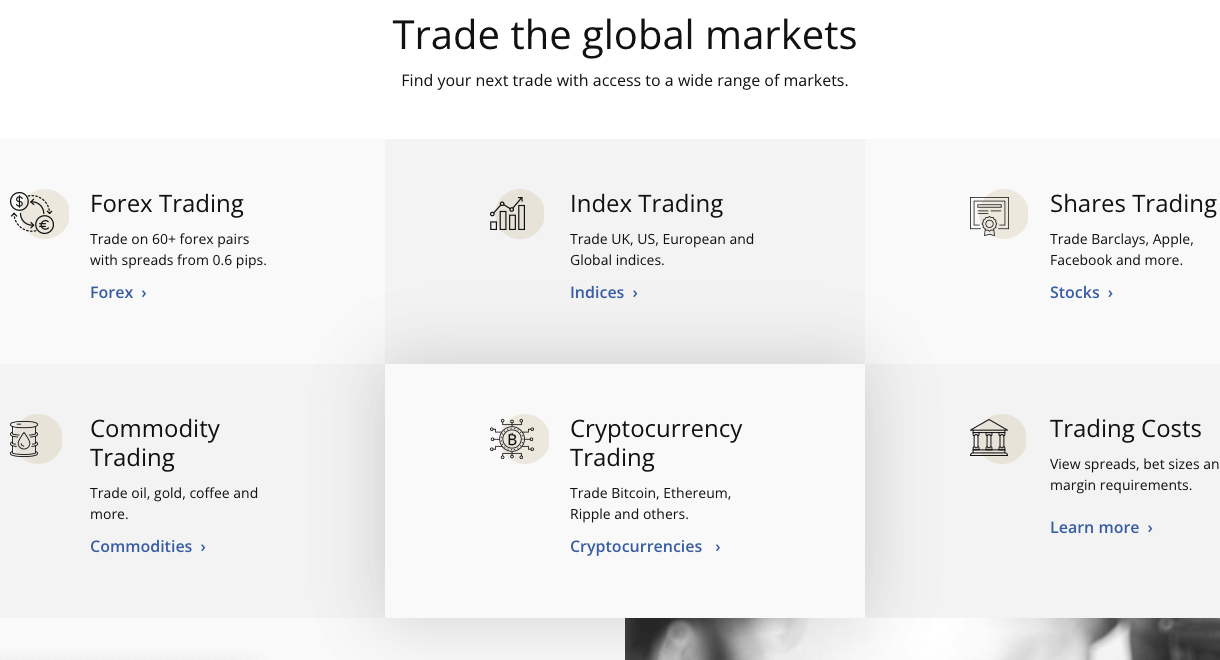 OvalX Execution Policy
OvalX, like most CFD brokers, works towards securing the best price for their clients. However, this is not enough detail. We have reviewed their 'order execution policy' document and here are our findings. The commitment to finding the best results for traders may not always equate to obtaining the best price or lowest cost. Therefore, there is no guarantee that you have the best conditions for your trades.
We could not fully determine from the document if OvalX is an STP or ECN broker. However, we were able to determine that they do not have a dealing desk on the in-house price book.
Instead, they aggregate prices and gather market data from various sources to get an average figure. In addition, they might compare similar OTC products. All of this is done to ensure there is fairness in the final price quoted to traders.
Price, cost, speed, the likelihood of execution, and size are OvalX's core execution factors. Their combination makes up OvalX's execution process. When dealing with retail clients, OvalX places more importance on price and cost together in order to achieve the best financial result for you. So they choose the execution method and venue that minimises your trading cost.
For professional clients, the likelihood of execution is the factor considered first. In this case, OvalX assesses execution venues to determine which one is capable of executing your order according to the required terms. For retail traders, the likelihood of execution refers to the probability of their trades being executed partially or in full. This factor is major influenced by the size of your order.
If the size of your order is large, it will be filled partially and the degree of partiality varies per execution venue. In a situation where the whole trade will not be filled, there will be an increase in the importance of the size of the potential fill. This means more importance is attached to partial fills.
OvalX Education and Research
All of OvalX's education and research content is on the OvalX blog. The blog is divided into the three sections described below:
1. Trading Guides: The OvalX trading guides can be accessed from OvalX website. The guide is a combination of video and text content put together by the OvalX team. The content covers three sections which are 'CFD Trading', 'Platform', and 'Trading Instruments.
Trading instruments contain news about specific currency pairs or CFDs while Platforms contain information about OvalX as a CFD trading platform. The load knowledge in these three sections is very useful for beginners
2. Webinars: OvalX webinars contain videos divided into 7 sections. Some of the sessions include Professional Trader Series, Platform Guides, Trading Strategy Course, etc. The webinars are useful for both beginners and advanced traders. The page displays the latest webinars. However, it is easy to find previous webinars with a single click.
3. News and Analysis: This part of the blog covers news and analysis about forex, stock markets, stock market movements, and European financial markets. They are useful for fundamental analysis.
OvalX Trading Platforms
OvalX supports the following platforms for trading.
1) MetaTrader 4: OvalX supports the MT4 trading application. You can choose to use this platform for trading during registrations. With the MT4 platform, you cannot change your account currency, you have to create a new account if you want a new account currency.
The app is available on desktop, web, and mobile devices (iOS and Android).
2) OvalX Trading Platform: OvalX has their own proprietary trading platform known as the TraderPro. You can trade using this platform via the web or mobile app, available on the Apple App Store and Google PlayStore.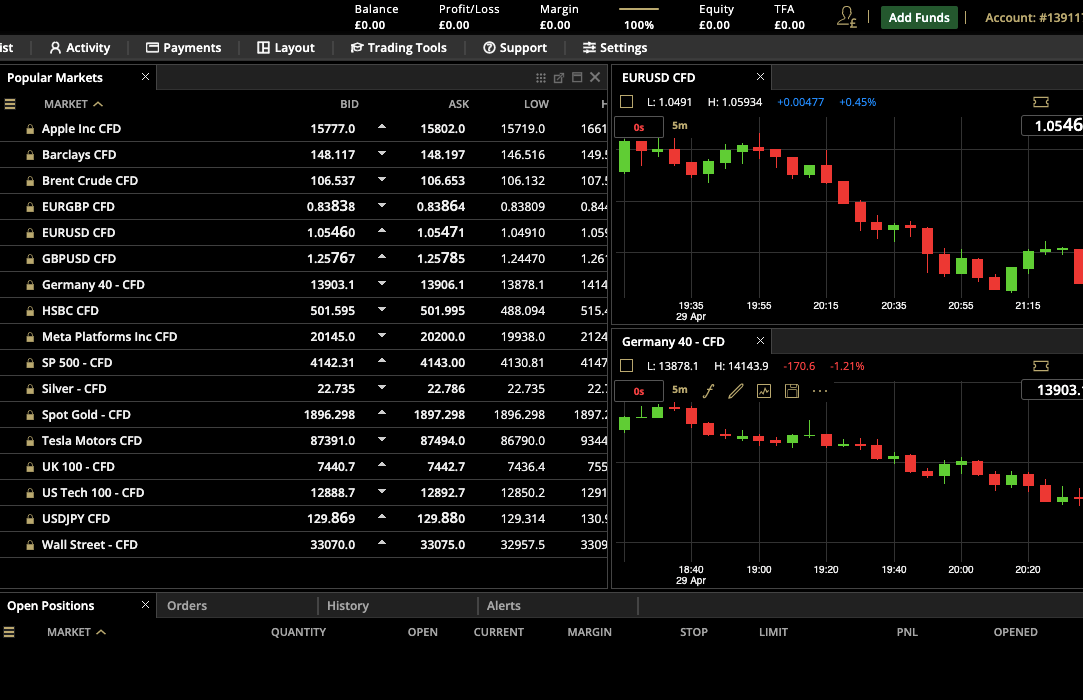 OvalX platform is a modern platform that has all the tools you need to trade comfortably. Advanced tools such as Fibonacci and more drawing tools are all supported. You will also be able to use important indicators like the ATR, ADX, Bollinger, etc.
OvalX UK Customer Service
OvalX customer support is available from 8 AM to 6 PM, Mondays to Fridays via the following channels:
1) Live chat support: OvalX live chat support is available from 8 AM to 6 PM on working days for clients.
2) Email support: OvalX also offers customer support via email, which is available only during working hours. The OvalX email address is [email protected] for existing customers, and new customers can reach them via [email protected].
3) Phone support: The OvalX phone support is available during working hours and customers can call in to make inquiries. The OvalX phone number for new accounts is 0800 138 4582, the number is toll-free.
The OvalX contact number that existing customers can use to reach the trading desk or customer services are +44 (0) 20 7392 1434 or +44 (0) 20 7392 1494.
4) Physical Office: The OvalX London office is the administrative headquarters of the broker, located at 26 Finsbury Square, London EC2A 1DS.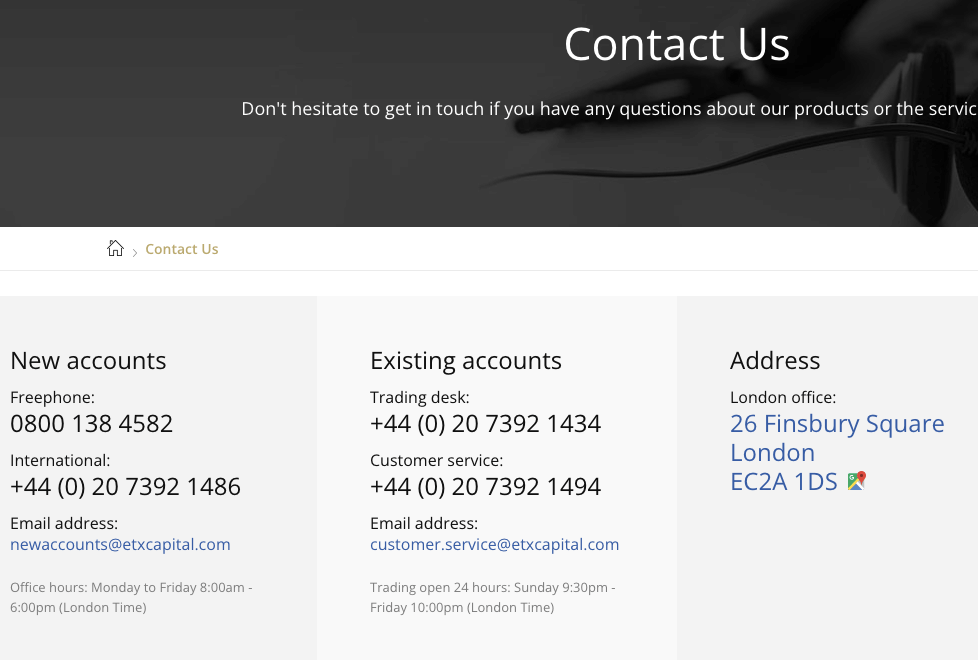 Do we Recommend OvalX UK?
OvalX is regulated in the UK by the FCA and other top regulators which makes them safe for trading as traders have protection for their funds.
The fees on OvalX are moderate, and they do not charge dormant account fees. There are no extra charges for deposits and withdrawals too.
The customer support of OvalX is not so good, as they are not available for 24 hours on any day, which makes it a bit difficult to make an inquiry on weekends or nights. The user interface of OvalX is a bit unfriendly, and it takes some time to find some information. At the time of this writing, the support on the new website is still not good enough.
Overall, we recommend you try OvalX, although there are other brokers regulated in the UK that offer more favorable trading conditions.
OvalX UK FAQs
Is Is ETX Capital safe?
OvalX is considered a low risk broker for trading forex & CFDs, based on their regulations by the Financial Conduct Authority (FCA), in the UK and by other top financial regulators like CySEC.
The broker's parent company is listed on the stock exchange which makes it low risk for traders.
Is ETX Capital a market maker?
ETX Capital (OvalX) is not a market maker.
What happened to ETX Capital?
ETX Capital did not go bankrupt. They integrated with Oval Money in April 2021. The merging led to the change of name from ETX Capital to OvalX. The merger became effective more than a year later in May 2022. OvalX still retains ETX Capital's FCA reference number.
Is OvalX a good for beginners?
OvalX is a reputable broker with multiple CFDs for beginners to trade. It is even more comprehensive since the merger happened. There's more comprehensive educational content for beginners.
Who owns OvalX?
OvalX is owned by a joint venture between a UK company JRJ Group and a Netherlands company BXR Group. The two companies acquired Monecor (London) Limited group in 2007 and changed its trading name from TradIndex to ETX Capital. After acquiring Oval Money, the new trading name is now OvalX.
Visit
Note: Your capital is at risk
Note: We may earn a commission if you decide to sign up with the broker via the referral links in this review. This help us cover the expenses of running this website, but this does not affect our honest & transparent review process. Thanks for your support.