IG Markets is an online provider of trading services for spread betting and CFDs (Contract for Differences). IG offers expert traders as well as beginners an accessible platform on which you can trade in financial markets such as forex, indices, commodities, ETFs, bonds, and shares.
IG Markets was founded in 1974 in London and is authorized in the United Kingdom, Europe, Asia, America, and Africa.
In our review of IG Markets, we examine the broker's trading conditions, fees, account types and features, account opening process, trading platform, deposit/withdrawal, and customer support.
IG Markets Review Summary
Broker Name
IG Markets United Kingdom
Establishment Date
1974
Website
www.ig.com
Address
IG Markets Limited Cannon Bridge House, 25 Dowgate Hill, London EC4R 2YA, United Kingdom
Minimum Deposit
£0 (for bank transfers)
Maximum Leverage
1:30
Regulation
FCA, ASIC, FSCA, MAS, BaFin
Trading Platforms
ProRealTime web-trader and MT4 available on PC, Mac, Web, Android, & iOS
Visit IG Markets
IG Markets Pros
Regulated by FCA
Supports MT4 platform
Offers commission-free trading
Free deposits and withdrawals
Offers a wide range of instruments
No mandatory minimum deposit for bank transfers
IG Markets Cons
Customer support is not available 24/7
Charges inactive account fees
Charges currency conversion fees
Does not support MT5 platform
Can I trust IG Markets?
IG Markets is considered safe for traders and scores low on the risk of funds because they are regulated in the UK and other jurisdictions by Top-Tier financial regulators.
Here are the various regulations of the trading IG Markets in different countries:
1) Financial Conduct Authority (FCA): IG Markets Limited is regulated by the FCA and authorised to offer financial services in the UK, with reference number 195355, issued in 2001.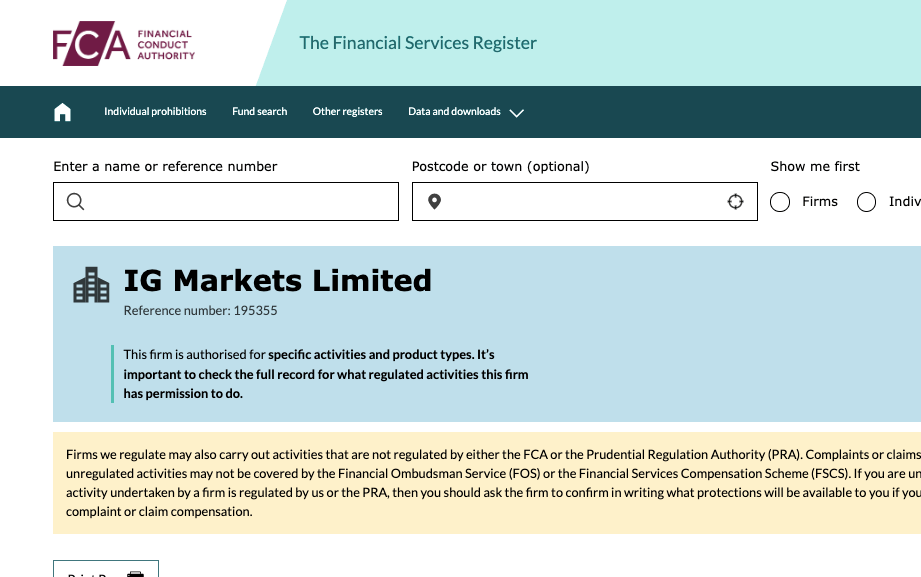 2) Australian Securities & Investments Commission (ASIC): IG Markets Limited is registered in Australia by ASIC and licensed to offer financial services, with ARBN (Australian Registered Body Number) 099019851, issued in 2002.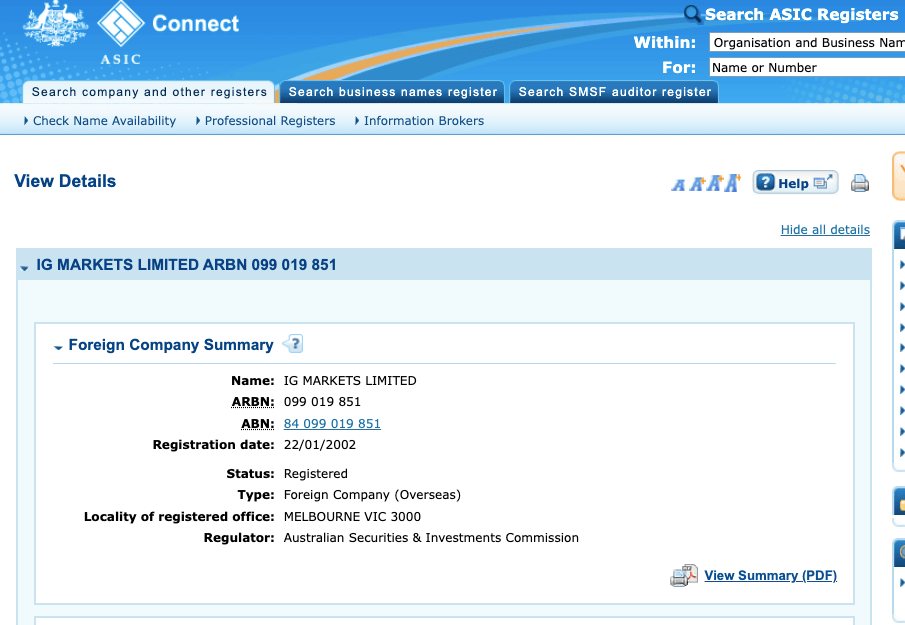 3) Monetary Authority of Singapore (MAS): IG Asia Pte Ltd is registered in Singapore as a financial institution and authorized to deal in capital markets products.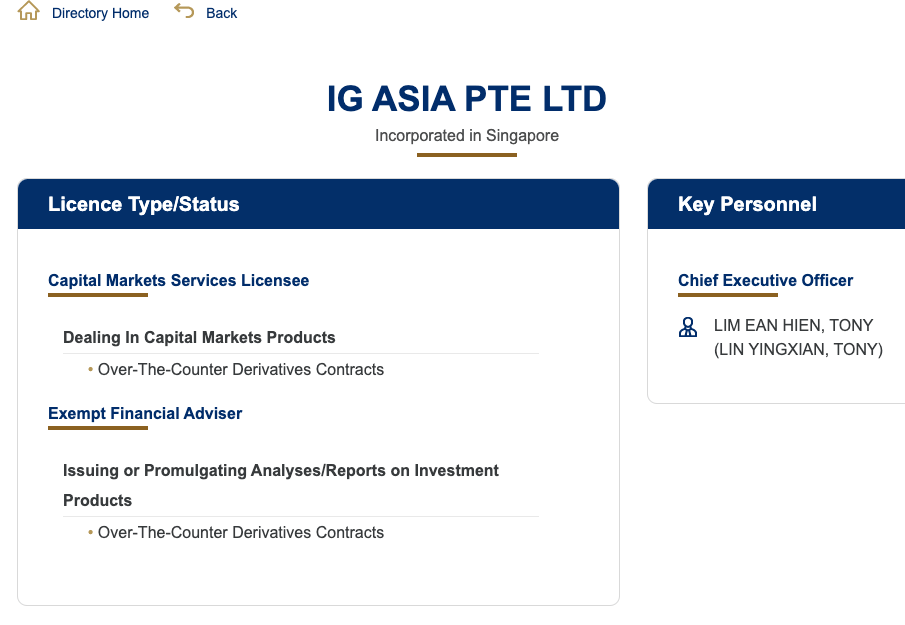 4) Financial Sector Conduct Authority (FSCA), South Africa: IG Markets South Africa Limited is authorized by the FSCA to provide financial services in South Africa, with FSP (Financial Services Provider) Number 41393, issued in 2010.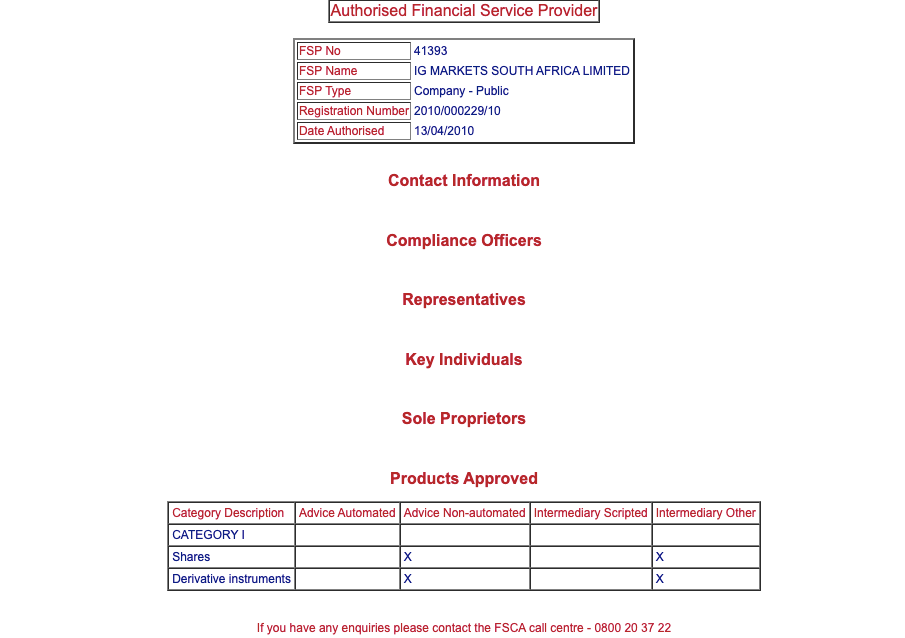 5) Federal Financial Supervisory Authority, Germany: IG Markets is authorized in Germany as 'IG Europe GmbH', with an office in Frankfurt. IG Markets serve European clients through the license in the EEA.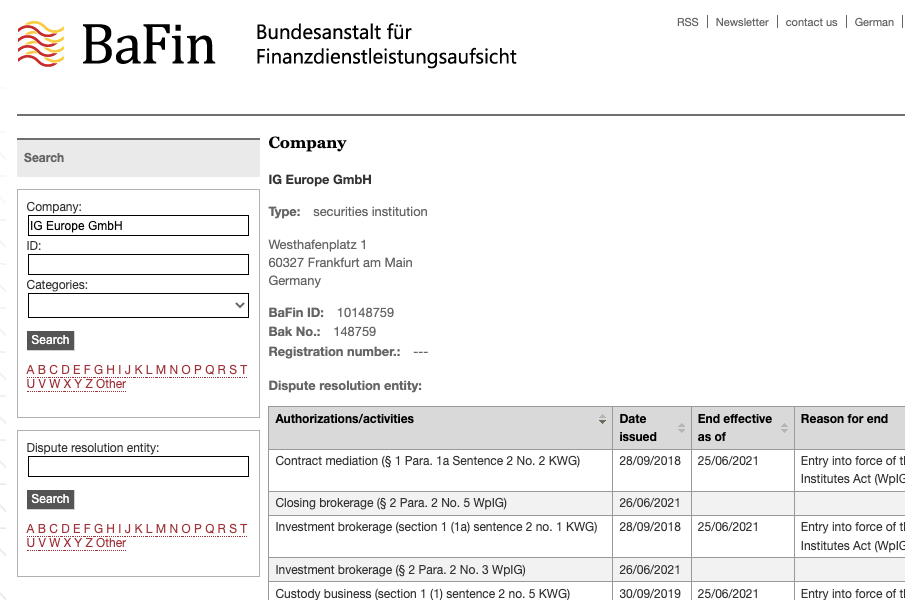 IG Markets Leverage
The maximum leverage on IG Markets is 1:30 for retail traders. This means that you can place a trade worth 30 times the size of your deposit.
For example, if you deposit £1,000, you can open a trade position worth £30,000. Although this maximum leverage applies to forex and other instruments have lower leverages.
IG Markets' maximum leverage for professional clients is 1:200.
IG Markets Account Types
IG Markets offers 2 account types for retail and professional traders. Your account type determines the instruments you can trade, fees, and leverage you can access.
IG Markets Does not offer Islamic Accounts, although you can create a demo account to practice with virtual money before putting your real money.
Here is an overview of the account types on IG Markets:
1) IG Trading Account: The IG Trading Account is designed for retail clients and can be accessed on the MT4 trading platform. You can trade CFDs on forex, indices, and commodities with this account and also engage in spread betting trades and shares dealing.
Spread fees on this account start from 0.6 pips for major pairs like EURUSD and you do not pay any commission fees on your trades except when trading shares. You also pay swap fees for keeping a position open past the closing time of the market.
This account requires a minimum deposit of £250. Account inactivity fees apply after 24 months, but you will have negative balance protection, so you won't lose more money than you deposit.
This is the default account you get when you signup on IG Markets and the leverage on this account is 1:30 for forex, 1:20 for indices and commodities, and 1:5 for shares.
2) IG Professional Account: This account is designed for professional traders who are experienced and trade large sizes of financial markets. You can access the account on the MT4 trading application as well as trade CFDs on forex, indices, and commodities, and also engage in spread betting trades and shares dealing.
Spread fees on this account also start from 0.6 pips for major pairs like EURUSD and you only pay commission fees when trading shares. You also pay swap fees for keeping a position open past the closing time of the market.
This account requires a minimum deposit of £250 and account inactivity fees apply after 24 months. The IG Professional Account does not have negative balance protection. If your trade is unsuccessful, you will lose more than your deposit and will need to deposit more funds to clear the negative balance.
The Professional Account offers more leverage of up to 1:200 and is available to only experienced traders who meet certain conditions with proof. If you meet at least two of the following criteria, then you can apply to customer support to upgrade your account to the professional status:
You have worked in the financial sector for at least one year
You have traded at least 10 significant amounts of leverage products each quarter over the last 1 year
You have a financial instrument portfolio of more than €500,000 or its equivalent in GBP
Upon application, you will be required to submit verification documents like bank statements and trading account statements before your application can be approved.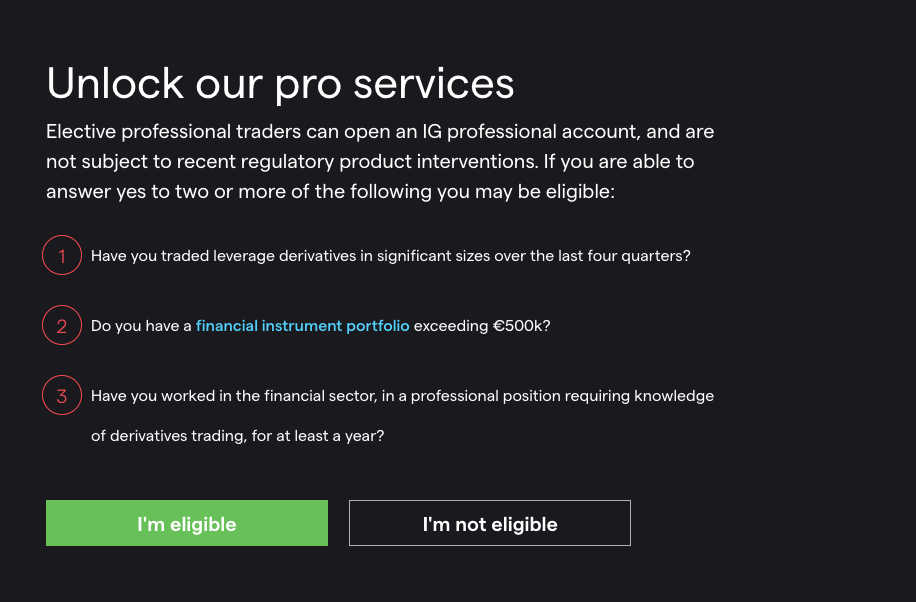 IG Markets Base Account Currency
When you create an on IG Markets, by default you are assigned British Pound sterling – GBP as your account base currency. You can decide to change this and choose from 5 other base account currencies on IG Markets which are Euros – EUR, United States Dollar – USD, Singapore Dollar – SGD, Hong Kong Dollar – HKD, and Australian Dollar – AUD.
Your trades, fees, and deposits/withdrawals are measured in the base currency of your account.
IG Markets Fees
Fees on IG Markets depend on the instruments you are trading, the size of the trading, your account type, and how long you keep the trade open. Find an overview of the trading and non-trading fees on IG Markets below:
Trading fees
1) Spreads: You pay spread fees on IG Markets whenever you place a trade. The spread is the difference between the bid and asks prices, called pips, and this varies based on the instrument you are trading and market movement. Spread fees apply to all CFD trades except when you trade shares.
You do not pay spread fees on shares CFDs trade, you pay commission fees instead. Find the average spreads of major instruments with the IG Trading Account below:
| Instrument/Pair | Spreads |
| --- | --- |
| EUR/USD | 1.04 pips |
| GBP/USD | 1.83 pips |
| EUR/GBP | 1.89 pips |
| Gold | 0.3 pips |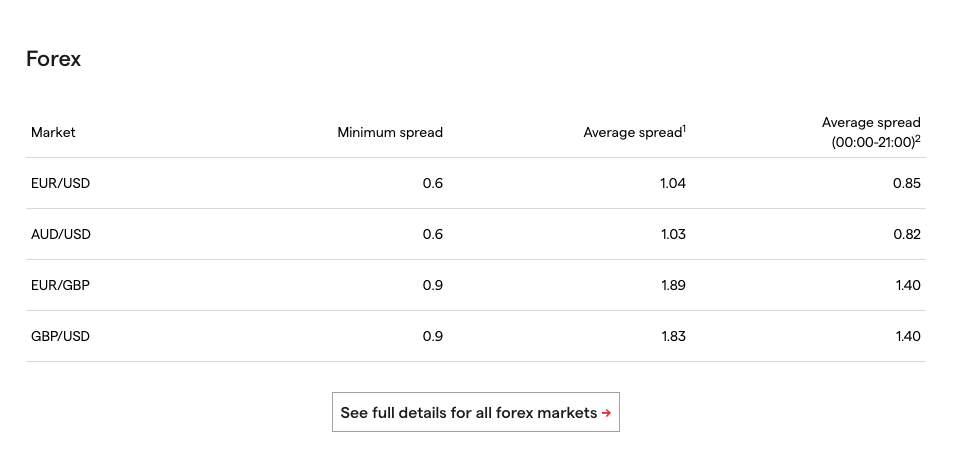 2) Commission fees: IG Markets offers commission-free trading for all instruments except shares. This means that you do not have to pay commissions for opening or closing trade positions on most instruments.
Only shares CFDs trades incur commission fees, as no spread fees are charged on them. You will not pay any commission fees for spread bets on shares.
The commission fees on shares vary based on the country whose shares you are trading and whether you are using a mobile trading app or web. For UK shares, the fee starts from 0.10% per side or a minimum of £10 per round turn for web trading and £15 for mobile trading.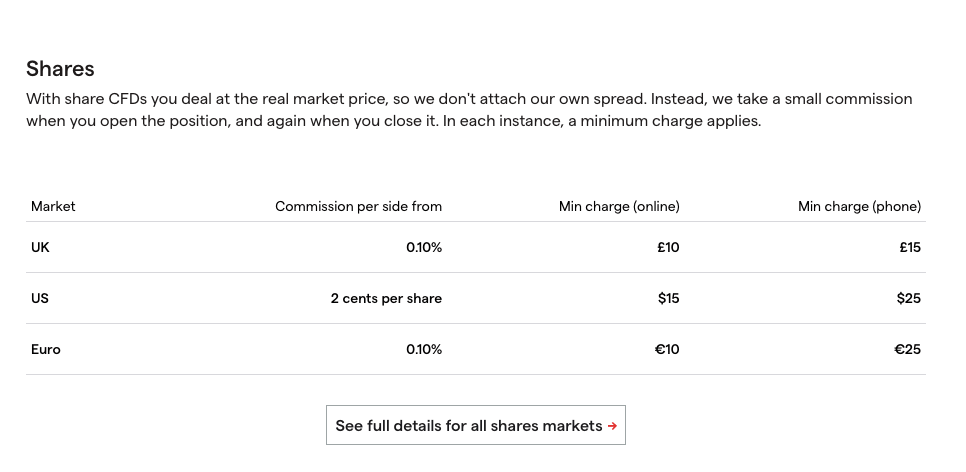 3) Swap fees: Whenever you keep a trading position open past the closing time of the market, which is 10 PM UK time, incur an overnight funding cost also called swap fees or rollover fees. This fee is based on the size of your trade and whether your position is long (buy) or short (sell).
The swap fees are added to your profit or loss when you close the trade. In some cases, if you are holding a long position open, you gain interest instead of a fee.
4) Currency Conversion fees: Whenever you make a CFDs trade in a currency other than the base currency of your account, IG Markets will charge a currency conversion fee.
For example, if your account base currency is GBP and you place a trade on AUD/USD, IG Markets will charge a currency conversion fee of 0.5% of the transaction value.
Non-trading fees
1) Deposit and Withdrawal fees: IG Markets offers free deposits and withdrawals for all payment methods for UK traders. This means that you do not pay any deposit fees when you add funds to your account or withdrawal fees when you take money out.
Note that your payment processor may charge an independent transaction fee.
2) Account Inactivity charges: If you do not place any trade with your IG Markets Account for 2 years, you will be charged a dormant account fee of £12 every month, which will be deducted from any money in your account.
If you do not have any money in your account, you will not be charged, thus the account will not accrue a negative balance.
How to Open IG Markets Account in UK?
Follow these steps to open a trading account on IG Markets.
Step 1) Go to the IG Markets website at www.ig.com and click on 'Create live account'.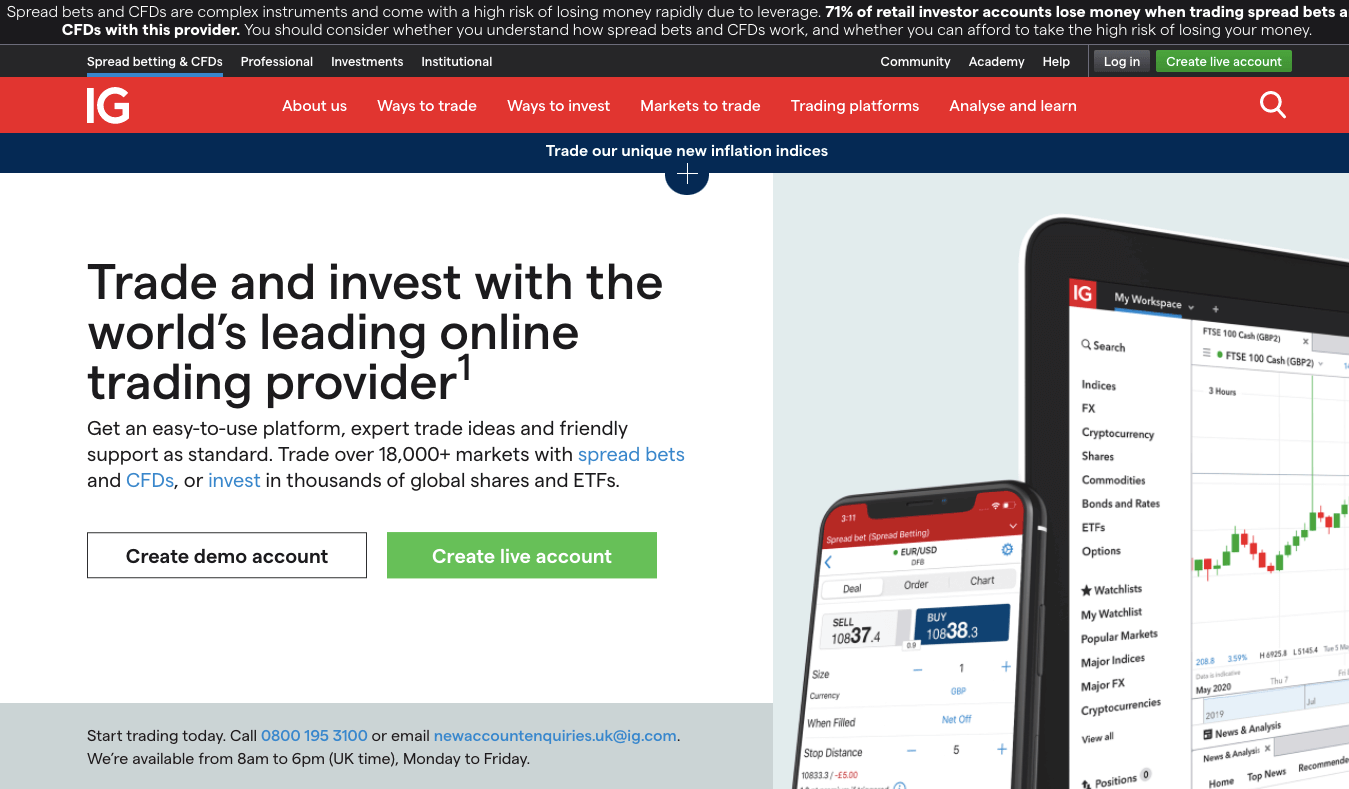 Step 2) On the form that appears, fill out your name and email, create a username and password then click on 'Next'.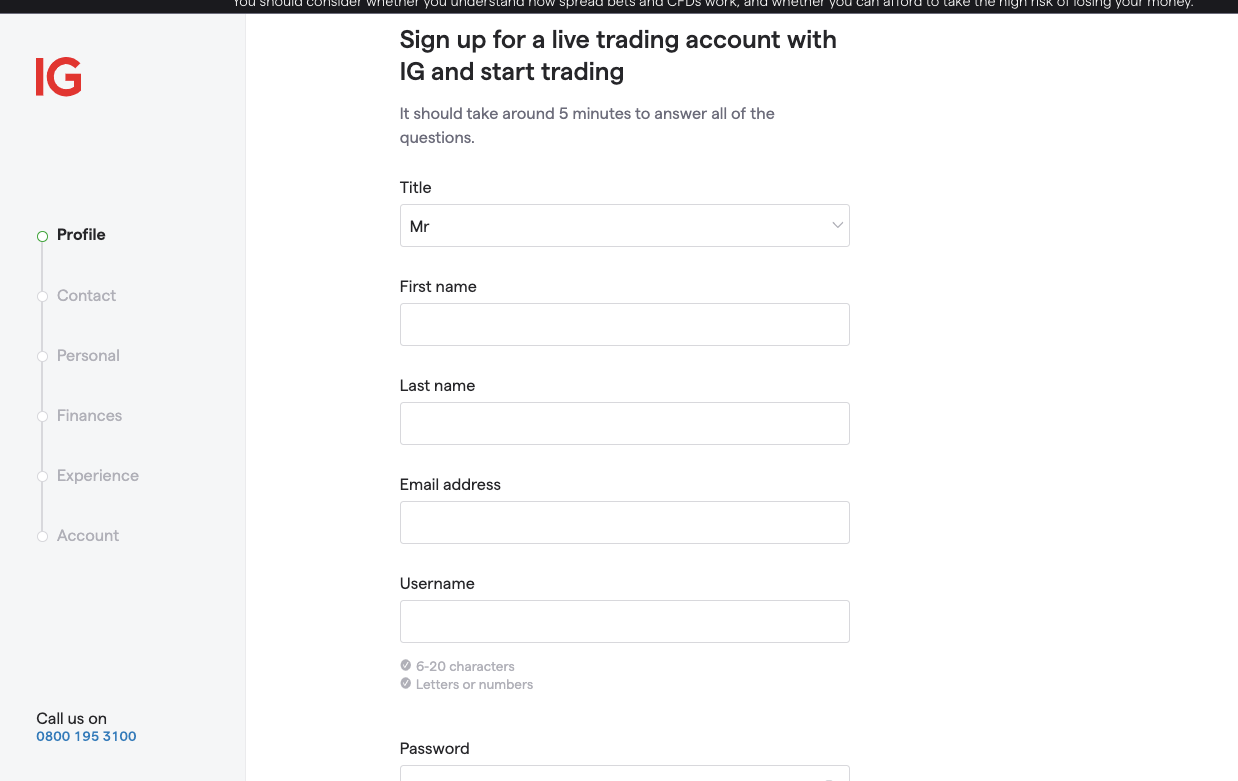 Step 3) Select the type of account you want to start trading with, then click 'Next'.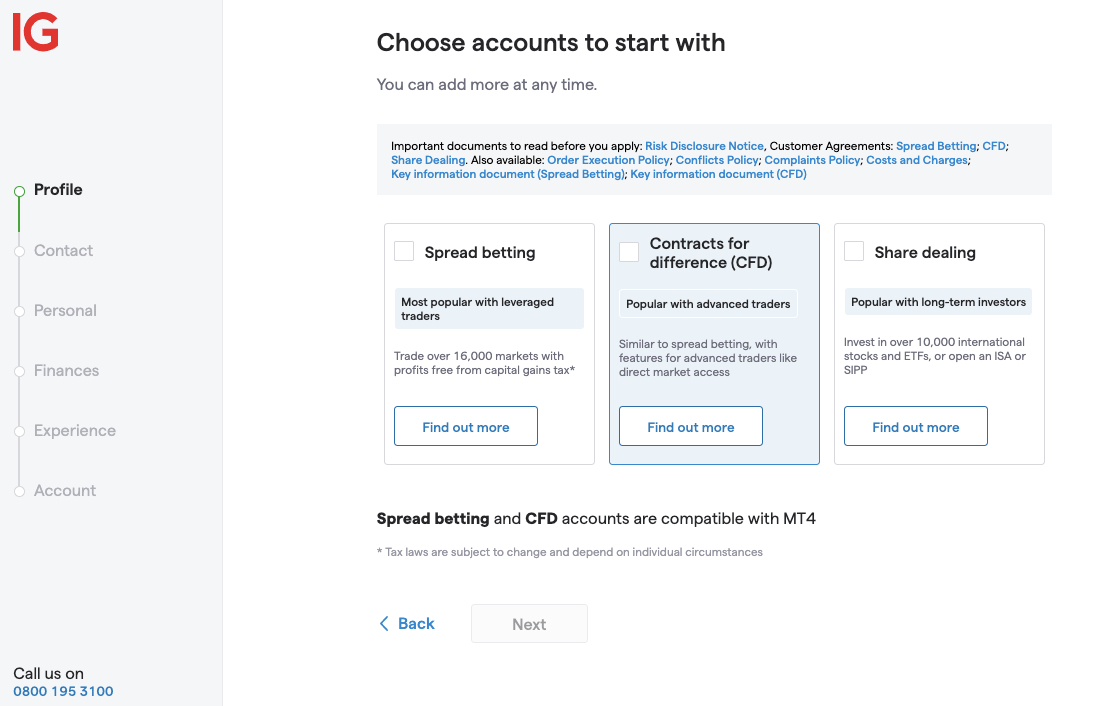 Step 4) Supply your personal details like date of birth, address, nationality, and national insurance number, then click 'Next'.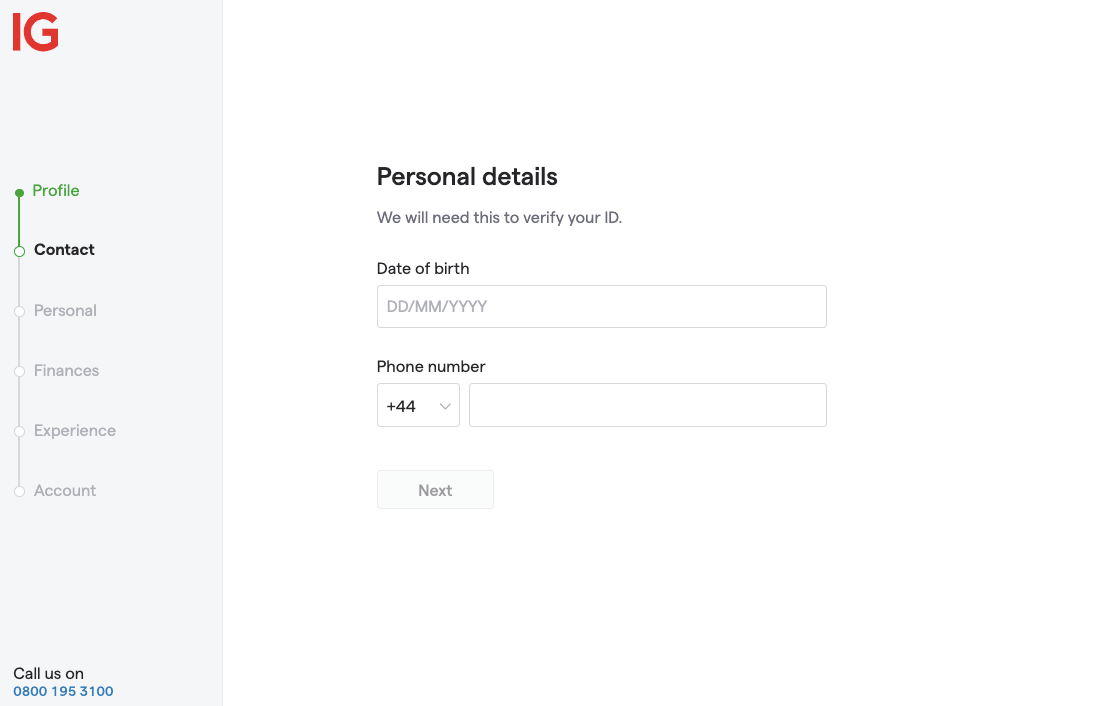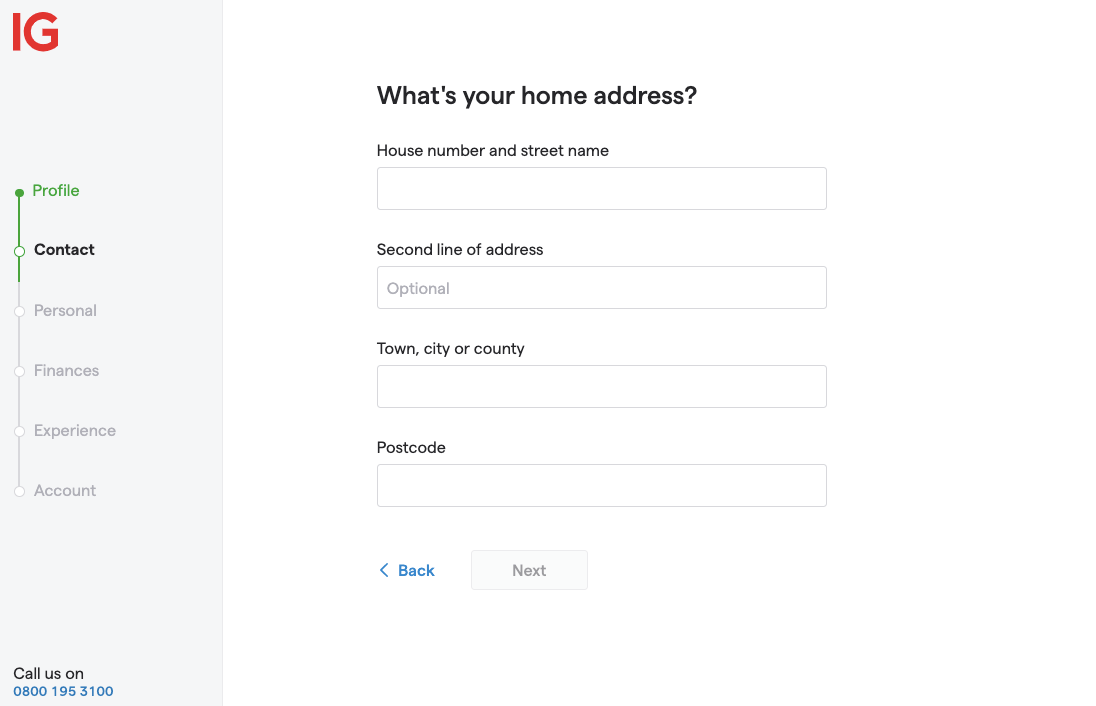 Step 5) Answer questions relating to your employment and financial status and trading experience, then click 'Next'.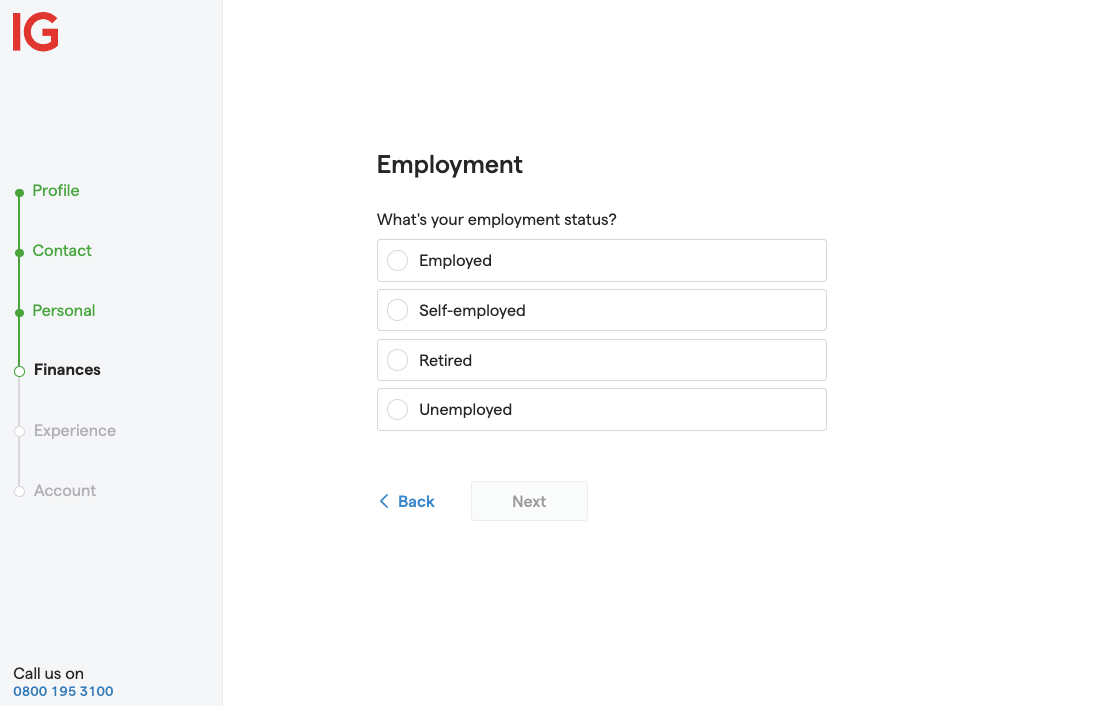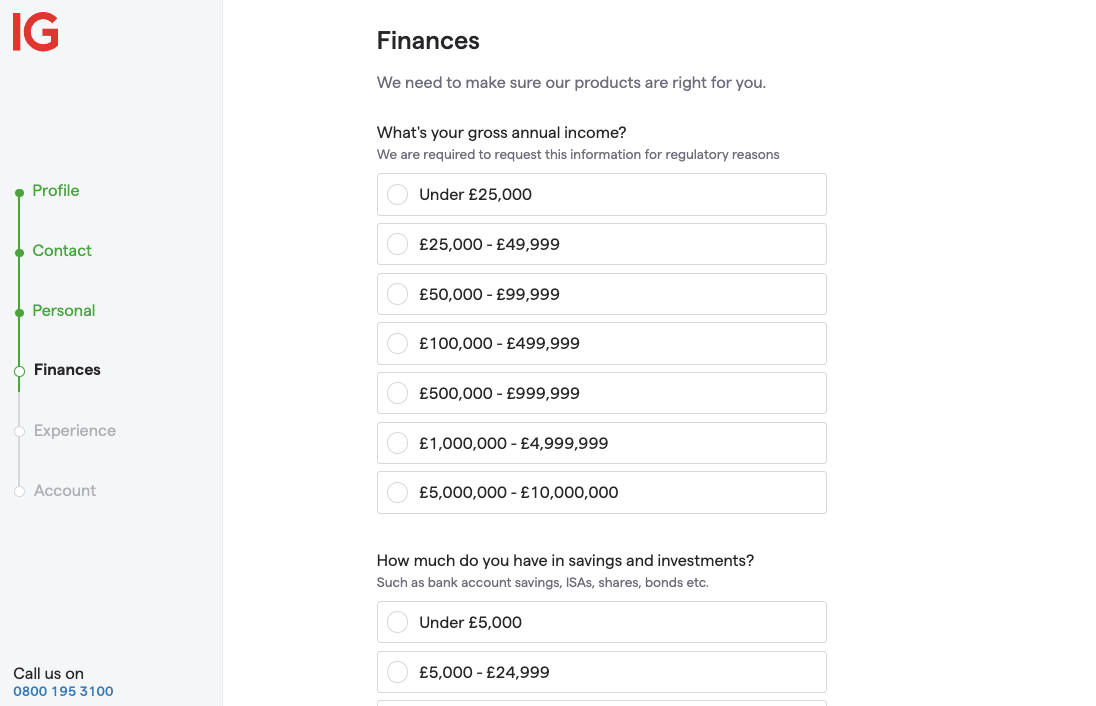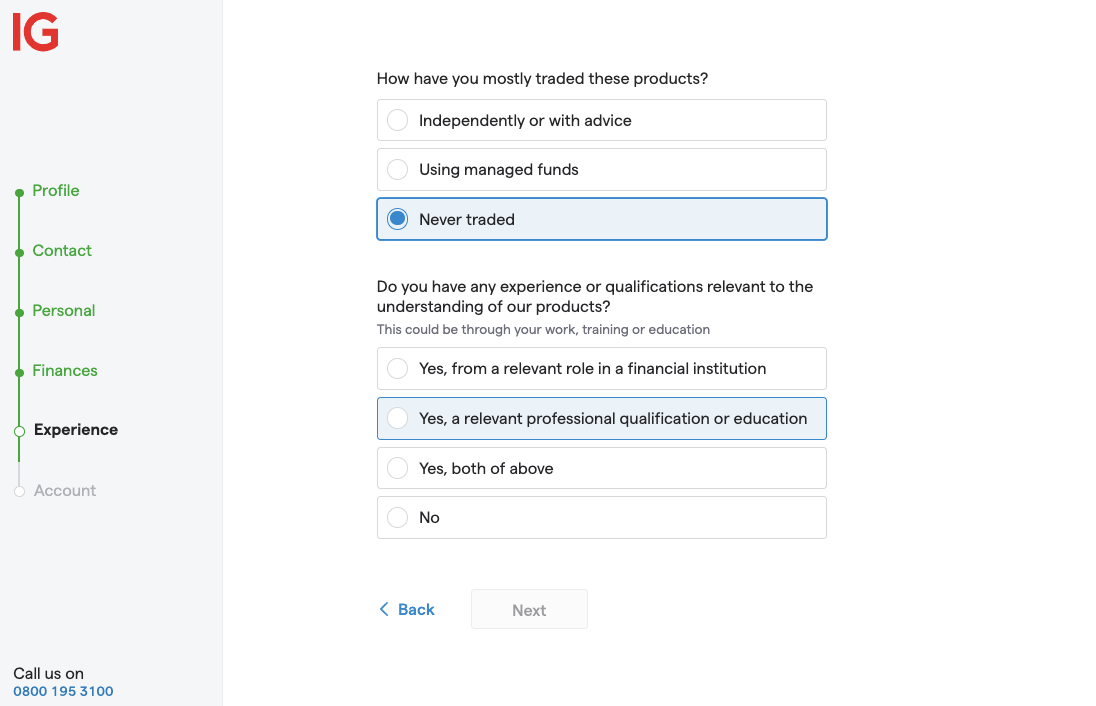 Step 6) Check the box to agree to the terms and conditions, then click the 'Get started now' button on the page that appears to continue with your registration and you will be redirected to the IG Markets dashboard.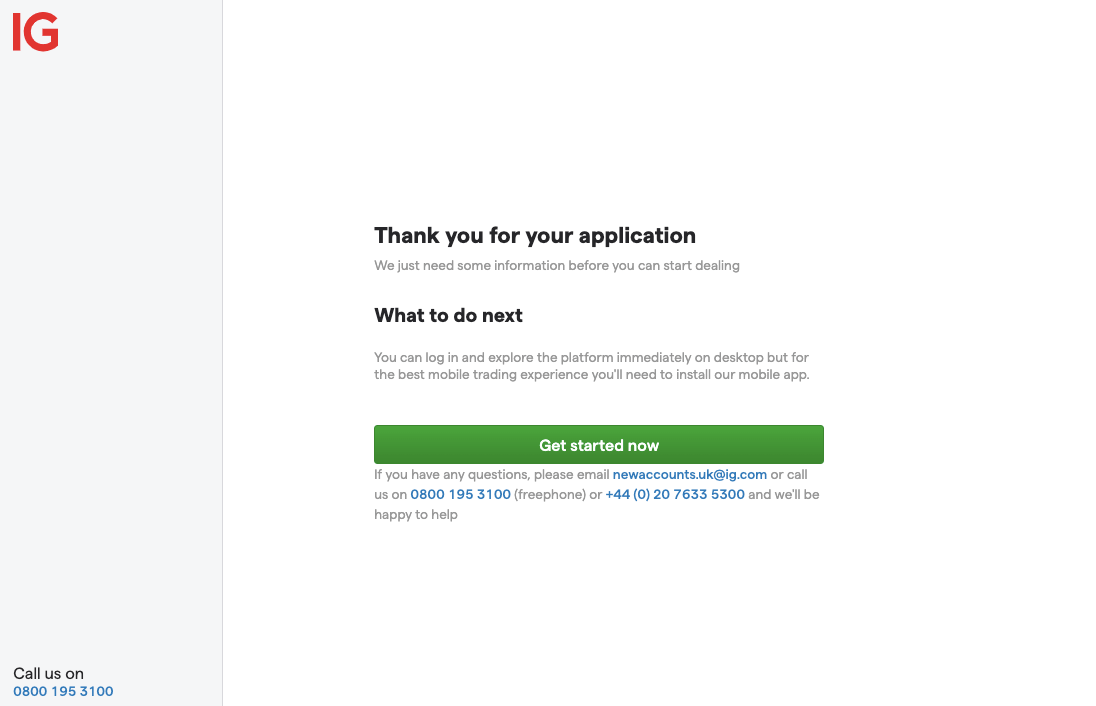 Step 7) On the dashboard, click on 'Proceed' to activate your account and upload the required verification documents.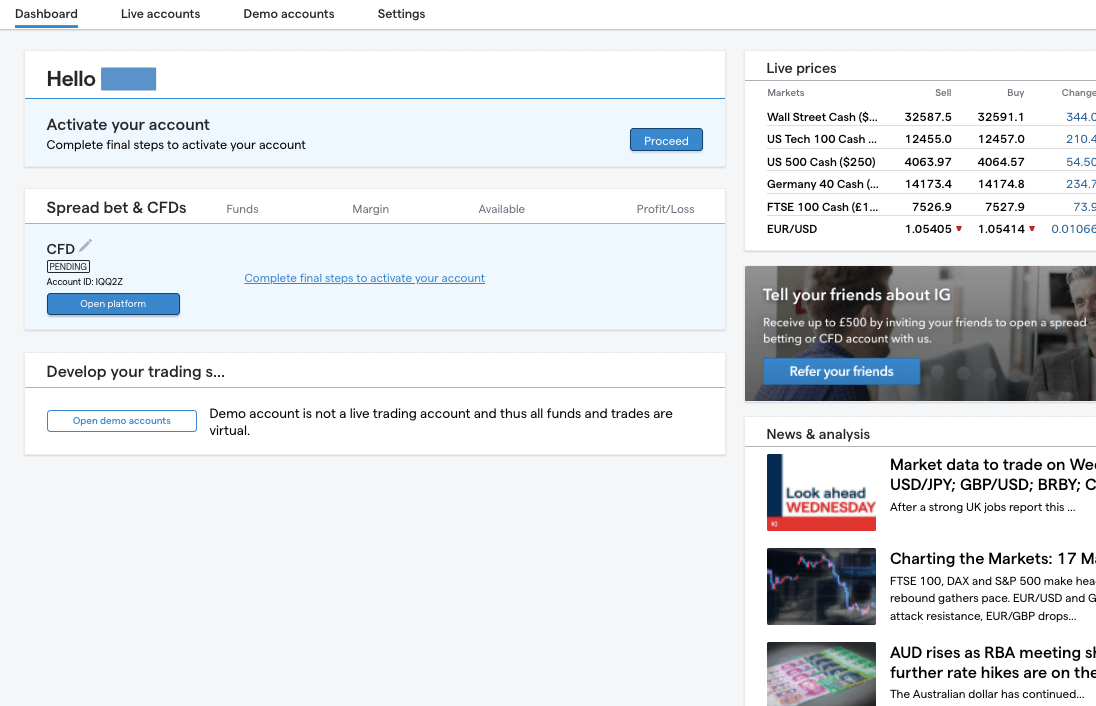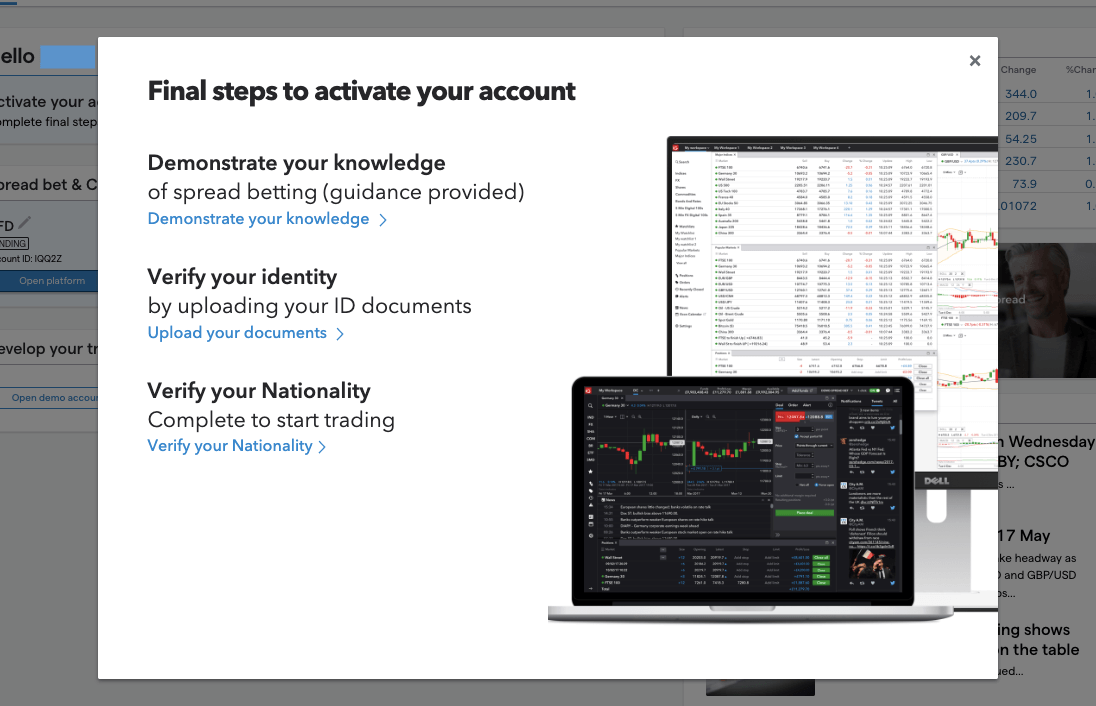 After your account is activated, you can make deposits, place trades and withdraw funds from it.
IG Markets Deposits & Withdrawals
Payment Methods accepted on IG Markets are bank transfers, cards (credit/debit), and PayPal. Find details about deposits and withdrawals on IG Markets below:
What is the minimum deposit for IG Markets?
The minimum deposit on IG Markets is £250 for all account types using cards and PayPal. Bank transfers have no mandatory minimum deposit amount.
The maximum deposit per transaction is £30,000 for credit cards, £99,999 for debit cards, and £25,000 for PayPal while bank transfers have no maximum amount.
While PayPal and card deposits are credited instantly or within 1 business day, it can take up to 3 working days for deposits via bank transfers to be credited to your account. You can send your proof of payment to customer support to fast-track the process.
How do I add money to my IG trading account?
Follow these steps to deposit funds into your IG Markets trading account:
Step 1) Log in to your IG Markets Account via www.ig.com/uk/login.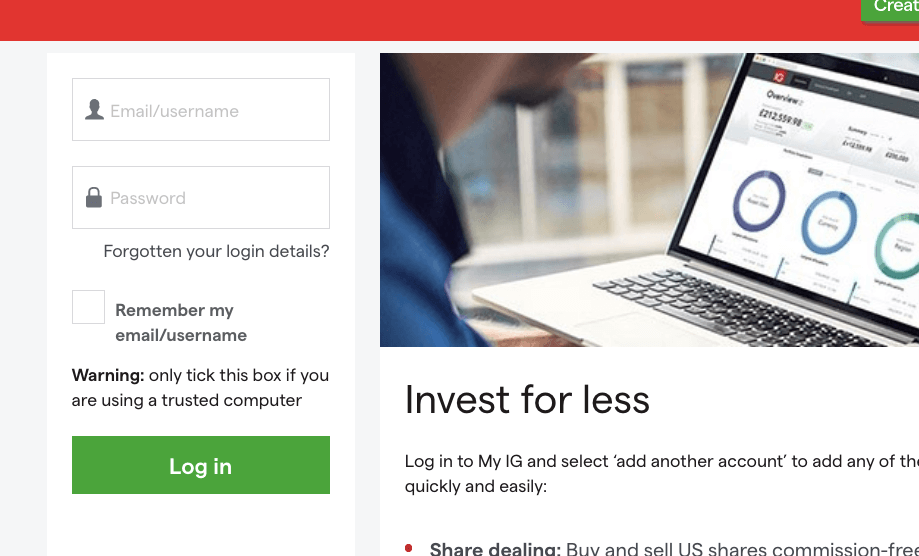 Step 2) Click on the 'Live Accounts' tab and select the trading account you want to deposit funds into.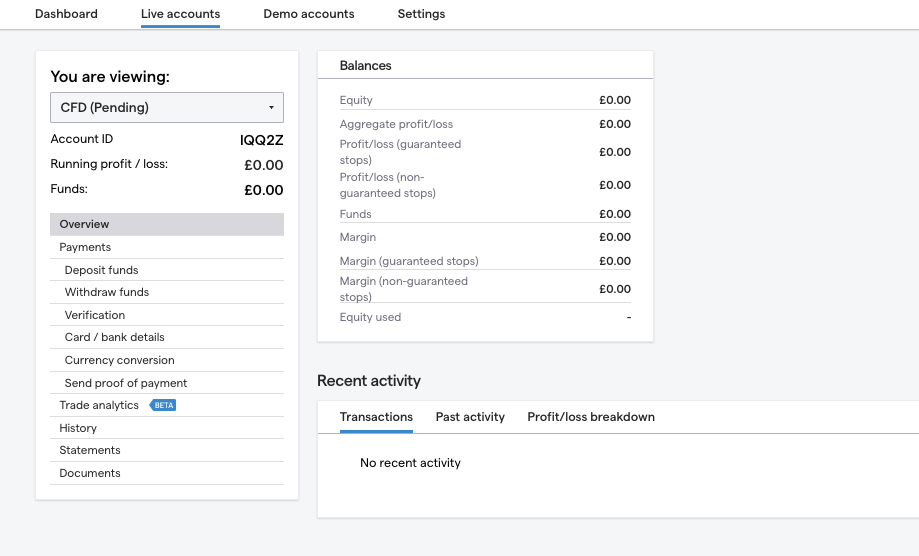 Step 3) Select 'Deposit funds', choose a payment method and follow the on-screen instructions to complete your deposit.
IG Markets Minimum Withdrawal
The minimum withdrawal on IG Markets is £100 for all payment methods. Although if your account balance is less than £100, you can withdraw the available amount.
You can only withdraw a maximum of £20,000 per day to cards, while £5,500 is the maximum you can withdraw per transaction on PayPal with unlimited withdrawal times in a day and bank transfers have no maximum withdrawal amount.
Withdrawals to bank transfers are received within 3 business days, while PayPal withdrawals are received instantly or within 1 business day, card withdrawals take 2-5 business days for you to receive the funds.
How do I withdraw money from IG trading?
Follow these steps to withdraw money from your IG Markets:
Step 1) Log in to your IG Markets Account.
Step 2) Click on the 'Live Accounts' tab and select the trading account you want to withdraw money from.
Step 3) Select 'Withdraw funds', choose a withdrawal method and follow the on-screen instructions to complete your withdrawal.
IG Markets Trading Instruments
You can trade over 16,000 financial instruments on IG Markets, find a breakdown of the instruments below:
| Instrument | Availability | Number |
| --- | --- | --- |
| Forex | Yes | 99 currency pairs on IG Markets |
| Energy | Yes | 8 Energies on IG Markets |
| Metals | Yes | 5 Metals on IG Markets |
| Commodities | Yes | 21 soft (agriculture) commodities on IG Markets |
| Indices | Yes | 34 indices on IG Markets |
| Shares | Yes | 16,000+ shares on IG Markets |
| Bonds | Yes | 12 Bonds on IG Markets |
*IG Markets offers ETF trading to only Professional clients.
IG Markets Trading Platforms
Trading platforms supported by IG Markets are:
1) MetaTrader 4: You can trade financial markets with IG Markets on the MT4 trading application which is available on the web, desktop (macOS & Windows), and mobile devices (Android & iOS). IG's MT4 comes with 18 add-ons. These add-ons help you customise the platform and tailor it to your trading needs.
The add-ons have different functions. The best way to maximize them is to combine them to help you create a good strategy. Some of these add-ons include a mini terminal, trade terminal, stealth orders, sentiment trader, market manager, correlation trader, etc.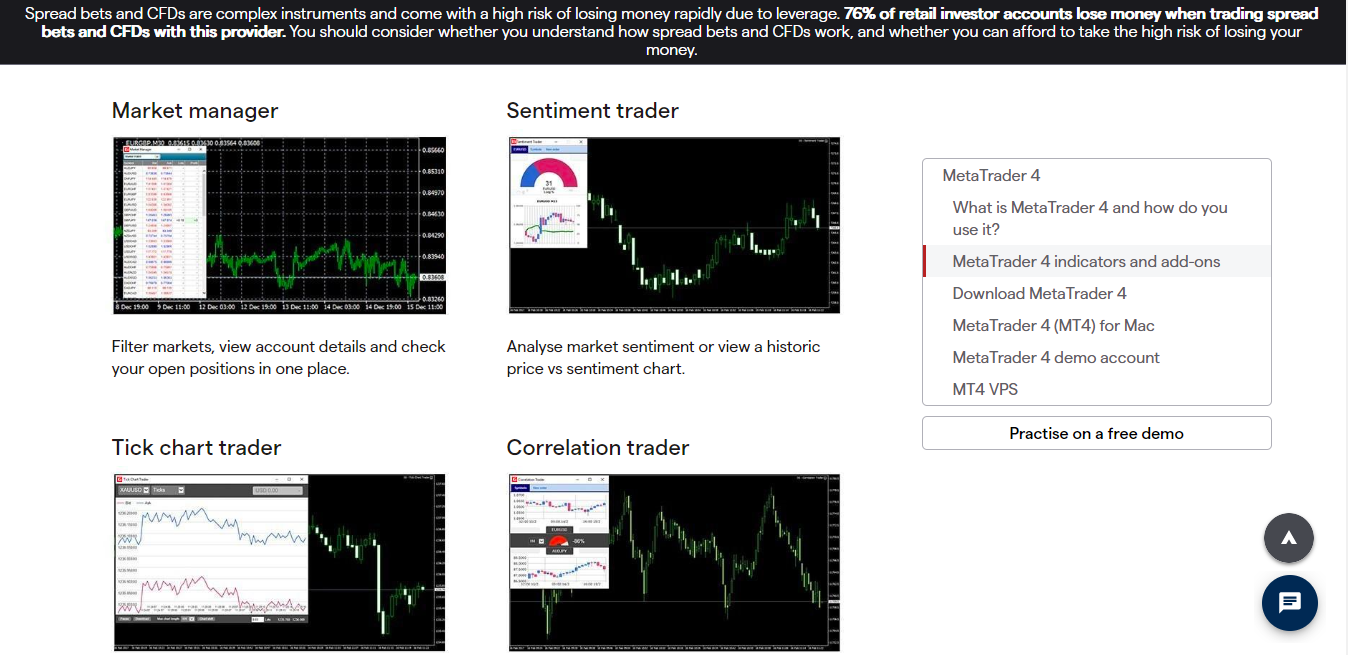 2) IG Mobile App: IG's trading app is user-friendly and easy to use. It comes with a customisable chart and a range of technical indicators. Real-time market prices and data are provided as well. Advanced orders like 'good till cancelled' and 'good till date' are also supported on the app.
3) ProRealTime: You can also access IG Markets trades via the ProRealTime trading application which is only available for web-based trading. ProRealTime is an advanced charting software useful for technical analysis and trading. It is integrated with IG's platform so you do not need to use it separately.
ProRealTime lets you use advanced technical analysis via 100 indicators and unlimited timeframes. You can also automate your dealings by building your algorithm. The algorithm can run for 24 hours on its own. Here are some of the tools on ProRealTime.

ProRealTime also allows you to customise your user interface so it reflects what you want to see. This platform is very useful and only IG offers it to UK traders at the time of this writing.
IG Markets Trading Signals
Trading excellently consumes a lot of time. Picking the CFDs to trade, carrying out your analysis, and monitoring your trades can be quite demanding. If you want to trade without having to go through the hassle, you can try IG trading signals.
These signals are buy and sell suggestions based on emerging chart patterns and fundamental analysis. With this service, you will see key support zones, key resistance zones, and entry/exit points. You will also see the provider's confidence level in the signal so you can decide if you are willing to take the risk.
IG's trading signals are provided by Autochartist and PIA-First. Autochartist provides automated chart pattern recognition. PIA-First has been in the service of providing trading strategies for over 45 years. There seasoned professionals analyzes charts and set signals in a more fundamental context.
Also, you won't be paying any fees to access these services. IG Trading signal is free.
IG Markets Execution Policy
According to their execution policy document, IG is a market maker. They act as a principal and execute your trades on your behalf. This means IG is the sole execution venue for clients orders. In other words, traders will deal directly with IG and not the underlying market.
Like every market maker, IG has their own in-house dealing desk and price book. This is major challenge traders have with market makers. However, IG has a system to ensure fair prices are offered to traders. They pay due regard to the market price for the underlying reference CFDs you want to trade. IG has access to different data sources for pricing. With this, they are able to maintain an unbiased view of the bid/ask prices for the CFDs they offer.
Finally, IG has different order execution revenues. They regularly assess these venues to make sure their costs and execution policy is best for their clients. Also, IG aims to reduce transaction costs by hedging their risks for all trades in the underlying markets.
IG Markets Education and Research
In this section, we cover IG Markets' education and research section. Here is what they offer for all levels of trading experience.
Online Courses: You can find the online courses under IG Markets Academy. The courses are divided into three trading experience levels – beginner, intermediate, and advanced. There are seven courses for beginners, two for intermediates, and three for advanced traders. This brings the total number of online courses to twelve.
The topics covered in the online courses include an introduction to the financial markets, risk and reward, trading strategy, trading psychology, etc.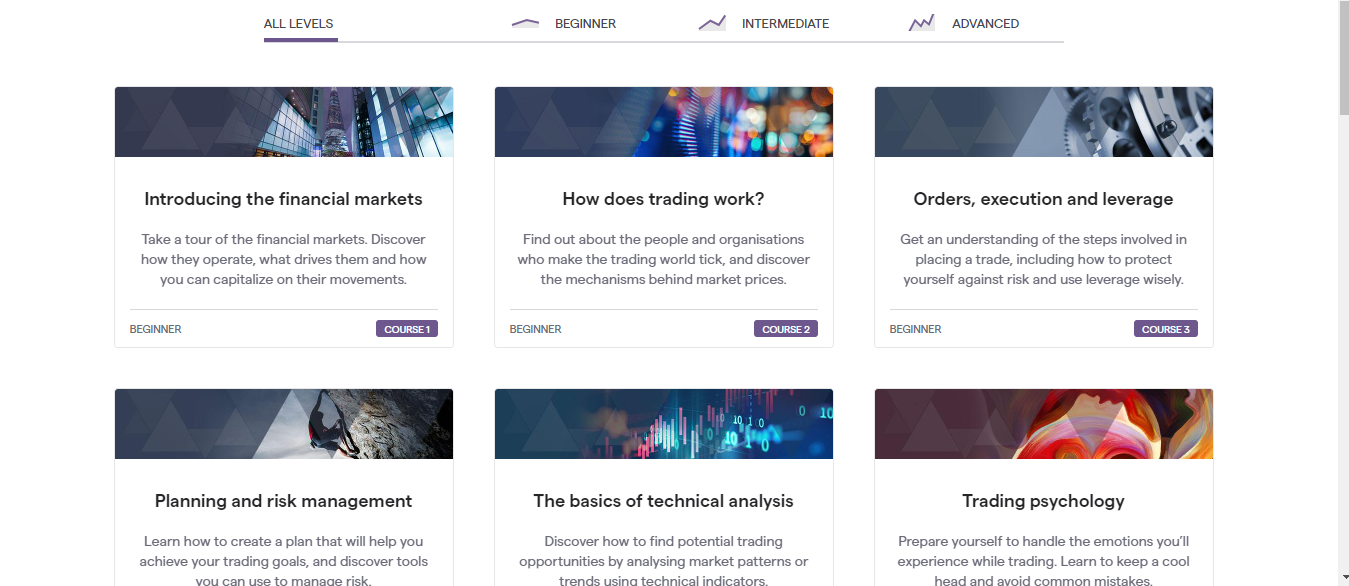 This image from IG's website shows the courses for all levels. However, you can click 'BEGINNER', 'INTERMEDIATE', or 'ADVANCED' to access courses tailored to your level.
Live Sessions: Apart from online courses, the IG Academy also has live sessions where you can listen to experts. The date and time are usually there. If there's no live session, however, you can go to the webinar library. The library contains recordings of previous webinars that you can go through at your own pace. The library is also divided into beginners, advanced, and intermediate. At the time of this writing, there are 20 webinars in the library. The sessions are hands-on and applicable.
IG Trading Podcasts: The IG Trading Podcast is available on Spotify, Apple Podcasts, Google Podcasts, and Deezer Podcasts. You can also listen on TuneIn and Stitcher. The IG Trading Podcasts cover a range of topics on current market trends. They are structured into sequential series that you can follow systematically.
IG Analysis: This is an advanced tool for market analysis. Unlike other brokers' tools, IG Analysis is instrument specific. It has a finder tool that lets you search for specific trading instruments. The search result shows you videos, analysis, and data concerning that instrument. This is very beneficial for beginners that trade a small number of CFDs.
Analytics Tools: These are trading tools that help you analyze your performance as a trader. You can analyze your trading history, track individual trades, and how the market moved relative to your trades. You also get to diagnose trades that go against you.
In addition, you do not need to monitor your success mathematically. One of the features of these tools is to calculate your win rate, return rate, and profit/loss ratio.
Another interesting feature of these tools is the suggestion of useful tips that help you avoid repeating mistakes. Trade updates also come with this package. You can get them on your email or on the trading platform.
IG Special Reports: IG special reports help you develop your trading knowledge and learn about the financial market in an unconventional way. The special reports cover forex, indices, psychology, and economics as shown below.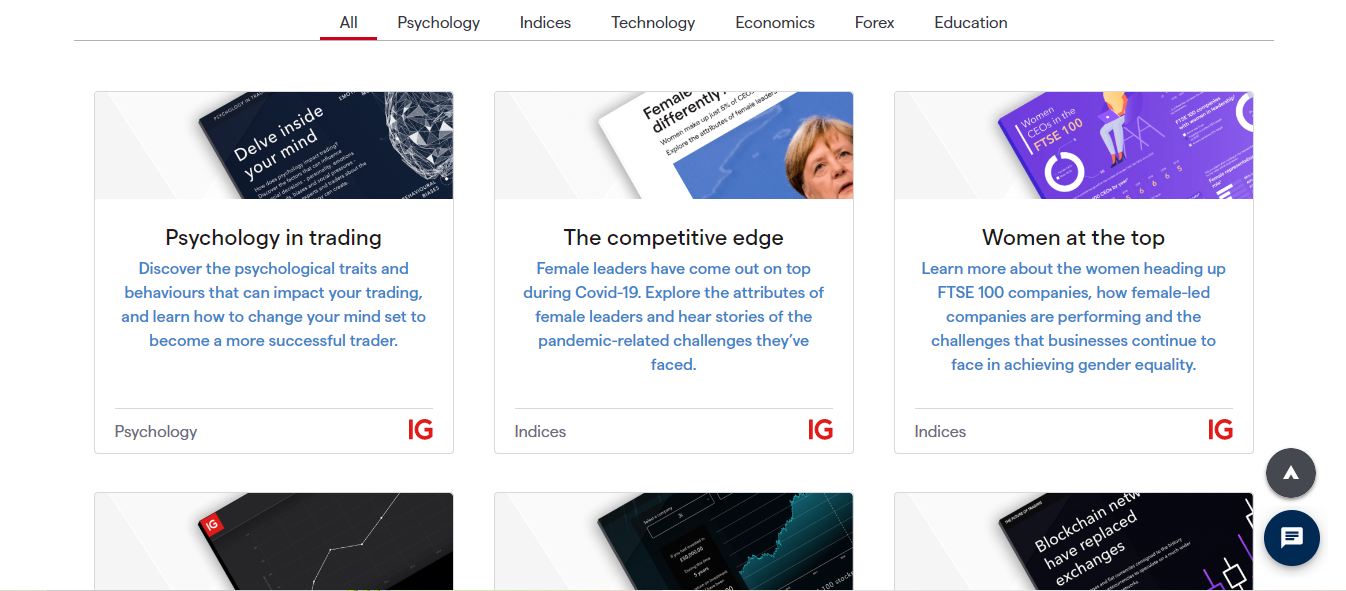 IG Markets UK Customer Service
IG Markets UK offers online customer support to traders via the following channels:
1) Live chat support: The IG Markets live chat support is available from 8 AM to 6 PM, from Monday to Friday, and can be accessed via their website to registered users.
When our team tested, we got a live chat agent to respond to our inquiries within 2 minutes, although the chat was slow afterward.
You will be required to provide an email before starting the chat.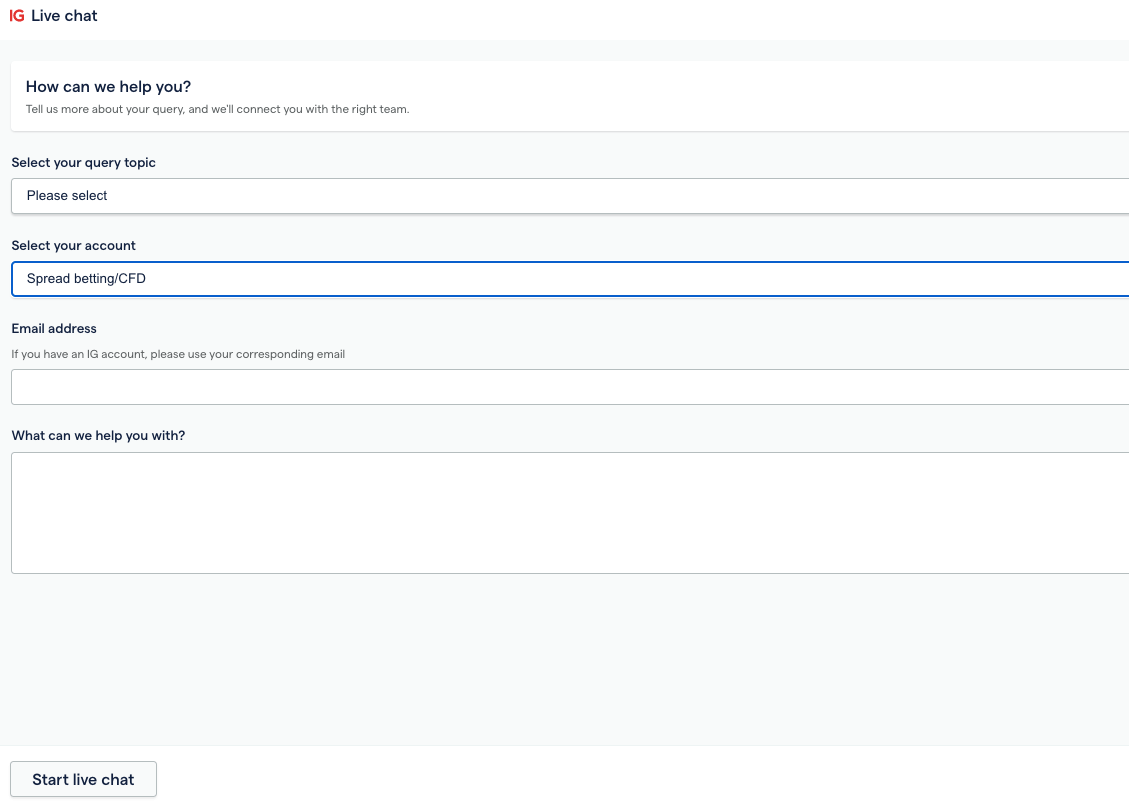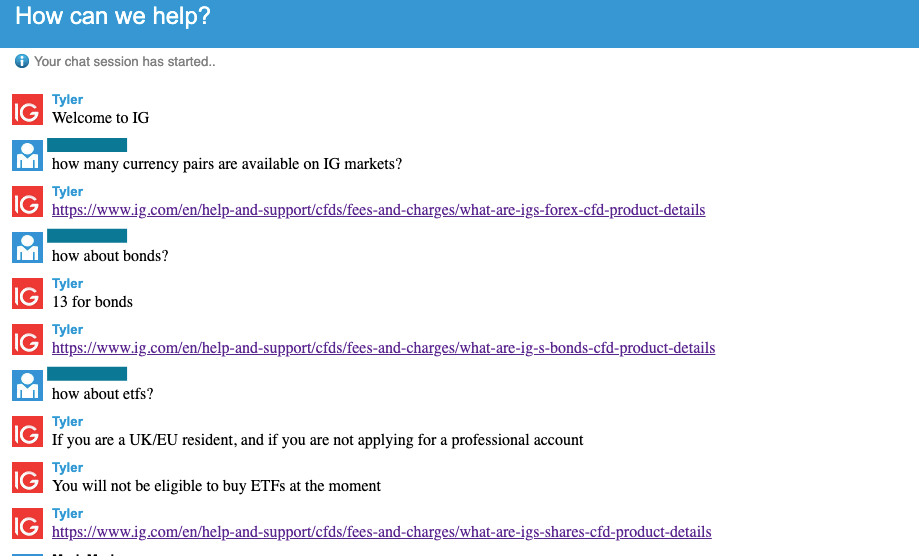 2) Email support: IG Markets offers email support to both existing and new clients which is available 24/5. The IG Markets email address for support is [email protected] or [email protected].
When our team tested we got an auto-response acknowledging receipt of our inquiry and showing links to FAQs answers about our inquiries. A customer representative replied after 7 hours and the answers were not satisfactory.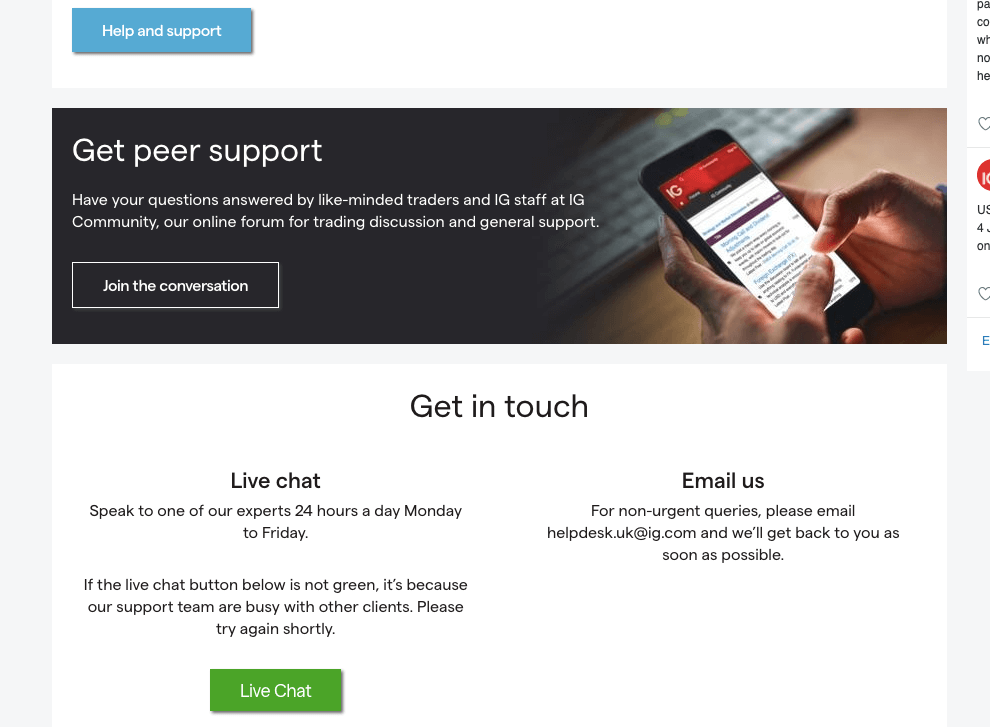 3) Phone support: IG Markets offers phone support to traders in the UK. IG Markets' phone numbers are 0800 409 6789 or +44 20 7896 0079 and are available during working hours on business days.
4) IG Community: IG Markets maintain a forum of traders where you can ask questions and other traders provide answers. Sometimes, IG Markets administrators answer the questions. You can search and read up on some frequently asked questions here.
You need to have an IG Markets Account, then sign up for an account in the community to join the conversations.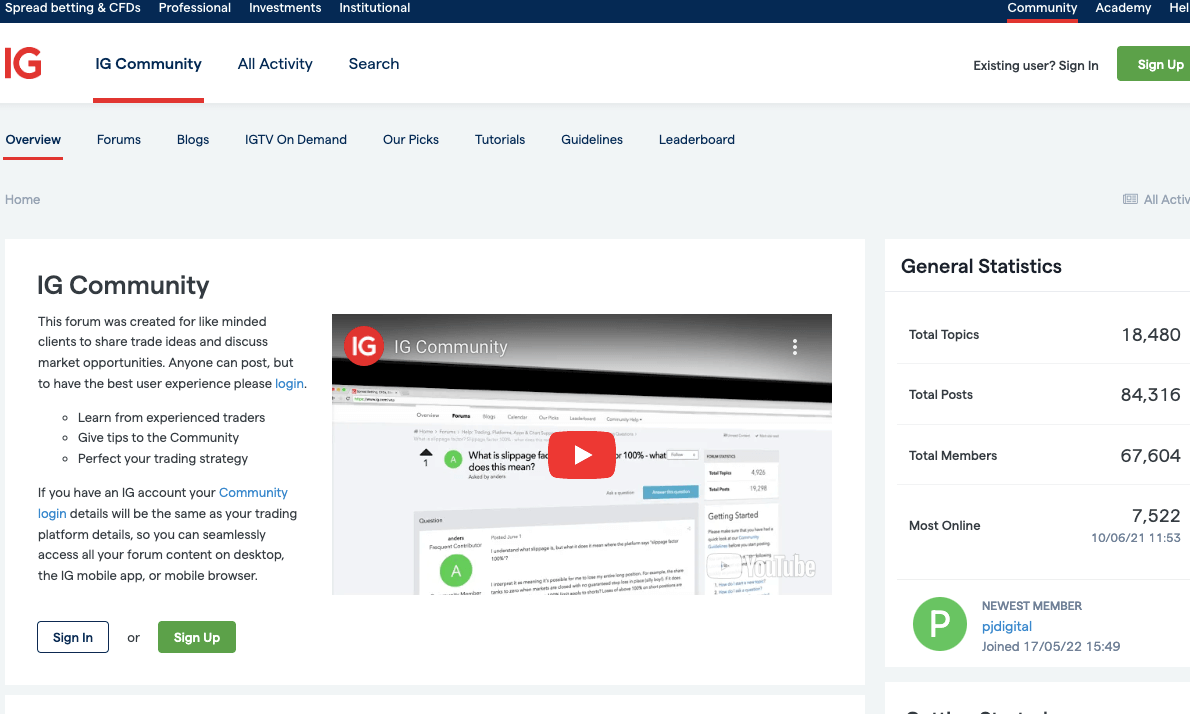 Do we Recommend IG Markets UK?
IG Markets is considered trustworthy and clients' funds are safe because of their regulation in the UK by the FCA and other Top-Tier financial regulators. They also offer a wide range of instruments to choose from.
The fees on IG Markets are moderate, as they offer commission-free trading on all instruments except shares, and offer shares trading without the spreads. The spreads on IG Markets are competitive.
Although it takes about 2 years before they start charging dormant account fees, they charge currency conversion fees and there are brokers regulated in the UK who do not charge such fees.
IG Markets customer support is not so good as the email response time was long, the live chat is slow and only available to registered users. We recommend that you visit the broker's website to see their offering then compare them with others regulated in the UK and choose one that is best for you.
IG Markets UK FAQs
Does IG offer Islamic accounts?
IG Markets does not offer swap-free Islamic Accounts currently.
Is my money safe with IG?
IG is regulated with the FCA so they are considered low risk. They are also under the Financial Services Compensation Scheme (FSCS). This means your money is protected to the tune of £85,000 should IG go bankrupt.
How many markets are IG in?
You can trade over 17,000 financial market instruments on IG Markets including forex, indices, stocks, bonds, and ETFs.
What is the minimum deposit for IG trading?
The minimum deposit to start trading on IG Markets is £250. You can use local bank transfers, cards or PayPal to make this deposit.
Visit
Note: Your capital is at risk
Note: We may earn a commission if you decide to sign up with the broker via the referral links in this review. This help us cover the expenses of running this website, but this does not affect our honest & transparent review process. Thanks for your support.