Tickmill is a Forex and CFDs broker that provides services for trading financial instruments such as foreign exchange currencies, commodities, stock indices, oil, precious metals, cryptocurrencies, and bonds.
Tickmill was launched in 2014, they are registered in the UK and are also regulated in multiple jurisdictions to provide financial services.
This Tickmill review will explore the trading conditions, trading fees, deposits/withdrawals options and regulations, and customer support offered by the Forex broker.
Tickmill Review Summary
🏢 Broker Name
Tickmill UK Ltd
📅 Establishment Date
2014
🌐 Website
www.tickmill.co.uk
Address
🏢 Tickmill UK Ltd, 3rd Floor, 27 – 32 Old Jewry, London, England, EC2R 8DQ
🏦 Minimum Deposit
£100
⚙️ Maximum Leverage
1:30
📋 Regulation
FCA, CySEC, FSCA, FSA Seychelles
💻 Trading Platforms
Tickmill MT4 and MT5 for PC, Mac, Web, Android, & iOS, Tickill App
Visit Tickmill
Tickmill Pros
Tickmill is authorised in the UK
Does not charge dormant account fees
Offers free deposit and withdrawals
Offers commission-free trading account
Low trading fees with tight spreads
Tickmill Cons
Customer support is not available for 24 hours on any day
Slow processing of deposits & withdrawals
Is Tickmill Safe for Traders?
Tickmill, which is the trading name of the Tickmill Group, is among the regulated Forex and CFDs brokers for traders in the UK. Tickmill have been licensed by Tier-1 and Tier-2 financial regulators.
Below is a list of the various regulations of the Tickmill group:
1) Financial Conduct Authority (FCA), United Kingdom: Tickmill is authorised and regulated by the (FCA) as Tickmill UK Ltd and licensed to offer financial services with license number 717270. Tickmill has an office in London through which they serve UK clients.
Traders in the UK are registered under Tickmill UK regulation.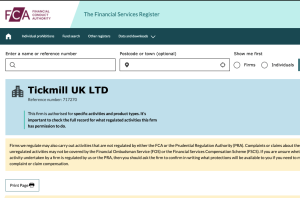 2) Financial Services Authority (FSA), Seychelles: Tickmill Ltd is registered with the Seychelles Financial Services Authority and licensed to operate as a securities dealer with license number SD008. Tickmill has their headquarters here.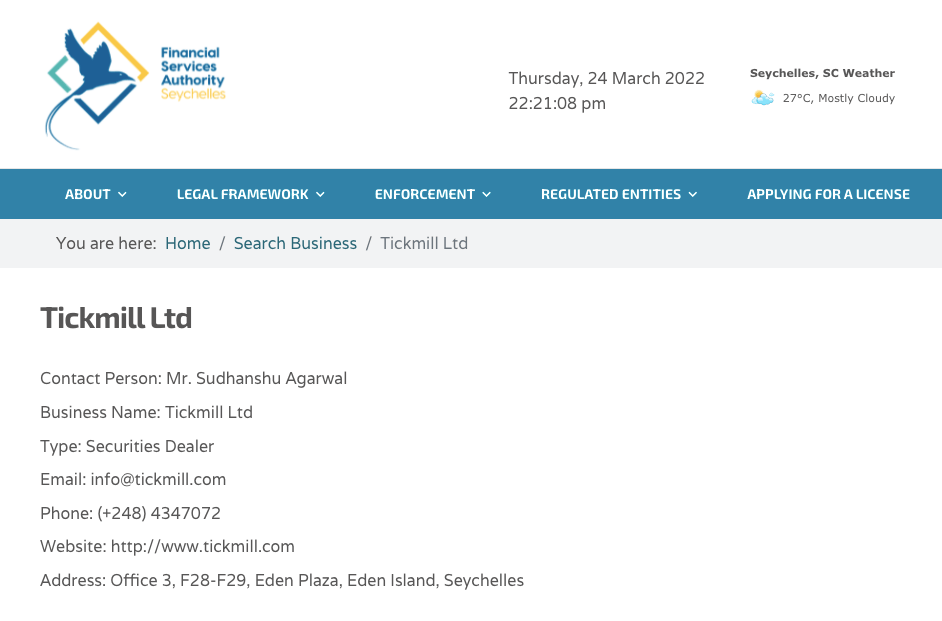 3) Cyprus Securities and Exchange Commission (CySEC): Tickmill is also registered as Tickmill Europe Ltd, with license number 278/15, in Cyprus. Tickermill is authorised by the CySEC to provide investment services to European-based clients.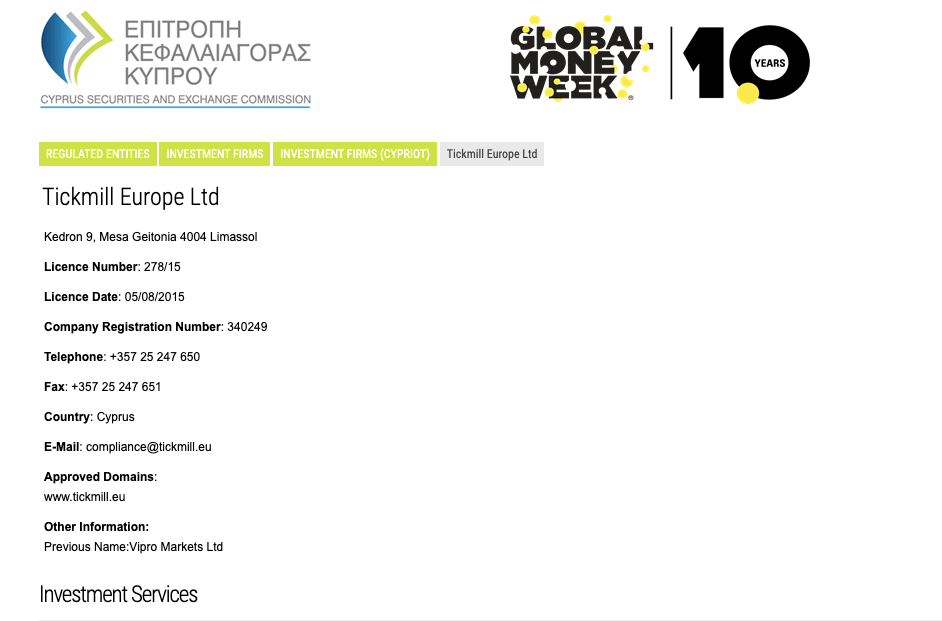 4) Financial Sector Conduct Authority (FSCA) in South Africa: Tickmill is authorised and regulated by the FSCA as Tickmill South Africa (Pty) Ltd. Tickmill is licensed as a financial service provider with FSP number 49464.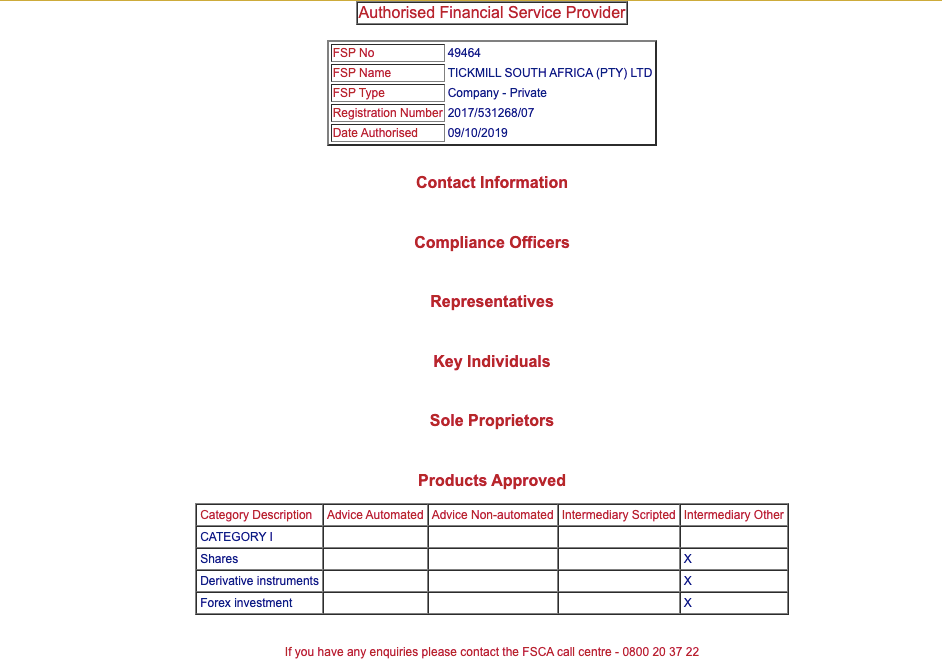 Tickmill Leverage
Maximum leverage at Tickmill is 1:500 for Professional clients and 1:30 for retail clients on all accounts.
Tickmill lets you open and maintain positions on all account types with Leverage up to 500 times your own money for Professional Clients and 30 times for Retail Clients
Note that the maximum leverage of 1:30 and 1:500 applies to major forex pairs. The maximum leverage is lower for other tradable instruments.
For retail clients, the maximum leverage for other instruments are 1:20 for gold, major indices and minor forex pairs, 1:10 for minor indices, some forex pairs, silver and oil, and 1:5 for bonds.
Note that that trading leverage products involves risk and you can lose all your money. It is best to avoid trading unless you understand it or have experience. It is important that you do not use the leverage available as it increases your risk and the chance of you losing your money.
Tickmill Account Types
Tickmill offers four (4) main types of accounts for you to choose from, each account has different features.
Tickmill demo accounts provide new traders with a basic idea of how to use the trading platform. They also offer Islamic account options for Muslim traders.
To help you choose the account that is right for your trading style, we described the features of the different account types on Tickmill below.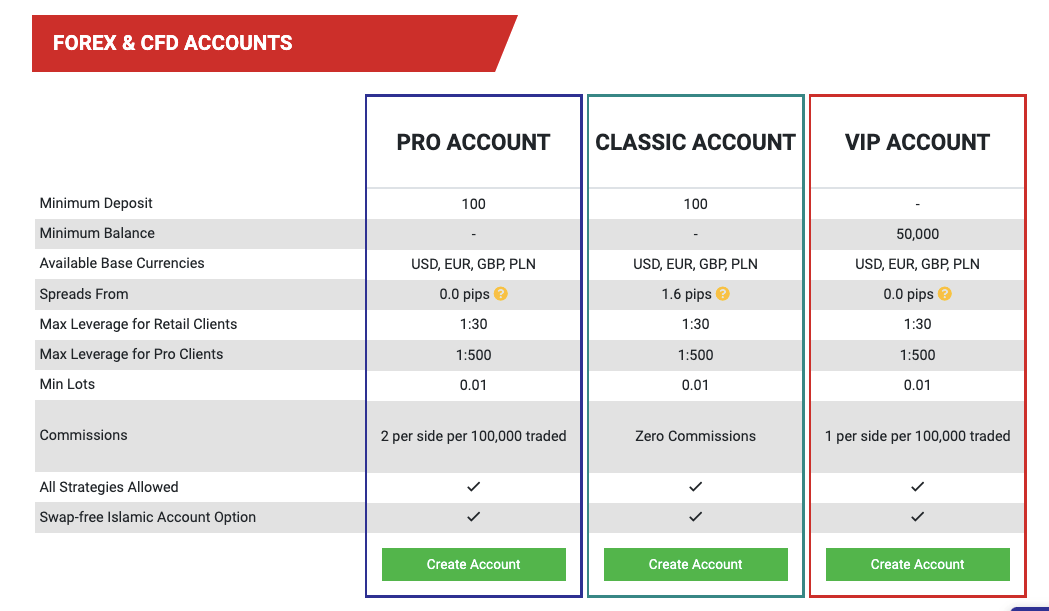 1) Pro Account: The Tickmill Pro Account is designed for retail clients, is available on the MT4 & MT5 trading applications and is suitable for experienced traders.
Pro Account lets you trade Forex and CFDs on currency pairs, stock indices, precious metals, oil, and bonds.
Tickmill Pro Accounts operates with floating spreads starting from an initial 0.0 pips. The account also attracts commission charges of £2 per lot (100,000) trade which makes £4 for a round turn for trades on forex pairs and metals.
This account does not charge commissions when you trade CFDs on Stock Indices, Oil, and Bonds.
The Pro Account does not have maximum stop and limit levels and uses market execution for orders.
The minimum deposit on the Tickmill Pro Account is £100 and requires a minimum trade volume of 0.01 lots. The maximum leverage available on this account is 1:30. This account has negative balance protection to ensure you do not lose more money than you deposited.
2) Classic Account: The Tickmill Classic Account is designed for new traders and available on the MT4 & MT5 trading applications.
With a Classic Account, you can trade Forex and CFDs on currencies, stock indices, precious metals, oil, and bonds.
Tickmill Classic Accounts offers variable spreads, starting at 1.6 pips. The account charges zero commissions for all trades.
The Tickmill Classic Account has a £100 minimum deposit requirement and a minimum trade size of 0.01 lots (equivalent to £10). The maximum leverage available on this account is 1:30 and you have negative balance protection.
3) VIP Account: The Tickmill VIP Account is also for retail clients, it is available on the MT4 & MT5 trading platforms and designed for high-volume forex traders.
VIP Account allows you to trade Forex and CFDs on currencies, indices, gold and silver, oil, and bonds.
Tickmill VIP Accounts offers floating spreads starting at 0.0 pips, plus commission fees of £1 per lot (100,000) traded, for a total of £2 per round-turn on forex and metals trades.
This account features zero commission fees when you trade CFDs on Stock Indices, Oil and Bonds.
To create a VIP Account, you must have a minimum balance of £50,000. A minimum trade volume of 0.01 lots is required on this account, the maximum leverage available is 1:30 and you also have negative balance protection with this account.
4) Futures Account: The Tickmill Futures Account is designed for those who want to trade exchanges.
The Futures Account allows you to trade CME, NYMEX, COMEX, CBOT, EUREX, Small Exchange, and ICE Futures Europe.
Commission fees per trade start from $0.85. This account uses market order execution and has limits and stops.
This account requires a minimum balance of $1,000.
5) Professional Account: Tickmill offers Professional Accounts to traders who are experienced and want to trade large volumes with higher leverage.
As a Professional Client on Tickmill, you can trade Forex and CFDs on currencies, cryptocurrencies, indices, gold and silver, oil, and bonds with maximum leverage of 1:500 which applies to major forex pairs.
the maximum leverage for other instruments is 1:125 for silver, 1:100 for indices, bonds and oil, 1:50 for other commodities (Copper and NATGAS), and 1:20 for cryptocurrency is 1:20. Although some crypto pairs can have a leverage of up to 1:200.
You can upgrade any of your retail accounts to professional status and other fees and features will apply.
To get a professional account, you need to meet the following criteria with proof:
You must have carried out at least 10 significant transactions per quarter over the last 4 quarters
You must have an investment portfolio of more than €500,000
You must have at least one year of experience working in the financial sector in a professional role that required knowledge of leveraged products
Once you meet at least 2 of these criteria, you can apply for a Professional Account by filling out a form which can be found on your Client Area under Client Categorisation.
6) Swap-free Islamic Account: Tickmill offers Islamic Account options to traders on all account types. Thus, the accounts feature no riba (usury) in accordance with Islam's Sharia law.
The main feature of this account type is that you are not charged any fees for holding a position overnight.
On the Tickmill Islamic Account, you can hold a position open for 3 consecutive nights without being charged swap fees. After that, a handling fee will be applied.
You can create any account type (Pro, Classic, or VIP), request that it be converted to an Islamic Account, and your future accounts will be Islamic Accounts.
The conversion will usually be completed within a day of making the request and you will receive an email confirmation for it.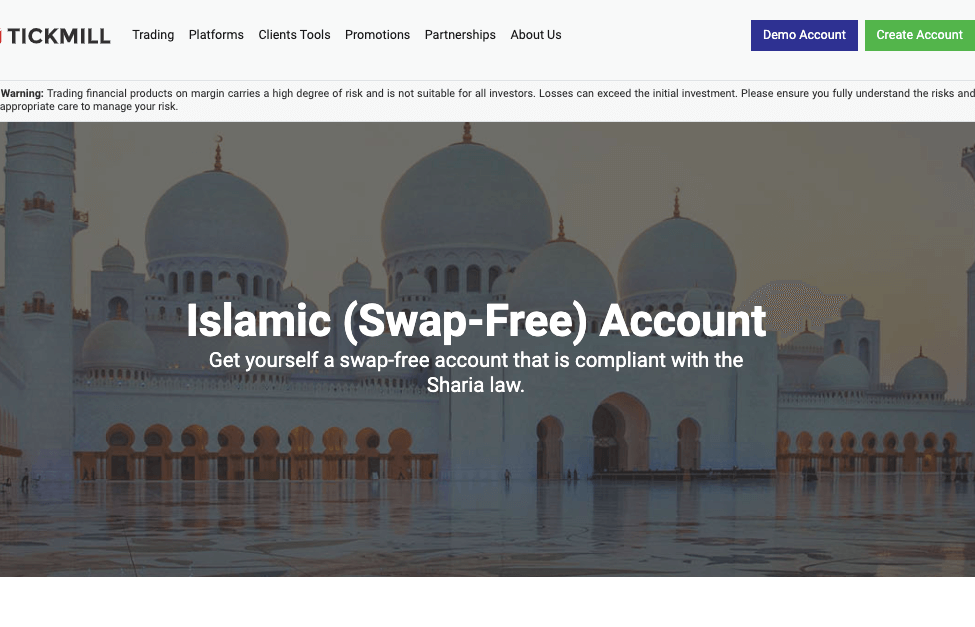 Tickmill Base Account Currency
The base account currencies on Tickmill are GBP, EUR, USD, PLN, and CHF. These currencies are available on all account types.
You can choose to have EUR or USD as an account currency, and whenever you deposit GBP, it will be converted to the base currency of your account.
Tickmill Overall Fees
How much fees you pay to trade on Tickmill depends on which type of account you choose. The various Tickmill fees are summarised below:
Trading fees
Spreads: Tickmill uses a variable spreads system, and its spreads start from 0.0 pips on the Pro Account and VIP Account, and from 1.6 pips on the Classic Account.
In the table below you can find the typical spread fees for major currency pairs traded on Tickmill per lot size of 100,000 EUR on a Pro Account.
| Instrument/Pair | Tickmill Typical Spread |
| --- | --- |
| EUR/USD | 0.1 pips |
| GBP/USD | 0.3 pips |
| EUR/GBP | 0.4 pips |
| XAU/USD | 0.09 pips |
Commission fees: Tickmill offers commission-free trading to Classic Account users but charges Pro Account holders a commission fee for opening and closing trade positions, starting from £2 per side lot when they trade forex pairs, which makes it £4 per round turn (when you open and close the trade); VIP Account holders pay a commission fee of £1 per lot side and £2 per round turn on forex trades as well.
Note that 1 lot size is 100,000. If you trade less than this the fee will be prorated.
Swap fees: Tickmill charges an overnight/rollover swap fee on all account types if your position remains open overnight. This is a charge for holding a trading position open overnight after the market's closing time, and it is based on your leverage, trade size, spread and whether your position is a long swap (buy option) or a short swap (sell option).
Islamic Accounts do not pay swap fees because they are swap-free. All trading account types can be set up with Swap-Free status. This account setting is available for Muslim traders with Islamic Accounts.
A handling fee per lot applies on Islamic accounts after holding a position overnight for more than three days consecutively. The fee depends on the instrument being traded.
Non-trading fees
Deposit and Withdrawal fees: There are no fees charged when you deposit funds into your Tickmill trading account or request withdrawals from it. Although Tickmill only covers deposit fees for bank transfers for deposit amounts above $5,000.
Account Inactivity charges: Tickmill does not charge any dormant account fees, which means that your money will not be affected when you do not log into your account for a prolonged period of time.
However, all inactive trading accounts (as a result of no trading, deposit/withdrawal activity, and/or failure to log in to the trading platform) for at least 60 calendar days and with a balance of equal or less than 50 USD or equivalent in other currency, will be subject to disablement.
How to Open Tickmill Account in UK
To trade Forex & CFDs on Tickmill, you need to open a live trading account. Follow these steps to sign up for an account with Tickmill.
Step 1: Go to the Tickmill website homepage via www.tickmill.co.uk and Click on 'Create Account'. This is highlighted in the green button at the top right side.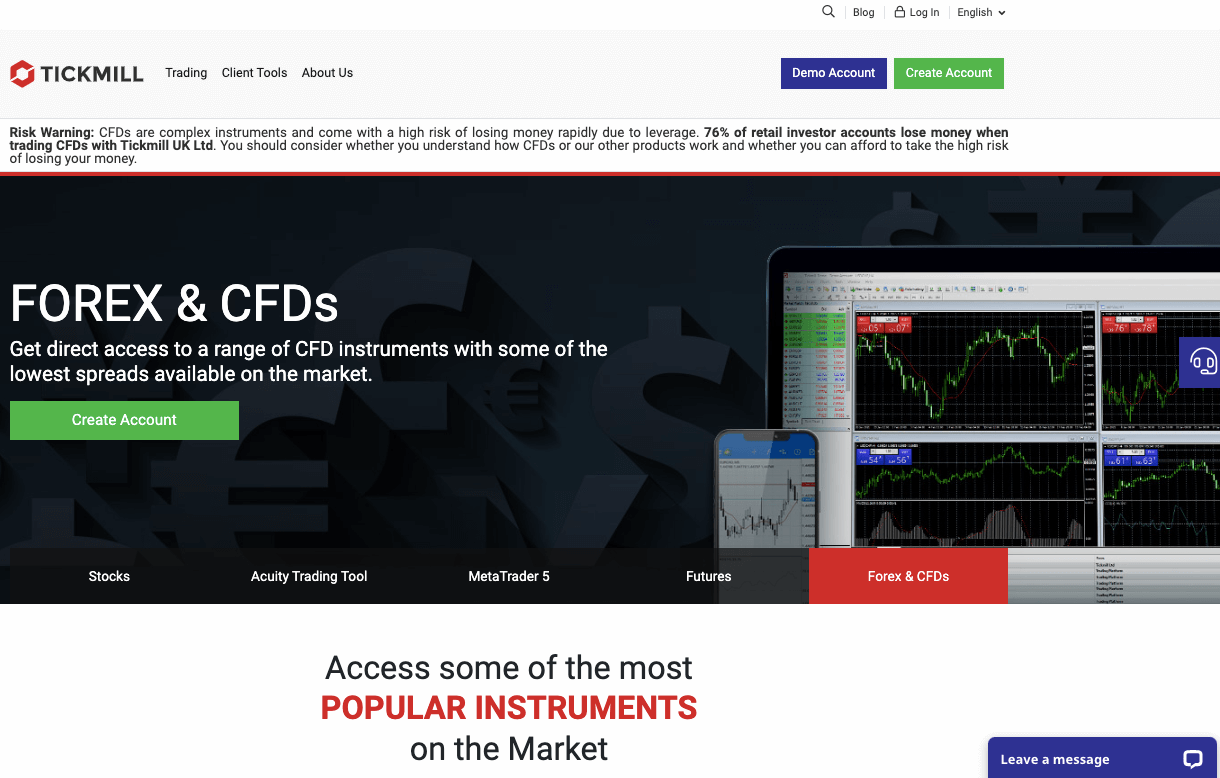 Step 2: On the form that appears, the United Kingdom will automatically be selected as your country, select 'Individual' as client type, then fill in your personal information, check the box to confirm you have read and understood the Tickmill Privacy Policy, and click on the green 'Submit' button after the form.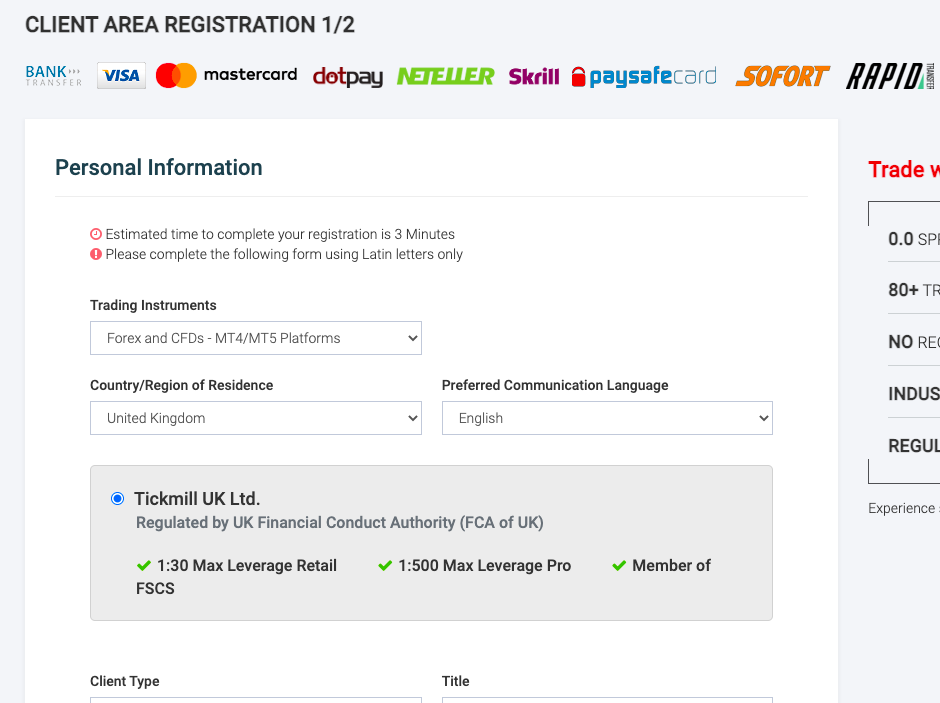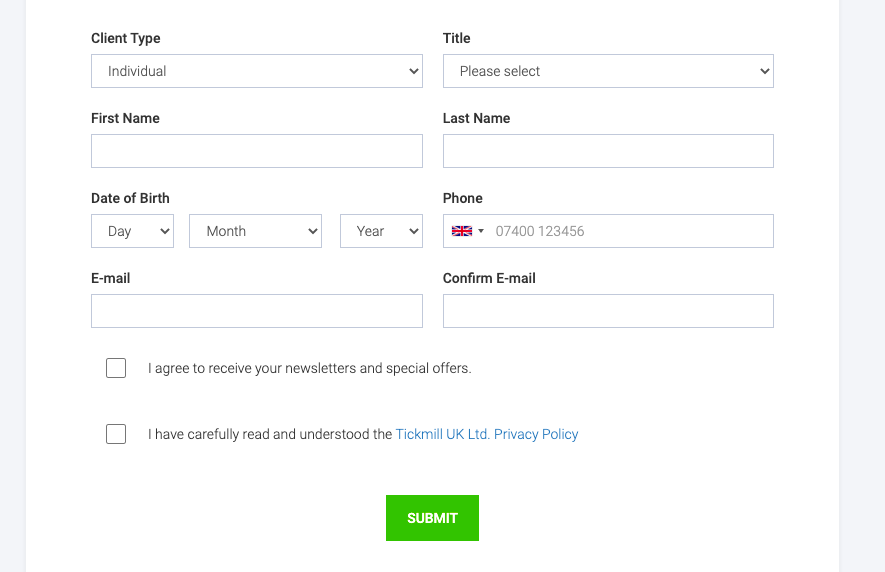 Step 3: You will receive an email with a link to verify your email address. Click on the 'Verify email' button to validate your email and proceed with the registration.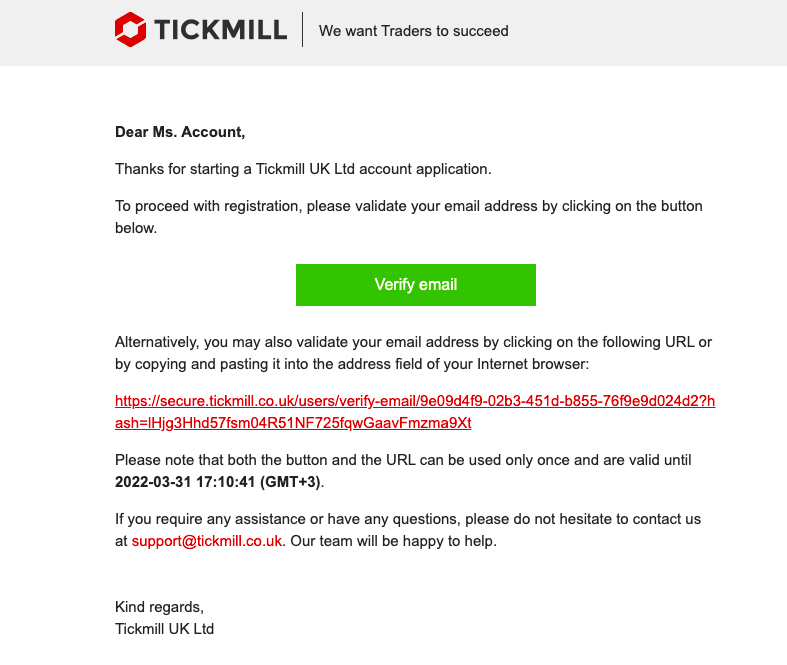 Step 4: After validating your email address, you be required to provide further personal information like your residential address, Tax Identification Number, trading experience, source of income, and others. After supplying this information, create a password, check the box for Client Service Agreement, and click on 'OPEN ACCOUNT'.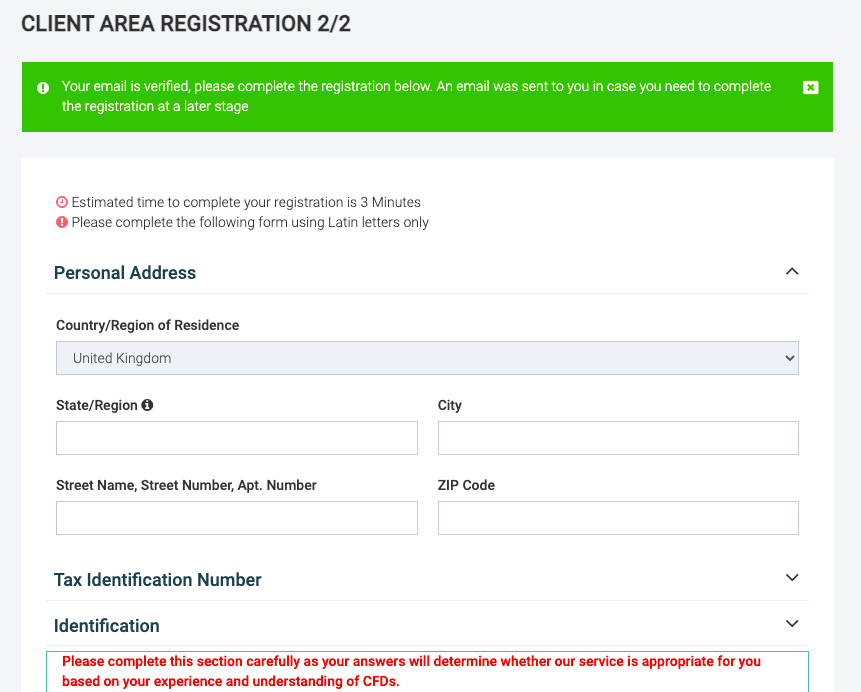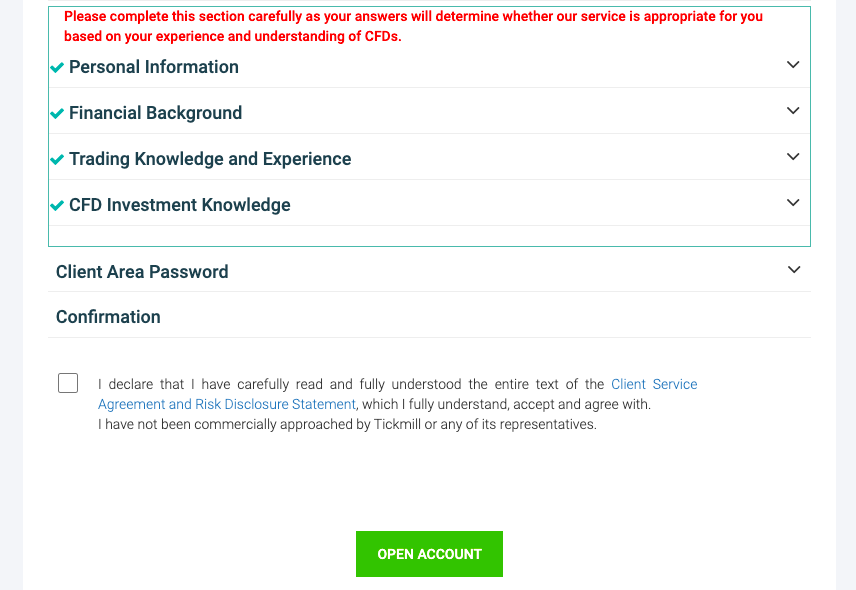 Step 5: Your account is now created and you need to log in with the email used for registering and the password you created, then you will be redirected to your Tickmill Dashboard.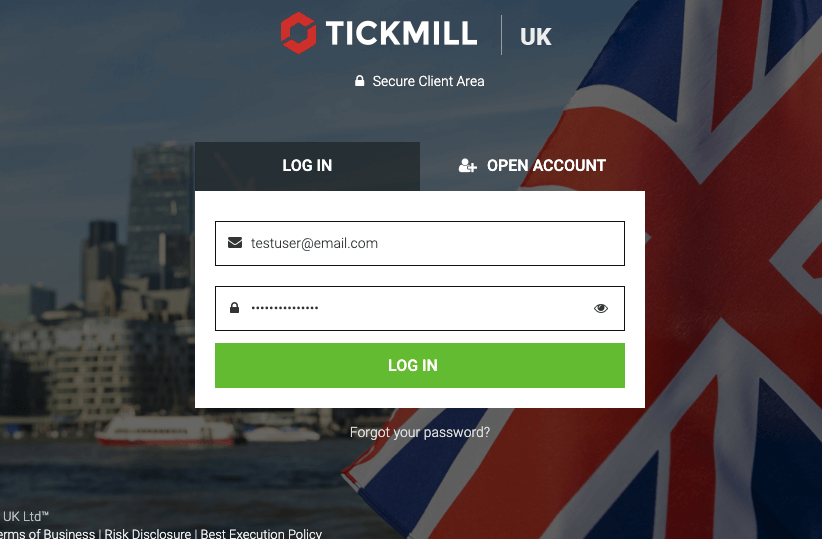 Step 6: On your Tickmill dashboard, on the menu tab by the left, you can see options for deposits, withdrawals, and other account actions.
For your new account, you will be required to upload some identification documents like a National ID card and utility bill to verify your identity and personal address before your account is approved before you can make any deposit, withdrawal or any other trading activity.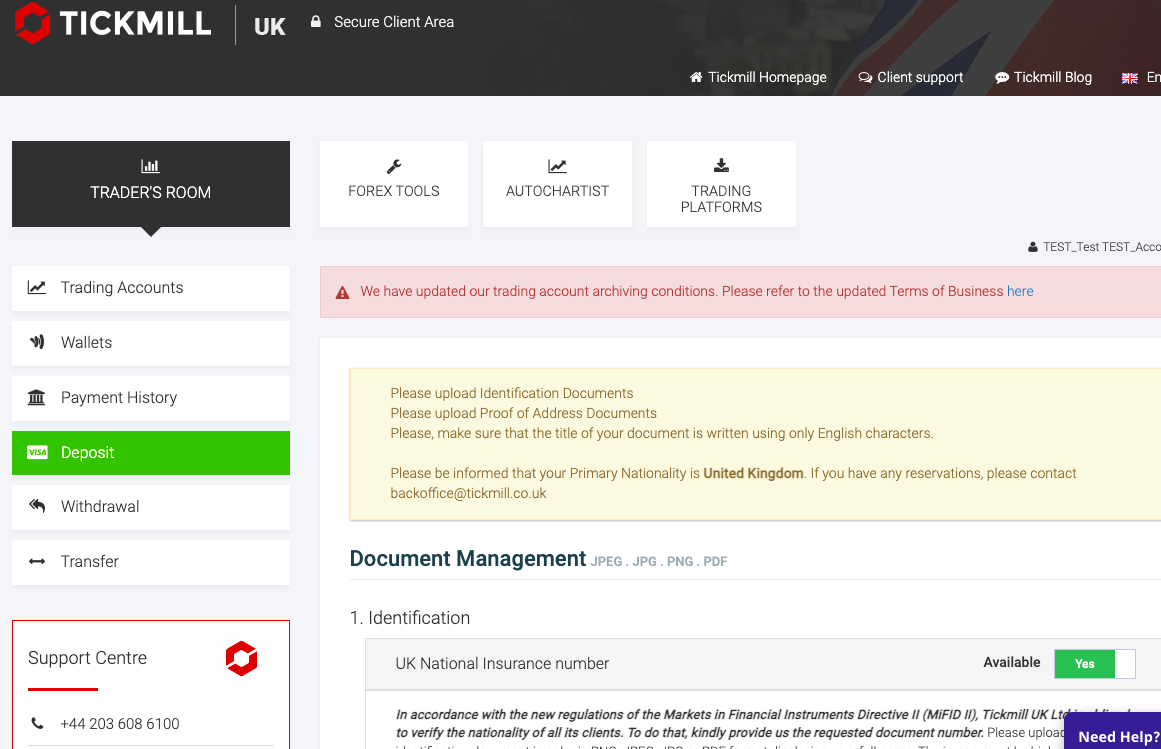 Tickmill Deposits & Withdrawals
Payment methods supported by Tickmill for deposits and withdrawals are cards (MasterCard & Visa), local bank transfers, e-wallets (Skrill, Neteller, and others). Here is the summary of the deposits and withdrawal options on Tickmill in the UK.
Tickmill Deposit Methods
Here is a summary of payment methods accepted by Tickmill for deposits.
| Deposit Methods | Availability | Charges | Processing time |
| --- | --- | --- | --- |
| Bank Transfer | Yes | Free | 2-7 business days |
| Cards | Yes | Free | Instant |
| E-wallet | Yes (Skrill, Neteller, PayPal) | Free | Instant |
| Crypto Payments | Yes | Free | Instant |
Tickmill Withdrawal Methods
Here is a summary of payment methods for withdrawals accepted on Tickmill.
| Withdrawal Methods | Availability | Charges | Processing time |
| --- | --- | --- | --- |
| Bank Transfer | Yes | Free | 2-7 business days |
| Cards | Yes | Free | 1-8 business days |
| E-wallets | Yes (Skrill, Neteller, PayPal) | Free | 1 business day |
| Crypto Payments | Yes | Free | 1 business day |
What is Tickmill minimum deposit?
The minimum deposit on Tickmill is £100 for Pro and Classic accounts and £50,000 for VIP accounts.
What is Tickmill minimum withdrawal?
The minimum withdrawal on Tickmill is £25 for all payment methods or 25 units of your account currency.
You can initiate deposits and withdrawals by logging into your account, and on the Tickmill client area or dashboard, click on deposit or withdrawal on the left side menu.
Note that you can only make a deposit or withdrawal after uploading documents for identity verification and proof of address. It takes about 24 working hours for the documents to be verified and your trading account approved.
Tickmill Trading Instruments
You can trade the following financial instruments on Tickmill:
| Instrument | Availability | Number |
| --- | --- | --- |
| Forex | Yes | 62 currency pairs on Tickmill |
| Stock Indices | Yes | 16 indices on Tickmill(including UK100, US30, SWISS 20, SPAIN35 among others) |
| Oil Commodities | Yes | 3 oil on Tickmill(Brent, WTI, NATGAS) |
| Metals | Yes | 3 pairs of metals on Tickmill (Gold, Copper and Silver) |
| Cryptocurrencies* | Yes | 9 pairs of cryptocurrencies on Tickmill (including BTC, ETH, LTC, and others paired to USD) |
| Bonds | Yes | 4 bonds on Tickmill (EURBOBL, EURBUND, EURBUXL, and EURSCHA) |
*Cryptocurrencies are available for only professional clients.
Tickmill Trading Platforms
1) MetaTrader 4, MetaTrader 5: Tickmill supports both MT 4, MT 5, and CQG trading applications, which can be accessed via webtrader, Windows, macOS, Android Google Play Store, and iOS Apple App Store for mobile trading. The CQG platform is for futures and options trading.
2) Ticmill Mobile App: Tickmill offers a proprietary mobile app for trading on the go which is available for both Android and iOS devices.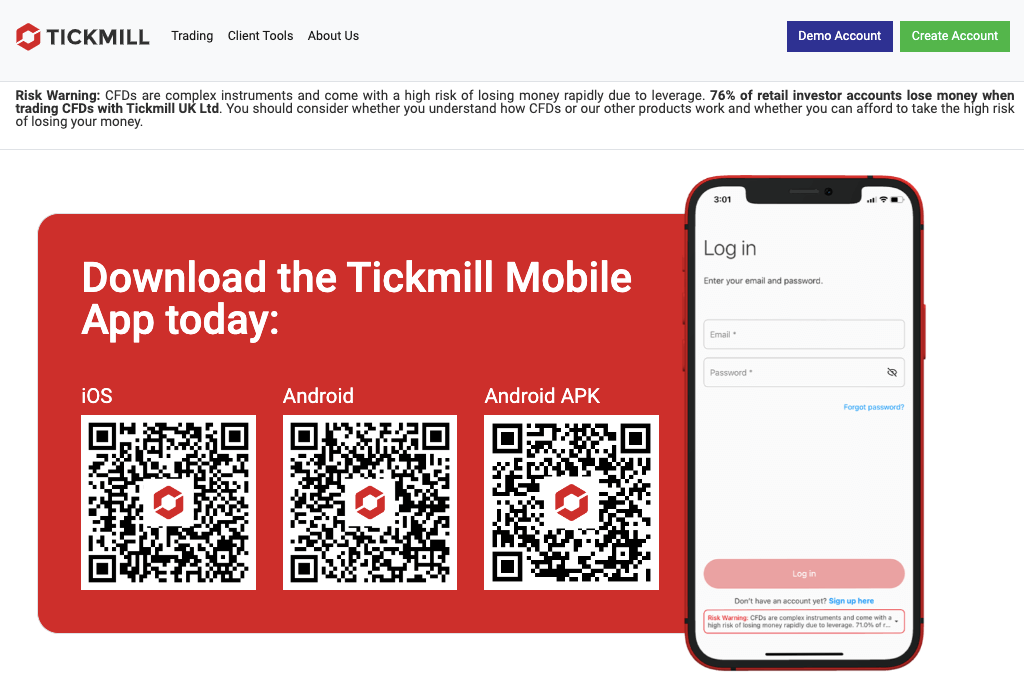 Tickmill Execution Policy
Tickmill UK provides trade processing on an execution basis only. This means your trades are automatically processed via Straight Through Processing (STP). In other words, Tickmill is not a market maker. According to their best execution policy document, the prices published on their trading platforms are not firm prices.
What does this mean? It means the prices were not fixed by Tickmill. Rather, they are the best prices from their pool of liquidity providers. In addition, Tickmill has 5 different execution venues where they transact on behalf of their clients. These execution venues are reviewed annually (at least) to make sure their ability to obtain the best prices for you is sustained and consistent.
As a retail trader, you can give an instruction for your trade to be executed on a particular venue. Tickmill will execute the order in accordance with your instructions.
Tickmill's Education and Research
Fore traders should be able to learn the basics of forex trading from brokers. While this is not strictly necessary, a forex broker with good educational content can help traders learn at basic and intermediate levels.
1) Video Tutorials: Tickmill has video tutorials covering a vast range of topics. The basics of CFD trading, trading psychology, market analysis, trading strategies, and a lot more are covered. There is also video content on social trading, MT4, and technical indicators.
You can get yourself started in forex trading by watching these videos.
2) Forex Glossary: Like any other industry, forex trading has its own jargon. Not knowing the definition of some basic terms. Tickmill's glossary defines a vast range of financial terms in a simple way. The page is also easy to navigate.
3) Research Terminal: The research terminal is part of Tickmill's Acuity Trading Tools. You can use it to gauge market sentiment. Also, you are able to access news and data that matter to the CFD or currency pair you want to trade.
Tickmill UK Customer Service
Tickmill supports clients from Monday through Friday via email, live chat, and phone. See our review of their customer service.
1) Live chat support: Traders can reach the customer support of Tickmill via live chat by visiting the Tickmill website and clicking on the live chat option on the contact us page.
The Tickmill live chat is only available from 7:00 hours to 16:00 hours GMT on working days and is available in various languages including English, Arabic, Chinese, and others.
The live chat is responsive and the wait time before a representative attended to our team when we tested it was under 1 minute. The answers to the questions asked were relevant.
You will need to provide your email address and name, then select the language team, in our case English, to start talking with a Tickmill support agent via the live chat.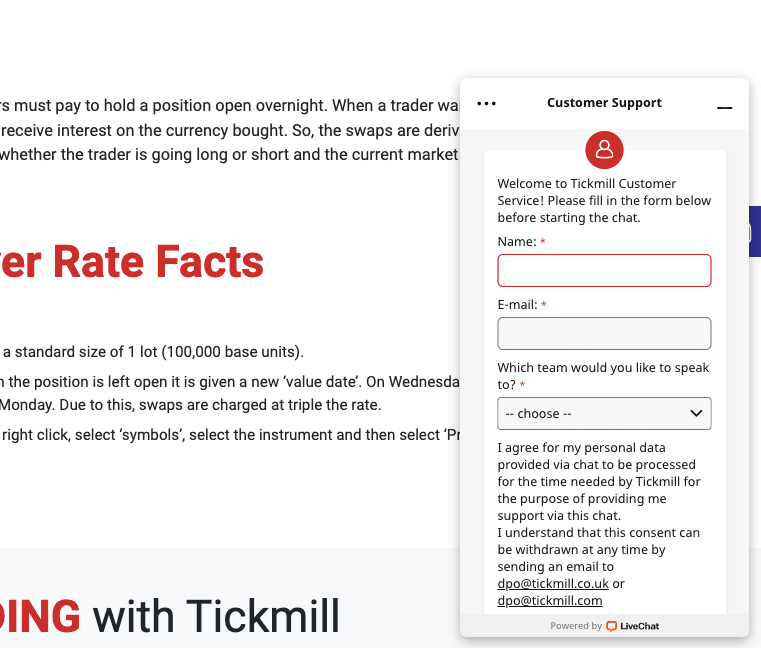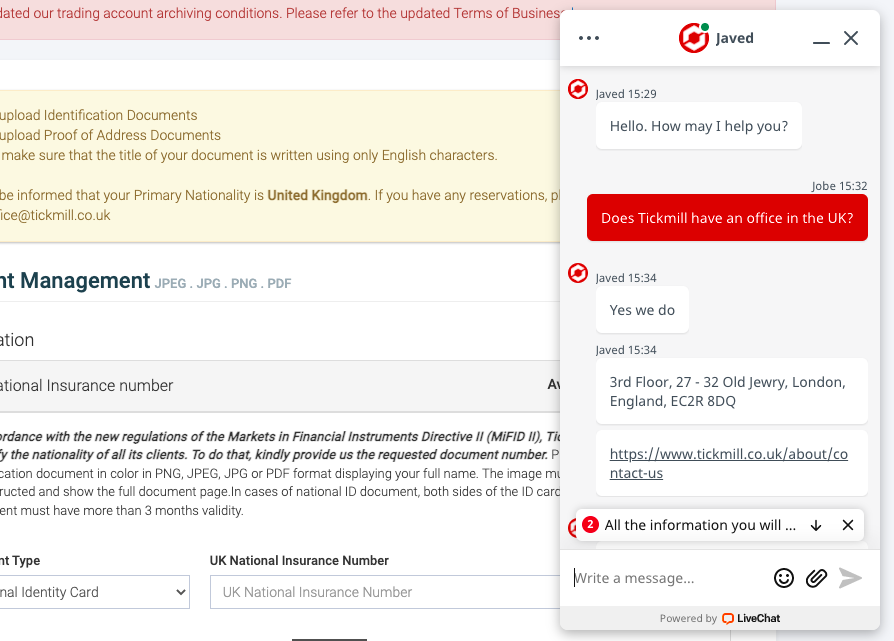 2) Email support: The email support of Tickmill is fair, our team got feedback after 5 hours, and there was no autogenerated message to acknowledge the receipt of our enquiry. The answer to our enquiry was relevant.
The active customer support email of Tickmill is [email protected] and it is available 24 hours on business days, although some brokers respond faster. Tickmill clients' support email in the UK is [email protected].
3) Physical office: Tickmill has a physical office in the UK on the 3rd Floor, 27 – 32 Old Jewry, London, England, EC2R 8DQ. Tickmill also has offices in all the countries where it is regulated, the Tickmill headquarters is located at 3, F28-F29 Eden Plaza, Eden Island, Mahe, Seychelles.
4) Phone support: Tickmill's phone number for international customer support is +852 5808 292. The number is available during working hours from Monday to Friday. Tickmill local phone number for support in the UK is +44 203 608 6100.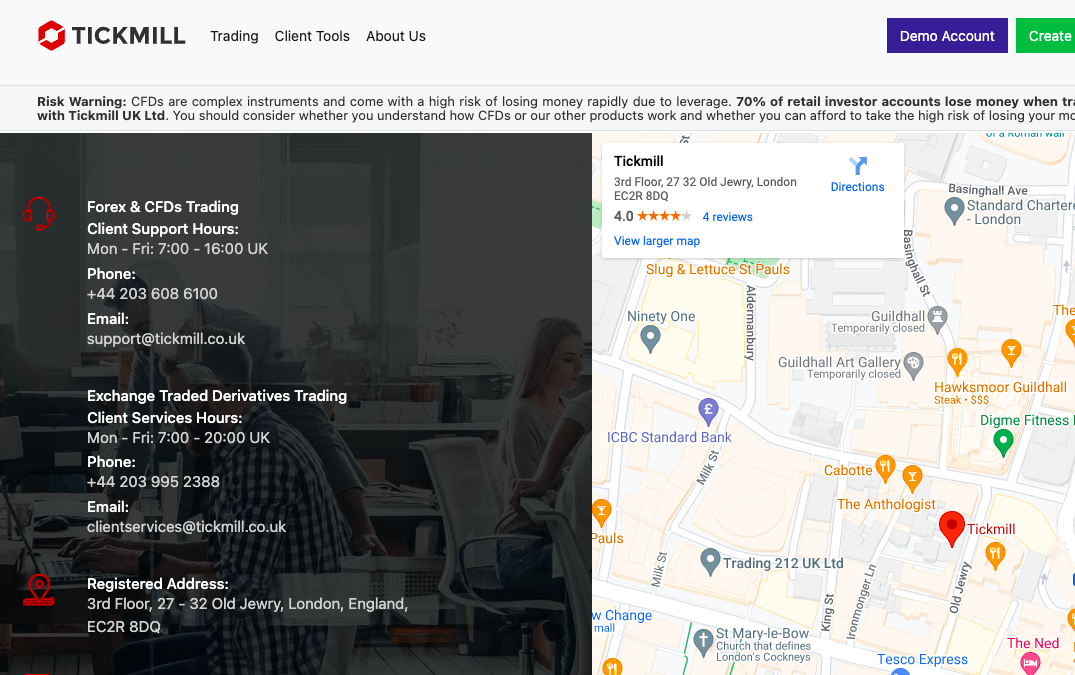 Do we Recommend Tickmill UK?
Based on the regulation and safety of funds, Tickmill scores high on trust because they are regulated in the UK by FCA and are required to protect clients' deposited funds.
Although Tickmill trading fees for currency pairs and other instruments are low compared to some brokers' fees, the spreads are tight and they offer commission-free trading on the Classic Account, the tradeable instruments on Tickmill are few compared to other brokers. Tickmill supports deposit/withdrawal via bank transfers in the UK.
The customer support of Tickmill is not very good, although their live chat is responsive, it is not available 24 hours on any day, unlike most brokers. Their email response is also not so fast and their deposit and withdrawal processing takes long for most payment methods.
The registration process on Tickmill is simple and their website interface is easy to navigate.
We recommend that you check out Tickmill's website to ensure they have the instruments you want to trade and chat with their support if you have any questions to help you decide if you want to open an account with them.
Tickmill UK FAQs
Is Tickmill a trusted broker?
Tickmill is considered a legit broker for trading financial instruments because of their regulation in the UK by the FCA which mandates them to protect clients' fund.
Tickmill trading conditions fees and support are fair so they are considered good for both new and experienced traders.
Is Tickmill regulated in UK?
Tickmill is regulated in the UK as 'Tickmill UK Ltd.' by the FCA. Traders from the United Kingdom are registered under this regulation. Tickmill group is also regulated in Seychelles, Cyprus, South Africa, and Labuan.
How long does it take to withdraw from Tickmill?
Withdrawal on Tickmill takes about 1 business day via crypto payments and e-wallets, bank transfers take 2-7 business days while cards take 1-8 business days.
Does Tickmill have commission?
Tikmill charges Pro Account holders a commission fee of £2 per side lot when they trade forex pairs, which makes it £4 per round turn; VIP Account holders pay a commission fee of £1 per lot side and £2 per round turn on forex trades as well. Tickmill offers commission-free trading on Classic Account.
Does Tickmill have NASDAQ?
Tickmill offers NASDAQ. The instrument name is USTEC 1.93 pips typical spread. They also charge a rollover charge of 1.318 for long positions on it. If you are selling, you pay 0.763 as a rollover charge.
Which Tickmill account is best?
The best Tickmill account for trading would depend on your preferences. If you prefer to trade without commission fees, then Tickmilll Classic Account will be the best for you as it is a spread only CFD trading account.
If you prefer to trade with lower spreads and commission fees, then the Tickmill Pro Account will be the best for you.
Visit
Note: Your capital is at risk
Note: We may earn a commission if you decide to sign up with the broker via the referral links in this review. This help us cover the expenses of running this website, but this does not affect our honest & transparent review process. Thanks for your support.