CMC Markets is an online provider of spread betting and contract for difference (CFD) trading services. The company provides access to an electronic trading platform, through which customers can trade CFDs on forex, shares, indices, ETFs, bonds and commodities with competitive spreads.
CMC Markets was established in 1989 and operates across Europe, Australia, and Asia. They are regulated by the UK's Financial Conduct Authority and are listed on the London Stock Exchange.
Our review covers the information you need to know about trading instruments, trading fees, customer support and deposit/withdrawal options at CMC Markets.
CMC Markets Review Summary
Broker Name
CMC Markets United Kingdom
Establishment Date
1989
Website
www.cmcmarkets.com
Address
CMC Markets UK plc 133 Houndsditch London EC3A 7BX, United Kingdom
Minimum Deposit
£0
Maximum Leverage
1:30
Regulation
FCA, ASIC, MAS, BaFin
Trading Platforms
MT4 and CMC Markets Trader available on PC, Mac, Web, Android, & iOS
Visit CMC Markets
CMC Markets Pros
Regulated by the FCA
Offers a wide range of tradable instruments
Zero deposit and withdrawal fees
User friendly website and trader
Fast processing of deposits and withdrawals
No mandatory minimum deposit or withdrawal
Offers commission-free trading on most instruments
CMC Markets Cons
Customer support is not available 24/7
Charges commission fees for shares trading
Charges dormant account fees
Does not support MT5 platform
Can I trust CMC Markets?
CMC Markets is regulated by top-tier financial regulators in multiple jurisdictions, including the UK and Australia. The company is also listed on the London Stock Exchange (LSE) since 2016. These factors make CMC Markets trustworthy and have a low-risk rating.
CMC Markets is based in London. Some of their subsidiaries and the countries in which they are regulated are as follows:
1) Financial Conduct Authority (FCA): CMC Markets is regulated by the FCA as 'CMC Markets UK Plc' and authorised to offer financial services in the UK with reference number 173730, issued in 2001.
The company is also registered with the Financial Services Compensation Scheme (FSCS), which means that UK clients' deposits are insured for up to £85,000 by the FSCS, in case the company cannot pay back the money.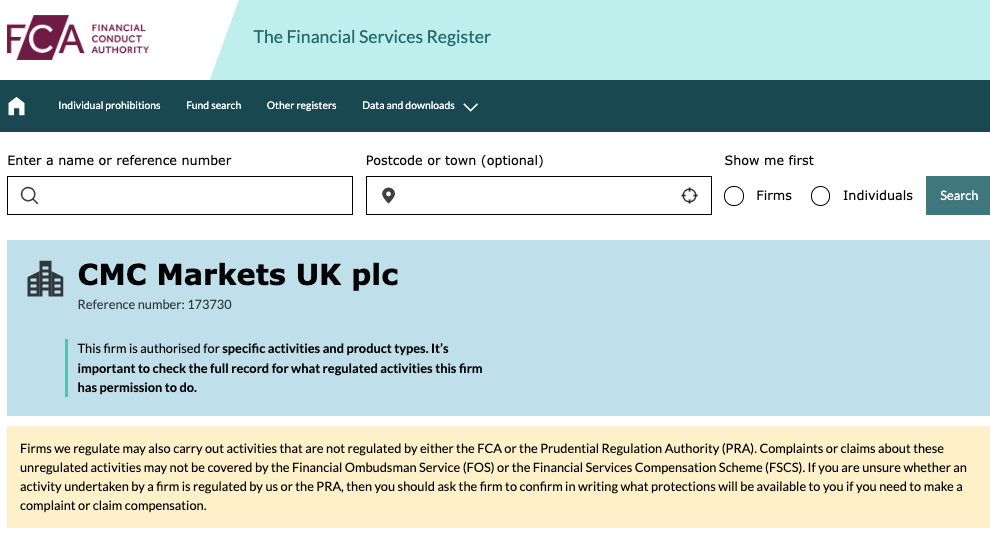 2) Australian Securities & Investments Commission (ASIC): CMC Markets is licensed in Australia by ASIC as 'CMC Markets Asia Pacific Pty Ltd' to offer financial services with ACN 100058213, issued in 2002.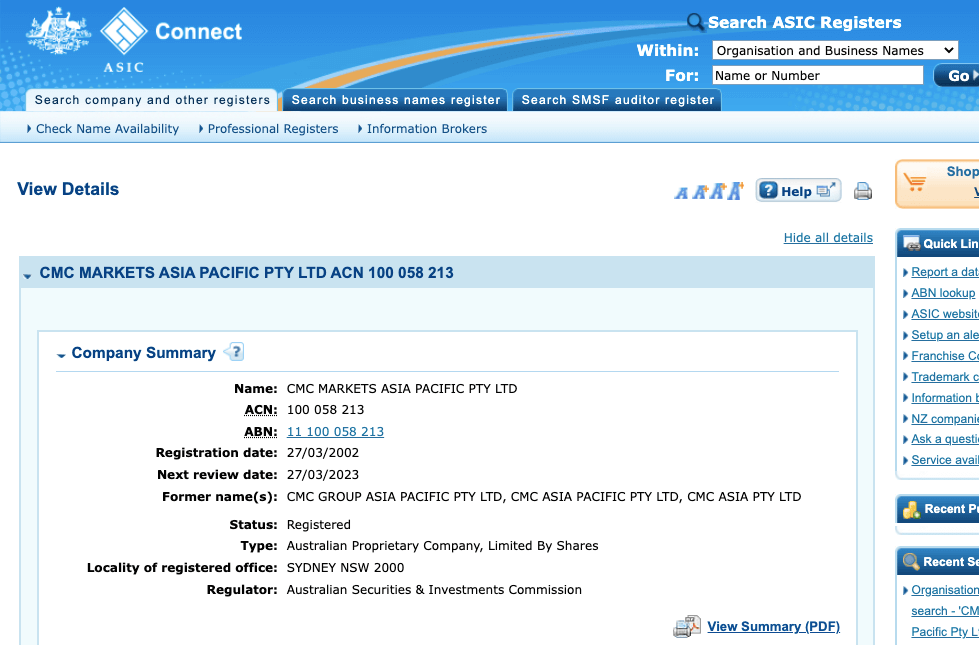 3) Monetary Authority of Singapore (MAS): CMC Markets is regulated in Singapore as 'CMC Markets Singapore PTE. Ltd.', and licensed to provide capital market services.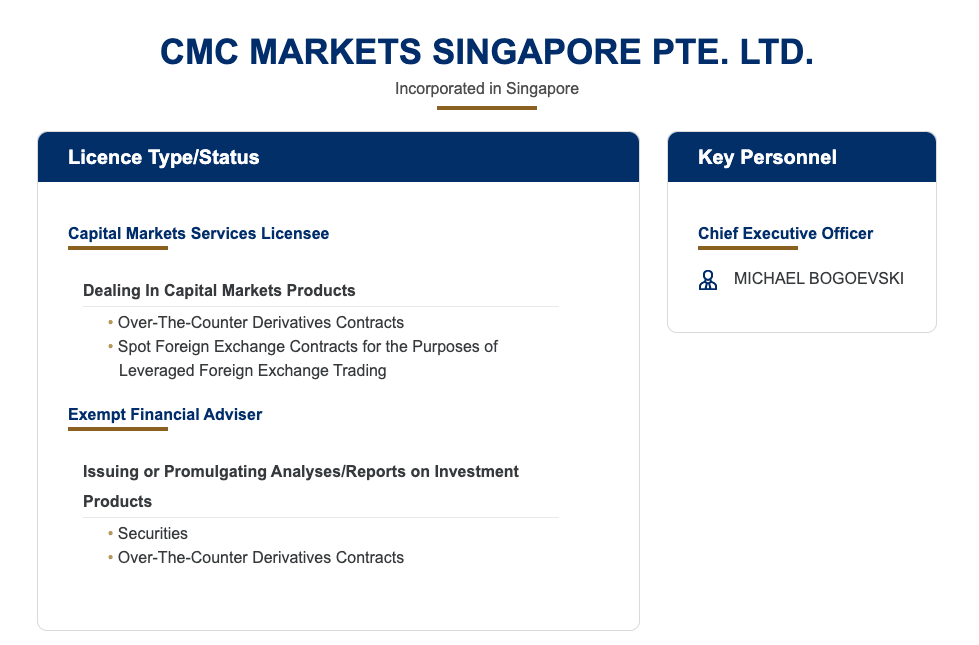 4) Federal Financial Supervisory Authority, Germany: CMC Markets is authorised in Germany as 'CMC Markets Germany GmbH', with an office in Frankfurt. They serve European clients through the license in the EEA.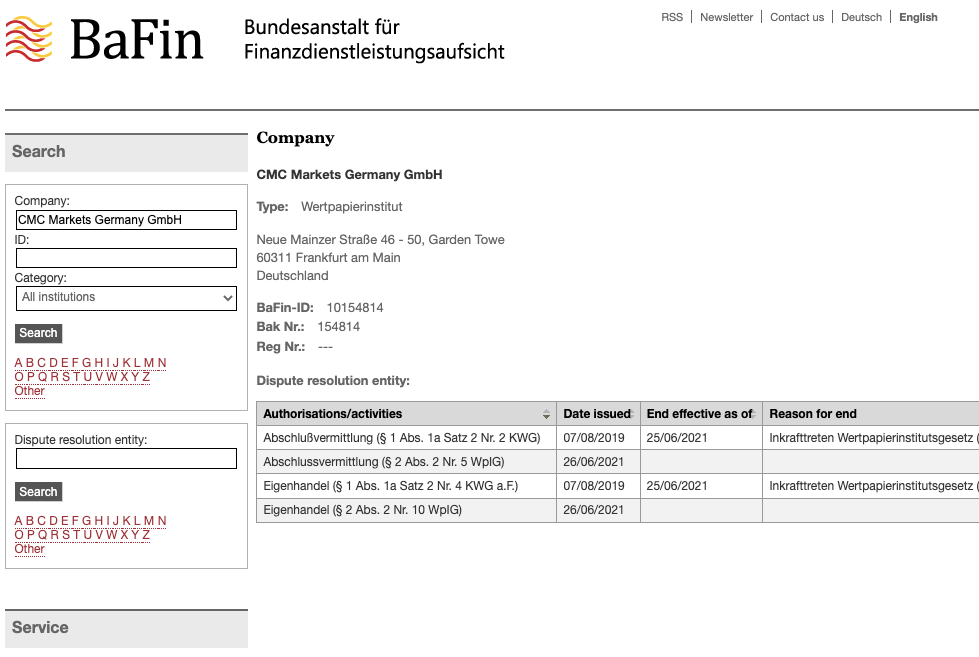 5) Financial Markets Authority (FMA), New Zealand: CMC Markets also holds a license in New Zealand as CMC Markets NZ limited. They are authorised as a derivatives issuer with licence number FSP41187 active since 2014.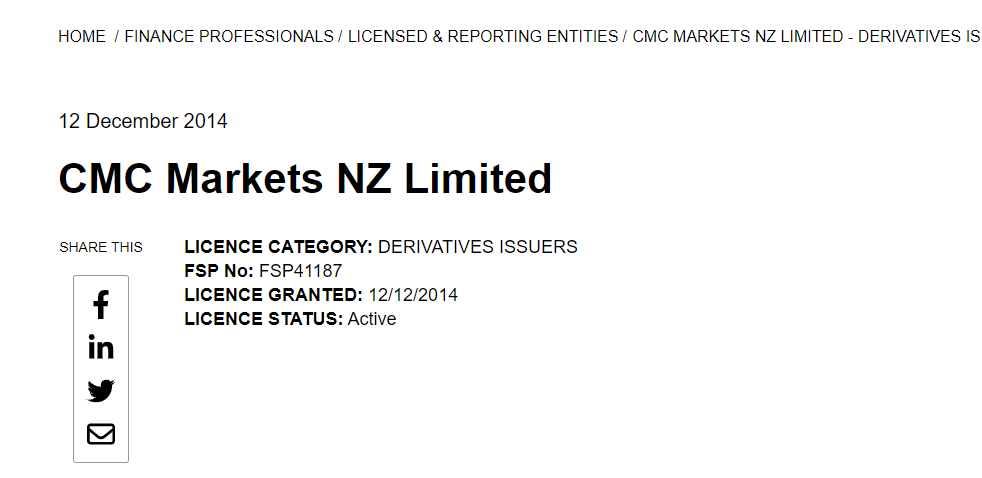 6) Investment Industry Regulatory Organization of Canada (IIROC): CMC Markets is regulated in Canada by IIROC as 'CMC Markets Canada Inc.' as an investment dealer, and is registered with Canada Securities Administrators (CSA) with NRD (National Registration Database) Number 12570, issued in 2009.
CMC Markets is registered with the Canadian Investor Protection Fund (CIPF). The CIPF works to ensure that any asset or investment owed to you by a regulated broker is given back up to $1 million.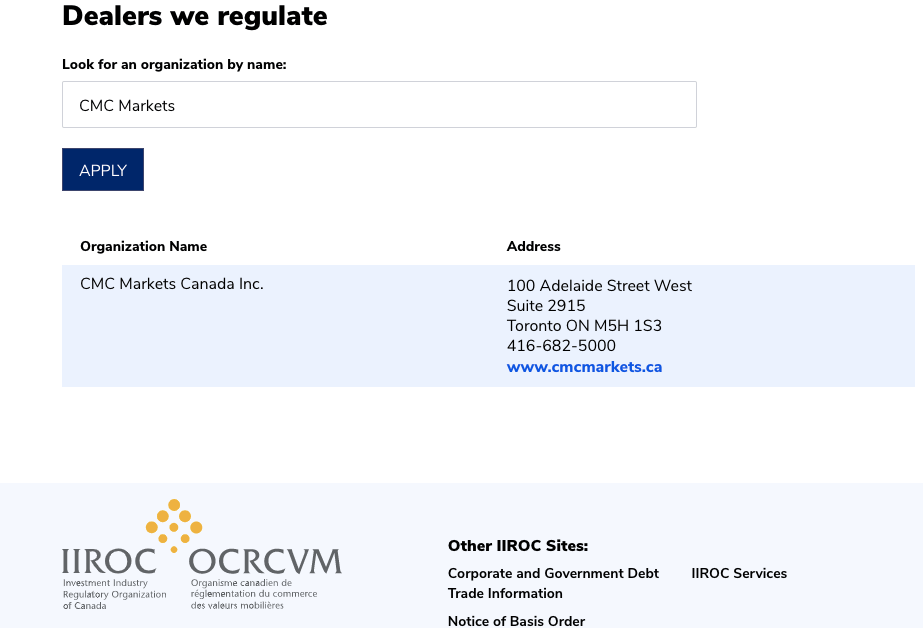 CMC Markets Leverage
CMC Markets offer leverages of up to 30:1 for retail traders. This means you can open a position that is worth 30 times the amount of your deposit. If you deposit £100, you can open a £3,000 trade position.
This 30:1 leverage only applies to major currency pairs. For other instruments, the maximum leverage is 1:20 for indices and minor currency pairs, and 5:1 for stocks.
Professional clients can access leverage on CMC Markets, up to 1:500.
CMC Markets Account Types
CMC Markets offers 3 main account types to traders, which are Spread Betting, CFD, and Corporate Accounts. These accounts are offered as standard accounts for retail traders.
CMC Markets' Professional and Alpha accounts provide additional features, which you can apply for after meeting certain requirements.
CMC Markets demo accounts allow new traders to get familiar with the trading platform using virtual money before they put in their real money. No Islamic account options are available on CMC Markets.
Read below to find out more about the features of the various types of accounts on CMC: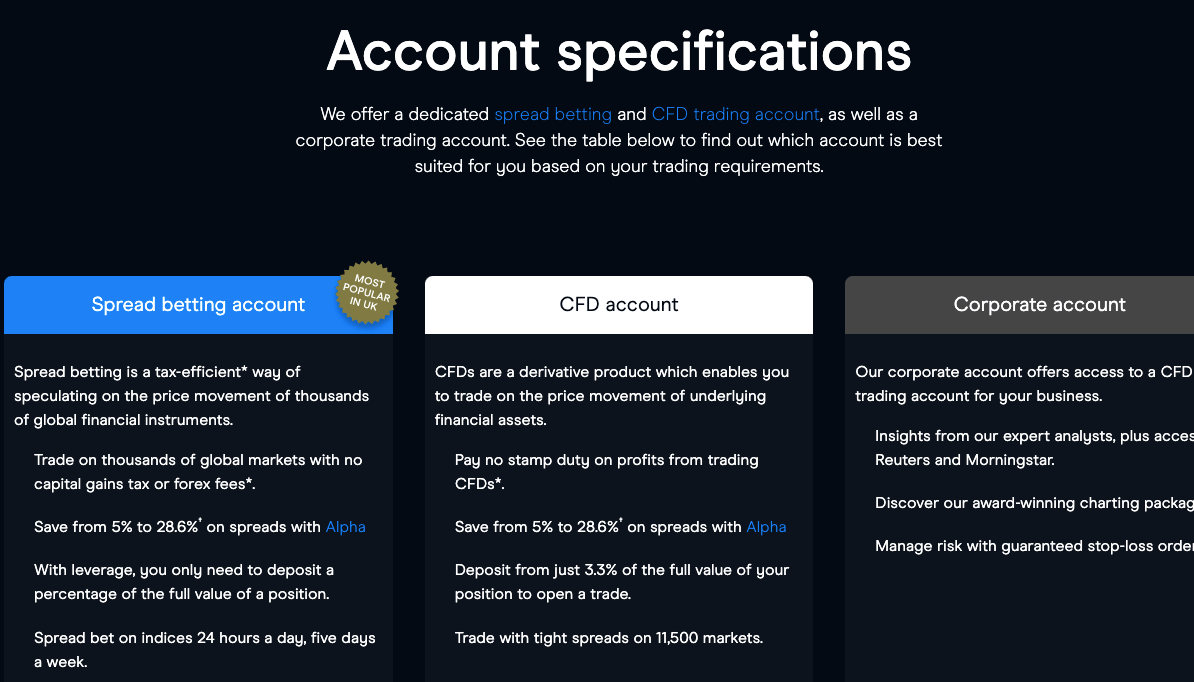 1) Spread Betting Account: CMC Markets Spread Betting Account allows you to place speculative bets on the financial markets without having to pay any capital gains tax on your profits.
This account lets you trade forex pairs, commodities, indices, shares, and treasuries. The supported account currencies for Spread Betting are GBP and EUR only, and you can deposit any amount you want to start trading.
This is a spreads only account and you do not pay any commission fees for opening or closing a trade position. Spreads on this account start from 0.3 points and you pay swap fees for holding a position open for more than 24 hours.
The maximum leverage on this account is 30:1 for retail clients and you have negative balance protection.
2) CFD Account: CMC Markets CFD Account allows you to trade CFDs on foreign exchange currency pairs, indices, shares, treasuries and commodities.
No commission fees are charged when you enter or exit a trade on CMC Markets CFD Account, except for trading shares, in which charges starting from $10 apply.
Spread fees on this account start from 0.3 points and you pay swap fees for holding a position open for more than 24 hours.
This account has no minimum deposit requirement, with a maximum leverage of 30:1 for retail clients and offers negative balance protection.
3) Corporate Account: CMC Markets Corporate Account allows you to register your business and trade on the platform as a corporate entity. You can trade financial instruments such as forex, shares, indices, commodities and treasuries with this account.
This account is not required to pay commission fees for trades except when trading shares in which case commission fees apply starting from $10. Spreads on the Corporate Account start from 0.3 points and the account incurs swap fees for holding a trade position open for more than 24 hours.
Corporate Accounts with a retail client status have a maximum leverage of 1:30 and no negative balance protection, so you can lose more than the amount invested.
4) CMC Markets Alpha: CMC Alpha is CMC Markets Premium Account status reserved for retail or professional clients who maintain a minimum balance of £25,000. This account status gives you some extra benefits.
The CMC Alpha offers a number of top-tier features, including priority customer support, a personal account manager, and a free premium Financial Times subscription. It also offers members access to a community of experts and discounts on spreads of up to 28%.
The Alpha accounts are tiered from 3 to 5, depending on your account balance and your tier determines your spreads discount rate.
To get the CMC Markets Alpha Account status, first open a standard Spread Betting or CFD Account, deposit £25,000 or maintain such balance, and the CMC Markets Team will contact you by email to inform you of the status.
You can contact support to request an account upgraded to premium status if you have a balance of more than £25,000 and you have not received an email invitation yet.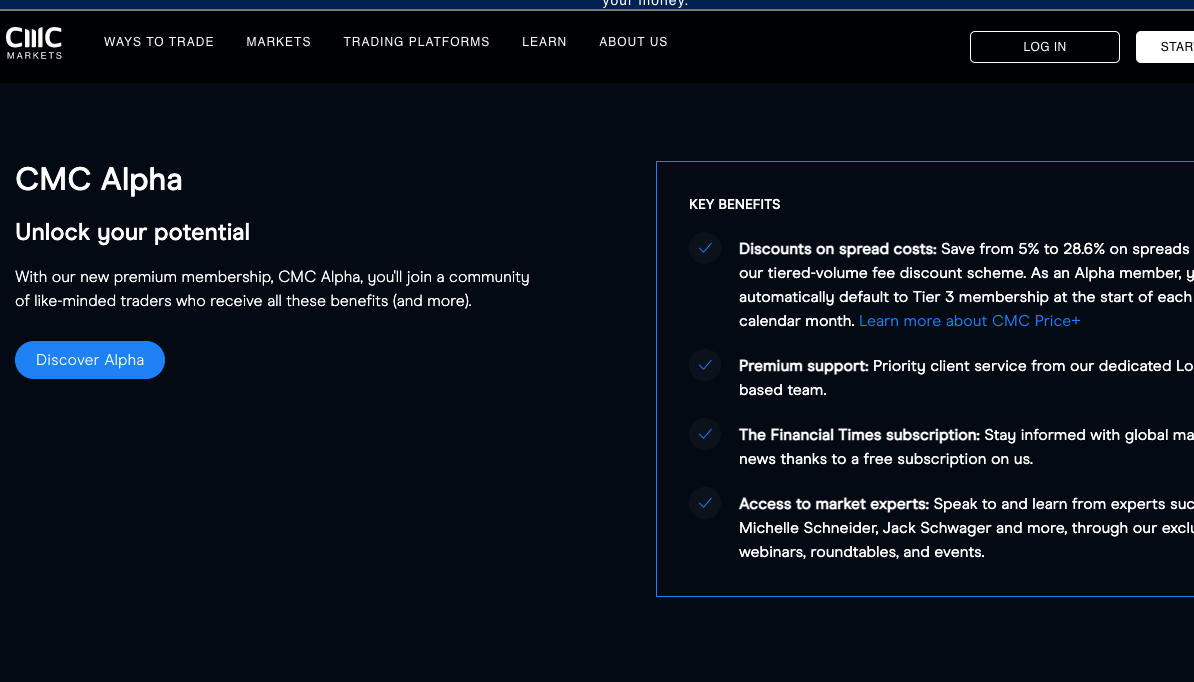 5) CMC Pro: CMC Markets Pro Account is designed for experienced traders who trade large volumes of financial instruments.
The Professional Account on CMC Markets offers up to 1:500 leverage. To get this account type, you need to apply to customer support after meeting at least 2 of the 3 conditions below:
With the CMC Markets Professional Account, you also get a personal account manager and early access to CMC Markets' new products and initiatives. You can also trade cryptocurrencies as a professional client.
You can apply to upgrade a Spread Betting or CFD Account to a Professional Account, but you lose the negative balance protection available to retail clients.
Have at least one year of working experience in the financial services sector.
Have placed at least 10 trades of significant sizes each quarter over the last year.
Have a portfolio of financial instruments of more than €500,000 or its equivalent in GBP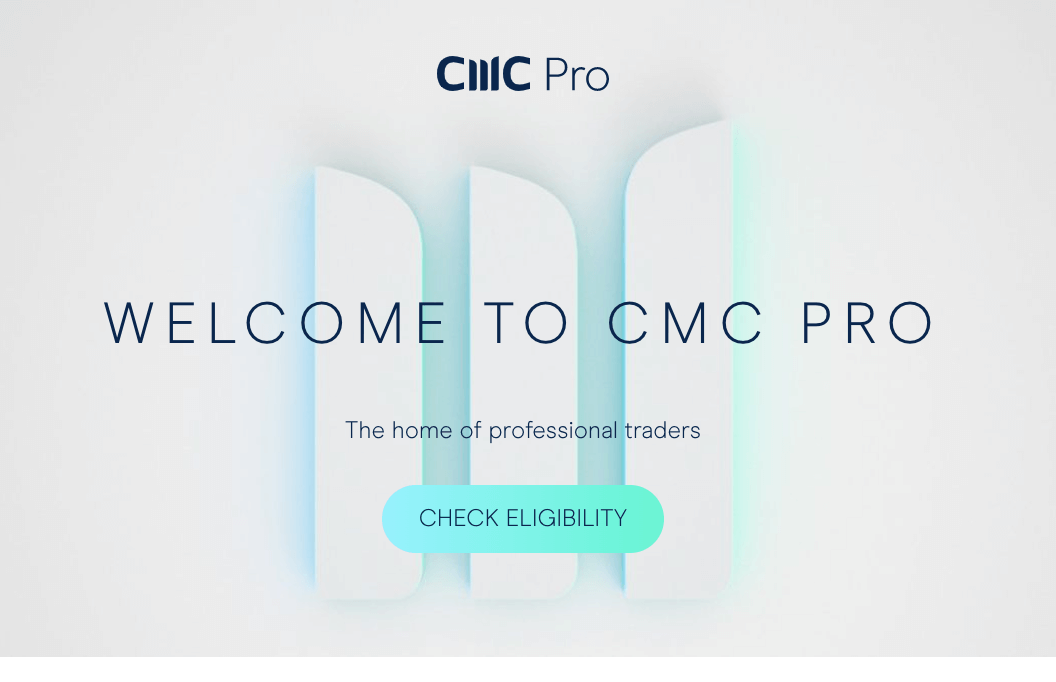 CMC Markets Base Account Currency
When opening an account on CMC Markets you can choose from 10 currencies to serve as your base account current including British Pound sterling-GBP, Euros-EUR, United States Dollar-USD, Australian-AUD, Canadian Dollar-CAD, Norwegian krone-NOK, New Zealand Dollars-NZD, Polish złoty-PLN, Swedish krona-SEK, Singapore Dollar-SGD.
All your trades, deposits/withdrawals will be measured in your base account currency.
CMC Markets Overall Fees
Fees on CMC Markets vary depending on your account type, tradable instruments and trade volume. Find an overview of the fees below:
Trading fees
1) Spreads: When you open trades on CMC Markets, you pay a spread fee, which is the difference between the bid and ask prices of instruments. Spreads on CMC start from 0.3 pips for most accounts.
Here are the minimum spreads for major currency pairs on CMC Markets:
| Instrument/Pair | Spreads |
| --- | --- |
| EUR/USD | 0.70 pips |
| GBP/USD | 0.90 pip |
| EUR/GBP | 1.10 pip |
| Gold | 0.3 pips |
2) Commission fees: CMC Markets offers commission-free trading on all instruments, except shares. For opening/closing trades on shares, you will be charged a commission fee of £9 per round turn, which is subject to change based on the volume of trade.
3) Swap fees: Whenever you keep a trade position past the market closing time (5 PM New York Time), you incur holding costs also known as swap fees. Swap fees on CMC Markets depend on the trade size and whether your trade position was long (buy) or short (sell).
Holding costs can also be gained as profits if you are holding a short(sell) position. Any holding costs you have paid to hold a position will be added to your profit or loss at the time you close the trade. Swap fees are usually based on an interbank rate and a percentage of the trade value.
Non-trading fees
1) Deposit and Withdrawal fees: CMC Markets does not charge any fees for depositing funds to your account or withdrawing from it. This applies to all account types.
2) Account Inactivity charges: If you do not place any trades on your account for a year, your account will be designated dormant and you will be charged £10 per month on any balance in the account. If you have no funds in your account, you will not incur any negative balance.
How to Open CMC Markets Account in UK?
Follow these steps to open a trading account on CMC Markets.
Step 1) Go to the CMC Markets website at www.cmcmarkets.com and click on 'START TRADING' on the top right corner of the homepage.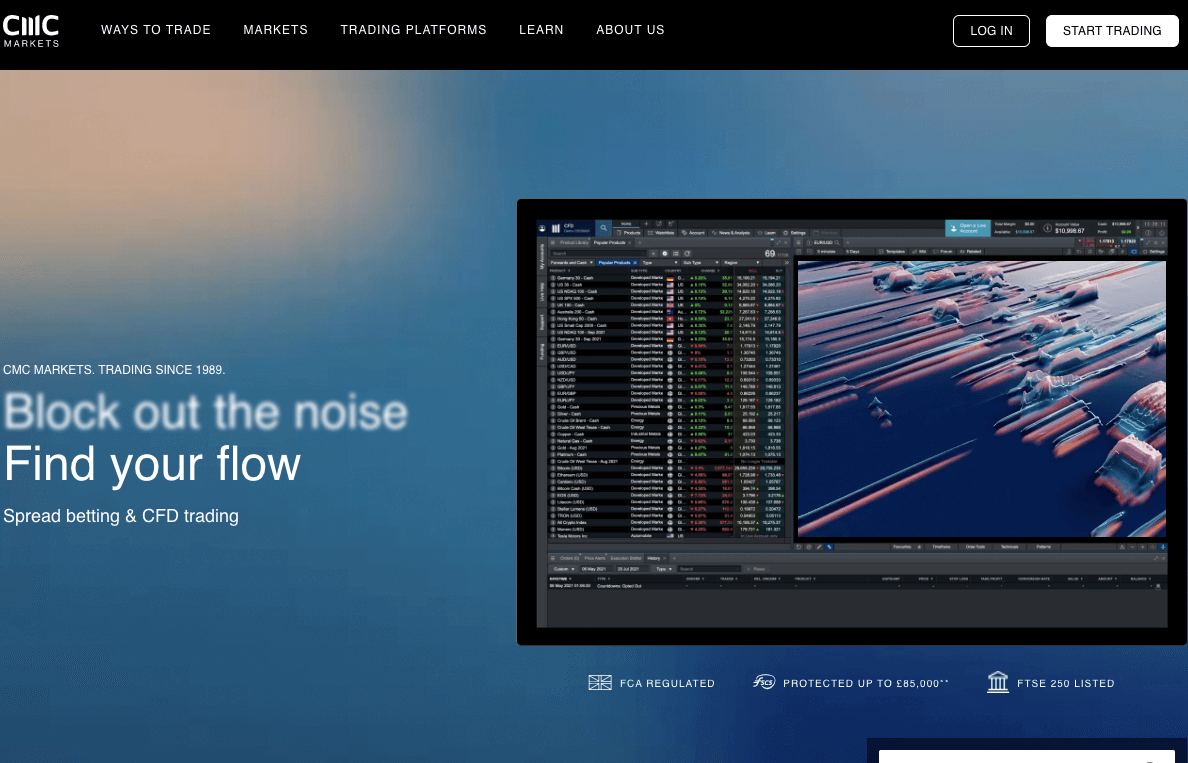 Step 2) Type in your email, create a password and select whether you want a Spread Betting or CFD Trading Account, then click 'Continue'.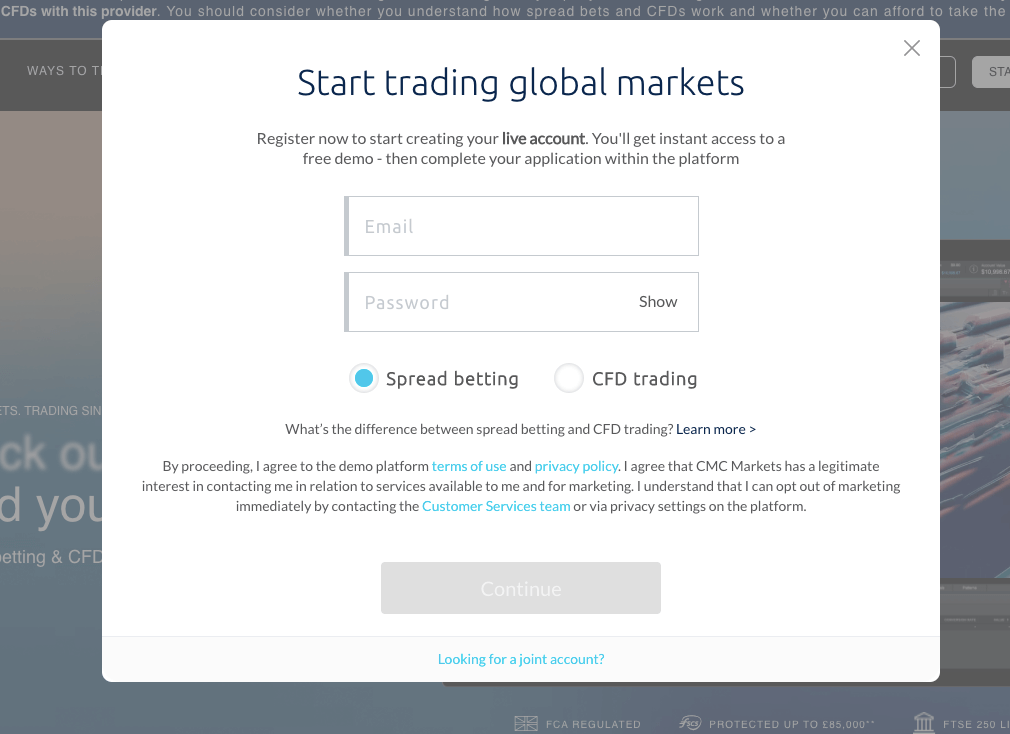 Step 3) Type in the verification code sent to your email and click verify to verify your email and proceed with the registration.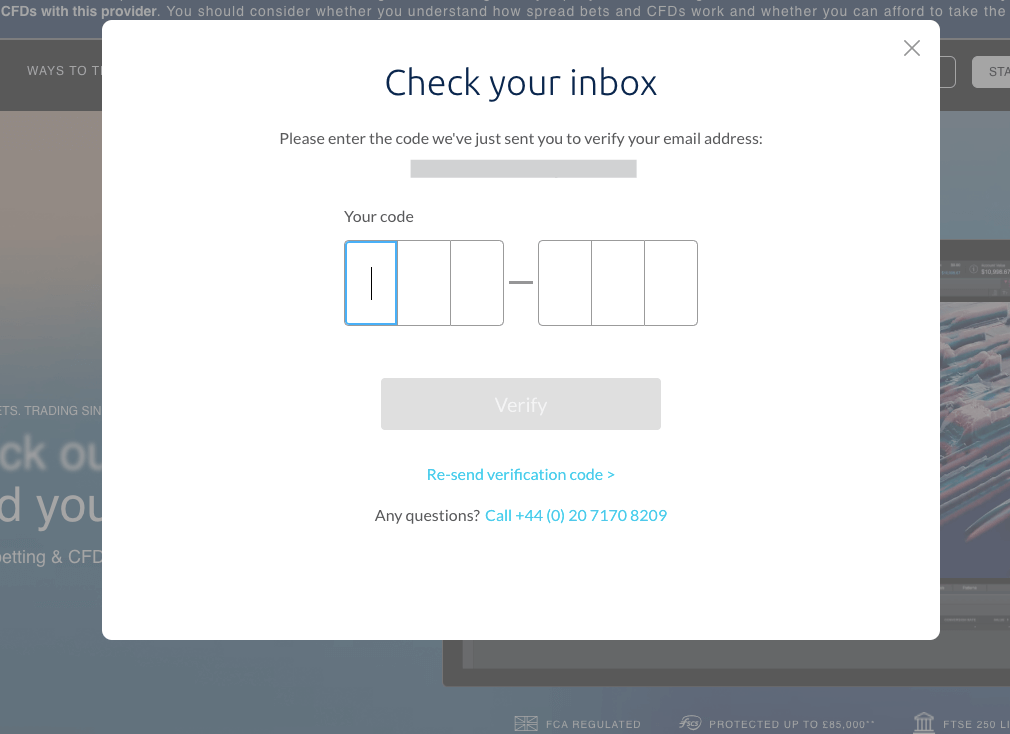 Step 4) Fill out your full name, select account currency and click 'NEXT'.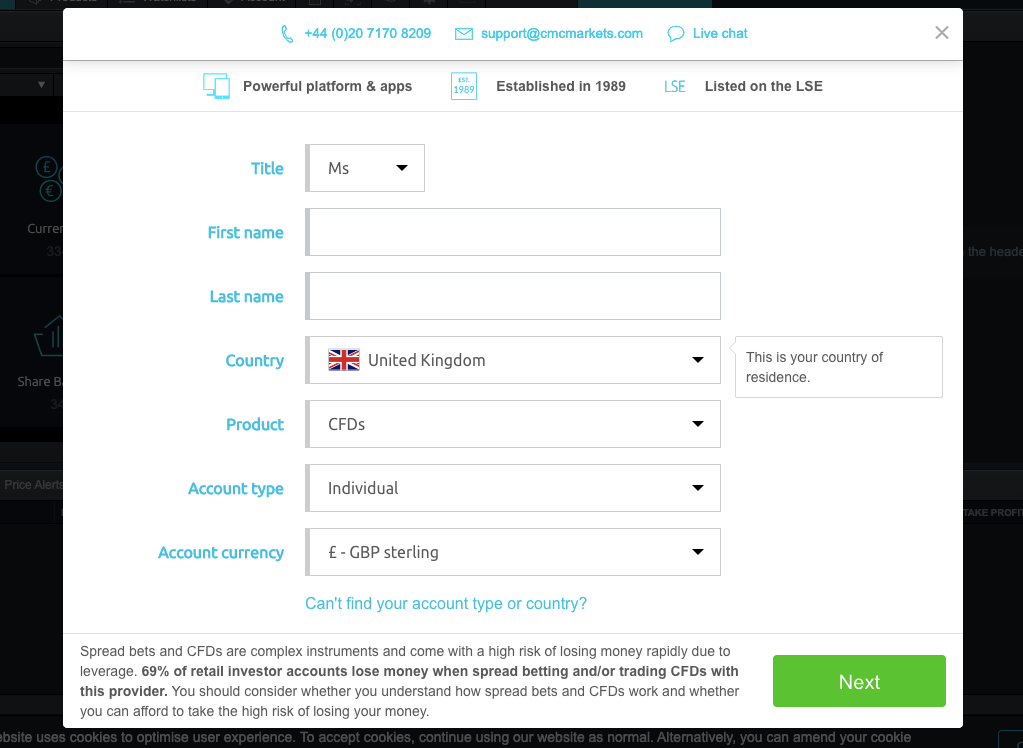 Step 5) Supply your date of birth, phone number and national insurance number, select that you are not a citizen of the US, and then click 'Next'.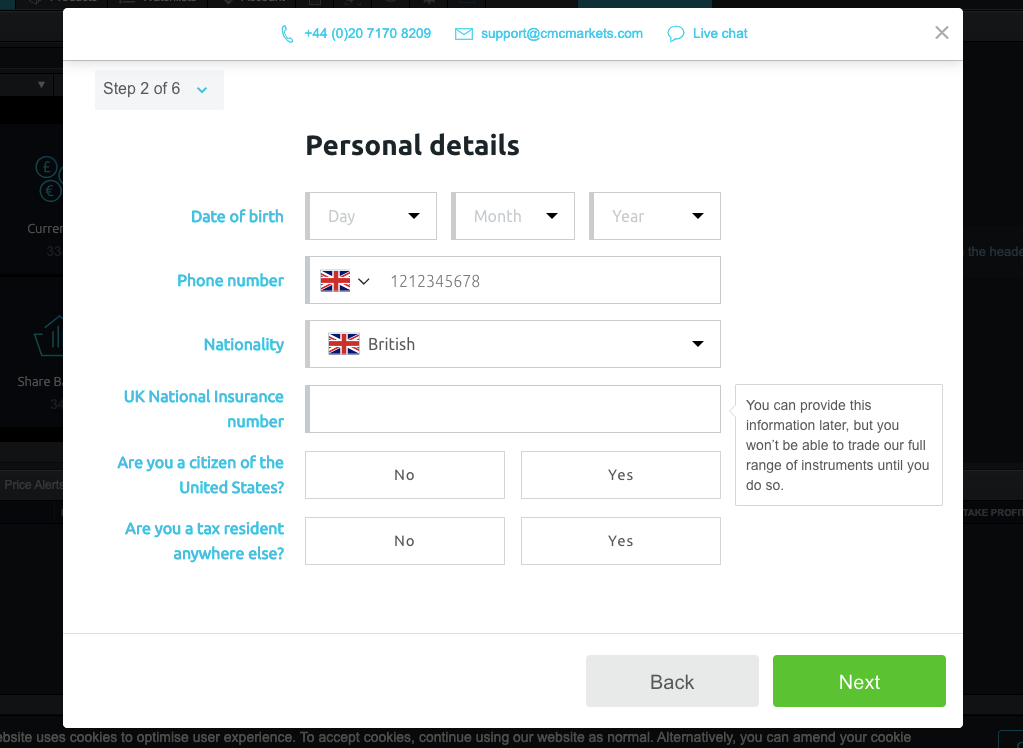 Step 6) Type in your address, click 'Find' then confirm it and click on 'Continue'.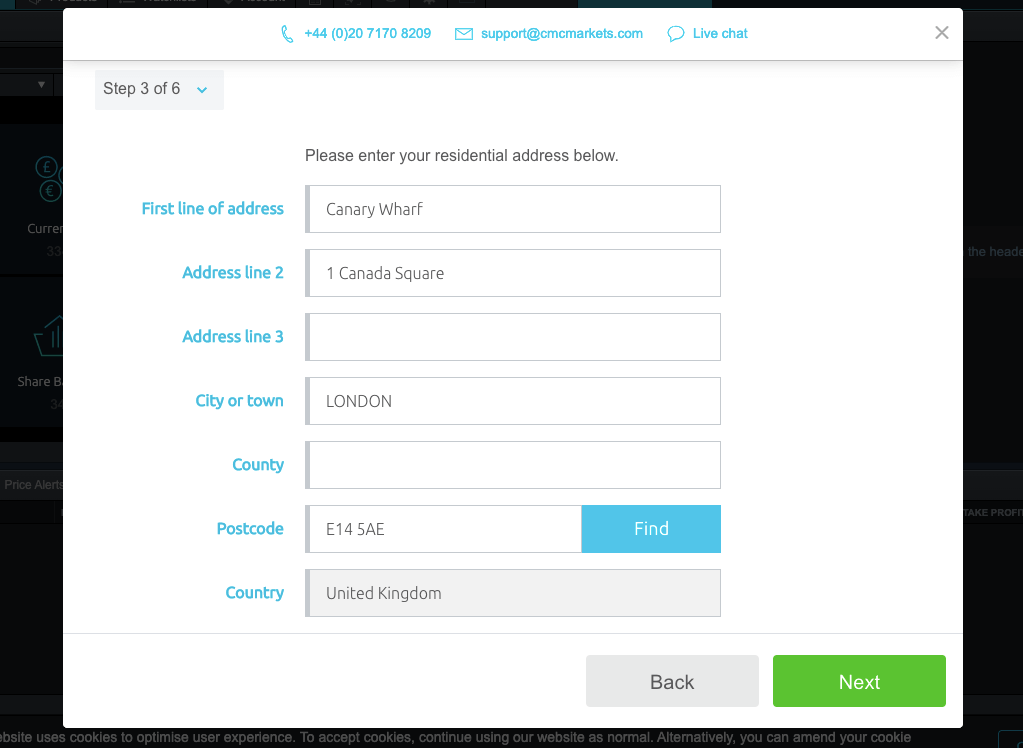 Step 7) Answer questions about your employment status.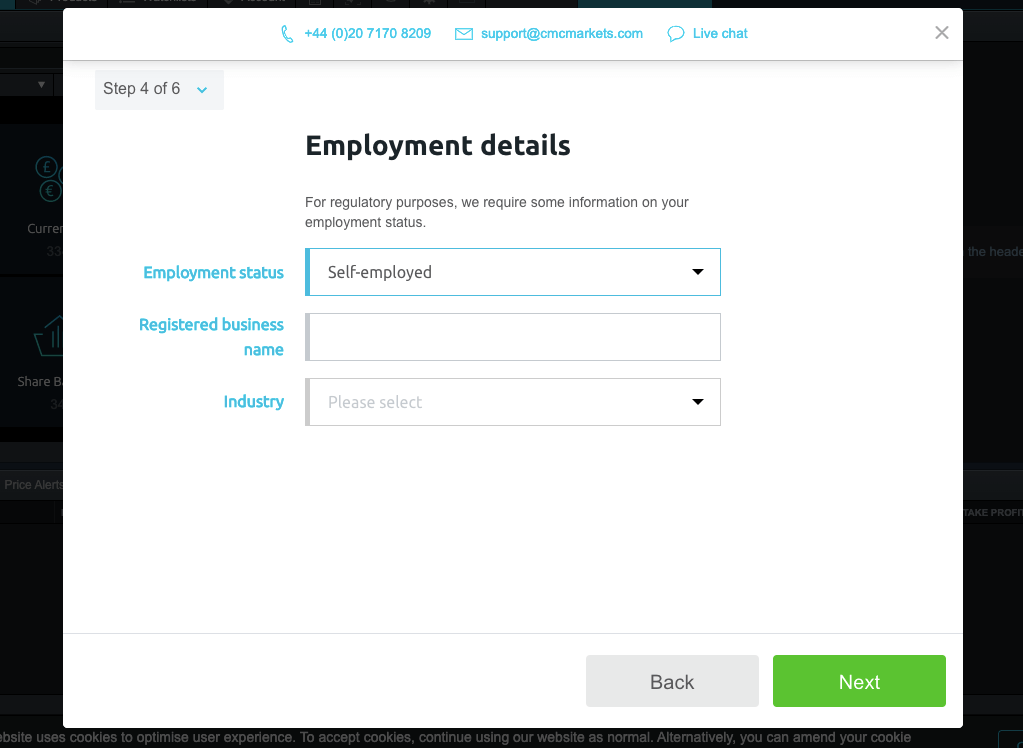 Step 8) Answer questions about your financial background.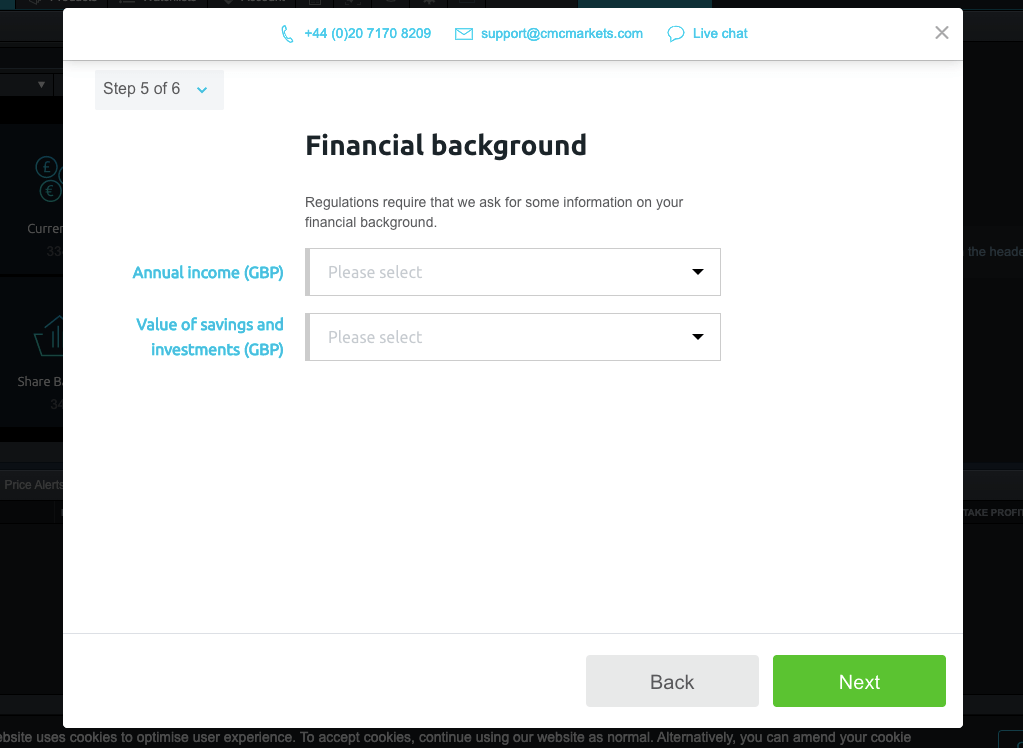 Step 9) Answer some questions to test your knowledge and experience of trading financial instruments, then click 'Next'.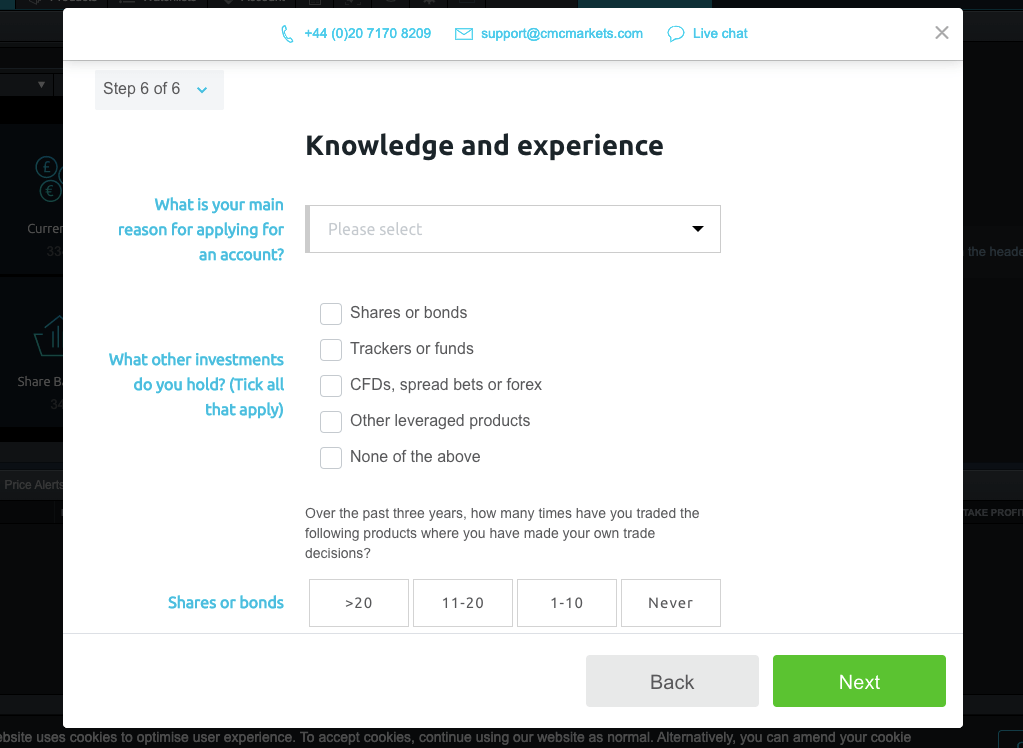 Step 10) After reading and confirming that you understand and agree to the terms, check the features and risk box and declaration box. Then click 'Submit'.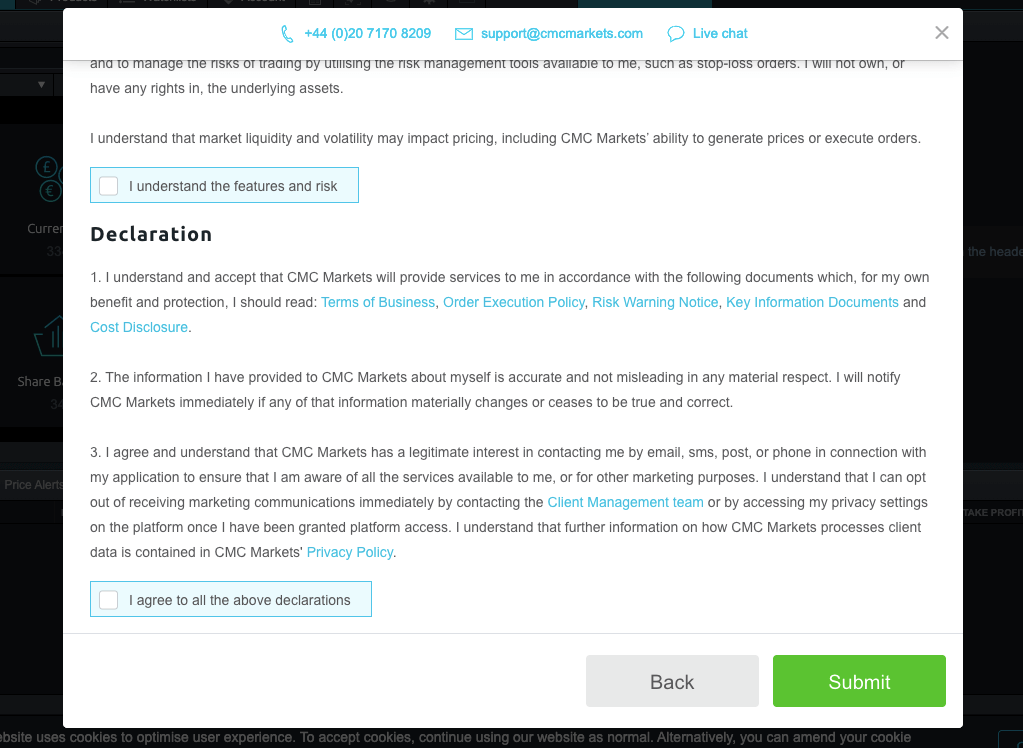 Step 11) Set up your view of the trading platform, and wait for your live account application to be approved. While waiting, you can trade with the automatic demo account created for you.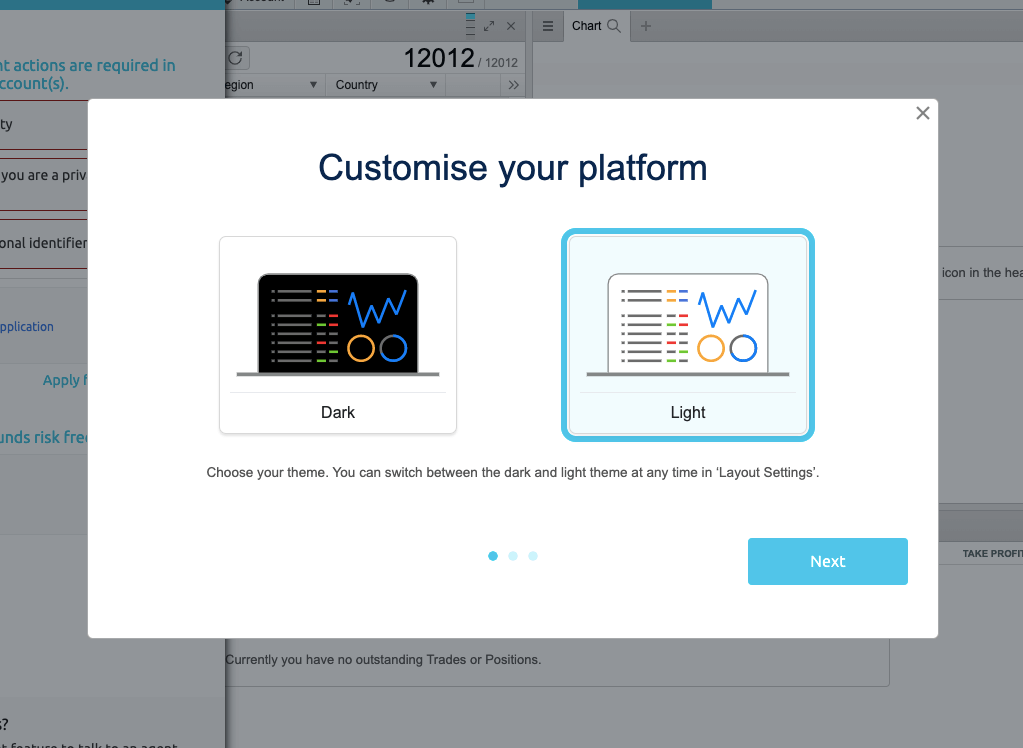 Step 12) You will have to upload some documents to verify your identity and address. You can upload a driving license, bank statement, utility bill or other.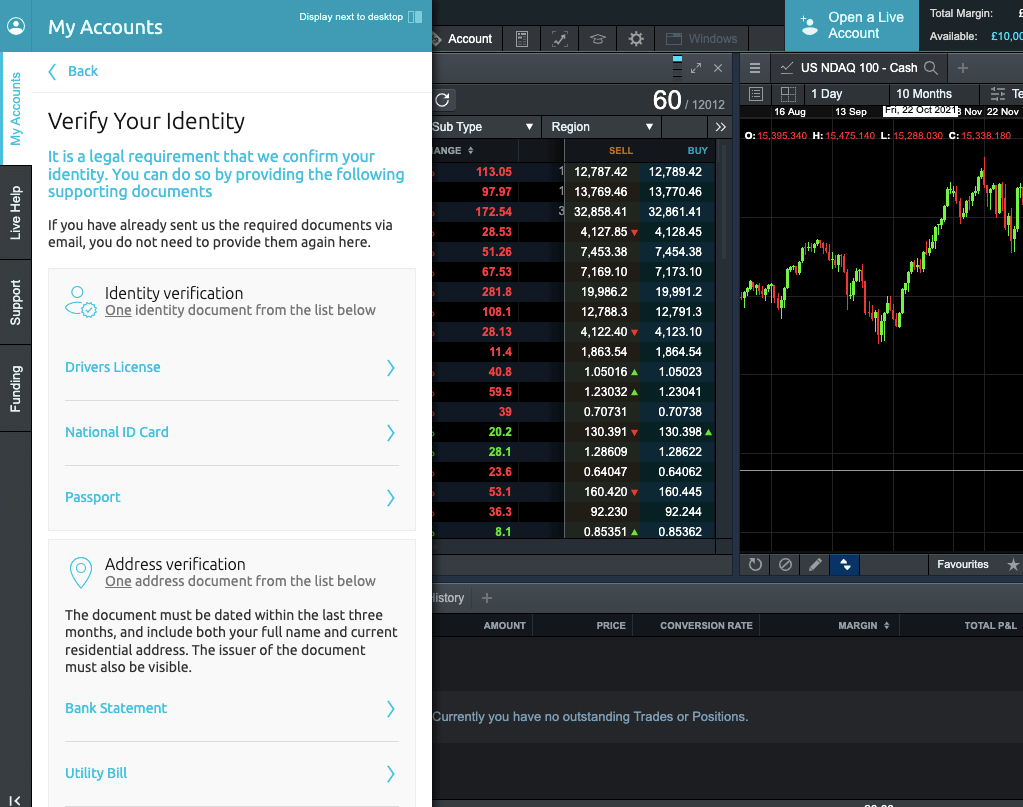 CMC Markets Deposits & Withdrawals
Deposit and withdrawal methods accepted by CMC Markets include cards, bank transfers and PayPal. Find details of the deposit and withdrawal methods on the platform below:
CMC Markets Minimum Deposit
The minimum deposit on CMC Markets is £0. This means that there is no mandatory meaning deposit amount, you can deposit any sum you want and start trading. Although the recommended minimum deposit is £100 as it will allow you to place a sizable amount of trade.
How do I Deposit Funds to CMC Markets?
Log in to your CMC Markets Dashboard, click on the 'Funding' tab on the left side menu, and select 'Add Funds' choose a payment method, enter the amount you want to deposit and follow the on-screen prompts to complete your deposit.
CMC Markets Minimum Withdrawal
The minimum withdrawal on CMC Markets is £0. This also means there is no minimum withdrawal sum required by the broker, you can withdraw any amount you want as long as you have funds in your trading account.
While card withdrawals are processed within 1 hour, withdrawals to local bank accounts and PayPal take 1-2 business days to process. Note that some card issuers may take up to 5 business days to process a withdrawal.
There is a withdrawal limit for card transactions, pegged at $40,000 per day, or its equivalent in GBP. The bank transfers option has no maximum withdrawal.
Note that you can only withdraw funds to cards if you have used cards to make deposits into your trading account. This condition does not apply to PayPal and bank transfers.
How to Withdraw Funds from CMC Market
Log in to your CMC Markets dashboard, click on funding on the left side menu, select withdrawal, select your preferred payment method and follow the on-screen instructions to complete the withdrawal requests.
Withdrawals initiated before 2 PM UK time are processed the same day.
CMC Markets Trading Instruments
You can trade over 10,000 financial instruments on CMC Markets, find a breakdown of the instruments below:
| Instrument | Availability | Number |
| --- | --- | --- |
| Forex | Yes | 330 currency pairs on CMC Markets (including majors, minors, exotics and forex indices) |
| Commodities | Yes | 100 spot commodities on CMC Markets (Metals, Energies, Agriculture, and Commodity Indices) |
| Indices | Yes | 80 indices on CMC Markets (UK 100, US NDAQ 100, Germany 40, Hong Kong 50 and others) |
| Shares | Yes | 9,500 shares on CMC Markets (including, Technology, Banking, ETFs, and Share baskets) |
| Bonds | Yes | 50 Bonds on CMC Markets (US and European bonds) |
*CMC Markets offers cryptocurrency trading to only Professional clients.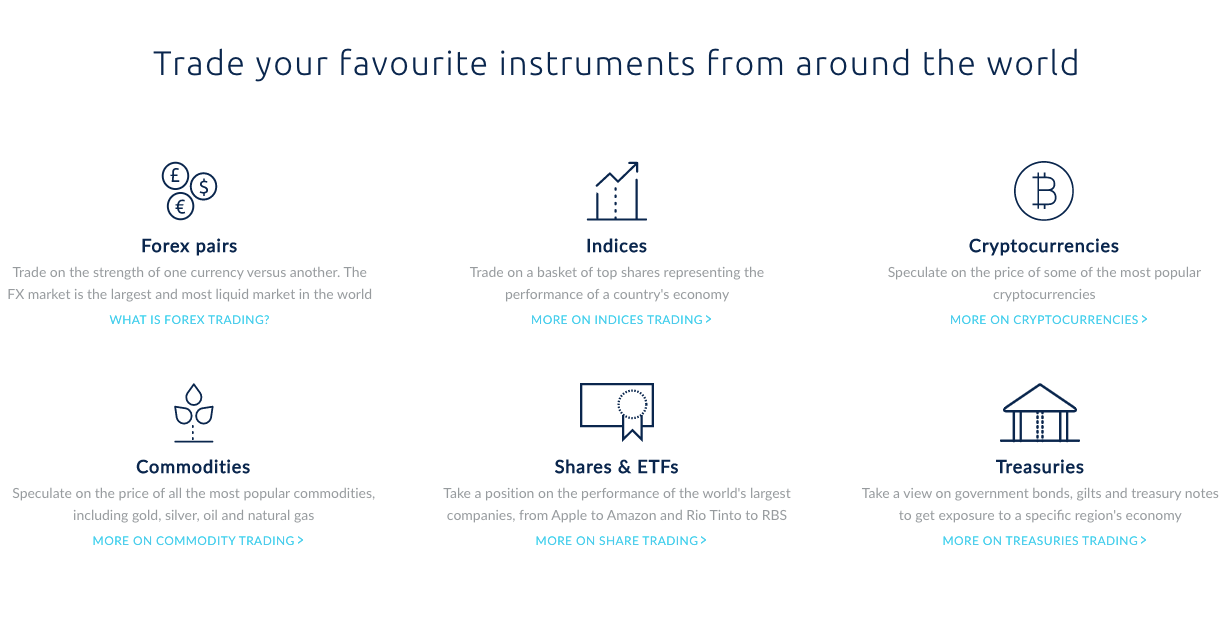 CMC Markets Trading Platforms
Trading platforms supported by CMC Markets are:
1) MetaTrader 4: You can access the CMC Markets instruments on the MT4 trading application, available on the web, desktop, and mobile devices (Android & iOS).
2) CMC Markets Trader: This is a CMC Markets' owned trading platform, available for trading with the broker. The platform can be accessed on the web and downloaded from the App Store and Google Play Store.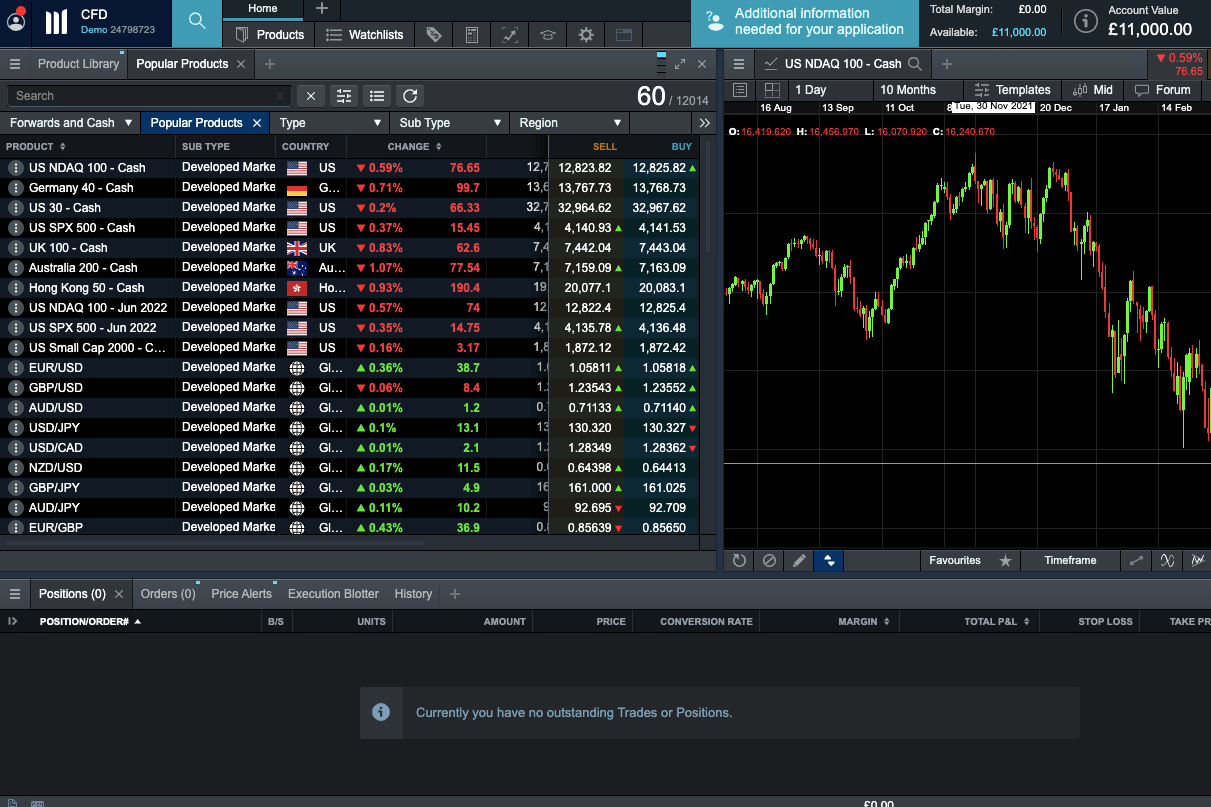 CMC Markets Execution Policy
After reviewing the broker's documents, here is what we found on their execution policy. CMC Markets has processes in place that assess the quality of execution delivered to traders. The quality of execution depends on factors like price, cost, speed, and likelihood of execution. Execution quality is overseen by a committee known as TCF (Treating Customer Fairly).
Prices shown on the platform are generated electronically. They are sourced from top data vendors and liquidity providers in the industry. Data feeds and internal pricing mechanisms are continuously monitored by the support and dealing team to ensure quality pricing. In certain conditions, CMC Markets can generate price manually like a market maker. An example of this is when you try to trade an instrument outside market hours. CMC Markets will generate the price manually so you can have access to liquidity. However, the broker tries to provide a fair price when this is done.
For costs, CMC Markets keep trading costs low by sourcing the best prices from liquidity providers. They also review fees from their equities and futures brokers to make sure they are not too high. CMC Markets speedily executes all trades except on rare occasions when orders are rejected. The absence of manual intervention also makes your order execution faster.
Furthermore, there is a high likelihood that your trades will be executed. Why? Because your trades are executed against the broker's liquidity. CMC Markets via their New Generation Platform provide more liquidity than the underlying market of a trading instrument. The higher volume of liquidity reduces the chances of your orders getting rejected.
CMC Markets Education and Research
CMC Markets have a good collection of learning channels that can help your trading and research. Let us look into them in detail
Trading Guides: It is a comprehensive section and is divided into trading strategies, essentials and definitions, trading tips, fundamental analysis, technical analysis, and asset classes. Each of these guides has content under them so you can explore them individually.
If you click trading strategies, for example, there are 35 guides in there (at the time of this writing). Topics like leveraged trading, day trading, and swing trading are covered here.
Webinars and Events: This is section is designed by CMC Markets for tailored learning. These webinars and events can help you learn trading concepts from the beginner level to the advanced level. Some of the topics covered include charting webinars, analysis of the US NFP, and trading platform tutorials. The schedule for their next webinar is on the website. You only need to book your spot without charges.
OPTO: OPTO is very useful for research. It is well organized and very comprehensive. First, it covers themes such as climate change, disruptive technology, social change, and next generation economy. These themes are discussed in light of trading and investing. Also, the authors that discuss them are experts in their fields.
You can enjoy OPTO in the form of newsletters, magazines, and podcasts. You can also find the recording of old podcasts so you don't miss anything.
Learn Hub: CMC Markets' learn hub contains free educative tools to help you develop your CFD trading and spread betting skills. You get to learn about the stock market first with four articles covering different topics.
Apart from the main trading guides, the learn hub also has trading guides. The guides cover CFD trading, forex trading (currency pairs), and spread betting. The following section is platform guides. Here, you will learn how to use CMC Markets' Next Generation Platform and MT4. The guide covers how to trade, how to place orders, how to chart and use technical tools, etc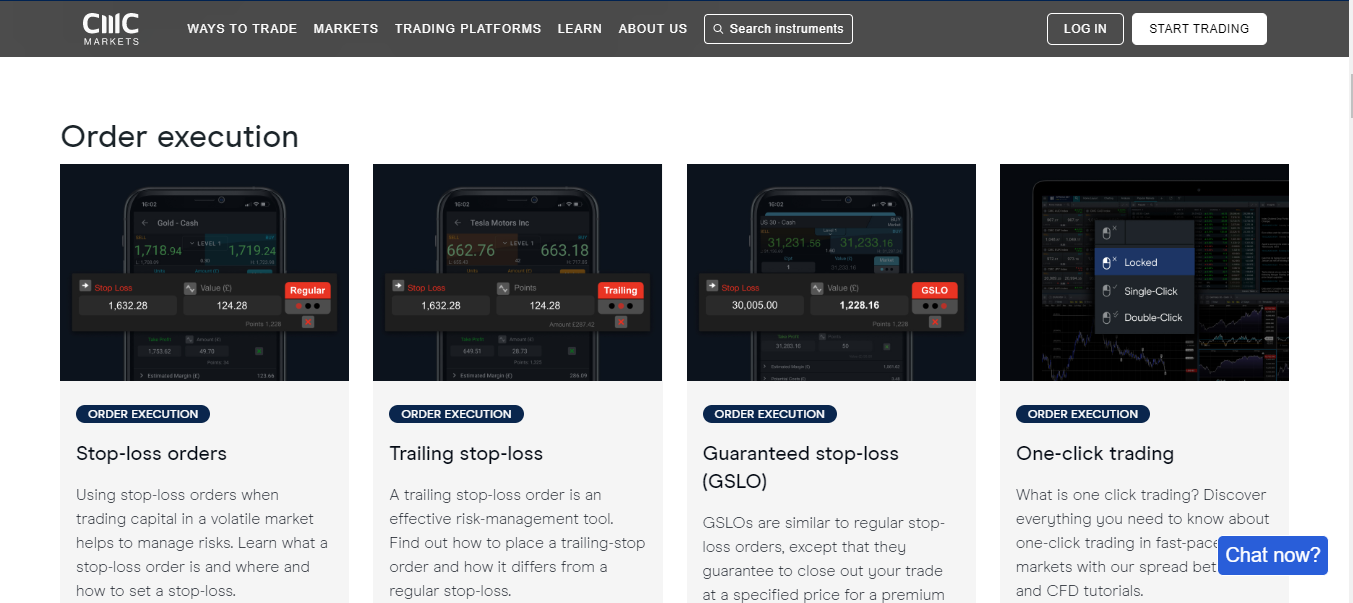 The last part of the learn hub is the glossary. This is a tool you can use to search for common trading terms so you can know their meaning. The glossary is arranged in alphabetical order so your search can be more precise.
Trading Library: CMC Market's trading library contains trading-related articles. Beginner, intermediate, and advanced traders can benefit from the articles. You can systematically read the articles from basics to more advanced topics.
The library is divided into four categories: trading strategies, trading basics, fundamental analysis and technical analysis & charting. Here are the most popular articles in the library.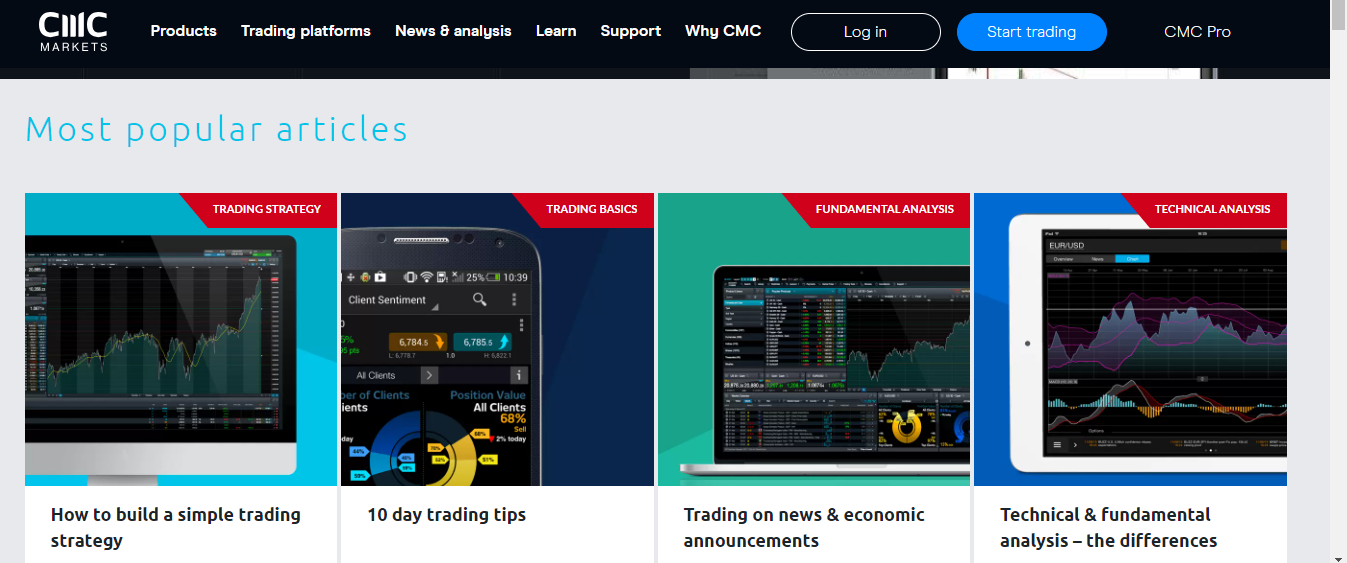 CMC Markets UK Customer Service
CMC Markets UK offers online customer support to traders via the following channels:
1) Live chat support: CMC Markets live chat is accessible 24/5 for traders who have an account with the broker. The live chat can be accessed from the support tab on your dashboard.
When our team tested it for the first time, we did not get any response after about 5 minutes but received an email within 30 apologizing for the delay and providing an answer to the question we asked.
We tested it for a second time, and the wait time was less than 2 minutes and the answers to our questions were relevant, although the live chat agent left the chat abruptly.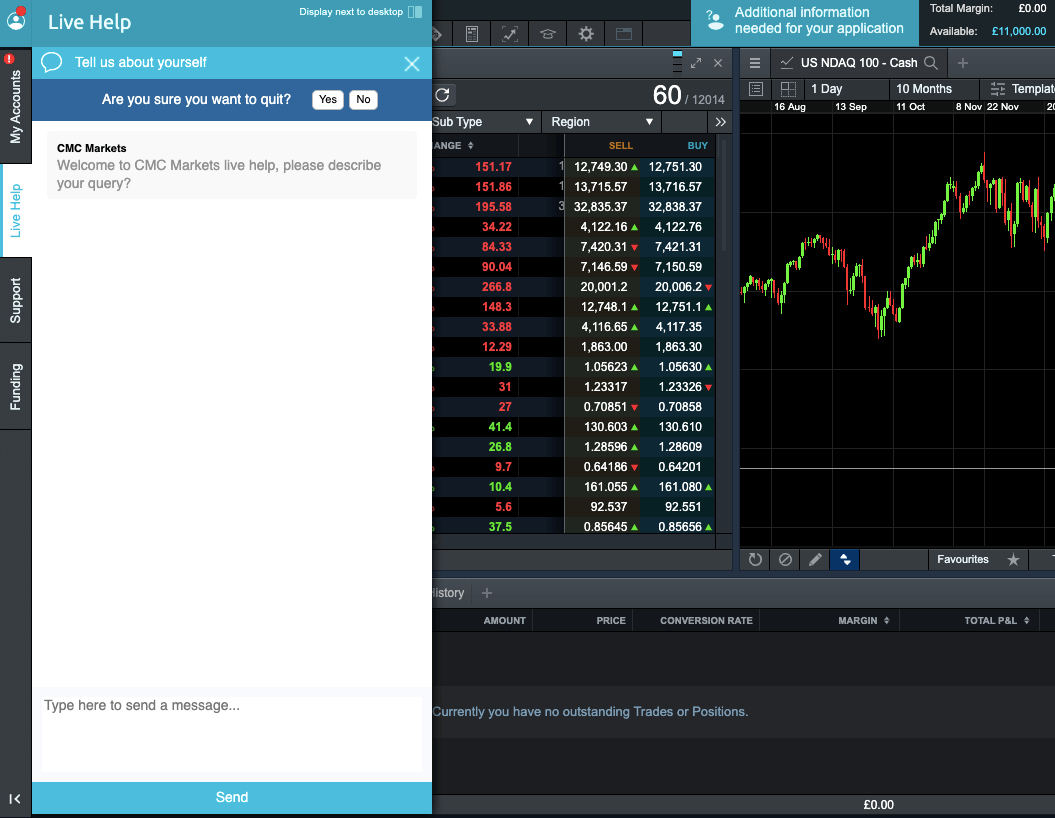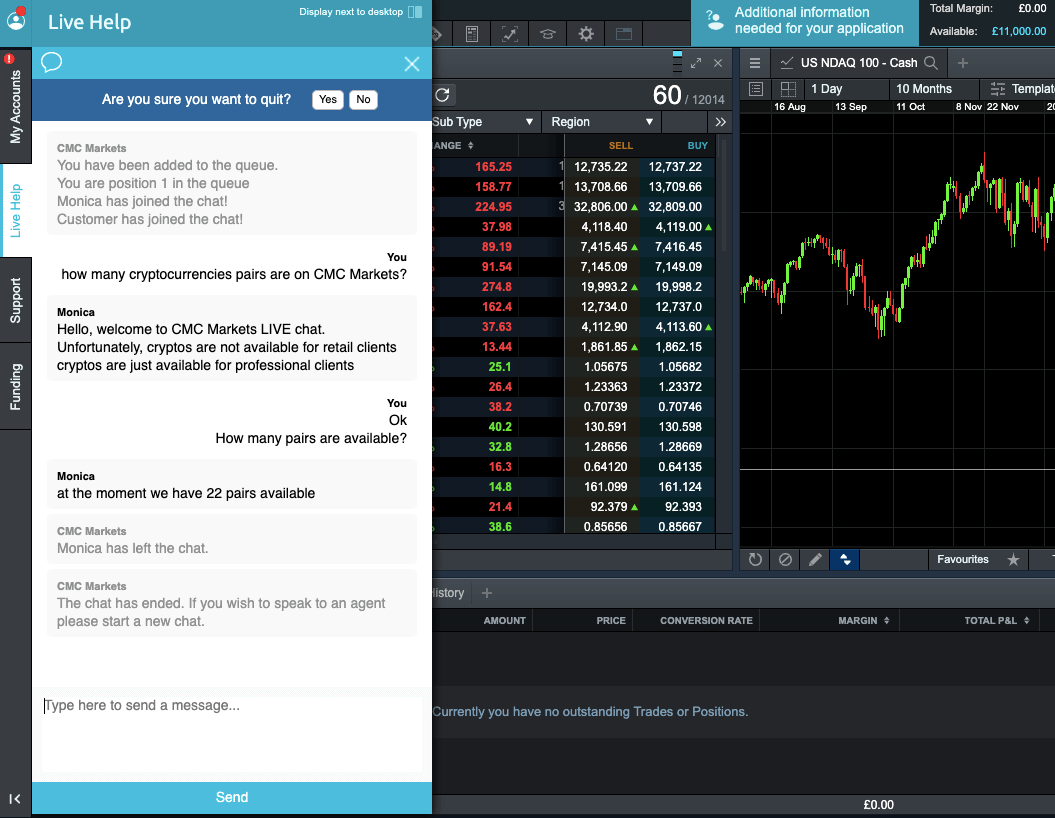 2) Email support: CMC Markets also offers email support to traders which is available for 24 hours on business days. When we tested it, we got a response after 1 hour and the answers to our questions were relevant.
The CMC Markets email address is [email protected].
3) Phone support: CMC Markets has phone support for clients that you can call on business days. The CMC Markets phone number for support is +44 (0)20 7170 8200.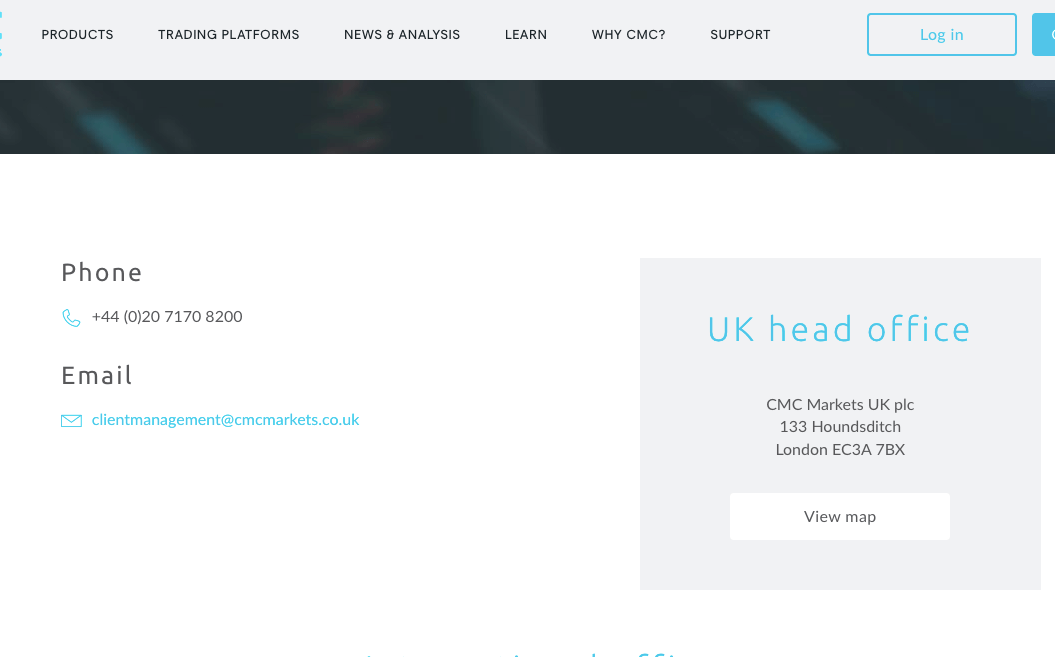 Do we Recommend CMC Markets UK?
We recommend CMC Markets to traders because of their regulation in the UK by the FCA and their registration with FSCS. This means your funds are safe and protected.
The trading fees on CMC Markets are moderate and you do not pay commission on all instruments except shares, so if you do not trade shares majorly, you will enjoy overall commission-free trading.
The website of CMC Markets has easy navigation and UI/UX for traders and you can easily find information. The registration process is also simple.
Although their customer support is not so prompt and is not available 24/7, they are responsive on business days.
There are other brokers who are regulated in the UK that you can try out, you should read our review again and check out the CMC Website to decide if they meet your trading needs.
CMC Markets UK FAQs
Can I trust CMC Markets?
You can trust CMC Markets because they are regulated in the UK by the Financial Conduct Authority (FCA) and registered with the Financial Services Compensation Scheme (FSCS) which insures your deposits of up to £85,000.
Is CMC Markets regulated in Canada?
CMC Markets is regulated in Canada as CMC Markets Canada Inc, by the Canad Securities Authority (CSA).
What can you trade on CMC Markets?
You can trade over 10,000 financial instruments on CMC Markets, including, forex, stocks, indices, bonds, cryptocurrencies, metals, energies, and agriculture commodities.
Visit
Note: Your capital is at risk
Note: We may earn a commission if you decide to sign up with the broker via the referral links in this review. This help us cover the expenses of running this website, but this does not affect our honest & transparent review process. Thanks for your support.