MetaTrader 5 (MT5) is a popular trading platform offered by forex brokers. It is an advanced version of the Metatrader 4. You can trade different CFD markets on it.
According to our research, there are around 20+ reputed forex brokers that support MetaTrader 5. You might have trouble sifting through these brokers as a CFD trader to find the best. If you try, you will find out you probably do not know what to look for.
In this research, we have gone ahead and reviewed the best MT5 brokers for you. In this guide, you will know precisely the essential factors to consider about these MetaTrader 5 brokers.
Let's start with a brief comparison of the MT5 brokers in our list for your quick review.
Show More
Comparison of Best MetaTrader 5 Brokers
| Broker | FCA Regulation | MT5 | Range of CFDs | Visit |
| --- | --- | --- | --- | --- |
| IC Markets | Applied to Cancel | Yes | Forex, Commodities, Indices, Stock, Bonds, Futures | Visit Broker |
| Pepperstone | Yes | Yes | Forex, Indices, Commodities, Shares, ETFs, Currency Index | Visit Broker |
| FP Markets | Temporary Permission (EEA) | Yes | Forex, Sahres, Indices, Commodities, Metals, Bonds | Visit Broker |
| Admiral Markets | Yes | Yes | Forex, Commodities, Indices, Stocks, ETFs, Bonds | Visit Broker |
| FxPro | Yes | Yes | Forex, Metals, Indices, Shares, Futures, Energies | Visit Broker |
Warning: Trading CFDs is risky and can result in the loss of your capital. Always trade with caution.
Best MT5 Forex Brokers in the UK
Here the list of best MT5 forex brokers in the UK as per our research:
#1 IC Markets – Overall Best Metatrader 5 Broker
Update: IC Markets (EU) Ltd was previous regulated with the FCA, but their current application status is 'Applied to Cancel'. The FCA reference number is 827935. But since they are ASIC regulated, we consider them moderate risk.
Before looking into IC Market's MetaTrader 5, let's show you the account types available.
You can open a Raw Account or Standard Account. £200 is the required minimum deposit. Both Accounts are available on MetaTrader 5.
On these accounts, IC Markets offer you a wide range of CFDs. This includes forex (6+1), commodities (22+), indices (25), bonds (9), stocks (1800+), and futures (4). Your maximum leverage is 30:1 as a retail trader.
Also, there are trading fees that come with both accounts. The spread for the Raw Account is from 0.0 pips while that of the Standard Account is from 0.6 pips.
For more in-depth knowledge about IC Markets and their trading conditions, you can read our IC Markets review
Now onto IC Markets' MetaTrader 5. The first reason IC Markets top this review is because of fast execution. Their MT5 servers are in a secure data area in New York and cross-connected to their networks. So there is no delay in trade execution.
In addition, it allows different trading strategies including scalping and hedging. IC Markets do not charge traders for hedged trades. This lets you enjoy margin netting (which means you can go long and short on a CFD with different lot sizes simultaneously).
There is no trade restriction. You can place your stop loss and take profit orders at any price level with flexible lot sizing (as low as 0.01). Funding and withdrawal are convenient via Skrill, Neteller, and wire transfer.
You can try IC Markets MT5 on a demo account.
IC Markets Pros
Low spreads
Execution is fast
No stop-loss or take profit restriction
Demo account
Easy funding
#2 Pepperstone – MetaTrader 5 Broker with ECN Account
Pepperstone is a low risk forex broker with FCA regulation. Their FCA reference number is 648312 under the name Pepperstone UK Limited. They are also regulated with ASIC. Peppersone MT5 is available on multiple devices (Android, iOS, Mac, and Windows).
Pepperstone's MT5 supports their three accounts – CFD Razor, Spread Bet, and CFD Standard Accounts.. No minimum deposit is enforced but the CFD broker recommends £500. The CFD Standard and Spread Bet Accounts are commission-free. Only the CFD Razor Account has extra commissions per lot (£4.50 round-turn).
The range of CFDs offered includes forex, shares, commodities, ETFs, and indices.
Pepperstone's MT5 supports hedging with quick order execution (50milliseconds). This is good for you if you are a scalper. It is good for your Expert Advisors too (EA). A built-in economic calendar and 38 indicators are also on the platform.
Let's go a bit further. Pepperstone offers two trading packages on their MT5:
Smart Trader Tools: This is a package with 28 expert advisors and indicators to help you manage your trades and improve execution.
AutoChartist: This package comes with some helpful features. There is a market scanner that identifies important price levels and a risk calculator that helps you trade within your risk tolerance. Technical indicators that identify price patterns (such as triangles and wedges) are also provided with Pepperstone's MetaTrader 5.
You can try this platform on a demo account.
You can also read our in-depth Pepperstone Review here.
Pepperstone Pros
No minimum deposit
Extra add-ins like Autochartist
There is a risk calculator
28 expert advisors on Smart Trader Tools
No deposit and withdrawal charges
#3 FP Markets– MT5 Broker with Tight Spreads
FP markets is an Australian forex broker. They are regulated with ASIC so they are considered low risk. They are also licensed with CySEC as First Prudential Markets Ltd under the number 371/18. This firm has temporary permission in the UK, under FRN 837633.
FP Markets just two accounts – Raw and Standard. The two accounts are available on FP Markets MT5.
With £100, you can trade forex, shares, metals, commodities, indices, and bonds. FP Markets offer more than 10,000 shares CFDs. However, only 1000+ are available on their MT5.
The trading fees include £4.50 round turn commission for forex trading with high swaps. For example, the overnight charges for GBP/USD are -1.04 (long position) and -2.98 (short position).
You can use the platform as WebTrader and on multiple devices (Mac, iOS, Android, and Windows). Hedging, scalping, and automated trading are supported as well. Also, execution is fast with FP Market's ECN pricing model.
Finally, there are multiple funding and withdrawal methods like debit/credit card, dragonpay, sticpay, etc.
FP Markets Pros
Well regulated
Multiple funding methods
ECN pricng model
Hedging and Scalping is allowed
Automated trading is supported
#4 Admiral Markets – FCA Regulated MT5 Broker
Admiral Markets is a multiple account CFD broker with low risk. They are regulated by the FCA, ASIC, and CySEC. They also a license with FSCA
Admiral Markets offer four accounts – Trade.MT5, Zero.MT5, Invest.MT5, and Bets.MT5
Not all CFDs are available on these accounts. It is only on the Zero.MT5 account that you can access all the CFD instruments. They include: Currencies (40), Metal CFDs (5), Energy CFDs (3), Agriculture CFDs (7) Index Futures CFD (24), Commodity Futures (11) Cash Index CFDs (19), Stock CFDs (over 3350), ETF CFDs (over 300), and Bonds CFDs (2)
There is no commission for forex except for the Zero.MT5 account. This commission depends on your trading volume. The more you trade, the more you pay. It ranges from $1.0 to $3.0.
Hedging is available on all accounts except Invest.MT5. Also, there is the MetaTrader Supreme Edition add-on. It contains trade alerts, an economic calendar, and a market analysis tool.
Admiral markets MT5 is available on Windows, Mac, Android, and iOS.
You can read our fully researched Admiral Markets review for more.
Admiral Markets Pros
Multiple accounts
High minimum deposit on some accounts
Low commission
There is an add-on with helpful tools
Good education
Admiral Markets Cons
All accounts do not have all CFDs
#5 FxPro – MT5 Broker with Fast Execution
FxPro is regulated with the FCA as FxPro UK Limited. They are considered low risk are registered with license number 509956.
FxPro is a reputable CFD broker with a 'no dealing desk' pricing model on MT5. You can begin trading with a minimum deposit of £100. FxPro recommends £1000.
The range of CFDs offered includes forex, indices, shares, metals, and energies. These instruments are also available for spread bets.
What distinguishes FxPro's MT5 in this review is the Trading Central tools. FxPro partnered with Trading Central to provide technical analysis. With these tools, you can use in-depth graphical analysis and indicators to confirm if a trend will continue or reverse.
Trading Central is a paid platform but FxPro offers it to their clients for free.
Easy funding and withdrawal via broker-to-broker, wire transfer, and credit/debit cards (Visa, Maestro, and MasterCard). No funding/withdrawal charges.
FxPro Pros
Extra add-ins via Trading Central
20 extra plug-ins
Regulated by the FCA
FxPro Cons
Complex pricing structure
Recommended minimum deposit is £1000
What is MetaTrader 5?
MT5 is the latest version of MetaQuotes popular trading software. It was released in 2010. MT5 allows forex traders access to the forex market through brokerage firms. An advantage it has over MT4 is that stock CFDs and futures are available on it.
Because of this, brokers are able to take on more traders, especially those that prefer to trade shares CFDs. This is why most brokers now support both MT4 and MT5. Some even replace MT4 with MT5 completely.
MQL5 is MT5's script language. It is more advanced and efficient than MT4's MQL4. In addition, the MT5 has more advanced charting tools, more technical indicators, and more timeframes (12). It also has an in-built economic calendar so you can track events that impact the market without an external website.
Finally, MT5 has an embedded chat system that is linked to MQL5.com. The chat system is a community of traders that can be of real benefit.
Whhat are MT5's Best Features?
MT5 is an improvement on MT4. It is much better that some forex brokers only support MT5, ditching MT4. The same applies to traders as well. So why are traders and brokers moving towards MT5? What is the reason for this shift? Here are some answers we were able to gather.
Trading tools: MetaTrader 5 comes with analytical tools that improve your trading. You can view historic price movement on 21 different timeframes. On these timeframes, you can use more than 80 technical indicators and graphic objects to analyze the market.
If you prefer, you can build custom-made indicators c=via MT5's Freelance Service. Here, you get programmers that can help you make these indicators.
Algorithm trading: Algo trading is an essential feature of MT5. With the improved MetaQuotes Language 5 (MQL5), you can use Expert Advisors (EAs) with programmed instructions to execute your trades. This is possible because of the optimal development provided by MT5.
Advanced traders can use complex mathematical computations to get a more precise analysis. If you want to shorten your learning time, you can use the robot copy on MT5. The only downside is that it is not free.
Economic calendar: As a trader, it is crucial that you are able to monitor key economic and industrial indicators. These indicators can affect the direction and the volatility of different CFDs. With MT5's economic calendar, you have access to different open sources for these indicators.
Important data connected to these indicators are sent directly to your MT5. You can then proceed to analyze them and make trading decisions.
Copy trading: If you do not have the time to manually analyze the market, you can subscribe to MT5's copy trading service. After subscription, MT5 will replicate another person's trade on your account. However, you will carry the responsibility of selecting the level of risks you want to take. Once you set this, the platform will automatically create buy and sell orders on your trading account.
A quick one; this service is not free so make sure you have enough money in your account for subscription fees.
How to Choose the Best MetaTrader 5 Broker?
There are specific guidelines for choosing a MetaTrader 5 broker. There are essential factors that you should consider. We have compiled these factors for you. They can be used as your checklist.
1. Regulation: Regulation is a crucial factor. The safety of your funds (trading capital) is connected to it. Your MetaTrader 5 broker should be licensed with at least one tier-1 regulator like the FCA. If the tier-1 regulators are two, it's even better. A combination of tier-1 and tier-2 regulators (e.g CySEC) works too.
You expose your funds to high risk if you do not consider this essential factor. Because you might end up choosing an MT5 broker that is offshore. These offshore brokers are not fully regulated so you should avoid them.
So, how do you find a CFD broker's regulation? First, you have to go to the broker's website. In the footnote, you should find their regulators and reference/license number. This is where most CFD brokers place their regulators. Let us show you how this looks with Admiral Markets as our example:

You can see clearly Admiral Markets FCA (tier-1) and CySEC (tier-2) regulations. But you don't stop here. You need to verify it with the regulators themselves. For the FCA, you can go to https://register.fca.org.uk/s/ and search for the broker's name under firms. The picture below should be your final result

You should confirm if the reference number on the broker and FCA's websites matches. The number on Admiral Markets' website is 595450. It is the same on the FCA's website too.
In conclusion, it is crucial you know that there are fraudulent firms that masquerade as FCA regulated brokers. The FCA usually lists these clone firms on their brokers to protect traders as shown below.

In the image are the clones of Admiral Markets. The last firm on the list is using a name very close to Admiral Markets registered name. If you are not aware of these firms, you can become a victim of their fraudulent activities.
So make sure to always check for clone firms as you verify your MT5 broker's regulation.
2. CFDs Available: Currency pairs are the most popular CFDs. However, your MetaTrader 5 broker should offer beyond them. Indices, commodities, shares, and precious metals are all important too. The number of these CFDs should not be too limited so you can have a variety of choices to trade.
You should pay attention to account types as well. With Admiral Markets, for example, though all accounts are on MT5, all CFDs are not on all accounts. This is why it is essential to check your broker's range of instruments. Let us show you how to go about it. Admiral Markets will be our example broker. Let's go.
Obviously, the place to go is the broker's website. From the homepage, you can find the range of CFDs. The image below is Admiral Markets' homepage.

If you click on 'start trading' and then 'account types', you will find all the trading account types offered by Admiral Markets. Scrolling down, you will see the screenshot below. You can see it shows the range of CFDs available per account type.

3. Trading Fees: Trading fees are a combination of the spread, swaps, and commission. For most brokers, these fees are usually tied to account types. Our focus here is low trading fees. Some brokers charge all of these fees. Some charge two (usually spread and swaps).
How do you check this? Go to the CFD broker's website and click on 'Account Types'. Some brokers call it 'Account Overview'. Here is an illustration with FP markets (example broker)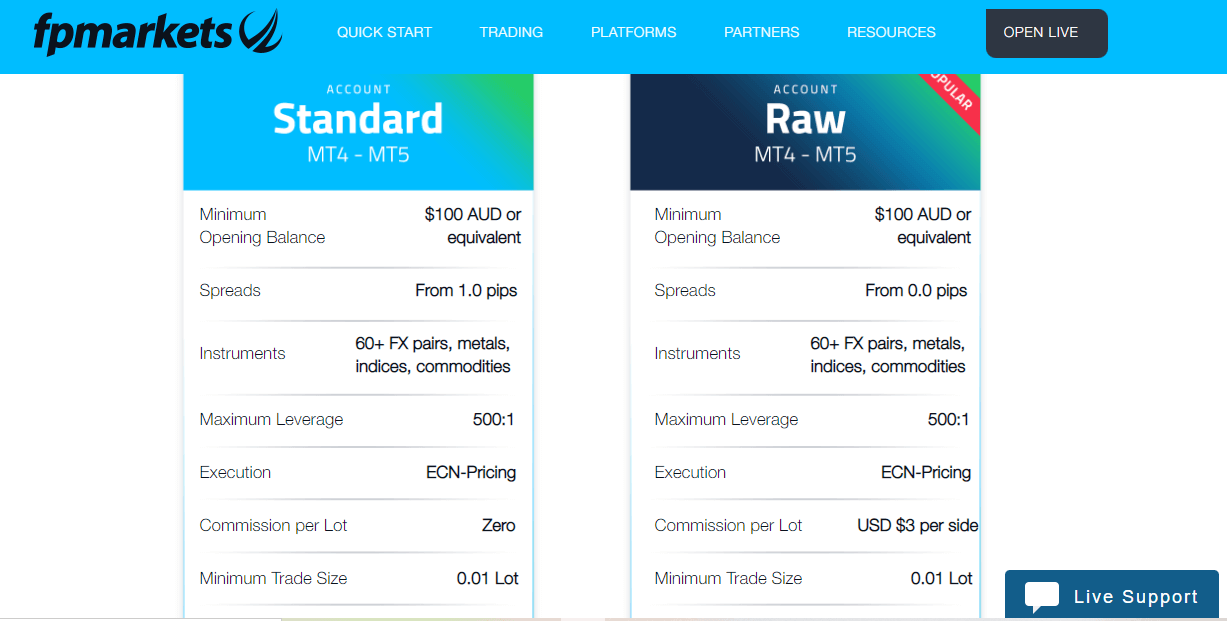 Note: The leverage displayed is for Professional Traders. Retail leverage is 30:1
4. Execution: Fast execution is also important. It does not matter if you enter your trade manually or use automated trading. A MetaTrader 5 broker with fast execution ensures that there is no slippage. Some brokers are quite transparent about their execution speed.
You can find it on their homepage or under the descriptive details that come with their MT5 platform.

This image is from FxPro UK homepage. It shows that their execution is ultra-fast at less than 13 milliseconds. This is the first level to verify this factor. The next level is to open a demo account and place a trade with the broker. Demo Accounts mimic the real market so you will be able to confirm if the broker's execution is fast indeed.
5. Slippage This occurs when your orders are not filled at your desired price and the solution is speedy execution. Though most brokers say they have fast execution, you should check their pricing model to verify. ECN pricing and non-dealing desk model enable quick execution.
You can read our detailed review on ECN brokers to know more about this.
6. Hedging: Your MetaTrader 5 broker should enable hedging. Hedging is a popular risk management strategy with retail and professional traders. If your chosen broker allows hedging on their MetaTrader 5, it will be stated clearly. Here is an example with Pepperstone MT5. (check the red box)

7. Ease of Funding/Withdrawal: Experiencing delays in funding will affect your MT5 experience. So you need to consider this factor as a priority. Funding and withdrawal depend on the methods available. The methods should be locally available and easy to use. Apart from your local bank, you should be able to use your credit/debit cards too.
Other conventional methods of payment like Skrill, Neteller, PayPal, etc might also be available. Furthermore, you should also consider how long your transactions will take. Your deposits should not take too long to reflect in your account (a full working day at most). Withdrawals should not take more than 5 working days.
Pepperstone is a good example of good deposit/withdrawal conditions.

Local bank transfers, credit/debit cards, and other common methods are available with Pepperstone. Also, it does not take too long to complete your transactions. All brokers do not have the same deposit/withdrawal methods. So you can check your preferred broker's website to know more.
8. Extra Plug-ins: MT5 is a product developed by MetaQuotes. It comes with in-built indicators, drawing tools, and advanced charting. However, some forex brokers add extra add-ins or plug-ins. These extra 'tools' can enable a smooth experience for traders.
FxPro and Pepperstone are an example of brokers with extra MT5 add-ins. FxPro has a plug-in called Trading Central. They provided this in partnership with Trading Central. This plug-in contains graphical analytical tools that help technical analysis. You can use this plug-in to confirm if a trend will continue or reverse.
Pepperstone has two of these extra add-ins – Autochartist and Smart Trader Tools. The combination of these two enables fast execution and risk management. The Autochartist also helps identify price patterns. This is helpful because there is quite a number of price patterns. Your naked eye might not always do the work effectively.
The extra add-ins are usually free so you won't incur extra costs using them.
9. Demo Account: Demo accounts are practice account. Most brokers offer them to traders. However, when it comes to platform-based reviews, you cannot assume anything. What are we saying here? It is that a broker might offer a demo account but not make it available on MT5.
This could be for a number of reasons. Because when it comes to this part of trading, brokers do have an autonomy on how they choose to operate. A broker can independently decide to not have a MT5 demo account. Without an MT5 demo account, you cannot practice, test new features and indicators, etc.
So when you are choosing an MT5 broker, verify if they support a demo account on their MT5.

In addition, some brokers might have a demo account that expires. We have reviewed such brokers in this article.
10. Customer Service: Though no brokers own MT5, the desktop version is usually customized for different brokers. The general functions remain the same but there might be few differences. This is why you will need your broker's customer service.
This is even more important if you are switching to another forex brokers. For enquiries, reach your broker via email and/or live chat. If you prefer personal research, you can go to the education or learning section of your brokers website. You should find articles/videos that will help you understand their MT5 plus free plug-ins (if they have one).
Admiral Markets, for example, have a beginners guide to learn about MT5.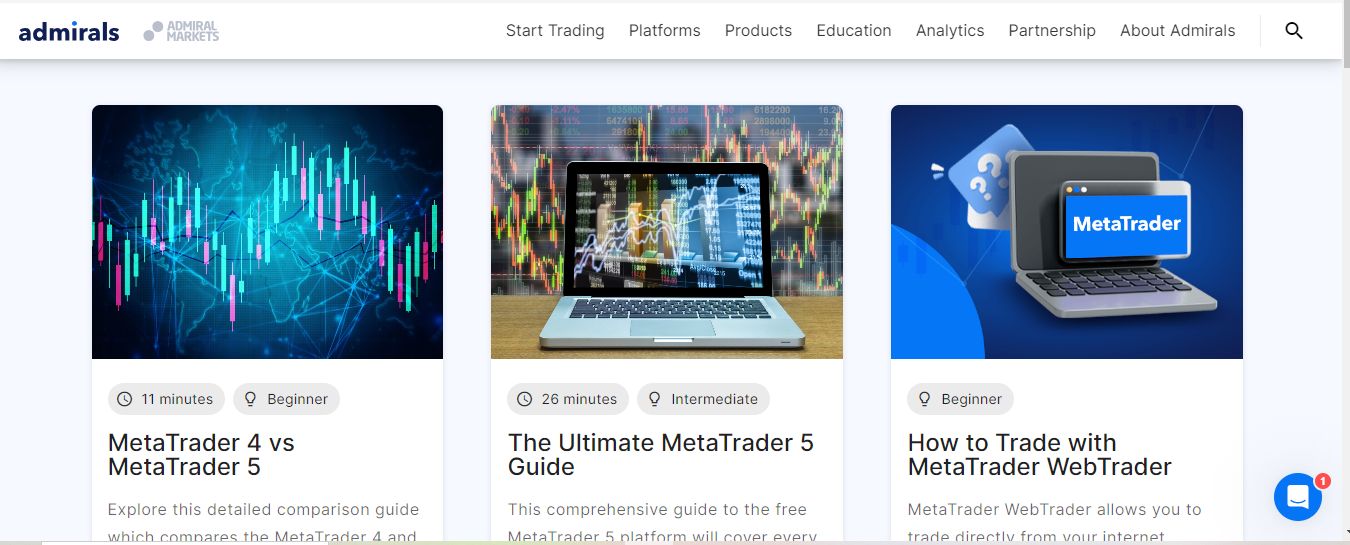 How to Start with a MT5 Broker?
We will be using Pepperstone as our example here.
1) Go to pepperstone.com/en-gb on your browser. Click on 'join now' on the homepage.
2) Enter your email address and create a password as shown below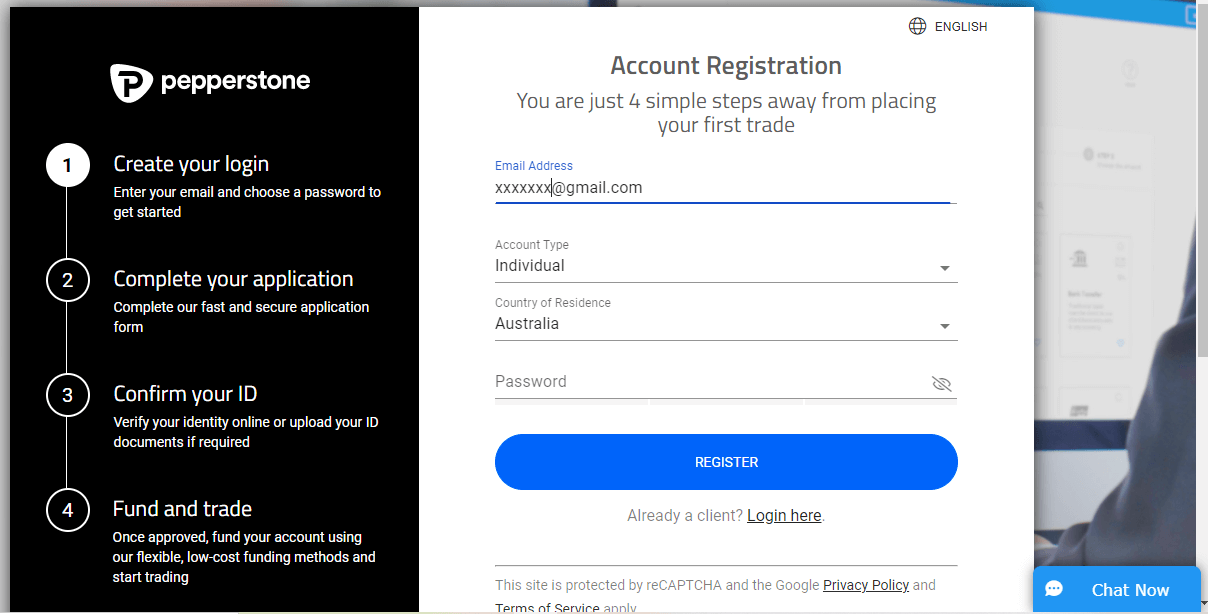 3) When you have done (2) successfully, you arrive at your 'Secure Client Area'. Here, you will be required to fill in more personal details.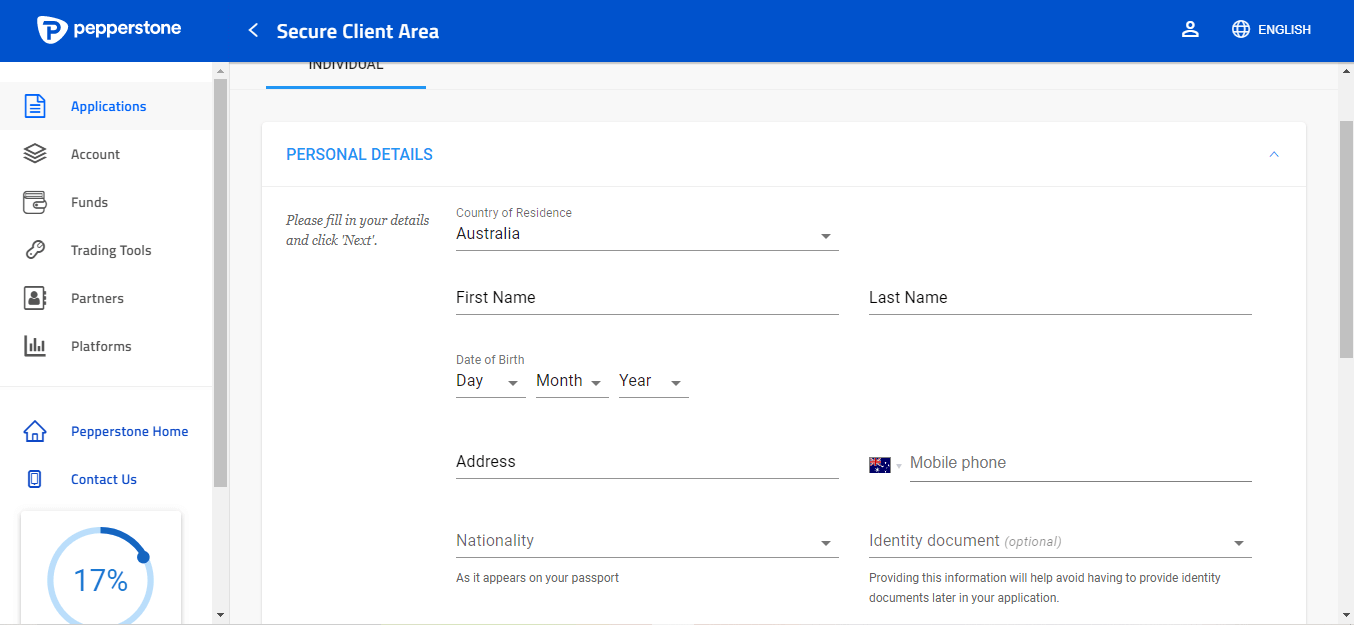 When you scroll down in your secure client area, you will have to choose your trading platform too. MetaTrader 5 is in the red box.

4) Once you are done here, proceed to your KYC verification, deposit your funds, and start trading.
FAQs on Best MetaTrader 5 Brokers
Which broker is the best for Metatrader 5?
The key thing is top-tier regulation If a CFD broker is regulated and supports MT5, they are good. In addition, a broker that allows hedging and has fast execution is also good.
Can I use MetaTrader 5 without a broker?
To enjoy the key features that come with MT5, you need a reputable broker. If you do not use a broker, all you will get is a Metaquotes demo account. This is why you have to sign up with a broker to use MetaTrader 5.
Can I use MetaTrader 5 in the UK?
You can use MetaTrader 5 via licensed brokers that accept UK traders and supports MT5.
Is MetaTrader 5 a good broker?
MT5 is not a broker. It is software for trading created by MetaQuotes in partnership with forex brokers.
What is the minimum deposit for trading on MetaTrader 5?
MetaTrader 5 does not have a minimum deposit as a trading platform. Your CFD broker will determine what your minimum deposit will be. Some brokers enforce minimum deposits while some do not.