Trade Nation is a broker regulated by the FCA offering trading services in spreads betting and CFDs on financial instruments, including forex, indices, metals, shares, energies, and bonds.
Trade Nations was founded in 2011 and was formerly known as 'Core Spreads' and registered as 'Finsa Europe Ltd'. The company changed its name to Trade Nations in 2020 and currently has offices in the UK, Australia, South Africa, and the Bahamas.
Our review examines the safety of the broker, trading costs, fees, account registration, and deposits/withdrawals.
Trade Nation Review Summary
Broker Name
Trade Nation United Kingdom
Establishment Date
2011
Website
www.tradenation.com
Address
Trade Nation, Longbow House, 20 Chiswell Street London, EC1Y 4TW, United Kingdom
Minimum Deposit
£0
Maximum Leverage
1:30
Regulation
FCA, ASIC, FSCA, SCB
Trading Platforms
MT4 and Trade Nation Cloud Trade available on PC, Mac, Web, Android, & iOS
Visit Trade Nation
Trade Nation Pros
Regulated in the UK by FCA
No commission fees on trades
Does not charge dormant account fees
Free deposits and withdrawals
No mandatory minimum deposit
Trade Nation Cons
Few trading instruments
Customer support not available 24/7
Does not support MT5
No Pro Account features
Website might be difficult for a beginner to navigate.
Can I trust Trade Nation?
Trade Nation is regulated in multiple jurisdictions by Top-Tier financial regulators which makes them low risk and safe for trading.
Here are the regulations of Trade Nation in different countries.
1) Financial Conduct Authority (FCA): Trade Nation is regulated by the FCA as 'Trade Nation Financial UK Ltd' and authorized to offer financial services in the UK with reference number 525164, issued in 2011.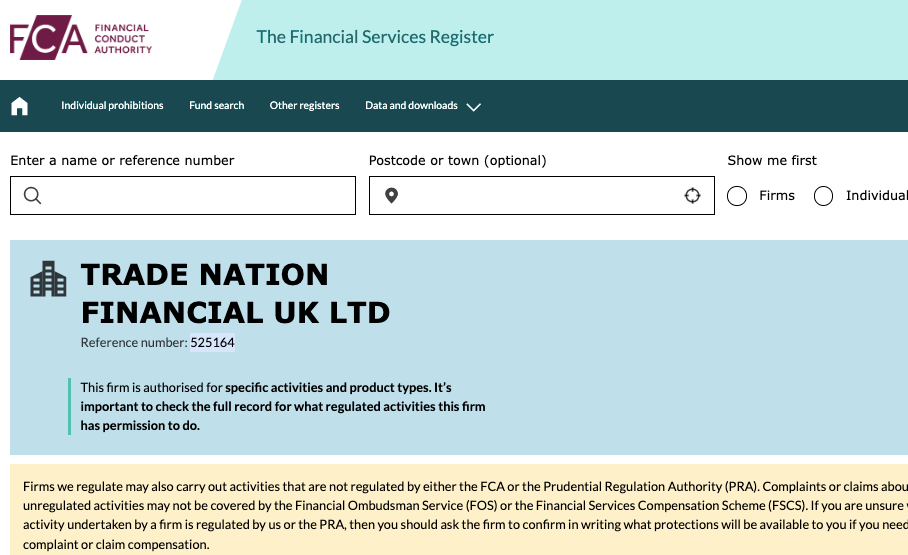 2) Australian Securities & Investments Commission (ASIC): Trade Nation is licensed in Australia as 'Trade Nation Australia Pty Ltd' to offer financial services with Australian Company Number (ACN) 158 065 635, issued in 2012.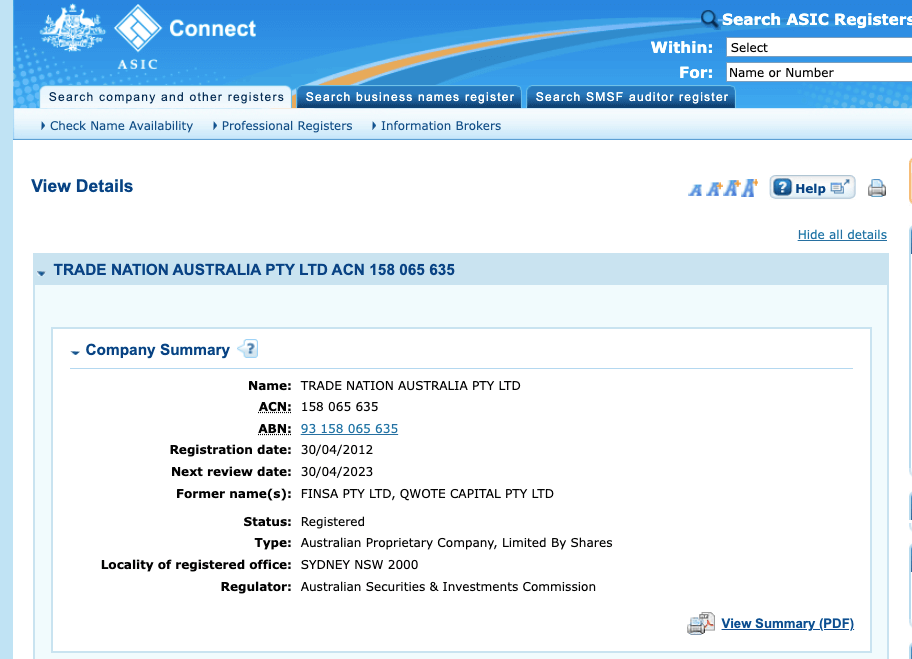 3) Financial Sector Conduct Authority (FSCA), South Africa: Trade Nation is authorized in South Africa as 'Trade Nation Financial (Pty) Ltd' to provide financial services, with FSP (Financial Service Provider) number 49846, issued in 2019.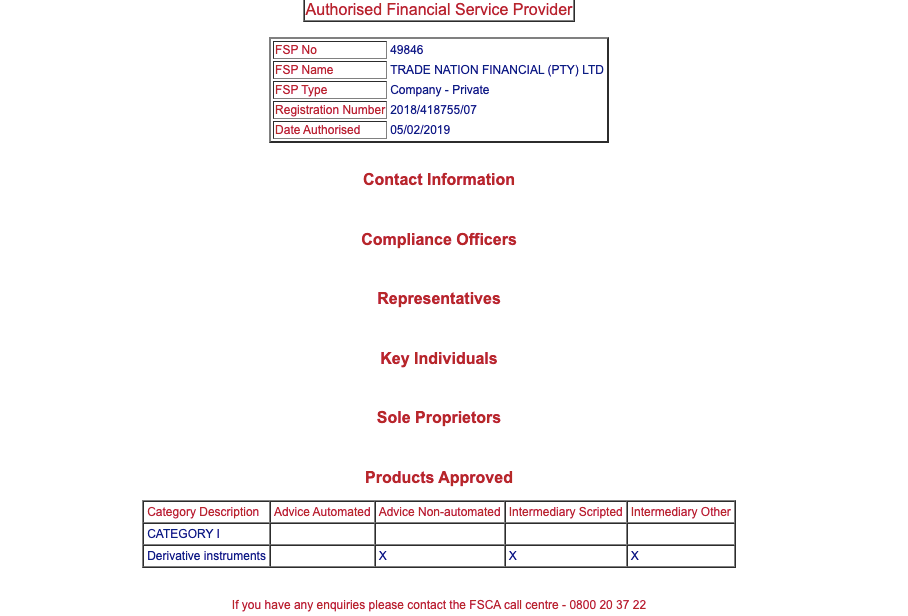 4) Securities Commissions of The Bahamas (SCB), The Bahamas: Trade Nation is a registrant under The Bahamas' Securities Industry Act (SIA). The company name in The Bahamas is Trade Nation Ltd with company number 203493 B. Their SIA number is SIA-F216.
Trade Nation Leverage
Leverage on Trade Nation is fixed and depends on the instrument you are trading. A retail client can use maximum leverage of 1:30, and most instruments have a lower maximum.
This means that you can open a trade position worth up to 30 times the value of your deposit. For example, with a deposit of £1,000, you can open a position worth £30,000. Note that leverage increases your chances of profit and exposes you to more risk.
Trade Nation Account Types
Trade Nation offers 2 trading account types for retail clients; each account is designed for a specific trading platform.
Trade Nation does not offer Professional Account and Islamic Account features. Although they have demo accounts for beginners to get familiar with the platform.
See details of the trading account types on Trade Nation below:
1) Cloud Trade Account: This is a spread betting account designed to run on the proprietary trading platform developed by Trade Nation – Cloud Trade.
With this account, you can trade forex currency pairs, indices, commodities, metals, bonds, energies, and shares.
You do not pay any commission fees on this account and spread fees start from 0.6 pips for major pairs like EURUSD. You also pay swap fees for keeping a position open overnight with this account.
2) MT4 Account: This is a CFDs (contract for differences) trading account on Trade Nation, designed to run only on the MetaTrader 4 trading application.
With this account, you can trade forex currency pairs, commodities, and indices. You cannot trade shares with the Trade Nation MT4 Account.
This account also does not require you to any commission fees on trades, But you pay spreads starting from 0.6 pips and swap fees whenever you keep a trade position open for more than 24 hours.
Trade Nation Base Account Currency
You can have either British Pound sterling – GBP, Euros – EUR, United States Dollar – USD, Australian Dollar – AUD, and South African Rand – ZAR as the base currency of your account on Trade Nation.
Trade Nation Fees
Trading fees on Trade Nation depend on the instrument you are trading, as well as the size of your trade. Here's an overview of the Trade Nation's trading and nothing fees.
Trading fees
1) Spreads: Whenever you trade a financial instrument on the platform, Trade Nation charges a spread. Spreads are the difference between the "bid" and "ask" prices of instruments. On Trade Nation, spreads are fixed, which means that your spread fee will not change during the day if there is a fluctuation.
Spreads fees on Trade Nation vary depending on the instrument you are trading and when you place the trade. Here is an overview of the average spread fees for major instruments.
| Instrument/Pair | Spreads |
| --- | --- |
| EUR/USD | 1.4 pips |
| GBP/USD | 2.8 pips |
| EUR/GBP | 1.6 pips |
| Gold | 6 pips |
2) Commission fees: Trade Nation offers commission-free trading for all instruments, applicable to all account types. This means when you open or close a trade position, you will not pay any commission fees except the spreads.
3) Swap fees: Trade Nation charges swap fees whenever you leave a trade position open past the closing time of the market. For traders in the UK, any trade that is open past 10 PM UK time, attracts swap fees (rollover fees). The fee is based on a percentage rate and whether your trade position is long (buy) or short (sell).
Non-trading fees
1) Deposit and Withdrawal fees: Trade Nation does not charge any fees when you deposit funds into your account or withdraw from it. All deposits and withdrawals on Trade Nation are free of charge.
Note that your financial institution may charge an independent transaction fee.
2) Account Inactivity charges: Trade Nation does not charge any fees if you do not log in to your account or perform any trade. Any funds you have in your account will not be charged.
How to Open Trade Nation Account in the UK?
Follow these steps to open a trading account on Trade Nation.
Step 1) Visit the Trade Nation website at www.tradenation.com and click on the 'Start trading' button at the center of the page or the 'Join us' button at the top right corner of the page.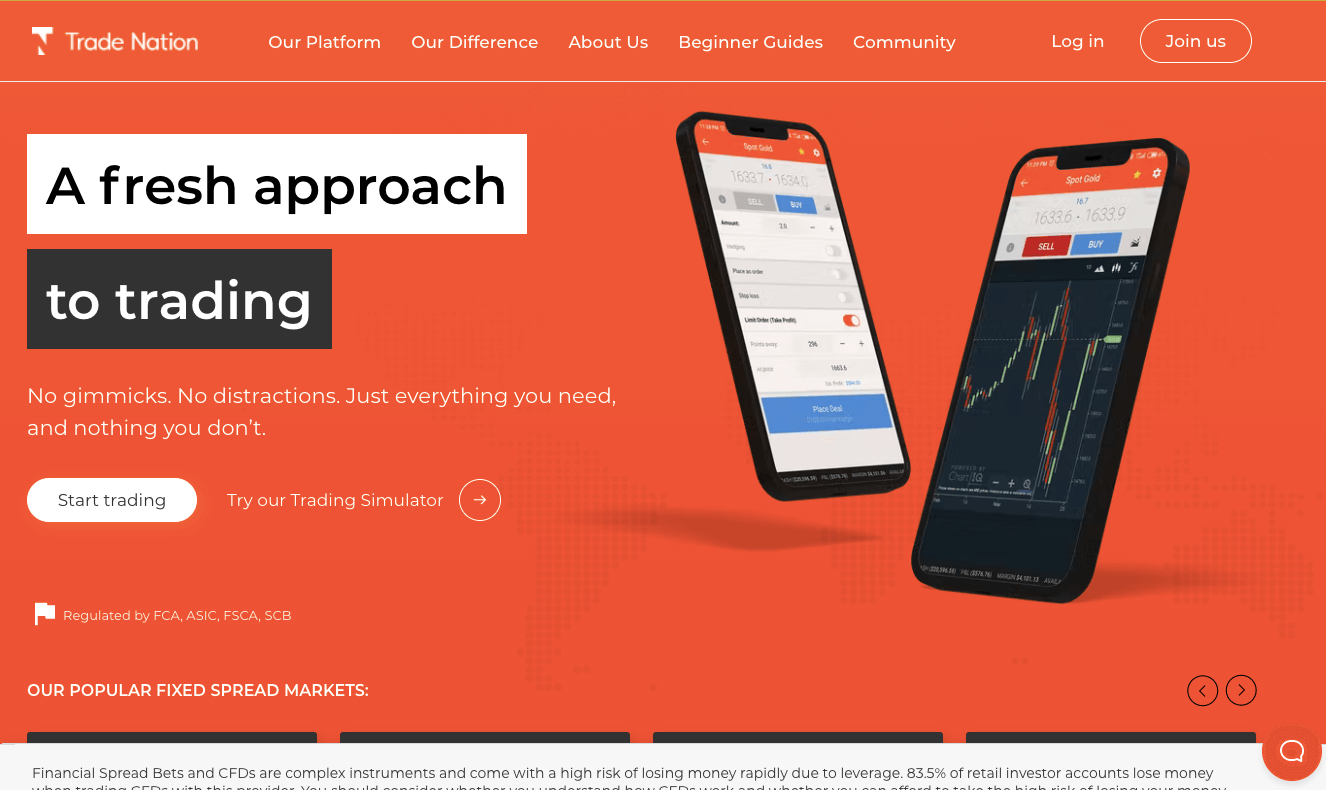 Step 2) On the form that appears, type in your name, and email, create a password, and click on 'Continue'.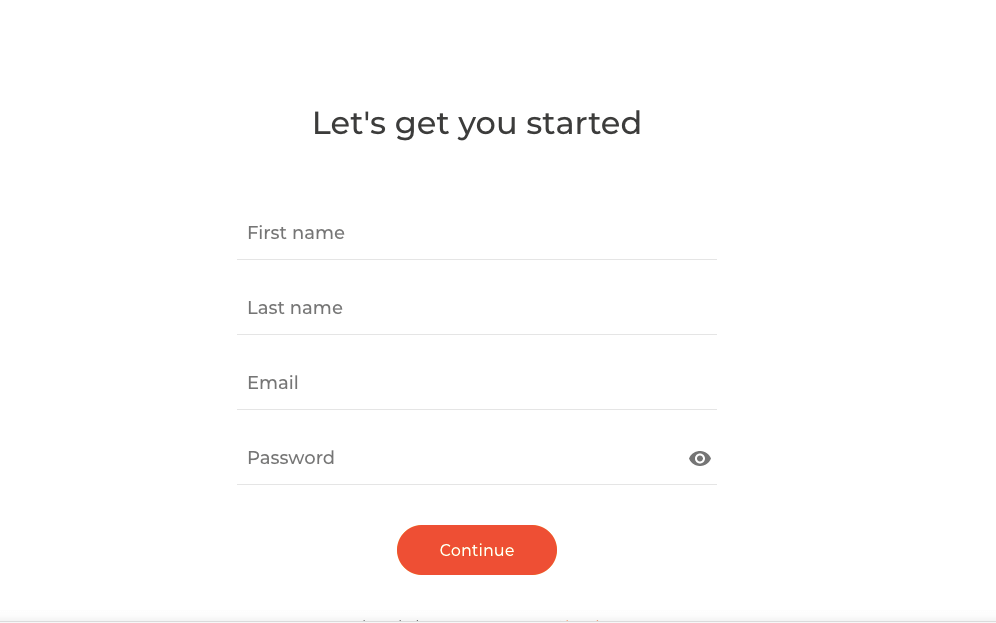 Step 3) Click the verification link in the email sent to you. You will be taken to a log-in page, then click on 'Continue' to proceed with your account creation.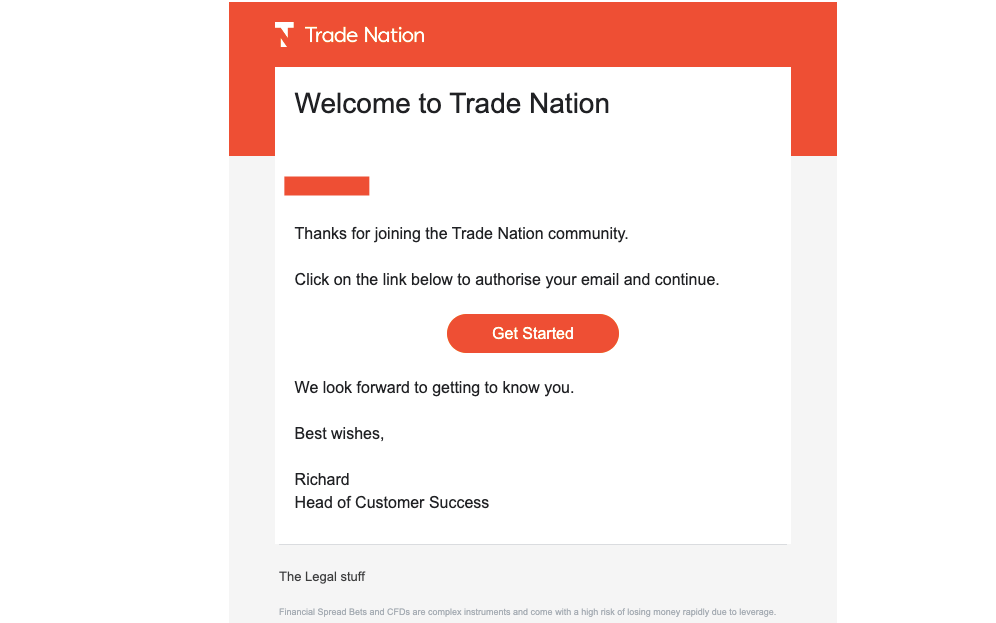 Step 4) Enter your country of residence, check the box to agree to data usage policy, select your level of experience trading financial instruments then choose if you applying for a demo or live account.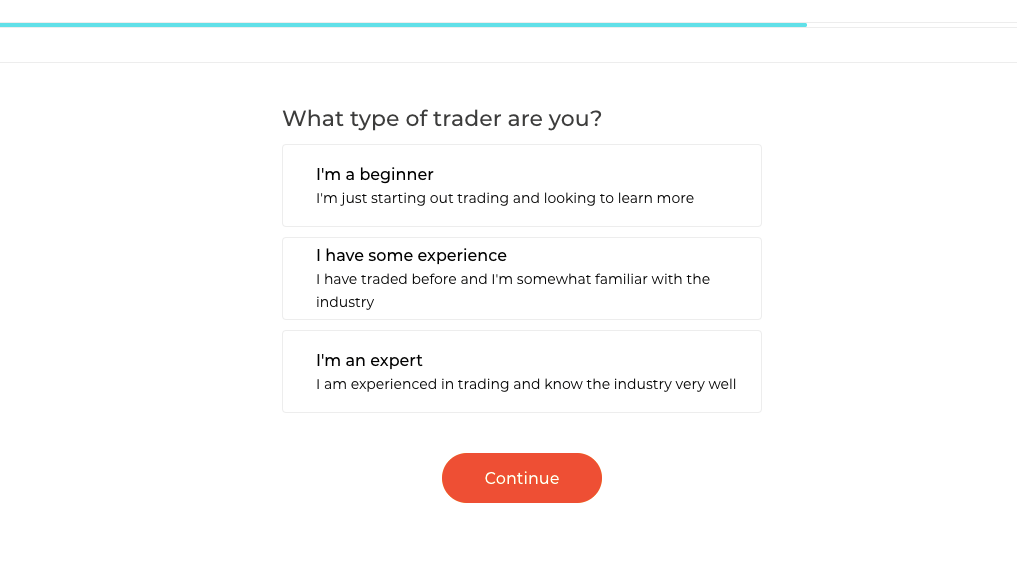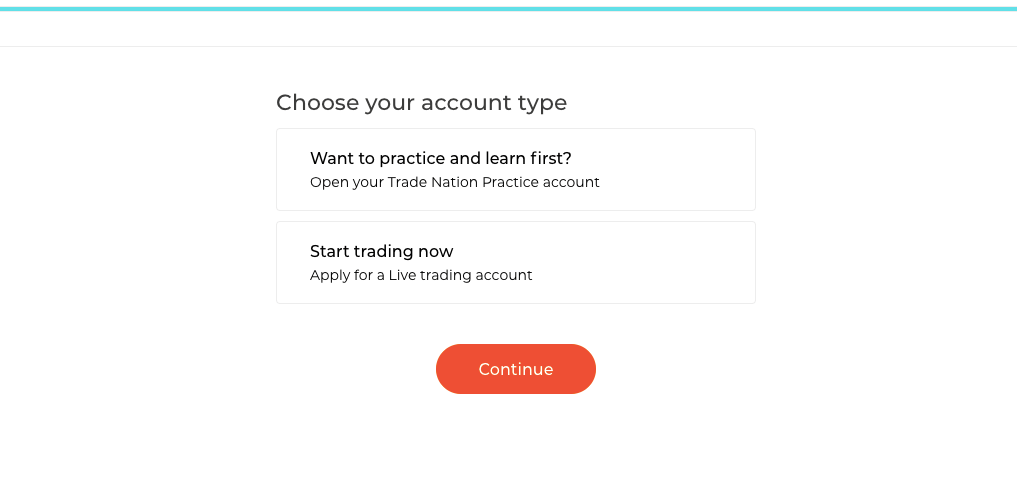 Step 5) You will need to answer some questions about your knowledge and experience in trading financial instruments, supply your date of birth, and select your source of income, employment status, and educational level.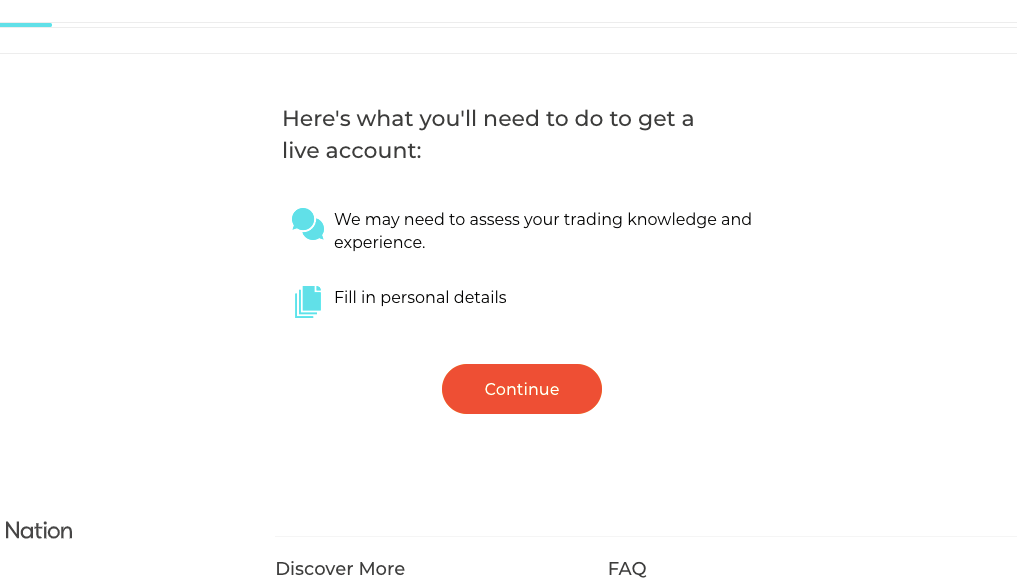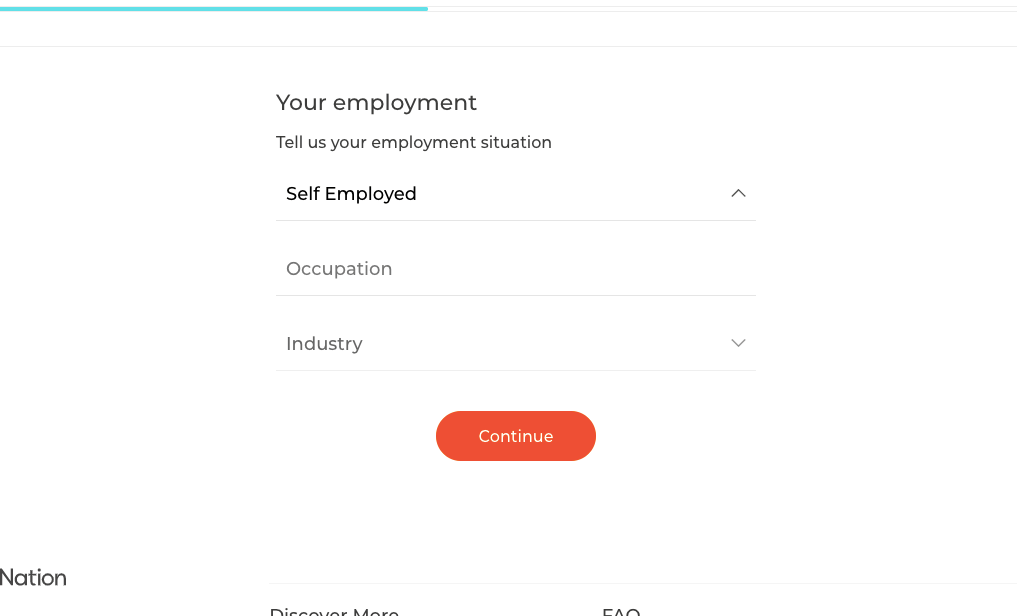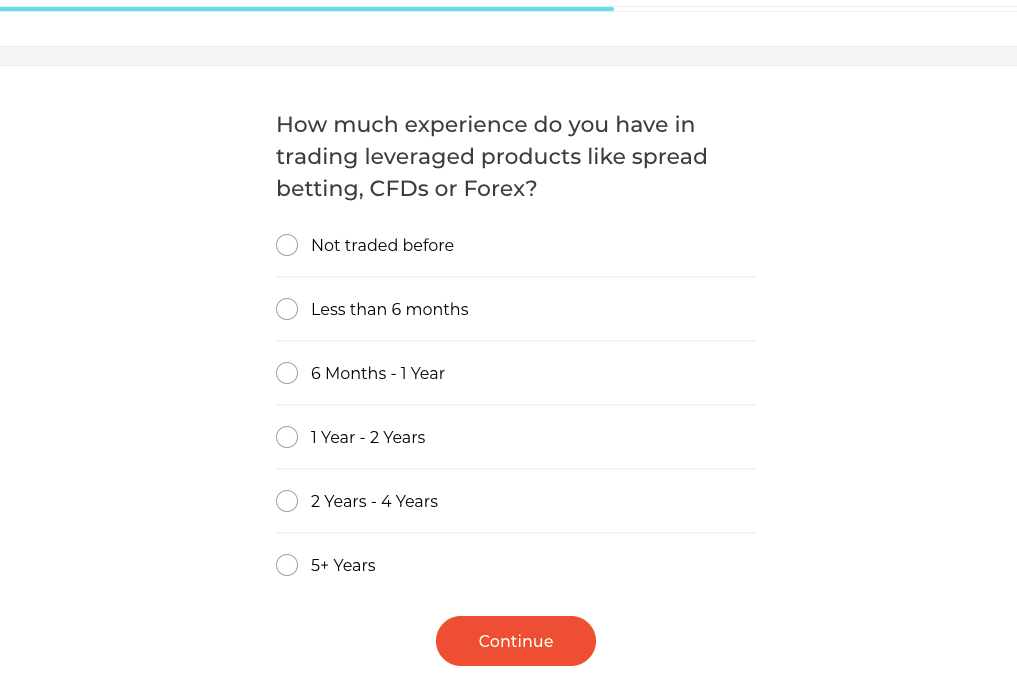 Step 6) After answering the questions, if you qualify for a live trading account, your application will be successful and approved within one business day.
If you do not qualify for a live account based on your knowledge and experience, you will be assigned a practice account with USD as the base account currency immediately and taken to your Trade Nation dashboard.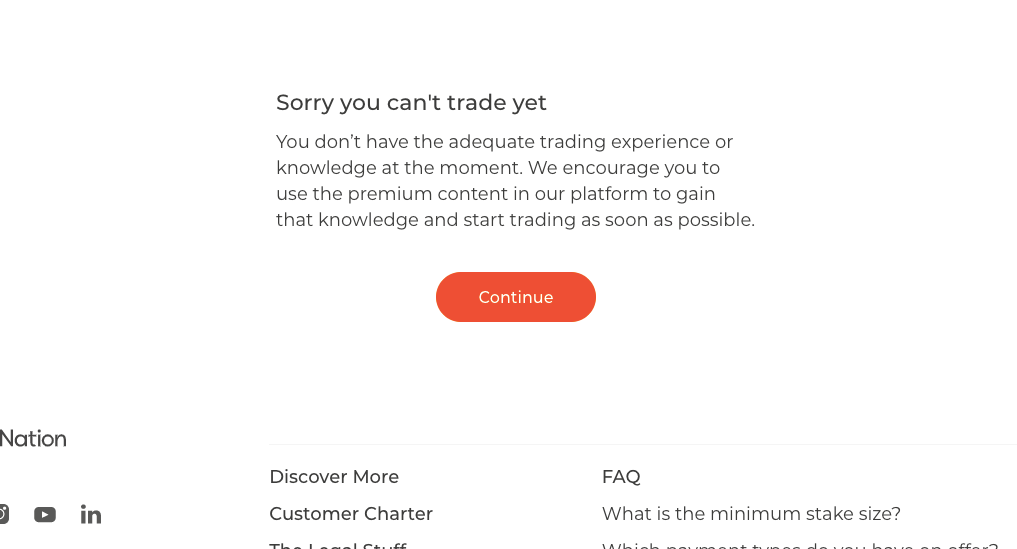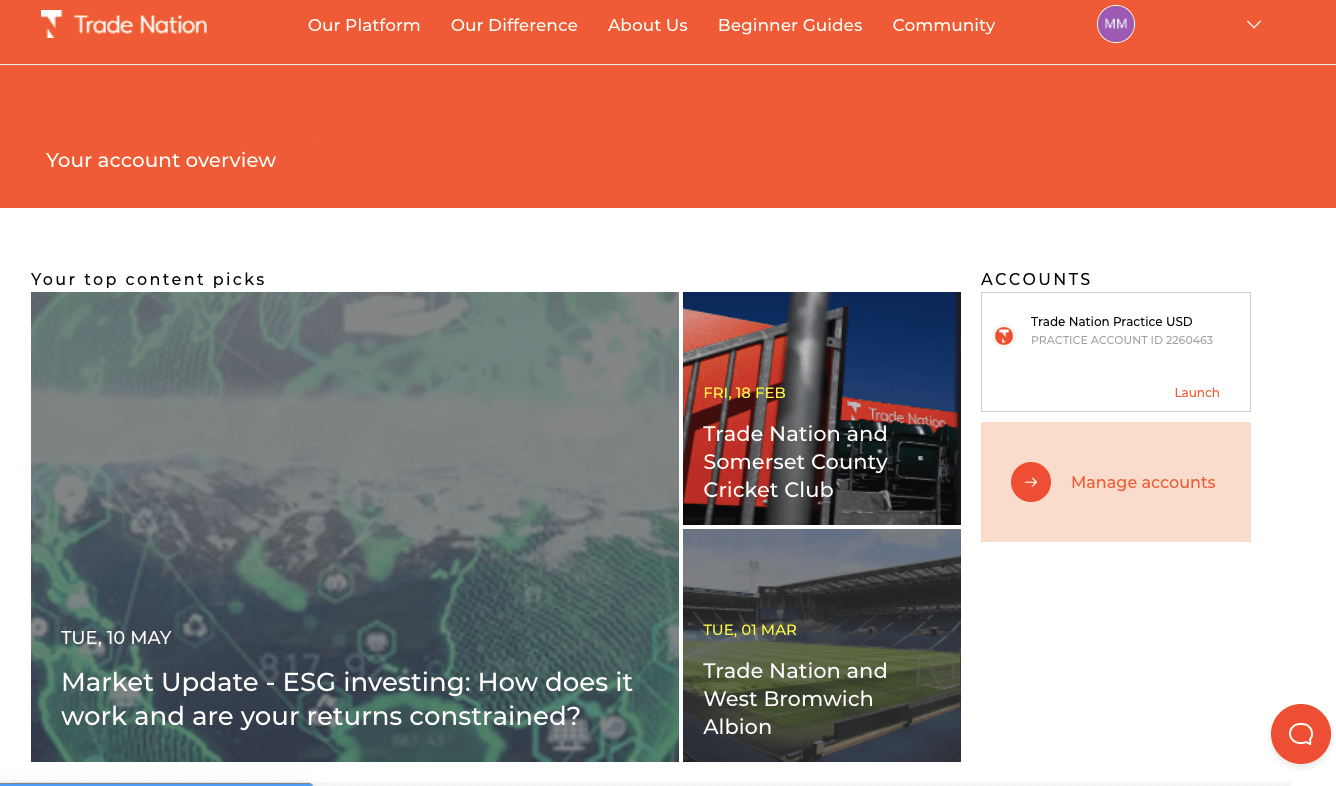 Trade Nation Deposits & Withdrawals
Payment methods accepted on Trade Nation for deposits and withdrawals are cards, bank transfers, Skrill, and PayPal. Find details of the deposit and withdrawal options on Trade Nation below: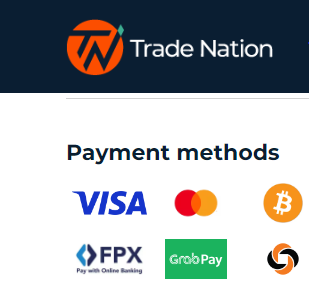 What is the minimum deposit for Trade Nation?
Trade Nation has no mandatory minimum deposit required. You can deposit any amount that you want to use for trading, using the accepted deposit methods.
What is Trade Nation's minimum withdrawal?
The minimum withdrawal on Trade Nation is £50. And you can only withdraw friends to a payment method you have used to make deposits.
Note that you cannot use third-party accounts to make deposits to Trade Nation or withdraw from it. The card or bank account name must tally with the same name on your Trade Nation account.
Trade Nation Trading Instruments
Here is a breakdown of tradable financial instruments on Trade Nation.
| Instrument | Availability | Number |
| --- | --- | --- |
| Forex | Yes | 33 currency pairs on Trade Nation |
| Energy | Yes | 2 energies on Trade Nation (Brent, Crude) |
| Metal | Yes | 7 Metals on Trade Nation |
| Indices | Yes | 31 indices on Trade Nation (Asian, Europena, US, and World Indices) |
| Shares | Yes | 6 rolling stocks on Trade Nation (UK, US, European, and Australian shares) |
| Bonds | Yes | 3 Bonds futures on Trade Nation (BOBL, BUND and UK LONG GILT) |
Trade Nation Trading Platforms
Trading platforms supported by Trade Nation are:
1) MetaTrader 4: Trade Nation supports MT4 trading application, and can only be used to trade CFDs. The platform is available on the web, desktop, and mobile devices (android & iOS).
2) Trade Nation Cloud Trade: Cloud Trade is Trade Nation's proprietary platform that supports only spreads betting trades. You cannot trade CFDs with the platform. Ony Spread Betting or Spread Trade is available on it. Cloud Trade is available on the web and you can download the mobile app version on the Google Play Store or Apple App Store.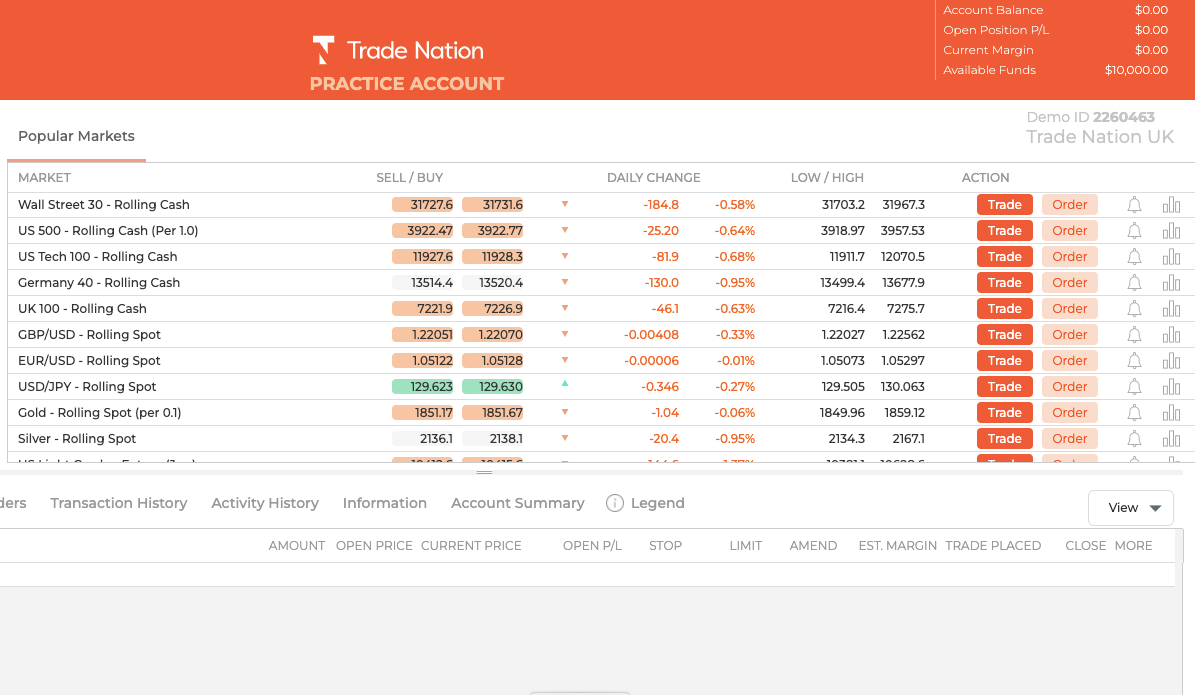 Apart from technical trading tools, there are extra trading tools that come with Trade Nation's platforms. They are free and can be very useful for you. Real-time news is one of the tools. This keeps you informed, with access to news and updates across social media platforms.
Signal Centre is another essential tool. It is an independent service that gives you trade ideas via in-depth market analysis. There is also some contribution from professional trading experts. Real-time news and signal centre are exclusively available on Cloud Trade only.
Trade Nation's Execution Policy
Trade Nation acts as a principal to your orders. This means they are not an agent and your orders are not transferred to any execution venue. You trade directly with Trade Nation as the sole execution venue. Price and costs are the most important factors considered by Trade Nation when it comes to order execution.
Prices are generated electronically by Trade Nation's platform. To make sure the prices are fair, Trade Nation takes into account market data from other sources. They also add their spread to the final prices displayed. This seems good enough but there's a challenge.
Market fluctuations and technical conditions may lead to unfavorable order execution. This means your trades can be executed at another price other than your preferred price. There is no guarantee that this new price will be advantageous to you.
The likelihood of execution and speed of execution are linked. Trade Nation executes your orders on an automated basis. There is no dealing or manual intervention. However, if there is an unusually high trade volume, automated execution might be wholly or fully suspended by manual pricing and execution.
Manual pricing and execution might impact the speed of execution and the price at which your trades are executed. To minimize these delays, Trade Nation constantly monitors the percentage of trades that require automated execution against manual execution. They also observe how the execution conditions differ from the company standard. For trades that deviate from the company's standard, Trade nation will make technical adjustments and system updates. This will in turn reduce the risks that come with manual pricing and execution.
Trade Nation UK Education and Research
Trade Nation does not have a robust education and research content. Here are a few on their website:
Trading Explained: You can find this section under their beginner guides. It covers CFD trading, FX trading, and spread trading. The content is all text without videos. They are simple and easy to understand. The section also has a fourth item called 'Trading Signals'. Here, you can learn all you need to know about trading signals and how to use them.
Trading Simulator: The trading simulator is for trading the stock markets in a simulated environment. It involves 9 steps with educational videos in between. You do not need to create an account or log in to use the trading simulator. You only need to go to their website and follow the steps. The trading simulator is easy to use.
Experts Explain: You can find this under the community tab on their website. Here, trading tips are offered by experts. Trade Nation gathered experts specialized in technical analysis, accounting, and trading tutors to help you understand various trading concepts. The only downside here is there are no videos.
Trade Nation Blog: The trade nation blog contains news and analysis. The blog is well-designed and well-organized. It has three filters that can help you maximize the blog as shown below.

The first filter lets you choose your trading level (beginner, intermediate, or expert). This ensures you get only the contents that are not over your head. The second filter is to select the type of content you want to read. You can see from the image above that there are 10 different post types that you can choose from. You only need to click the one you want.
Finally, the third filter is for sorting out the content according to order. You can choose to see the newest or the oldest ones first. Furthermore, you can also arrange them in alphabetical order (ascending or descending).
Platform Guides: This section gets you familiar with the Trade Nation platform. It is all video content and it covers how to log in, place trades, hedge trades, place complex orders, create a watchlist, add an MT4 account, etc. There are 16 videos in this section alone. This allows you to implement the guides systematically as shown.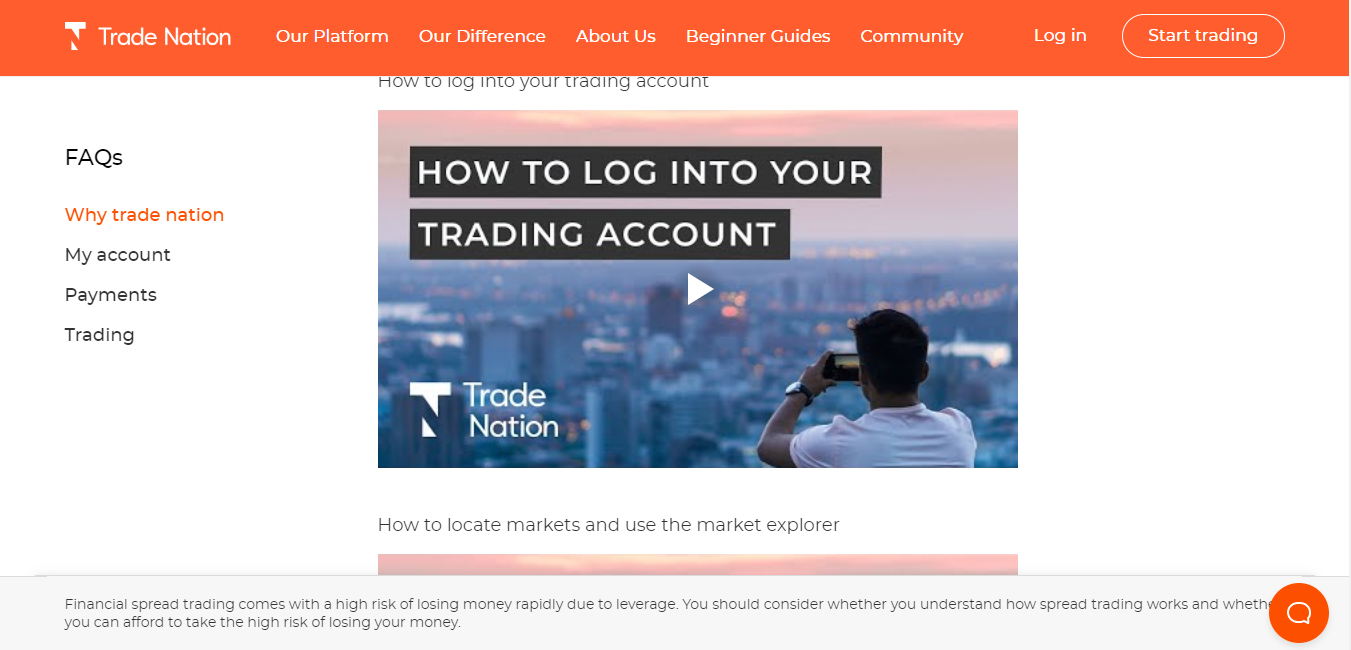 Trade Nation UK Customer Service
Trade Nation offers customer support from 10 PM on Sunday to 10 PM on Friday via the following channels.
1) Live chat support: Trade Nation Live Chat support is available 24/5 and can be accessed via their website. The chatbot will request your email before connecting you to a live agent.
When our team tested it, we got connected to a live chat agent after about 5 minutes of wait time and the answers to our questions were relevant. Although the agents usually abandoned the chat after a while and we had to initiate new chat requests.
There were times when we initiated new chats and didn't get connected to a chat after a while.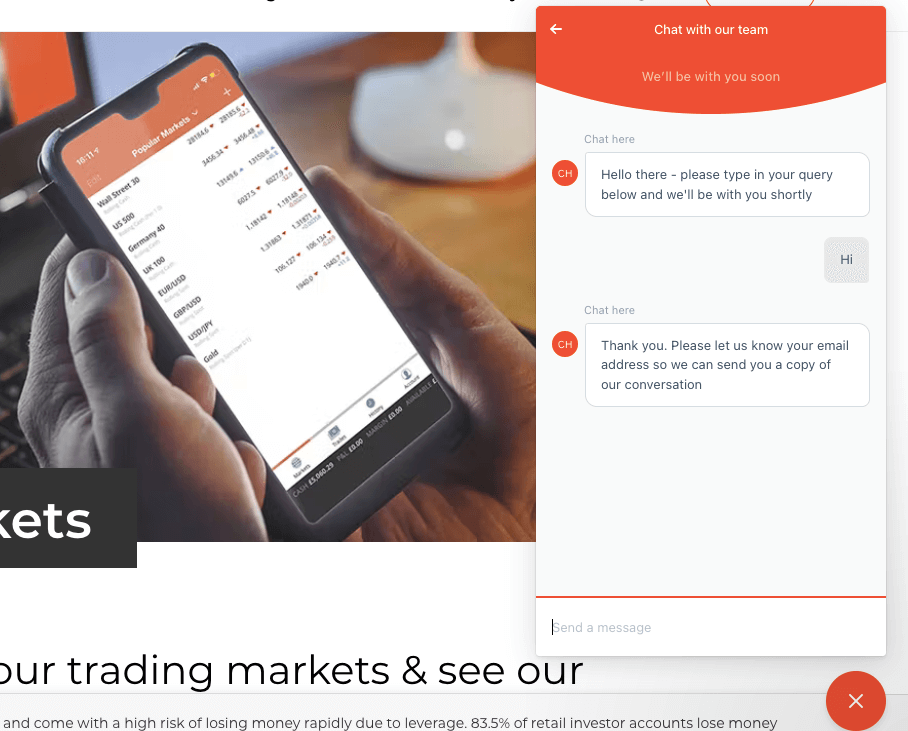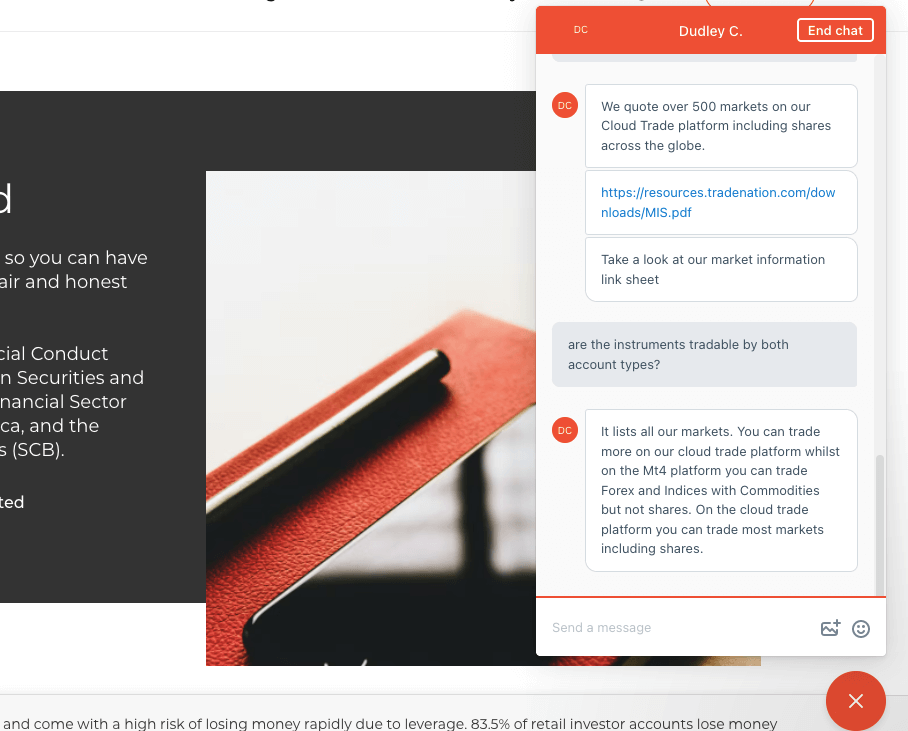 2) Email support: The Trade Nation email support is also available 24/5 for customers to reach out to and make enquiries. When our team tested it, we got a reply after a few minutes. The Trade Nation email address for customer support is [email protected].
3) Phone support: Trade Nation also offers phone support to traders in the UK, you can reach the broker with this phone number +44 (0) 203 180 5952.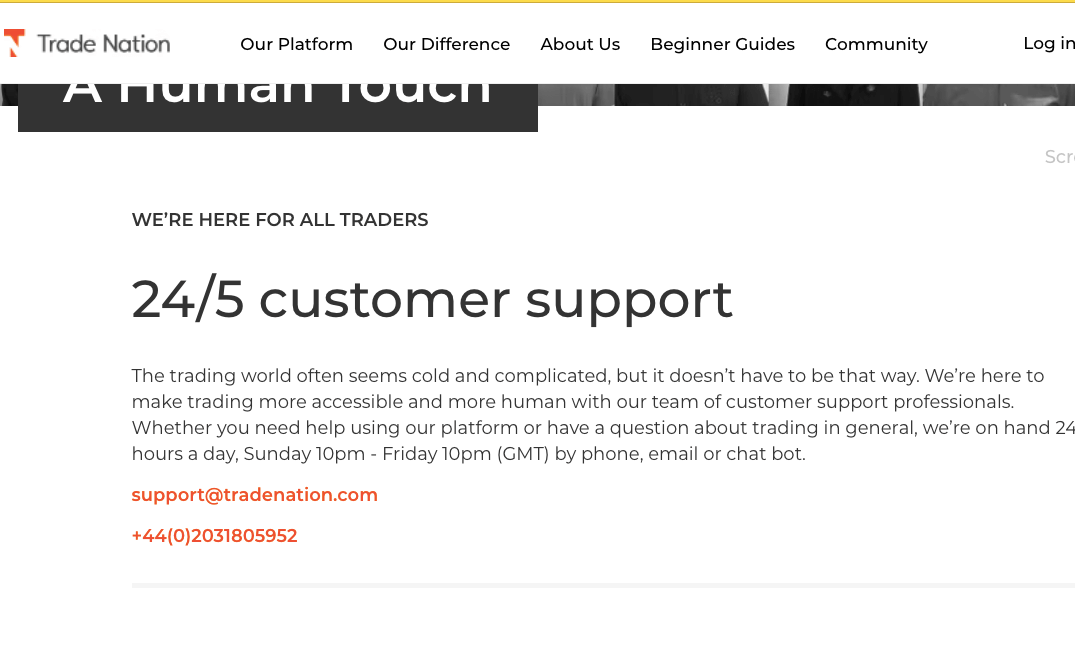 Do we Recommend Trade Nation UK?
Based on the safety of funds, Trade Nation is considered safe, as they are regulated by the FCA in the UK and ASIC and FSCA which are Top-Tier financial regulators, this means that will comply with the authority to keep your funds safe.
The fees on Trade Nation are moderate, they do not charge commission fees and spreads are fixed, with free deposits and withdrawals, while allowing you to deposit any amount you want.
Trade Nation currently offers less than 1,000 instruments which means you will not be able to trade some financial assets on the platform, not to mention that they do not support MT5 and each account can only be operated on a specific trading platform.
The customer support is fair, the email response time is fast during working days and live chat is available 24/5, although the response time is slow and sometimes no chat agent is available.
We recommend that you look up more information on the broker's website and even reach out to customer support with your questions to know if the platform is right for you.
Note that Trade Nation does not offer professional account features currently so if you want a pro account, you may have to register with another broker or wait till the feature is added.
Trade Nation UK FAQs
Is Trade Nation legit?
Trade Nation is regulated by the Financial Conduct Authority (FCA) and authorised in the UK to offer financial services. Trade Nation is also licensed by other Tier-1 and Tier-2 regulators, this makes them score low on risk and legit for traders in the UK.
Does Trade Nation use MT4?
Trade Nation support their proprietary platform. However, you can use Trade Nation to access MT4.
What Is the minimum spread for Trade Nation?
Trade Nation offers spread only trading, with a fixed spread system, which means that spreads on open trades will not change even if the market spreads change.
Spread on Trade Nation start from 0.6 pips with an average of 1.4 pips for major pairs like EURUSD.
Visit
Note: Your capital is at risk
Note: We may earn a commission if you decide to sign up with the broker via the referral links in this review. This help us cover the expenses of running this website, but this does not affect our honest & transparent review process. Thanks for your support.