MetaTrader 4 and MetaTrader 5 are the most popular trading platforms. Most forex brokers offer them. However, there is another platform that seems to be off the radar. It is the cTrader platform.
It was developed by Spotware Systems in 2010 and is growing in popularity among traders. According to our research, we found that over 30+ CFD brokers support cTrader. Finding one all by yourself will take a lot of time.
In addition, you might find it challenging to find a broker that supports cTrader coupled with ideal trading conditions. So our team of experts has reviewed the best forex brokers that offer cTrader for you. In this guide, you will get all you need to know.
Here is a brief comparison of the cTrader brokers we have reviewed
Show More
Comparison of Best cTrader Forex Brokers
| Broker | Top-tier Regulation | cTrader | Range of CFDs | Visit |
| --- | --- | --- | --- | --- |
| IC Markets | ASIC, CySEC | Yes | Forex, Commodities, Indices, Stock, Bonds, Futures | Visit Broker |
| Pepperstone | FCA, ASIC, CySEC | Yes | Forex, Indices, Commodities, Shares, ETFs, Currency Index | Visit Broker |
| Skilling | FCA (Temporary), CySEC | Yes | Forex, Shares, Indices, Commodities | Visit Broker |
| FxPro | FCA | Yes | Forex, Metals, Indices, Shares, Futures, Energies | Visit Broker |
Warning: CFD Trading is risky. More than 70% of traders lose their money so trade with caution always.
Best cTrader Forex Brokers
Here the list of best cTrader forex brokers as per our research:
#1 IC Markets – Overall Best cTrader Broker
IC Markets are regulated with ASIC and CySEC. Their license number is 335692 and 362/18 respectively. Their temporary FCA permission as IC Markets (EU) Limited is currently 'Applied to Cancel'. However, we consider them low risk because of their ASIC regulation.
IC Markets support the cTrader platform and offer good trading conditions for forex trading with their Raw and Standard Accounts. The spread for the Raw Account is ECN type, beginning from 0.0 pips.
If you choose cTrader with IC Markets, you can choose only the 'Raw Account'. The Standard Account is not available on cTrader. This means you will have to pay a $6 round-turn commission per lot on your trades. You will also be able to access all CFDs (forex, commodities, indices, bonds, stocks, and futures).
Let's go deeper into the platform itself. With IC Markets, the cTrader gives you access to extremely low speeds (e,g EUR/USD is 0.02 pips). There is also deep liquidity from multiple global banks. In addition, algorithm trading is available on their cTrader cAlgo (now cTrader Automate).
IC Markets cTrader has its servers in LD5 IBX Equinix Data Centre in London. This location is a financial ecosystem that allows quick execution of your trades with low latency. In addition, there are no trade restrictions. You can scalp and hedge your trades without extra charges. The fact that there is no dealing desk intervention also makes IC Markets cTrader a good choice.
You can read more on IC Markets trading condition & 9 other factors in our IC Markets review.
IC Markets Pros
Tier-1 regulation with ASIC
Fast execution
Low Spreads because of Raw Account
Convenient deposit and withdrawal methods
Scalping and hedging is allowed
IC Markets cTrader is available across multiple devices
IC Markets Cons
£200 minimum deposit
The Raw Account on cTrader is not commission free
#2 Pepperstone – cTrader Broker with Education
Pepperstone is a low-risk cTrader broker due to their FCA regulation. They are also regulated with top-tier regulator ASIC in Australia. Pepperstone's cTrader is available on iOS, Android, and Windows. It is also available as Pepperstone's web app.
Pepperstone offers good trading conditions as per our research. With their Razor, Spread Bet, and Standard Accounts, you have a flexible pricing system for your trades. Pepperstone does not enforce a minimum deposit for these accounts. However, they recommend an initial deposit of £500.
Once you open an account, you can trade the following CFDs: forex, shares, commodities, ETFs, and indices.
So why did Pepperstone cTrader make it to our list? First, the platform is easy to use and allows for customisation. It also mirrors the institutional trading environment. This means your price quotes will be institutional grade. You can customise and code in C# and open API with cTrader Automate. This function allows you to optimize expert advisors (EA) and trading robots.
Another reason Pepperstone cTrader stands out is because of certain features like the availability of education videos for your learning. The platform also gives a deep analysis of your trades. The analysis is helpful because it will highlight your trading strategy's strengths and weaknesses. So you know the things to keep doing and the things to improve on.
The only downside with Pepperstone cTrader is that it is not available on Mac. If you use a Mac, you can access Pepperstone cTrader via their web app.
For more information on Pepperstone, read our well-researched Pepperstone review based on 10+ important factors.
Pepperstone Pros
Regulated with the FCA
No minimum deposit
You can scalp and hedge your trades
Pepperstone cTrader is good for beginners
Automated trading is supported
Trading behaviour analysis
Pepperstone Cons
Pepperstone cTrader is not available on Mac
There is a $6 round-turn commission for the Razor Account on cTrader.
#3 Skilling – Low Spread Broker with cTrader
Skilling is regulated in Europe with CySEC as Skilling Ltd. They operate a UK branch with temporary FCA permission. The reference number for the UK branch is 810951.
Accounts: Skilling offers four accounts – Standard, Premium, MT4, and MT4 Premium. Only the Standard and Premium Accounts are available on Skilling cTrader. This has some ramifications in terms of your trading conditions.
For example, the minimum deposit for the Standard Account is £100. If you want a Premium Account, you will be needing up to £5000. Also, there is no extra commission per lot on the Standard Account but the spreads begin from 0.7 pips. For the premium Account, commissions are charged but spreads are as low as 0.1 pips.
Why did we choose Skilling? We chose Skilling because they offer 900+ instruments on their cTrader. No commissions and the execution of trades is fast (0.05 seconds). The Skilling cTrader also has a feature that allows you to trade one account on two platforms. With this integration, you don't have to open two different accounts.
Let's go further. You can use algorithmic trading on Skilling cTrader. The programming is compatible with C# and .net. Finally, you can deposit and withdraw your funds easily via Skrill, Neteller, and credit/debit cards.
Skilling Pros
Regulated with CySEC
Low spreads on Standard and Premium Accounts
cTrader is available on multiple devices
Skilling cTrader supports automated trading
Average executuion speed of 0.05seconds
Skilling Cons
Temporary FCA regulation
Extra commission on the Premium Account
High minimum deposit on the Premium Account
#4 FxPro – NDD Broker with cTrader
FxPro is a regulated cTrader forex broker. They are regulated with the FCA as FxPro UK Limited so we consider them low risk.
Here are FxPro's trading conditions briefly. Your minimum deposit is £100 and you will get to trade a good range of CFDs. They include forex, indices, shares, metals, and energies. FxPro operates a no-dealing desk model on the FxPro cTrader.
We choose FxPro because of their low spreads. The CFD broker offers different spreads on their trading platforms. The average spreads on FxPro cTrader are the lowest (e.g GBP/USD is 0.45 pips). On the desktop cTrader, you get a cTID (cTrader ID) that allows you to link multiple trading accounts to your cTrader. There is also the cTrader web platform for Mac users.
The FxPro cTrader is available on Android and iOS. As we reviewed this broker, we discovered that their cTrader also gives you access to services from Trading Central.
How do these services help you?
These services will improve your technical analysis. You will be able to spot price patterns quickly, time your entry/exit, and predict the direction of the market. All of this is possible without drawing any indicators or staring at the charts.
FxPro offers these services to their clients without extra costs. This makes FxPro cTrader more ideal for traders.
FxPro Pros
FxPro cTrader has low spreads
FCA Regulation
You can link multiple accounts to FxPro cTrader
Fast execution
Automated trading
FxPro Cons
Automated trading is not available on cTrader web platform
Extra commission per lot
What is cTrader?
cTrader was developed in 2010 by Spotware. Andrey Pavlov and Ilya Holeu are the brains behind the forex trading platform. They are also the founder of Spotware. cTrader is becoming popular with forex traders because it is easy to use. The intuitive platform has advanced charting tools, fast execution, and advanced order types.
Furthermore, cTrader is a multi-asset platform. You can trade CFDs and forex pairs on it. For these instruments, you will get a level II depth of market on cTrader. The platform also supports automated trading and the use of expert advisors.
There is also the cTrader copy. It is the copy trading arm of the trading platform. It is a flexible investment platform that allows you to copy other successful traders. It doesn't end there. If you have a successful strategy, you can add it to the cTrader copy for other traders to copy too. The strategies on cTrader copy are transparent and the fees system is not complicated. The fees are clearly defined.
cTrader is MetaTrader's major competitor in the industry. Here is some of the reasons the platform is growing popular among forex traders.
ECN Execution: cTrader allows ECN execution only. Unlike some brokers' proprietary platforms and MetaTrader, cTrader connects your trades directly to buyers and sellers in the global market. No dealing desk intervention whether there is automation or not.
Zero Broker Intervention: cTrader is able to run ECN execution independent of your broker. This is because Spotware manages the process behind the scene. Your broker is only able to modify commissions and spreads which are their own charges. However, they cannot modify the price and market data.
Single login: When you activate an account on cTrader for the first time, you get a cTrader ID. With this ID and password, you can continue to use cTrader even if you switch brokers. This is not the same with MT4/MT5 where you get different login details as you change brokers.
Fast Execution: cTrader has a fixed API that communicates directly with the platform's server. This reduces latency during trading and it is free to use. You only have to make sure you choose a broker that supports cTrader.
Copy Trading: Beyond copying trades, cTrader copy investment service allows you to be a strategy provider, allowing other traders to copy your trades. You can do this without charging any fee. Also, you can choose to charge a fee if you so desire.
Personal Trading App: With cTrader's Open API, you can build your own trading applications. It is free, secure, and easily accessible. If you are a developer, you can use cTrader's web platform, desktop, or mobile app as your starting point. You can then build on these to develop your own app.
How is cTrader Different From MT4 and MT5?
Unlike MT4 and MT5, cTrader was designed as an ECN (Electronic Communication Network) platform, meaning traders are usually required to pay a commission on their trades. This platform connects traders directly to the global Forex market and does not allow for any dealing desk intervention, automated or otherwise. Although cTrader can now be used by market makers, the infrastructure behind it is still managed by Spotware. The interface downloaded from the broker is just that, an interface, and the broker can only alter commission and spreads, not the price feed or market data. As a result, most cTrader brokers do not have an opportunity to charge a fee in the spread and will charge a commission instead.
The cTrader ID received when first logging into the application will never change, regardless of the broker. This is beneficial as it eliminates the need to remember new passwords or account numbers when switching brokers. Additionally, cTrader is offered to brokers on a platform-as-a-service basis, and Spotware profits are based on the volume traded. This means that Spotware has the incentive to provide traders with the best chance to trade profitably
How to Choose the Best cTrader Forex Broker in the UK
As our team reviewed each cTrader broker, we found crucial factors forex traders need to consider. Before going ahead to choose a cTrader broker, you should pay attention to these points. It is beneficial that you do your due diligence always.
Here are the factors you should consider
1. Regulation and Licenses: This point has to do with the safety of your funds. Your cTrader broker must be regulated with the Financial Conduct Authority (FCA). If they are not directly licensed with the FCA, they should at least have temporary permission (e.g Skilling). Only a regulated broker guarantees the safety of your funds
You can actually check if a broker is truly licensed with the FCA in two simple steps. You can go to the broker's website and scroll down to the footnote. You will find three things there. Their FCA regulation statement, their registered company name, and their FCA registration number.
Here is an example with FxPro.

You can see in the red box that their registered name is FxPro UK Limited with registration number 509956.
The second step is to go to the FCA's website to see if the registered name and registration number match. How do you go about this? First, go to the FCA website and scroll down to the search panel displayed below

Enter the broker's registered name (FxPro UK Limited) or the registration number. Select 'firms' and click on 'search'.
The picture below is our search result for FxPro on the FCA's website. You can see that the name and registration number match the ones on FxPro's website.

With these simple steps, you can verify your cTrader broker's regulation. Also, you should check if your broker has clone firms. These are firms or individuals that try to use the name of FCA regulated brokers to scam unsuspecting traders.
The FCA does a good job of finding these firms and publish their names on their website so you can avoid them. Here is an image from the FCA's website showing the clones of FxPro

If you check the last firm in the image (XTB-USDT), you will observe they were added to the FS register in 2023. This shows the FCA is always updating the list of clone firms for your protection.
Do you see why you have to take the issue of regulation serious?
2. Trading Fees: All cTrader brokers do not operate the same way. Some charge commissions, swaps, and spreads. Some charge only two out of the three. You should know how this works because it affects your final profit or loss.
Generally, most brokers fix the commission for cTrader at $3 per standard lot. However, spreads may differ. For example, Skilling offers a Standard Account on cTrader that has low spreads. Also, they offer a Premium Account on the same platform with higher spreads.
You should take your time to look through the broker's account types and platforms. This info is usually there.
Let's take a look at the screenshot below, which is from IC Market's website, where they compare their account types. You will see that their first account type (from left), is cTrader based. They mention their commission per lot and the typical spreads.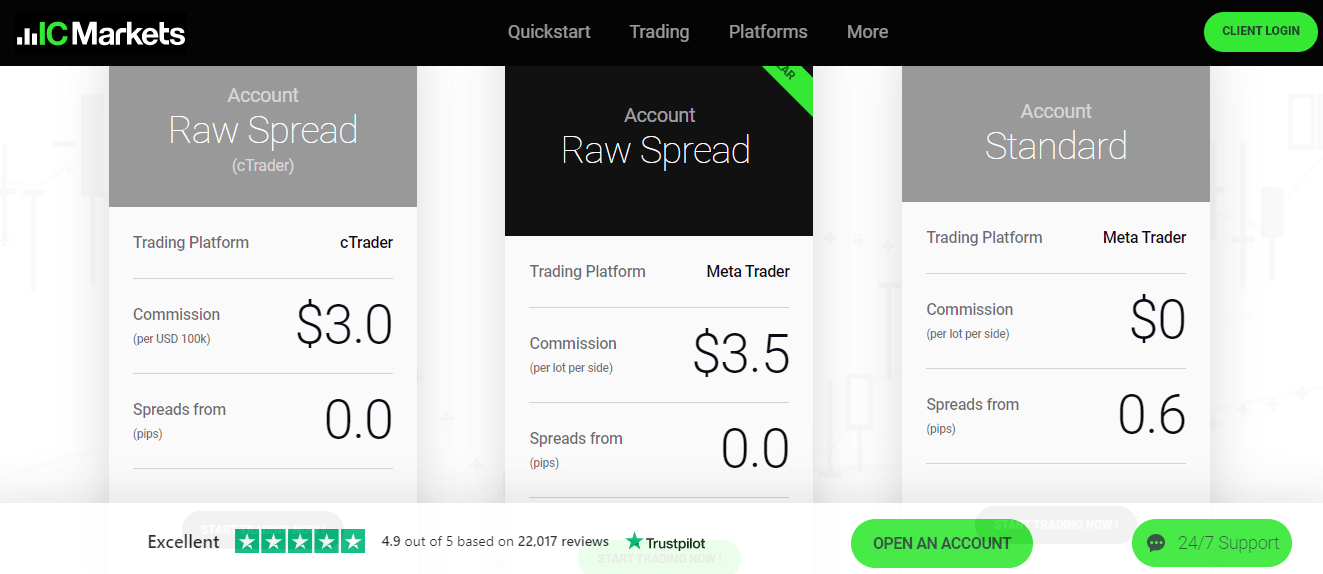 All other cTrader brokers will mention their fees with cTrader for different instruments. You should carefully compare them.
3. Range of CFDs: cTrader has advanced tools for trading. You will want to experience the power of these tools across different markets. This is why your cTrader forex broker should offer beyond forex pairs. Indices, shares, metals, and other commodities should be available.
Here is a picture of CFDs offered by FxPro (example broker):

4. Algorithm trading: cTrader Automate allows traders to develop their own trading robots. You can code in C#, API, or .net. You can also customise your indicators to suit your trading strategy. You should check if the broker you choose enables this on their cTrader.
It is usually stated on the broker's websites when you click on 'cTrader'. Here is how it looks with Pepperstone

5. Trading Tools: There are trading tools that come with cTrader by default. These are usually added by the company that developed that trading platform. However, brokers that support cTrader can also have extra trading tools. These tools are usually helpful and come without extra costs.
For example, Pepperstone cTrader has an economic calendar for fundamental analysis. While FxPro has both an economic calendar and Trading Central Targets. The function of Trading Central Target is to offer independent technical analysis to show where the future direction of the markets.
These extra tools usually differ between brokers. Some brokers do not even have extra trading tools. This is why it is important that you check before signing up with a cTrader broker.
6. Customer Support: It is essential that you are able to reach your cTrader broker. You must ensure their customer service is top quality. You can test this before signing up with the broker. Give them a phone call, send them a mail, and test their live chat. You will have a feel of how your experience will be should you become their client, it is important to check the experiences
7. User Online Review: Before choosing a cTrader broker, it is important to check what other traders think about the broker's cTrader. Google Play and App Store are the places to look for these reviews. We checked the former.
This is how the brokers in this review compare.
| cTrader Broker | Number of Reviews | Google Play Score |
| --- | --- | --- |
| IC Markets cTrader | 4000 | 4.3/5 |
FAQs on Best cTrader Forex Brokers
Which brokers offer cTrader?
Over 30 brokers offer cTrader. The ones we have reviewed are the best in the UK with ideal trading conditions.
Is cTrader a good platform?
cTrader is an all-in-one platform. It supports manual trading and has market research. There is also an automated trading section where you can create algorithms with cBots. Copy trading is also available.
Can I use cTrader with any broker?
No, because not all brokers in the UK offer cTrader. And when you find one that does, make sure such a broker is reputable and licensed with the FCA.
Is cTrader better than MetaTrader?
The two platforms have key features that are good for traders. Though they differ in certain ways, it all depends on your preferences. To some extent, it depends on your broker too.