OctaFX is a forex broker that offers competitive spreads, flexible leverage, and copy trading. They offer forex trading and CFDs on indices, cryptos, metals, and energies through MT4 and MT5 platforms.
OctaFX is regulated and licensed by CySEC (Cyprus Securities and Exchange Commission), is registered in St. Vincent and the Grenadines as Octa Markets Incorporated, supports deposits/withdrawals to Malaysian bank accounts, and has 24 hours live chat and email support from Mondays to Sundays. Their website is available in Melayu.
OctaFX Review Summary
Broker Name
Octa Markets Incorporated
Establishment Date
2011
Website
www.octafxmy.net
Address
Suite 305, Griffith Corporate Centre, Beachmont, Kingstown, Saint Vincent And Grenadines
Minimum Deposit
MYR 100
Maximum Leverage
1:500
Regulation
CySEC,SVGFSA
Trading Platforms
MT5, cTrader
Start Trading with OctaFX
OctaFX Pros
Website is available in Melayu
Local bank transfer options available
Negative balance protection
Supports copy trading
Customer service is available 24/7
Available on all devices, web, desktop, android, and iOS
Currency converter to see the amount you will pay in Ringgit
Has auto trading robots, Expert Advisor (EA) and cBot
OctaFX Cons
They do not have a local office in Malaysia and are not regulated in Malaysia.
Regulated by one Tier-2 regulator
Have fewer Forex and CFDs Trading Instruments compared to other brokers
Only 2 base account currencies (USD & EUR)
Is OctaFX Legit?
OctaFX is not regulated by any government agency in Malaysia, and traders from Malaysia are registered under 'Octa Markets Incorporated' which is registered in St. Vincent and the Grenadines which is an offshore regulation.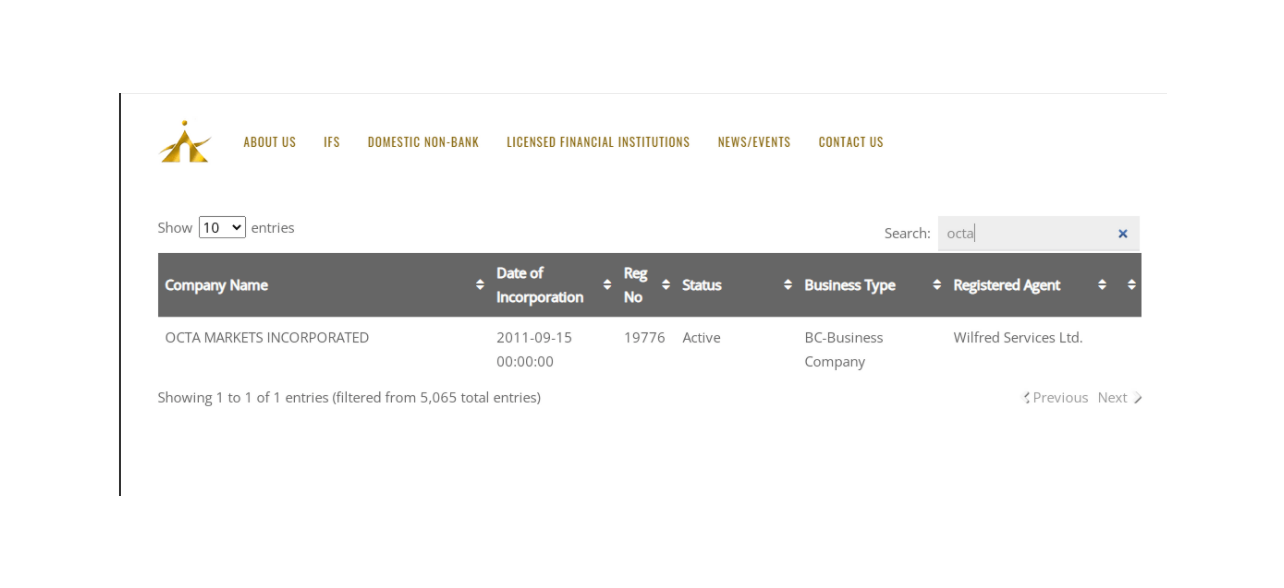 OctaFX is considered high-risk for Malaysian traders because they are licensed by only one Tier-2 Regulator, CySEC of Cyprus, registered as Octa Markets Cyprus Ltd, which is on their European website www.octafx.eu.
OctaFx Overall Fees
We compiled a summary of the trading fees and non-trading fees on OctaFX.
1) Deposit and Withdrawal Fees: OctaFX charges zero deposits fees and zero withdrawals fees on all accepted payment methods and account types.
2) Low Spreads: OctaFX operates floating spreads system. Typical spread starts at 0.7 pips for major currency pairs like EURUSD with MT4 & MT5 Accounts.

3) No Commissions per lot: OctaFX charges no commission fees per trading lot opened on both the MT4 and MT5 accounts types.
4) High Swap Fees: OctaFX charges swap fees on the MT4 regular account type for holding a trading position overnight. Fixed fees are charged on the MT4 swap-free accounts, designed for Muslim traders. The swap fee is dependent on the volume of lots the trader is holding. The fees for short and long swaps on EURUSD and GBPUSD are shown on the table below:
| Pairs | Position volume (lots) | Swap Short | Swap Long |
| --- | --- | --- | --- |
| EUR/USD: | 1 | -0.64 USD or -0.56 EUR | -1.03 USD or -0.9 EUR |
| GBP/USD: | 1 | -1.17 USD or -1.03 EUR | -0.94 USD or -0.83 EUR |
MT5 accounts are swap-free by default, and no fees are charged for holding a position overnight.
Traders can calculate the swap fees using the swap calculator available on the Islamic accounts section of the OctaFX website.
5) Other Charges: OctaFX charges no additional commission or trading fees aside from swaps and spreads, as their commission is already included in spread values on MT4 and MT5 accounts. We can safely say OctaFX has no hidden charges.
OctaFX Account Types
OctaFX has two basic account types, MT4 and MT5, and a swap-free MT4 Islamic account version for Muslim traders. Here are the detailed features of the account types: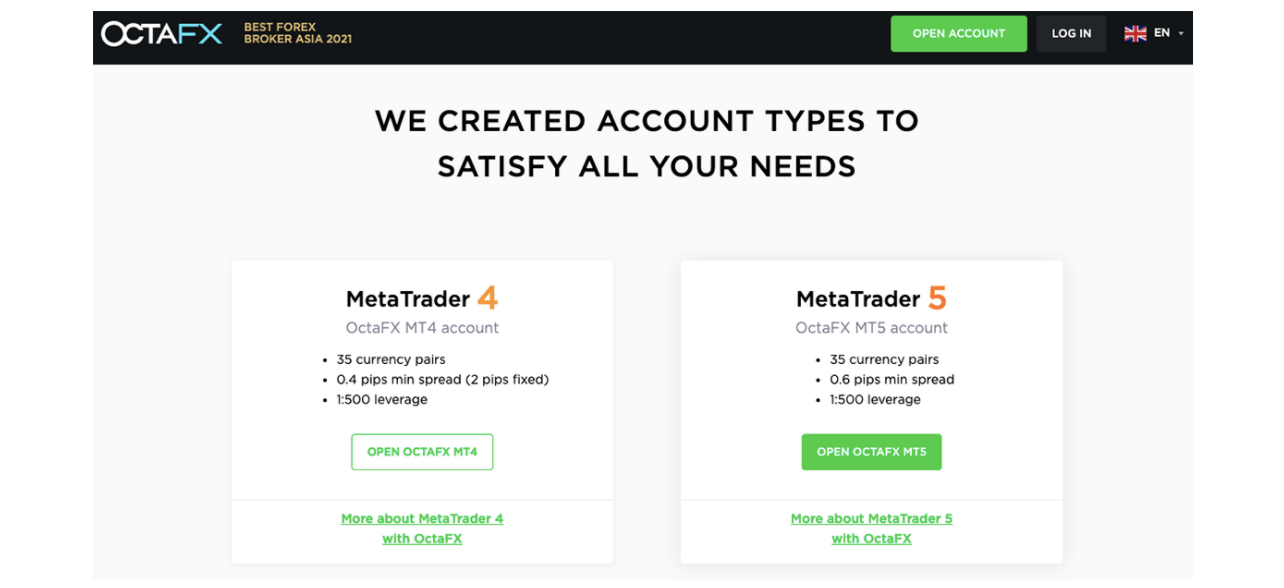 1) OctaFX MT4 Micro Account: This account type is designed for beginners and those new to Forex trading. Clients can choose a regular MT4 account or a swap-free Islamic MT4 account. The minimum volume of trade is 0.01 lots and the maximum volume is 500 lots, with a maximum leverage of 1:500 leverage (for currency pairs).
Tradeable instruments on this account type are Forex trading and CFDs on currency pairs, energies, metals, cryptocurrencies, and indices. Recommended deposit amount is USD100.
2) OctaFX MT5 Pro Account: This account type is more suited for experienced traders and is relatively new. It has zero swap fees and the minimum and maximum trade volume are 0.01 lot and 200 lots, with a maximum leverage amount of 1:500 (for currency pairs).
Tradeable instruments on MT5 are Forex trading and CFDs on currency pairs, indices, commodities (energies and metals), and cryptocurrencies. Recommended deposit amount for MT5 is also USD100.
3) Swap-free Islamic account: OctaFX offers Islamic account features that are in accordance with Sharia, designed for Muslim customers. This account is a version of the MT4 account type, but it has fixed commission fees for opening and closing trade positions. The fees are not interests, and they depend on the direction of the trade position (whether it is a buy or sell). Traders can calculate the fees using the fee calculator on the Islamic account section of the website.
Demo accounts are available for new traders on OctaFX to help them understand the trading platform before they open a live account and put their money.
OctaFX features negative balance protection for all trader's account types, which means customers cannot lose more than the money they have in their trading account in case a position is not successful. If there is any negative balance from an unsuccessful position, the account is reset back to zero balance.
The Base Currency on OctaFX is USD (United States Dollar) or EUR (Euros), deposits made in Ringgit from Malaysian bank accounts are converted to USD or EUR on the trading account.
How to Open Account at OctaFX Malaysia?
Step 1) To open a trading account on OctaFX in Malaysia, go to their website homepage at www.octafxmy.net.
Step 2) Click on the 'Open Account' button, highlighted in green colour, at the top right side of the home page.
Step 3)Fill in your name, email address, create a password, check the box to accept the terms and conditions after reading, check the re-CAPTCHA box to confirm you are not a robot, then click on 'Open Account'. You can also sign up using your Facebook account, Google Account, or Apple ID.
Step 4) A confirmation link will be sent to your email address to complete your registration. Go to your email inbox and click on the blue 'Confirm' button to confirm your email and continue the registration process.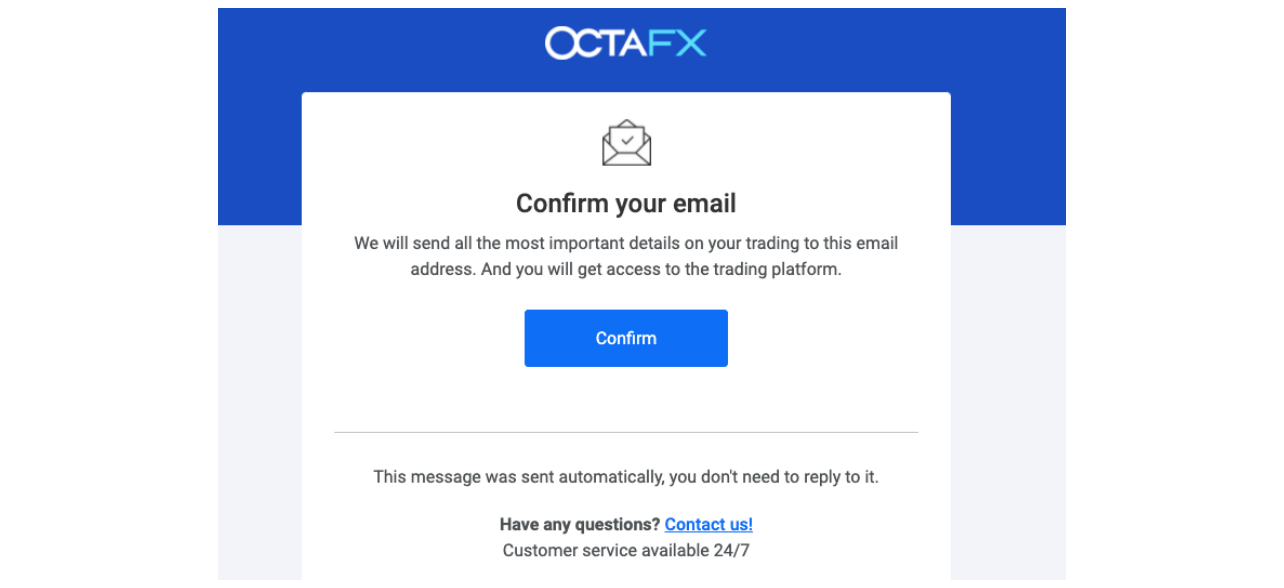 Step 5) After clicking the confirm button from the email, you will be taken to a page to provide some personal information, like phone number, your address and city, and date of birth. You will be required to answer 'Yes or No' if you have traded forex before. After supplying this information, click 'Continue' to proceed to the next stage of the registration.
Step 6) The next thing you will be required to do is to select the account type you want to use, either an OctaFX MT 5 or OctaFX MT4 account. The basic features of each account type will be shown to help you decide. Nevertheless, you can go up on this post and read again the full account features if you are unsure which to select.
You will then have to select if you are opening a Demo Account or Real (Live) Account. You will also be required on this page to select a deposit currency (you can choose USD or EUR) and to set a leverage limit, the default maximum leverage limit set is 1:500.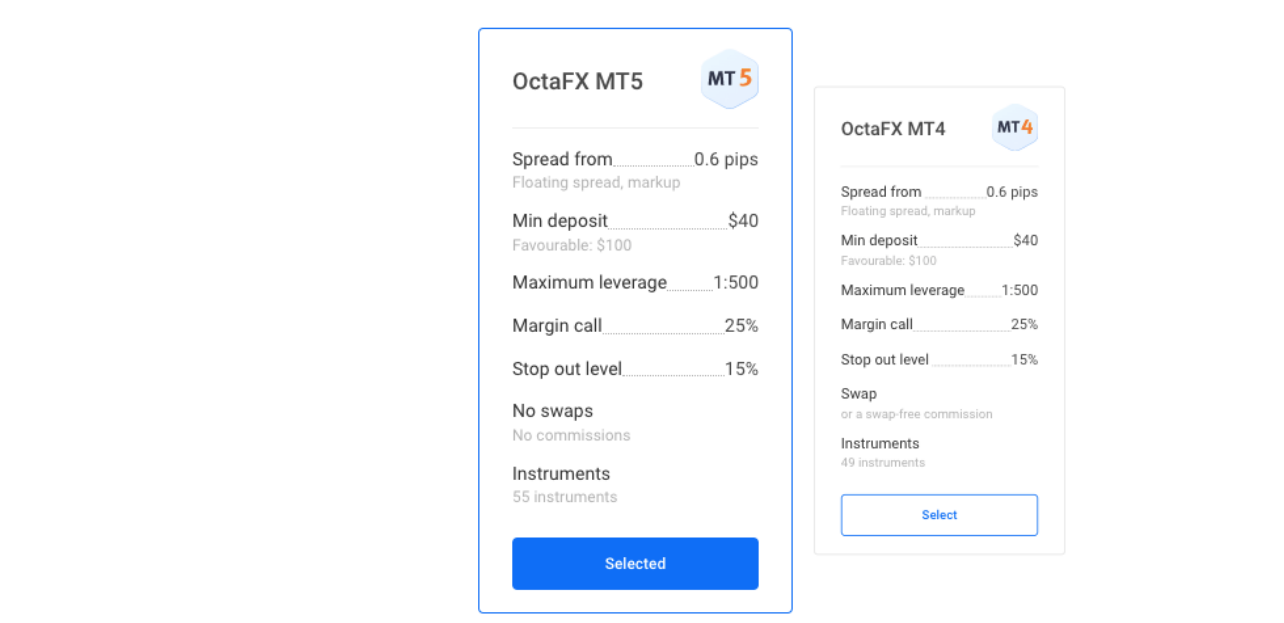 After these selections, click on 'Make Deposit' to continue.
Step 7) You will then be taken to a page that shows your account was successfully created, it will display your account number and the account currency. You will then be required to select a payment method you want to use to make a deposit to your account. You can decide to skip the deposit at this stage, or select a payment method and click continue.
If you click on Malaysian local banks, you will see a space to enter the amount of money you want to deposit in Ringgit, you can select the pre-filled sums or enter a custom sum, then click continue and follow the instructions to complete the deposit.
If you click on SKIP, you will be taken straight to your OctaFX dashboard that shows your account balance and other information. You can initiate a deposit or withdrawal, by clicking the buttons on the menu.
After completing the registration process, you will receive an email from OctaFX with your account details.
OctaFX Bonus
OctaFX promotions program currently offers a 50% deposit bonus to traders on a minimum deposit amount of MYR 100. The bonus is not automatic, as clients will have to apply for the bonus after their account is credited with the deposit sum.
Traders can withdraw the OctaFX bonus after they meet a trade volume requirement of half the bonus amount in lots. For example, if a client receives a MYR 50 bonus on a MYR 100 deposit, the bonus amount will be locked and released for withdrawal when trade volume is equal to half of MYR 50, (that is MYR 50 divided by 2), which is 25 lots.
You can learn more about the bonus and the rules that apply in the promotions sections of the OctaFX website.
Further, OctaFX also offers a referral program. For every friend that you refer to OctaFX, you can receive a commission of $1 for every standard lot that is traded by your friend. Further, your friend will also receive a 100% deposit bonus for the first time that they deposit money into their OctaFX trading account.
OctaFX CopyTrading
CopyTrading on OctaFX is a feature that is designed for traders that do not want to trade on their own and would rather copy the trades of other traders, known as Master Traders. This allows especially new traders, known as 'copiers' to profit from the knowledge and trading experience of professional Forex traders by automatically copying the trades the Master Traders make.
How Does CopyTrading Work at OctaFX?
The way OctaFX CopyTrading works is that the Copiers select a Master Trader in the ranking list to copy, then make an investment deposit which will be used for the trading, and whenever the Master Trader opens a trade order, the same trade order is opened automatically in the trading account of the Copier, when the Master Trader closes a trade order, the order is also closed on the Copiers trading account.
The copier does not need to manually copy the trades, it happens automatically. The Copier can choose to copy the Master Traders trade in equal volume or 2 times the volume of the trade or even three times.
The OctaFX CopyTrading App is the dedicated app for CopyTrading, different from the regular OctaFX trading app. The OctaFX CopyTrading app can be downloaded from the Google Playstore on Android or Apple App Store on iOS devices, it is also available on desktop and web-trading.
How to Start CopyTrading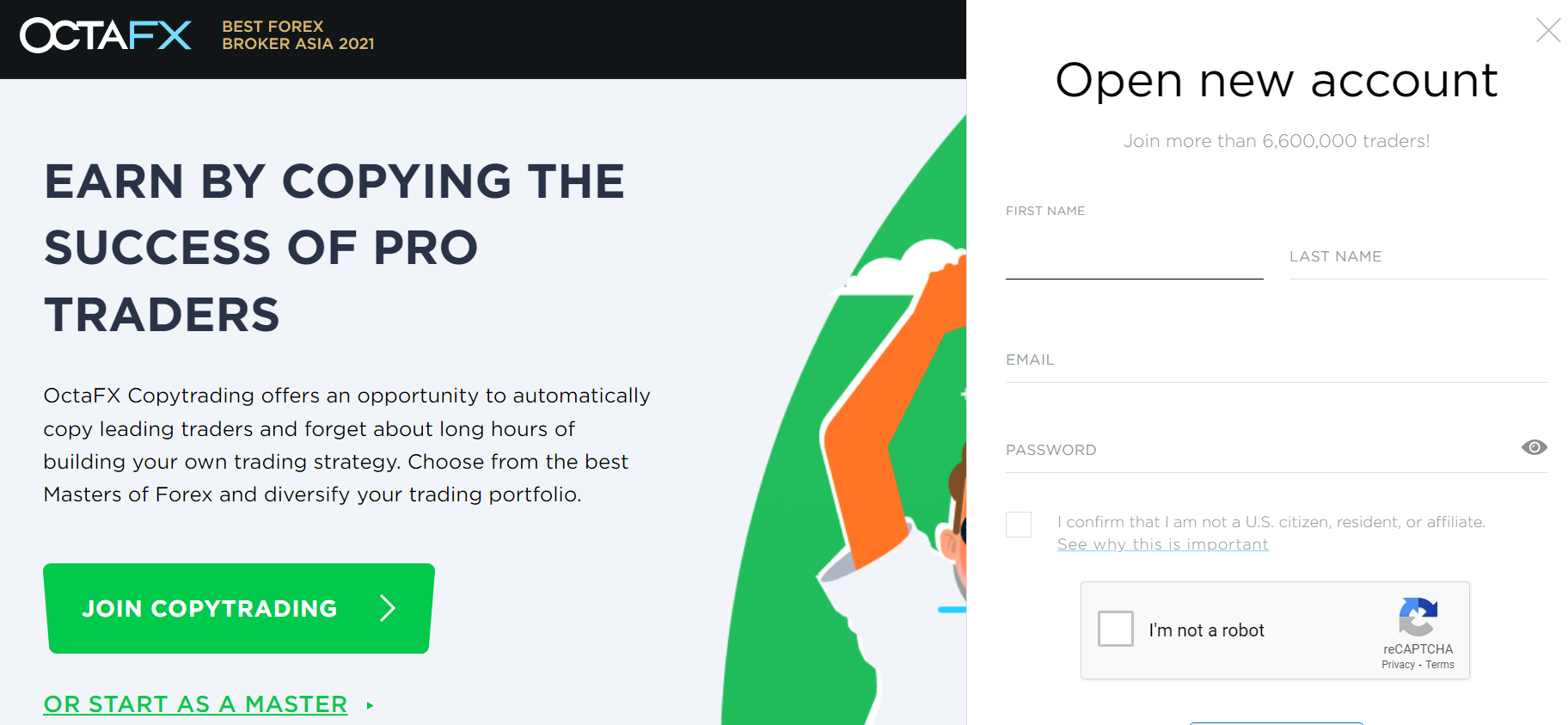 The first step to start copy trading is to fund your CopyTrading wallet with a minimum investment sum of MYR 110, some Master Traders require higher minimum investments. If you have funds in your OctaFX trading account already, you can simply do an internal transfer to your CopyTrading wallet.
The next step is to select a Master Trader whose trade you want to copy from the ranking list. You should go through the list of Masters to check their trading history and performance, and then choose the one you prefer. Keep in mind that different Master Traders have different settings so you might have to adjust your balance accordingly.
After choosing a Master Trader, the Copiers are all set to copy their trades and benefit from the expertise of professional traders.
A revenue share percentage (%) commission is charged for the overall profit that Copiers make, the commission is paid to the Master Traders. If Copiers make no profit, then no commission will be charged. The commission is charged weekly or when Copiers reduce investment or unsubscribe from a Master. The Master determines the commission amount for copying orders. The commission can range from 0% to 50% of the Copier's gain.
OctaFX introduced a new system that calculates the required investment, although every Master has a required investment that is calculated automatically by the OctaFX algorithm.
The calculation is based on the maximum margin used by the Master as well as the orders' lot sizes that are placed by the Master within the last 7 active days.
OctaFX Deposit & Withdrawals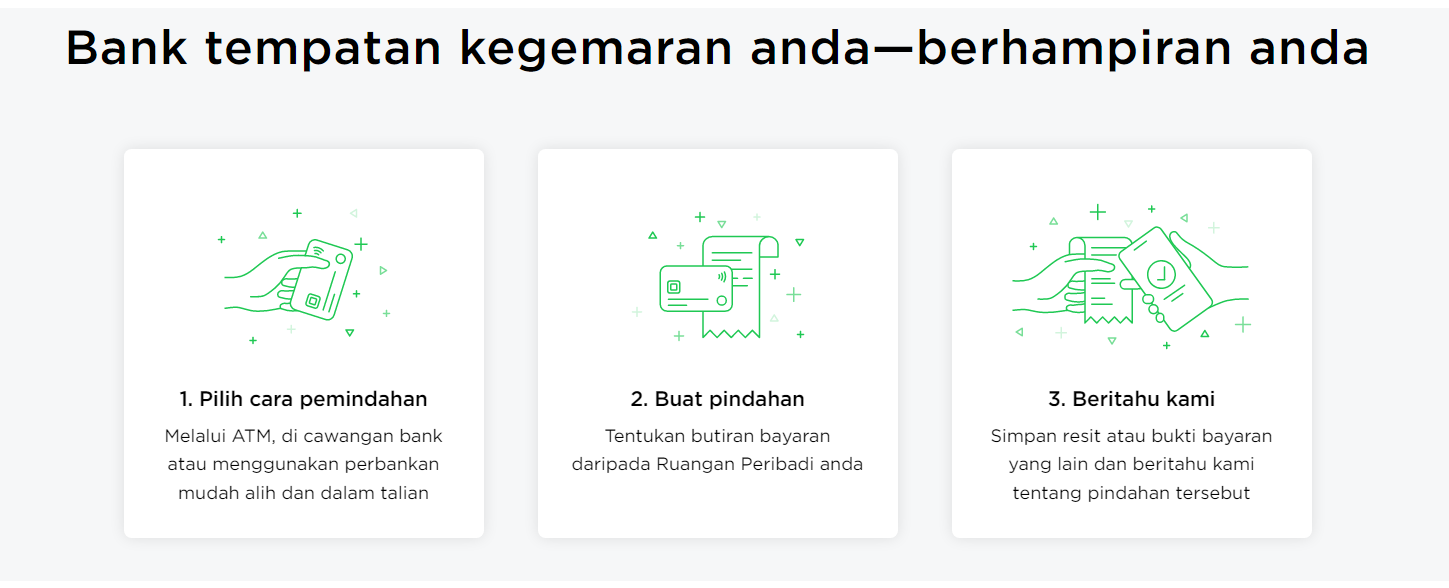 OctaFX accepts deposits from all Malaysian banks and allows withdrawals to all Malaysian banks. Withdrawals can only be made to the same account from which the deposit was made, and must be in the name of the account holder. No third-party deposits/withdrawals are accepted on OctaFX.
The minimum deposit amount for OctaFX is dependent on the payment method used for the deposit.  Other payment methods accepted and the minimum deposit amounts are MYR 226 for MasterCard, MYR 110 for Visa cards, MYR 220 for e-wallets like Skrill and Neteller, 50 USDT for crypto deposits via Tether. Other Cryptocurrencies accepted on OctaFX are Dogecoin, Bitcoin (BTC), Ethereum (ETH), and Litecoin (LTC).
Deposits and withdrawals to local bank accounts in Malaysia are processed within 1-3 hours, manually by the financial department of OctaFX, the withdrawal speed after this processing is dependent on the receiving bank.
MasterCard and e-wallet deposits are credited instantly to the trading account, Visa payments are credited in 1-5 minutes, while cryptocurrencies deposits are credited within 3-30 minutes.
All withdrawals initiated take 1-3 hours to be processed by the financial department, and the funds are transferred within 30 minutes.
The minimum withdrawal amount with e-wallets (Skrill and Neteller) is MYR 22, cryptocurrencies are Bitcoin: 0.000092 BTC, Litecoin: 0.11 LTC, Tether (ERC20, TRC20): 20 USDT, Dogecoin: 75 DOGE, Ethereum: 0.005 ETH.
Trading Instruments
OctaFX offers a relatively limited range of trading instruments, and fewer CFD trading instruments when compared with other brokers.
| Instrument | Availability | Number |
| --- | --- | --- |
| Forex | Yes | 35 Currency pairs. |
| Cryptocurrencies | Yes | 5 Cryptocurrencies (Bitcoin, Bitcoin Cash, Ethereum, Ripple, and Litecoin). |
| Energies | Yes | 3 Energies (  Brent Crude Oil, WTI Crude Oil, and US Natural Gas). |
| Indices | Yes | 4 Indices (NASDAQ-100, Dow Jones-30, AUS200, and GER30). |
| Metals | Yes | 2 metals spot (gold and silver). |
Trading Platforms
OctaFX uses MetaTrader 4 and MetaTrader 5 trading software, available on web-platform (web-trader), desktop (Windows and macOS), and mobile devices (android and iOS).
Customer Support
OctaFX has two customer support options for traders, our team tested the live chat and email support.
1) Live chat: The response from the OctaFX live chat was fast, there was no wait time. The live chat is accessible on their website, and unlike most live chats, you do not need to enter your email address to start the chat.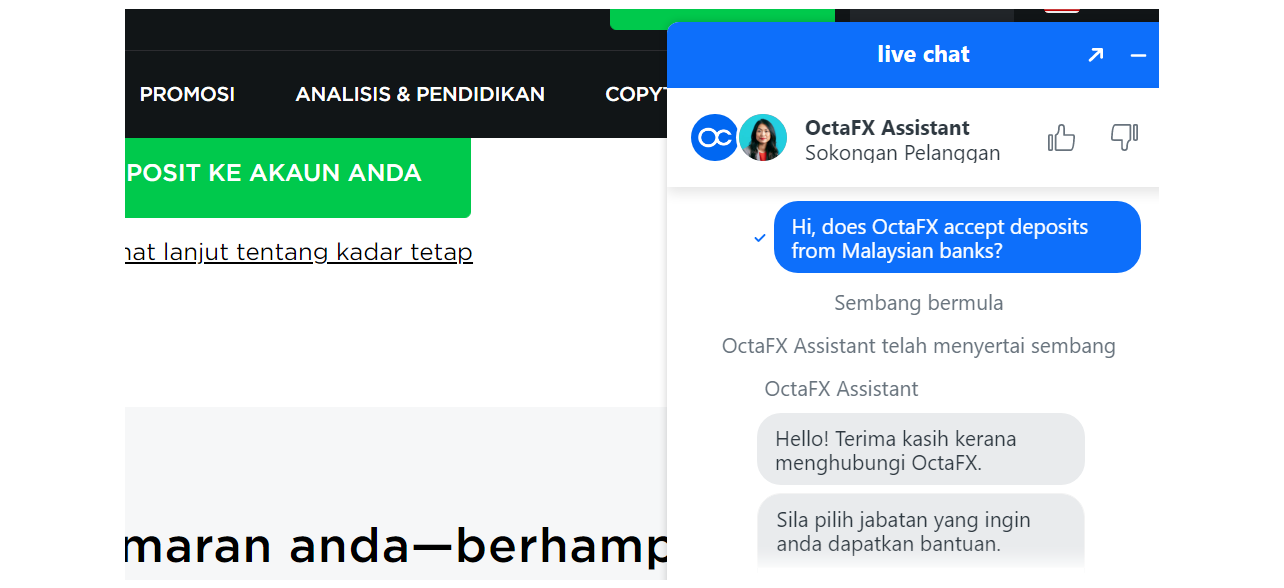 Some representatives could not answer some questions and referred us to send an email enquiry instead. Some chat agents declined to answer some questions, claiming they could only give such information to registered OctaFX traders.
2) Email support: The email response was fast. First, there was an auto-generated message with a ticket created for our inquiry, then a representative replied in less than 5 minutes. The answers to the questions asked were relevant.
Although we could not keep talking in the email thread and had to send new emails for new questions, no response was received under the thread for the previous email response.
We also tested the direct email form on the contact us page of the OctaFX website but got no feedback. The responsive OctaFX email address is [email protected]
Both live chat and email support are available 24/7.
Do we recommend OctaFX?
There are better Forex Brokers in terms of regulations that would ensure the better safety of your funds.
The overall fees are low for most Forex pairs & CFD instruments, and there are methods for local deposits & withdrawals in Malaysia. Further, their Copy Trading feature is popular in Malaysia. The customer support is also fair.
Additionally, the OctaFX website is available in Melayu.
But the number of CFD instruments are low, and regulation with only 1 Top-tier regulation makes it a higher risk than other brokers like HotForex, FXTM which are regulated in multiple Jurisdictions.
Although their customer support responds fast, the answers by some of their chat assistants were not very satisfactory. After every chat and email, the system sends a feedback form, for users to rate the support received with a thumbs-up or thumbs-down, and a space for comments which is optional.
One of the main drawbacks is that OctaFX does not have a local office in Malaysia.
The registration process to open an account on OctaFX is simple and fast, they didn't require any verification document to complete registration.
OctaFX Malaysia FAQs
Is OctaFX a good broker?
OctaFX is a good broker for Malaysian traders since it offers its services in Melayu and also offers Islamic accounts. Even though the broker is not regulated by any top-tier financial regulators, it has a strong reputation and long track record.
Is OctaFX legal in Malaysia?
OctaFX is not regulated in Malaysia & they are not licensed by the SCM. Malaysian traders at OctaFX are registered under offshore regulation, so you are trading at your own risk.
How much does it cost to start with OctaFX?
The minimum deposit required is MYR 100 with both their account types.
Can I make money from OctaFX?
Yes, it is possible to make money using OctaFX. To make money, you will need to make profitable trades on the platform. However, remember that trading involves risk and you can lose your money as well.
Visit
Note: Your capital is at risk
Note: We may earn a commission if you decide to sign up with the broker via the referral links in this review. This help us cover the expenses of running this website, but this does not affect our honest & transparent review process. Thanks for your support.