eToro is an online forex and CFDs broker that offers trading services through the web and mobile devices. You can trade over 2,000 financial instruments including CFDs on forex cryptocurrencies, stocks, indices, ETFs and commodities.
eToro was launched in 2007 and has a social trading network, where members can follow and copy other members' trading actions in real-time. The network provides a place for traders to discuss the financial markets, and share insights and ideas.
Our eToro review covers the trading conditions, fees, deposit/withdrawals and customer support on the platform.
eToro Review Summary
Broker Name
eToro AUS Capital Limited
Establishment Date
2007
Website
www.etoro.com
Address
eToro AUS Capital Limited, Level 19 , 9 Hunter Street Sydney NSW 2000 Australia
Minimum Deposit
$50
Maximum Leverage
1:30
Regulation
ASIC, FCA, CySEC, FSA Seychelles
Trading Platforms
eToro Trader available on the Web and Mobile Apps (Android, & iOS)
Visit eToro
eToro Pros
Regulated in multiple jurisdictions
Supports copy trading
Offers commission-free trading
Offers free insurance of up to $1 million
Offers a wide range of instruments to trade
eToro Cons
Charges fees for withdrawals
Charges inactive account fees
Customer support not available 24/7
Charges commission on cryptocurrencies trade
Is eToro Safe?
eToro is not regulated by Securities Commission Malaysia. Though they accept Malaysian traders, you will be trading with them at your own risk since they are not locally regulated.
eToro was founded in 2007 and is headquartered in Australia. The subsidiaries of eToro and their regulations in various jurisdictions are shown below:
1) Australian Securities & Investments Commission (ASIC): eToro AUS Capital Limited is authorized by ASIC to offer financial services in Australia, with ACN (Australian Company Number) 612791803, issued in 2016.
Traders in Malaysia are registered under this regulation.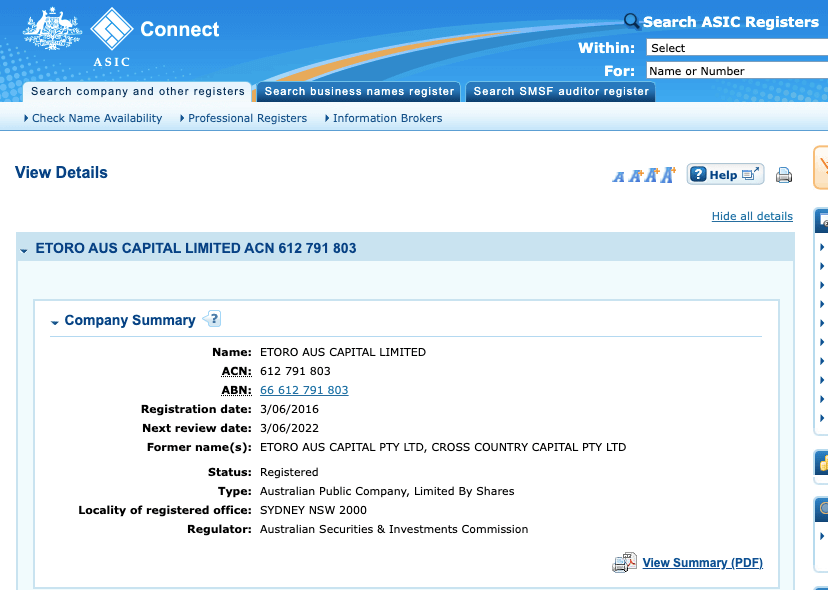 2) Financial Conduct Authority (FCA), United Kingdom: eToro (UK) Ltd is authorized by the Financial Conduct Authority to offer financial services in the UK with reference number 583263, issued in 2013.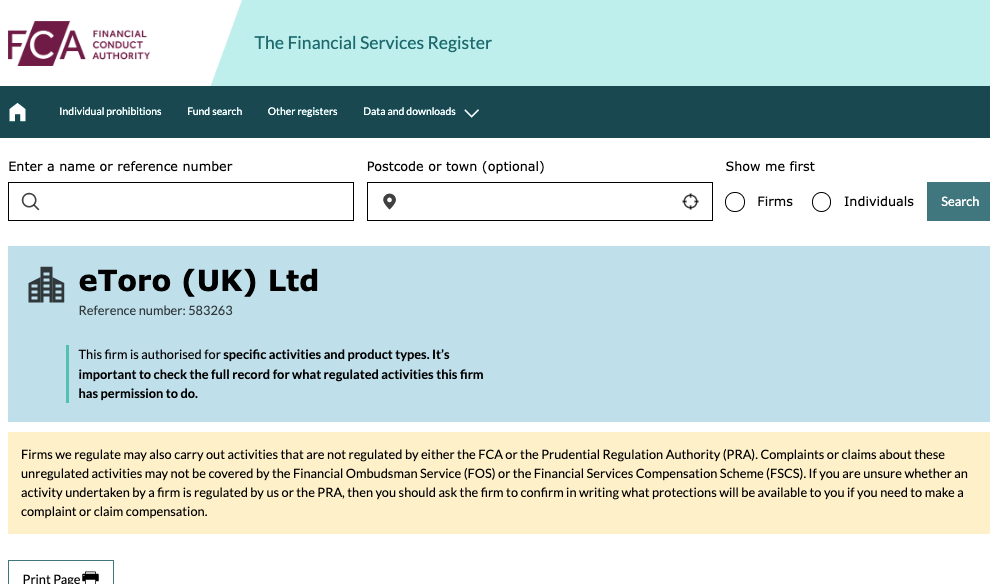 3) Cyprus Securities and Exchange Commission (CySEC): eToro (Europe) Ltd is regulated in Europe by CySEC as an investment firm and they serve their European clients through this license and a dedicated domain: etoro.eu. Their license number is 178/12 issued in 2012.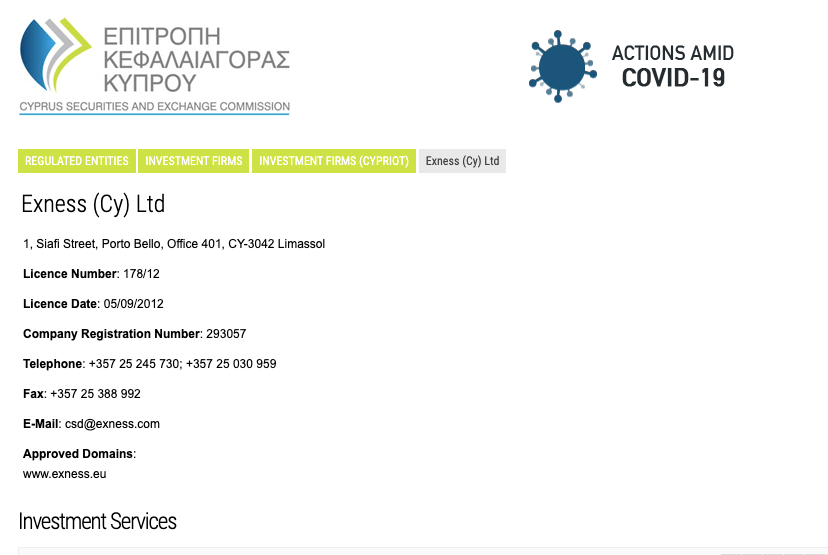 4) Financial Services Authority (FSA), Seychelles: eToro (Seychelles) Ltd is registered in Seychelles and regulated by the FSA as a security dealer since 2021.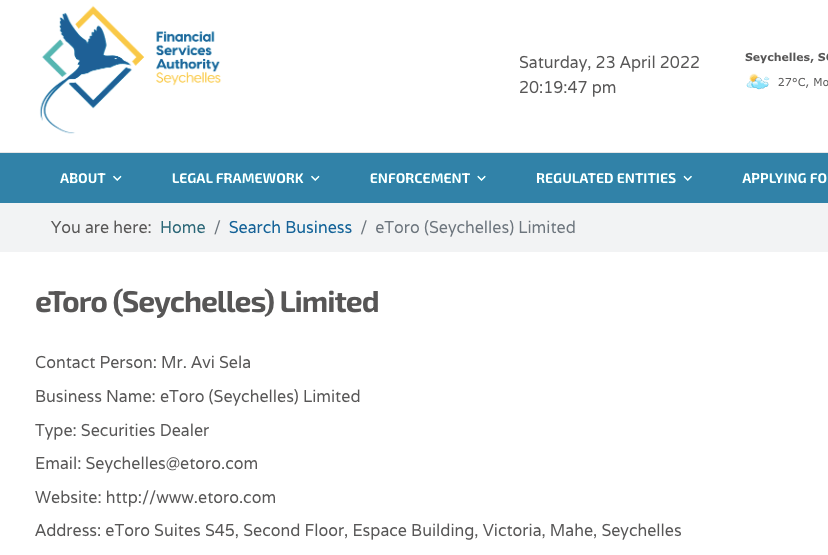 eToro Leverage
The leverage on eToro varies depending on whether you are a retail or professional trader, and the instrument you are trading.
The maximum leverage on eToro for retail clients is 1:30, which means that you can place a trade worth 30 times your deposit. For instance, if you deposit $1,000, you can stake a maximum of $30,000 in trade. This maximum leverage is lower for some instruments.
Professional clients have a maximum leverage of 1:400.
eToro Account Types
eToro offers two account types for retail and professional traders. Each type has features that are unique to it.
eToro also offers traders Islamic Account features and a demo account with $100,000 virtual money that beginners can use to become familiar with trading before they put real money into it.
Below, you will find the main features of each account type on eToro:
1) Standard Account: The eToro Standard Account is designed for retail traders who are new to CFDs trading or have intermediate experience. It is the default account you create on eToro when you first sign up, and it can be accessed on the eToro WebTrader and mobile app.
You can trade CFDs in stocks, forex, commodities, indices, cryptocurrencies, and ETFs with the eToro Standard Retail Account.
This account does not pay any commission fees for opening or closing trade positions, except when trading cryptocurrencies, in which case a 1% fee applies. Spreads start at 1 pip for major currency pairs like EURUSD and swap fees are charged for holding leveraged positions overnight.
The maximum leverage available to retail clients on the eToro platform is 1:30 for major currency pairs, 1:20 for non-major currency pairs, major indices, and gold, 1:10 for non-major indices and commodities except gold, 1:5 for CFD stocks, and 1:2 for cryptocurrencies.
2) Professional Account: The eToro Professional Account is for more experienced traders who trade larger volumes and can handle more risk.
Professional Accounts are available only to those who meet the requirements. You must meet the criteria and apply for an upgrade from a Retail Account, which is your default account upon signing up.
This account can also be accessed on the WebTrader and mobile application and you can trade CFDs on stocks, indices, commodities, cryptocurrencies, forex, and ETFs.
The main distinguishing factor of the Professional account from the Retail account is the increased leverage with which you can trade.
Professional accounts do not pay commission fees, except on crypto assets trade, and their spread for major currency pairs starts from 1 pip. They also pay swap fees for holding a position open overnight.
The maximum leverage for professional accounts on eToro is 1:400, and these accounts do not enjoy all the protections that retail accounts do.
You need to meet at least 2 of the following conditions before applying for a professional account:
You need to have at least 1 year's experience working in the financial services sector.
You need a financial portfolio of more than 500,000 EUR or its equivalent in AUD
You must have completed at least 10 significant trades each quarter during the last 12 months.
Note that you will be required to provide documents to prove the above criteria and you can also apply to downgrade your account from professional to retail at any time.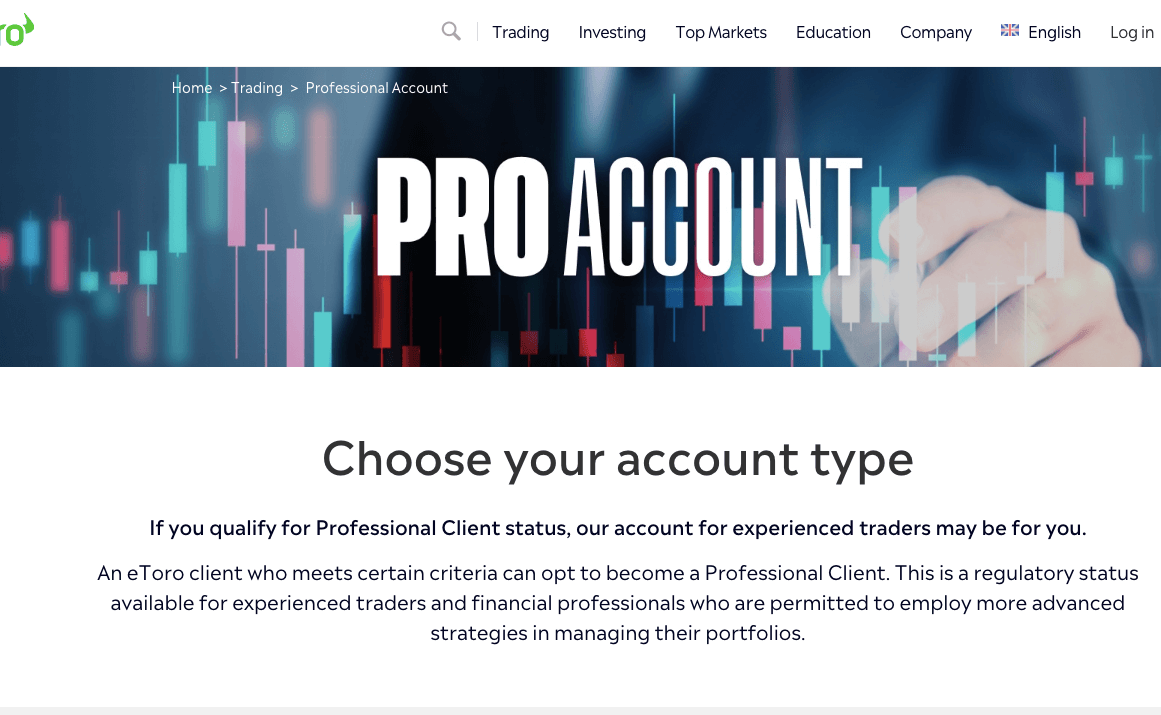 3) Islamic Account: eToro offers Islamic Account features to Muslim traders, which is in line with sharia law.
You can apply to convert your Retail or Professional account to an Islamic Account, you will still have the same features as regular Retail or Professional account, only with added Islamic features.
What distinguishes the eToro Islamic Account is that you can hold a position open for as long as you want and will not have to pay overnight swap fees. You will have interest-free leverage and spreads starting from 3 pips for major pairs like EURUSD.
To apply for an Islamic Account, open a Standard Account with eToro, verify your account, deposit a minimum of $1,000 and contact customer support to apply for an Islamic account.
Note that you will be required to submit additional verification documents before your Islamic account is approved.
eToro Base Account Currency
When you sign up for an eToro trading account in Malaysia, by default your account base currency will be USD. However, you can make deposits in MYR (Malaysian Ringgit) and the funds will be converted automatically to USD. Other currencies accepted for deposits are AUD, EUR and GBP.
eToro Overall Fees
Depending on your account type, the instruments you trade, and the volume of your trades, you may be charged different fees. See an overview of our trading and non-trading fees on eToro below.
Trading fees
1) Spreads: Trades on eToro carry a spread, which is the difference between the buy and sell price of an instrument, called pips. Spreads vary depending on the instrument pair being traded, as well as your account type.
eToro operates a variable spreads system, and typical spreads on eToro's Retail Account for major currency pairs can be seen in the table below:
| Instrument/Pair | Spreads |
| --- | --- |
| EUR/USD | 1 pip |
| GBP/USD | 2 pips |
| EUR/GBP | 1.5 pips |
| Gold | 45 pips |
2) Commission fees: eToro offers commission-free trading for all instruments, except a 1% fee on cryptocurrencies trade. This means you will not have to pay any commission fees for opening or closing trade positions for other instruments except cryptocurrencies, this is applicable to all account types.
3) Swap fees: Whenever you keep a trade position open for more than 24 hours you pay rollover swap fees which are added to your profit or loss on the trade.
This fee is based on your trading instrument, trade volume, spread, and whether the trade position is long (buy) or short (sell).
Islamic Accounts are swap-free, and thus not required to pay any swap fees.
Non-trading fees
1) Deposit and Withdrawal fees: Deposits on eToro are free of charge for all payment methods. All withdrawals on eToro attract a $5 flat fee. This applies to all account types.
2) Account Inactivity charges: If you do not log in to your account for 12 consecutive months, eToro will charge $10 monthly on the balance in your account as a dormant account fee.
3) Currency Conversion Fee: Due to eToro's platform being in US dollars, when you deposit a currency other than the USD, the funds are converted to US dollars and a conversion fee is charged. The fee is about 0.5% of the transaction value.
How to Open eToro Account in Malaysia?
To start trading on eToro, follow the steps below to open an account:
Step 1) Go to the eToro website homepage at www.etoro.com and click on 'Start Investing'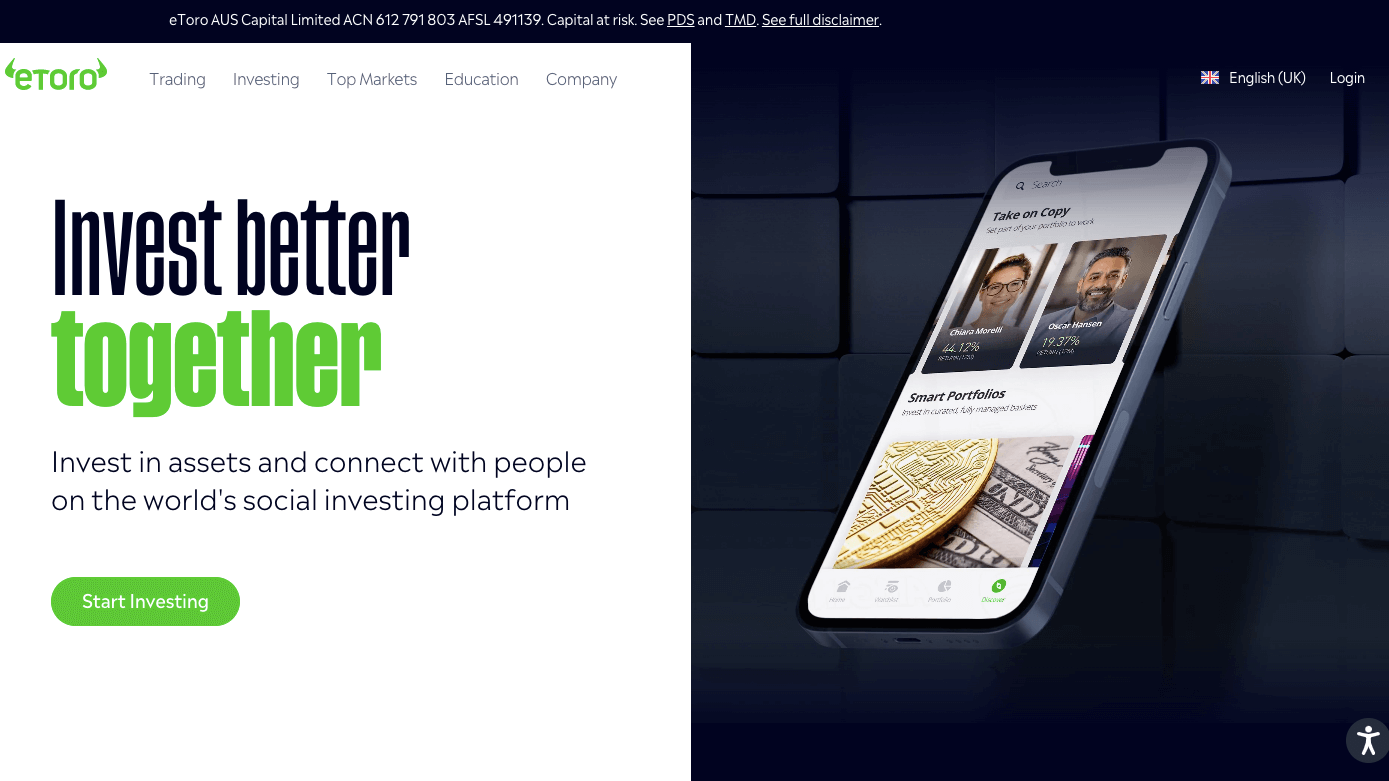 Step 2) Fill out the form by creating a username, typing in your email address, and creating a password for your account. Then check the Terms & Conditions and privacy policy boxes and click the 'Create Account' button.
You can choose to signup with your Facebook or Google account directly.
Step 3) Go to your email inbox and click the email verification link sent to you to continue the account opening process on eToro. You will be redirected to the eToro dashboard and required to verify your account.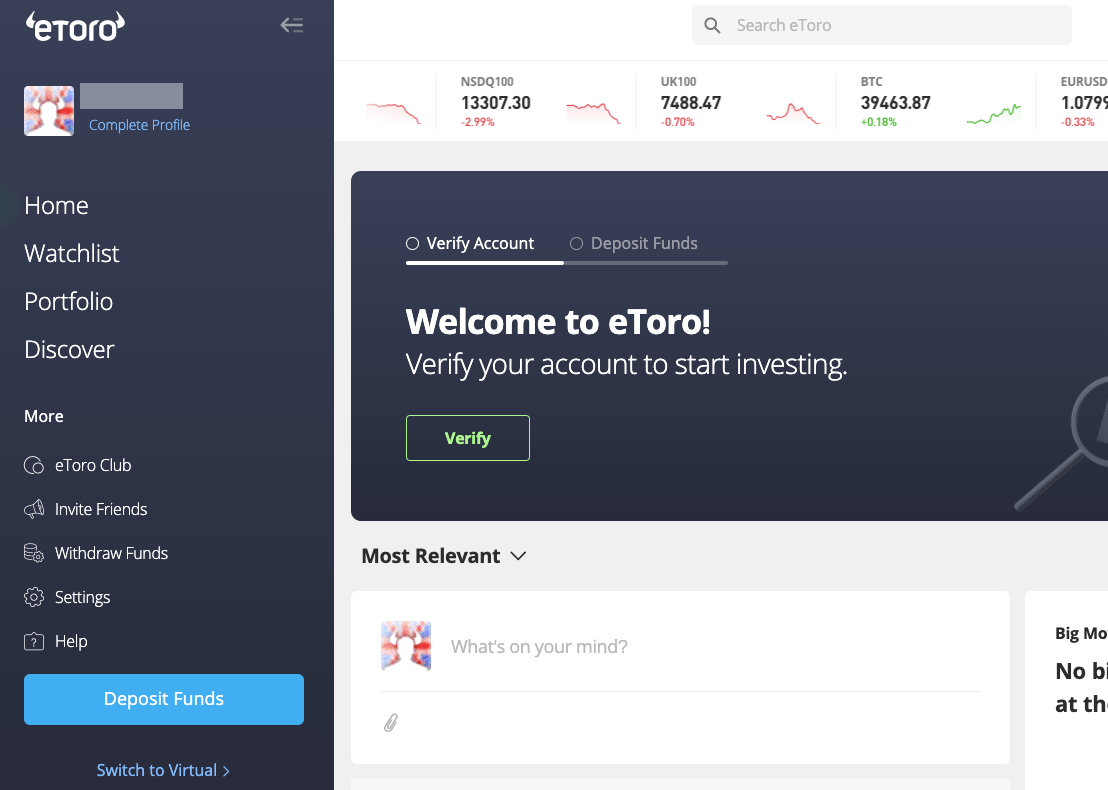 Step 4) Click on 'Verify', provide your full name and date of birth, address, and passport number and check the box to indicate you are not a US citizen, then click the blue arrow button.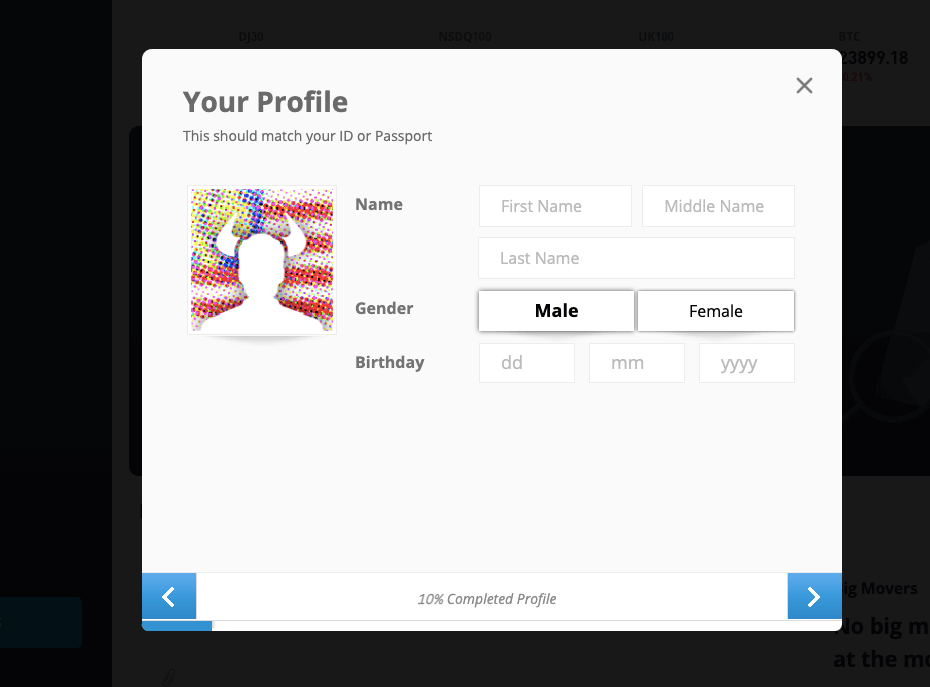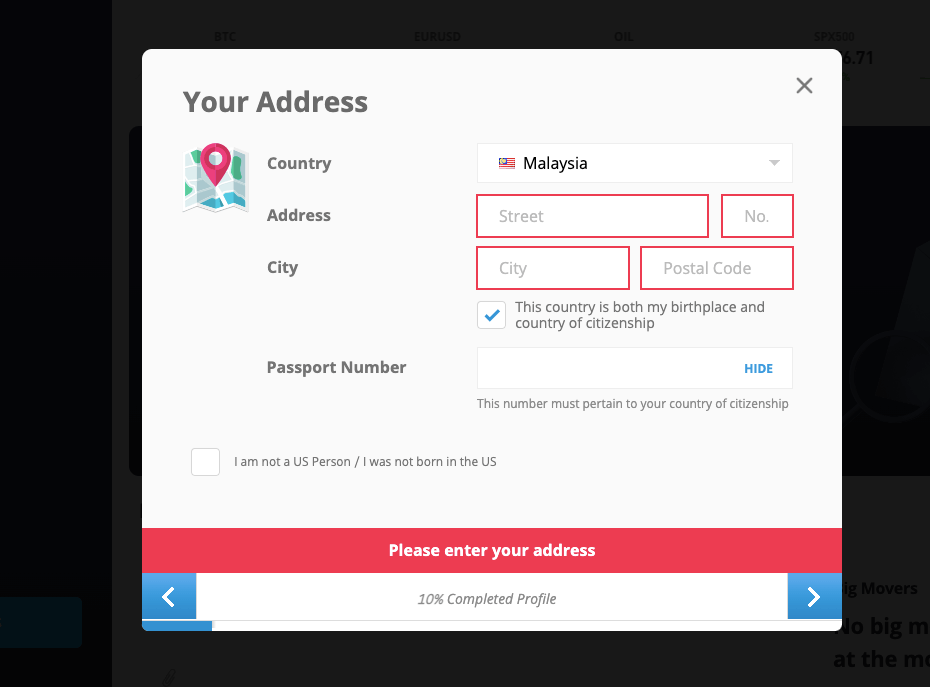 Step 5) Answer some questions about your experience/knowledge of leverage trading and financial status.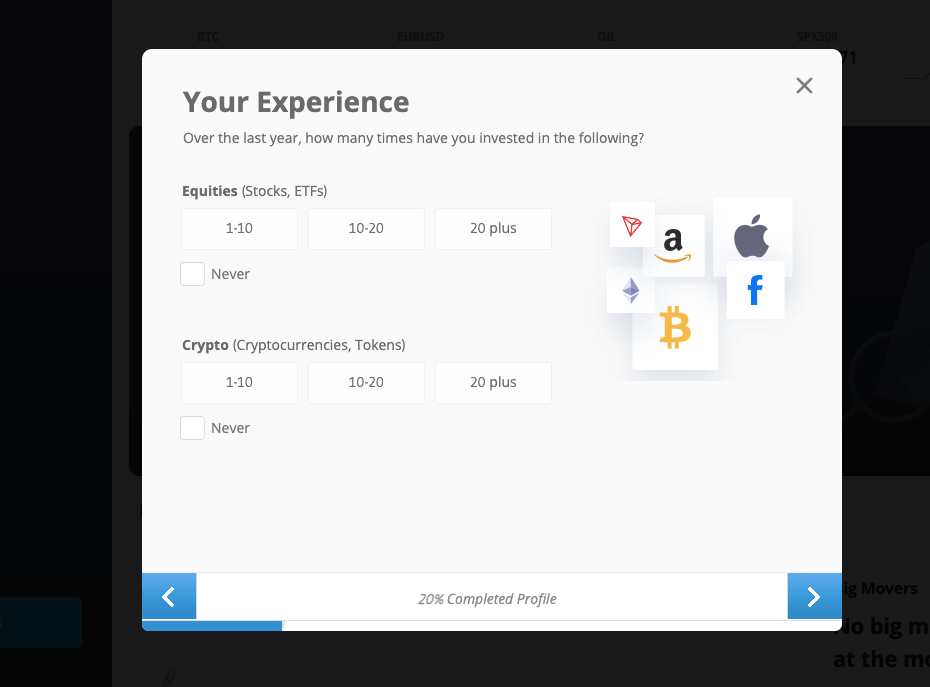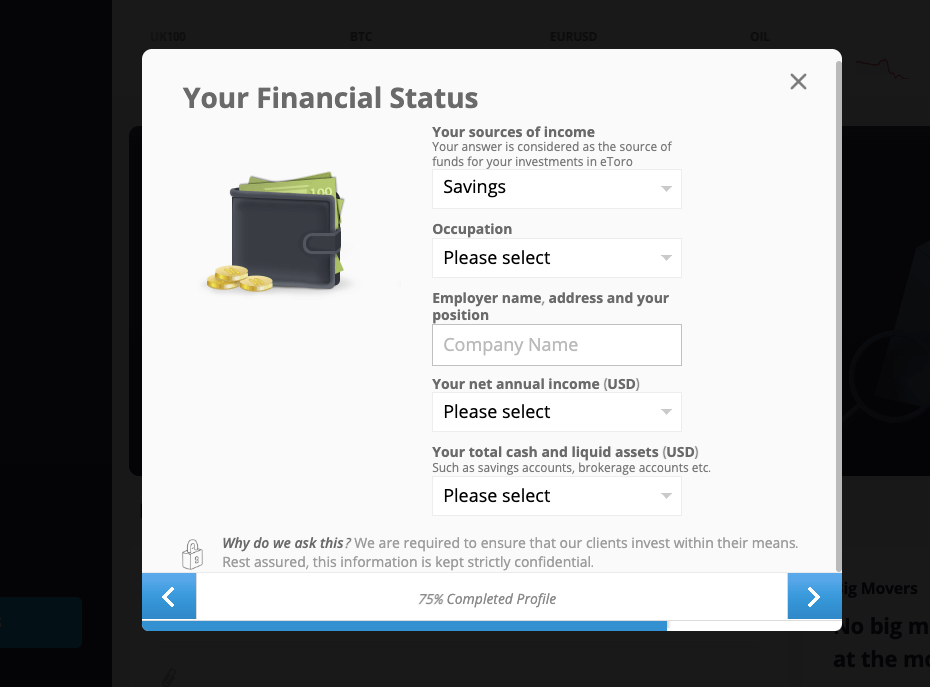 Step 6) Provide your MyKad number to verify your identity and your account will be verified.
eToro Deposits & Withdrawals
Payment methods supported for deposits and withdrawals on eToro are cards, e-wallets like Skrill & Neteller, and online bank transfers.
Find details about eToro deposits/withdrawals in Malaysia below:
What is eToro Minimum deposit?
The minimum deposit on eToro is $50 for first deposits via cards and e-wallets while bank transfers require a minimum deposit of $500.
Cards and e-wallets deposits are credited within a few minutes while bank transfers take 4-7 business days to be processed, you can send a screenshot of your transfer to customer support for them to process it faster.
eToro Money
eToro Money is an e-money management app. It allows you to deposit and withdraw instantly without commission or currency conversion fees. eToro money lets you manage the money in your investment account and in certain regions, you can use your eToro money account to send a receive money.
We also found out in this review that you can access crypto wallets on eToro money. With your own unique wallet, you cans send and receive popular cryptocurrencies.
eToro money is not available in all regions. You will have to check the list on eToro's website to confirm the availability in your region.
What is eToro Minimum withdrawal?
The minimum withdrawal on eToro is $30. Withdrawals via e-wallets are processed within 2 business days while it takes up to 10 business days to process funds withdrawals to cards and bank accounts.
How do I Deposit Funds?
To deposit funds to eToro Malaysia, follow these steps:
Step 1) Log in to your eToro Account via the eToro website homepage or go to etoro.com/login.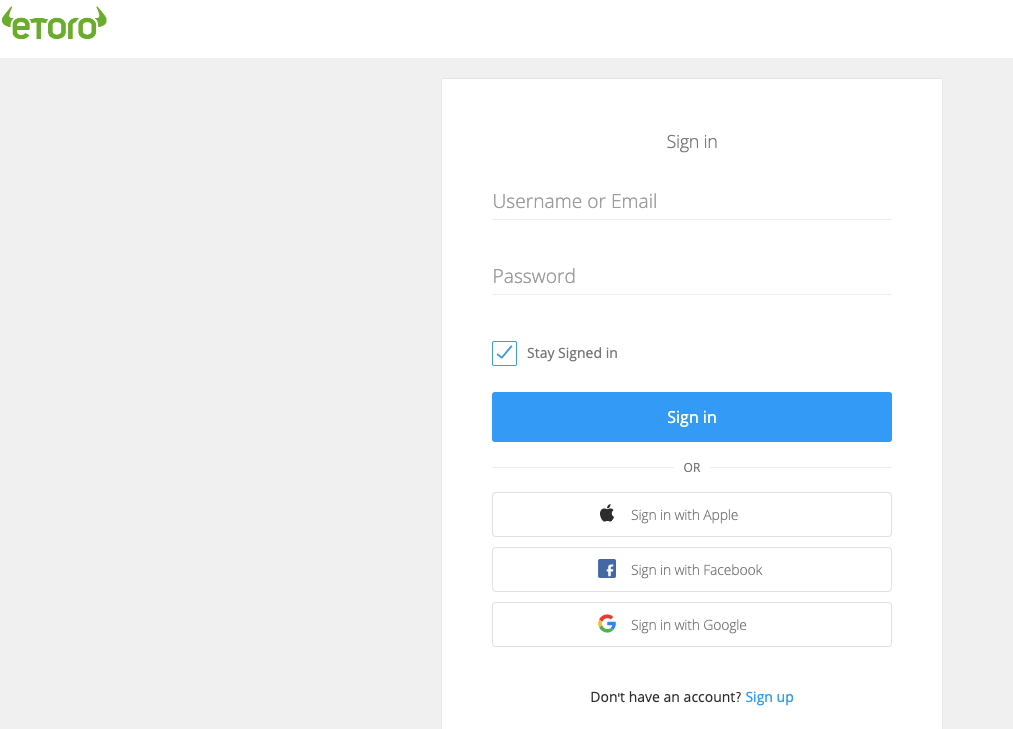 Step 2) On your eToro dashboard, click on 'Deposit Funds'.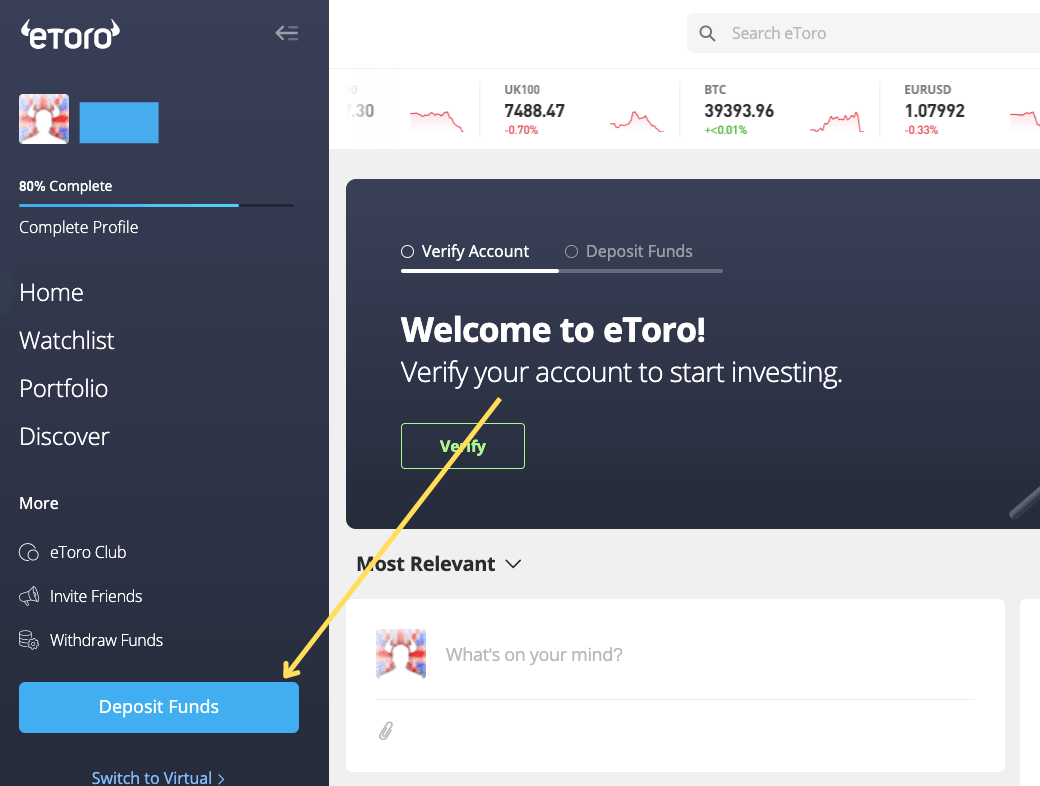 Step 3) Enter the amount you want to deposit, select a payment method and your deposit currency then click on 'Deposit' and follow the on-screen instructions to complete your deposit.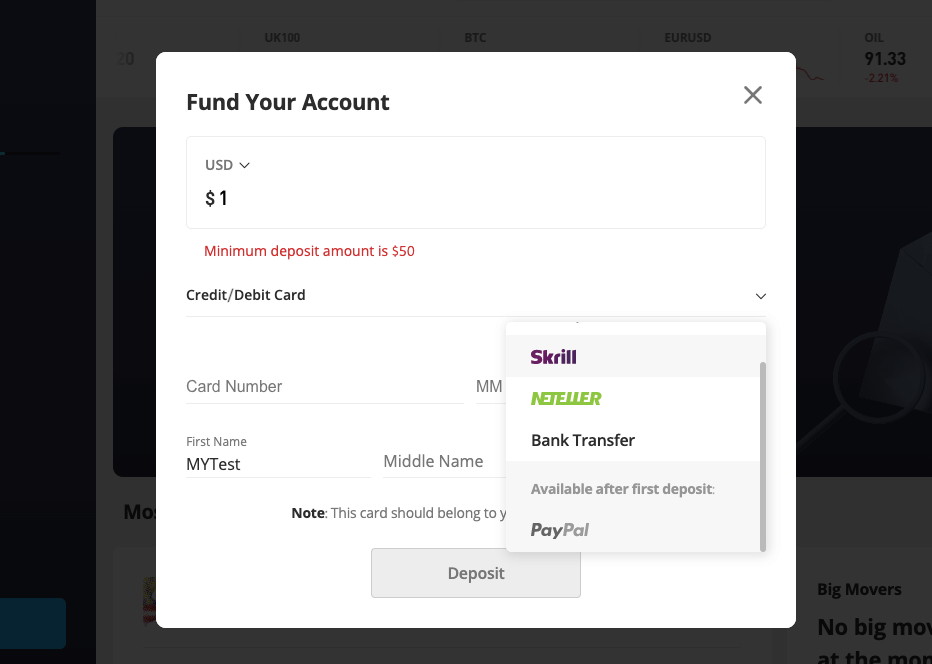 How to Withdraw Funds from eToro in Malaysia?
Follow the steps below to withdraw money from your eToro account.
Step 1) Log in to your account dashboard.
Step 2) Select 'Withdraw Funds' on the left side menu, enter the amount you want to withdraw, and click next.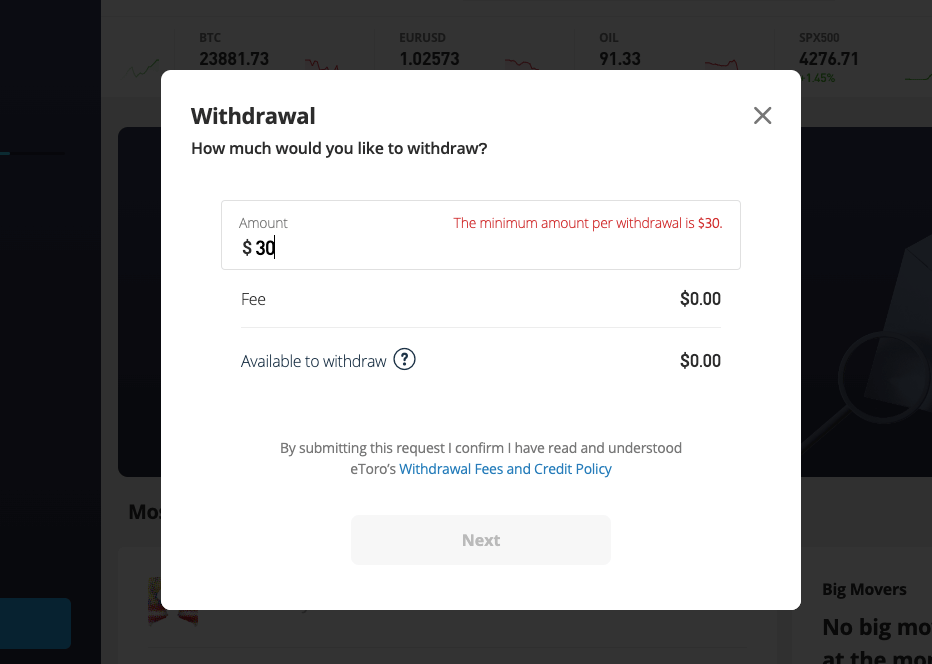 Step 3) Fill out the withdrawal form and click submit to complete the request. You will be notified by email once your withdrawal has been processed.
eToro Trading Instruments
The financial instruments you can trade on eToro are shown on the table below:
| Instrument | Availability | Number |
| --- | --- | --- |
| Forex | Yes | 49 currencies pairs on eToro (majors and minors) |
| Commodities | Yes | 32 spot commodities on eToro (NatGas, Copper, Oil and others) |
| ETFs | Yes | 264 ETFs on eToro (QQQJ, DBA, AMZA, and others) |
| Indices | Yes | 13 spot indices on eToro (AUS200, China50, US100, and others) |
| Stocks | Yes | 2,702 stocks on eToro (US and Hong Kong stocks) |
| Cryptocurrencies | Yes | 94 Cryptocurrencies on eToro (BTC, LTC, ETH, and others) |
eToro Trading Platforms
eToro platform for trading is the proprietary platform owned by the broker which is available on the web and mobile devices (Android and iOS).
eToro does not support the MetaTrader application for trading.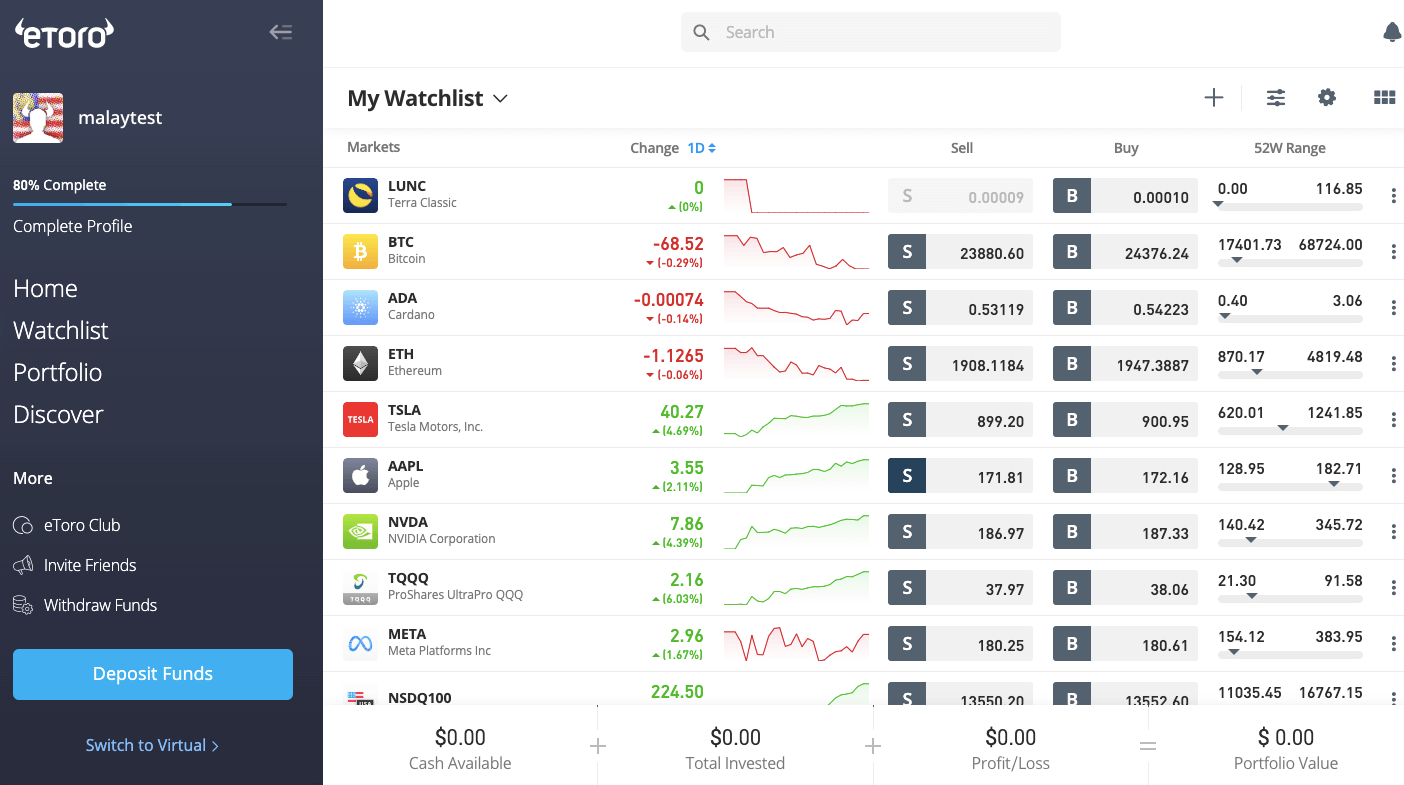 eToro's trading platform comes with data for fundamental analysis which is very useful for trading stock CFDs. You will be able to view a company's profile and other indicators that point to the future direction of the company's shares. Some of these indicators are price to earnings (P/E), earnings per share (EPS), dividend yield, etc. Fundamental data is not available for other asset classes on eToro.
eToro CopyTrader
eToro allows users to copy the trades of more experienced traders as well as professional investors in their social trading network.
Traders' successes and failures ratios are displayed publicly, and you can see their risk scores and popularity so you can decide which ones to copy or avoid. Popular Investors earn commissions on trades made by the traders that copied them.
To become a Popular Investor on the eToro, you must have at least one person copying your trade for at least two months, with a maximum daily risk score of 6 for six months and an investment of $1,000 or more. Then you can apply to become a Popular Investor.
To start copy-trading on eToro, you need to open an account with a minimum investment of $200. The minimum trade amount you can open is $1, with a maximum copy traded value of $2 million.
To begin copying eToro professionals, choose 'Discover' on the left-hand side of your dashboard, and scroll down to 'CopyTrader.' Select the professional trader from whom you want to copy trades. Input the amount you wish to allocate, and click Copy.
Once you have done that, the system will automatically duplicate their trades in real-time and in proportion to the amount you have set.
Beyond copy trading, eToro's CopyTrader is also a community. When you sign up for CopyTrader, you are also joining a collaborative community of top traders and investors. The platform allows you to connect, share with, and learn from them. You can access these traders' portfolios, chat with them, see their statistics, and risk scores.
Being able to see risk scores is very crucial. Risk scores are like grades. They show how well a trader practices money management in his trading. A trader with low-risk scores is not deemed safe for you.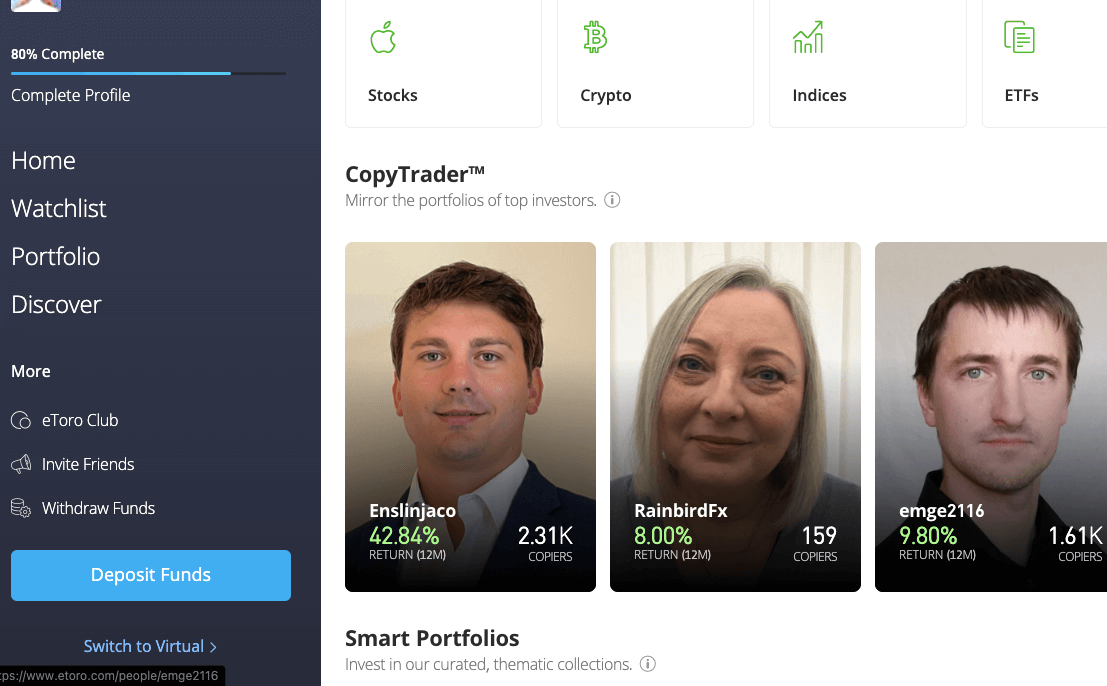 eToro Club
The eToro club is a membership system by eToro that offers specialized services to members based on the equity traded.
Membership of eToro's Club is determined based on your equity, with silver, gold, platinum, platinum+ and diamond membership plans.
The minimum equity value required for you to become a member is $5,000 for the silver membership and $250,000 for the diamond membership plan. The membership is activated once you reach the $5,000 mark, you do not have to apply.
benefits of the eToro club include access to live chat, live webinars, an invitation to exclusive events, weekly market analysis, and zero withdrawal fees among others.
Note that your membership plan will be downgraded if your equity falls below the required amount. You will have a grace period of 3 months before the downgrade.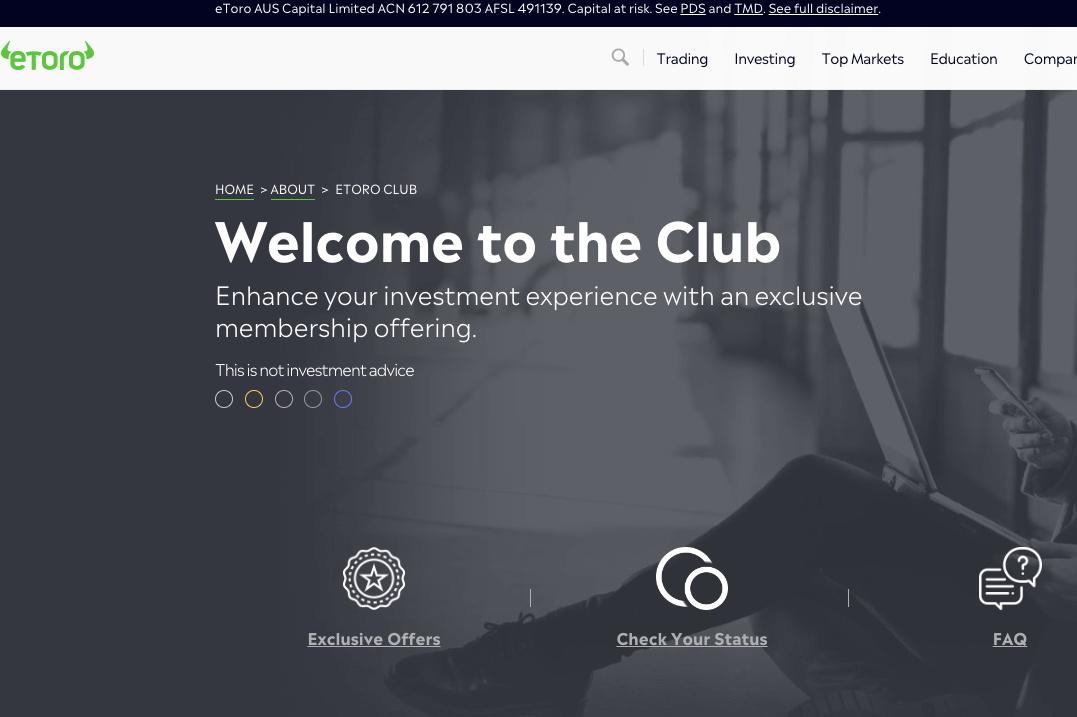 eToro Execution Policy
According to our review of eToro's best execution document, we consider eToro an STP broker. What does the document say? The first is that eToro generates their CFD quotes from third-party reference sources. These reference sources include independent financial market data providers.
This is evidence that eToro does not have a dealing desk. In addition, your orders are executed instantly. If they are not, it could be because of unique market conditions. An example of this is rapid price fluctuation due to macroeconomic events.
This eToro's system of execution. You are guaranteed to get the best price quotes possible. However, the system does not deal with slippage. Your prices could be executed at a different price level compared to your chosen price.
eToro Education and Research
As a top copy trading and investment platform, eToro has quality education provisions for traders. Let us look at them one after the other.
1. eToro Academy: The Academy is a combination of guides, podcasts, videos, and webinars. They cover courses like investing, trading, cryptocurrencies, eToro basics, and how to start trading. Investing in stocks is also covered. The videos are structured based on traders' experience level. The content for beginners is different from content for more advanced traders.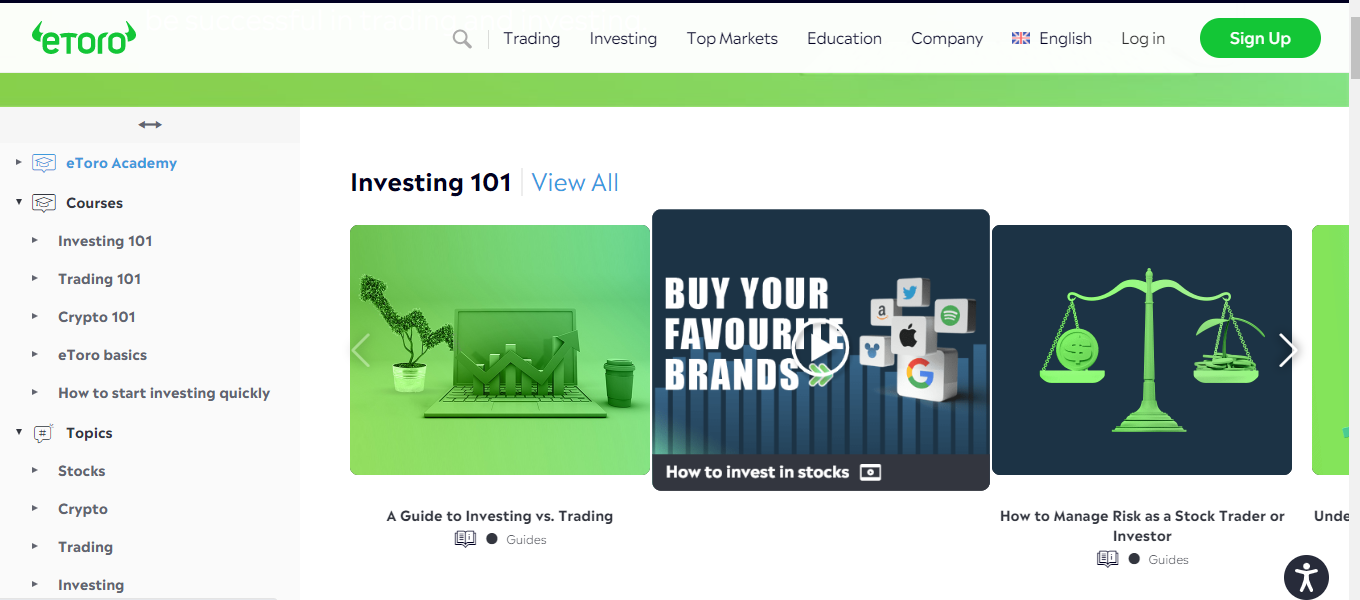 2. eToro Plus: eToro Plus is strictly written content. It contains in-depth analyses from experts that are released daily, weekly, and quarterly. The content is broken down into analyst daily, retail investor beat, and macro insights. The combination of these three provides enough knowledge about what might move the markets. They also aid investment decisions.
3. The Bull Club: The Bull Club is simply a conversation with leaders. Here, top leaders in different industries like the metaverse, tech, real estate, and hedge funds share their thoughts and insights. The videos are in interview format and range from 15 minutes to 1 hour and some minutes.
4. News and Analysis: At first glance, what you will find in this section are featured articles. However, it is well structured covering topics like CopyTrader, crypto, eToro Money, eToro Updates, eToroX Exchange, investing, market insights, passion for investing, stocks, and trading.
You can also click on different tags to find articles around a particular topic. The more recent news and analysis are displayed with the featured articles.
5. eToro Digest and Invest: Digest and Invest is a compilation of video podcasts. They are not grouped or organized. It is all about the discussion of random topics, economic events, and how they affect the market. The videos are clear and you can watch them at your own pace. They are at least 30 minutes long and only experts are hosted on them.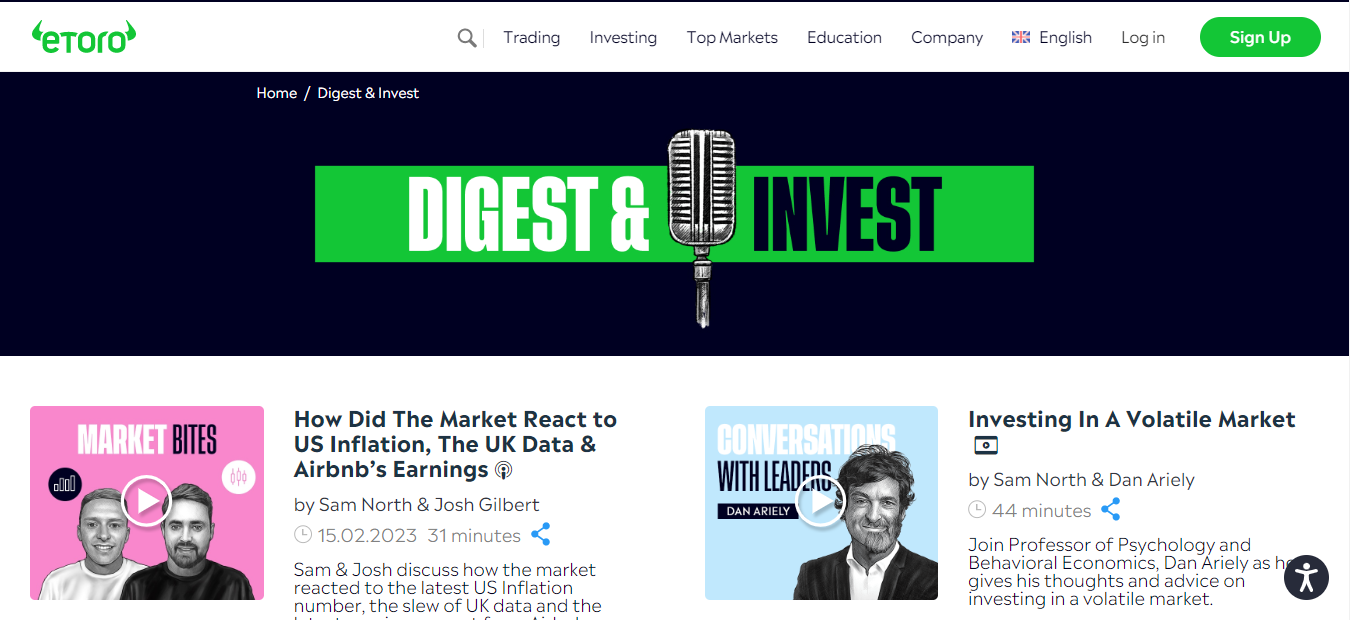 eToro Malaysia Customer Service
Customer support for eToro clients is offered via the following channels:
1) Live chat support:The eToro live chat support is available from 19:00 on Sunday to 20:30 on Friday GMT. This customer support option is only available to registered users.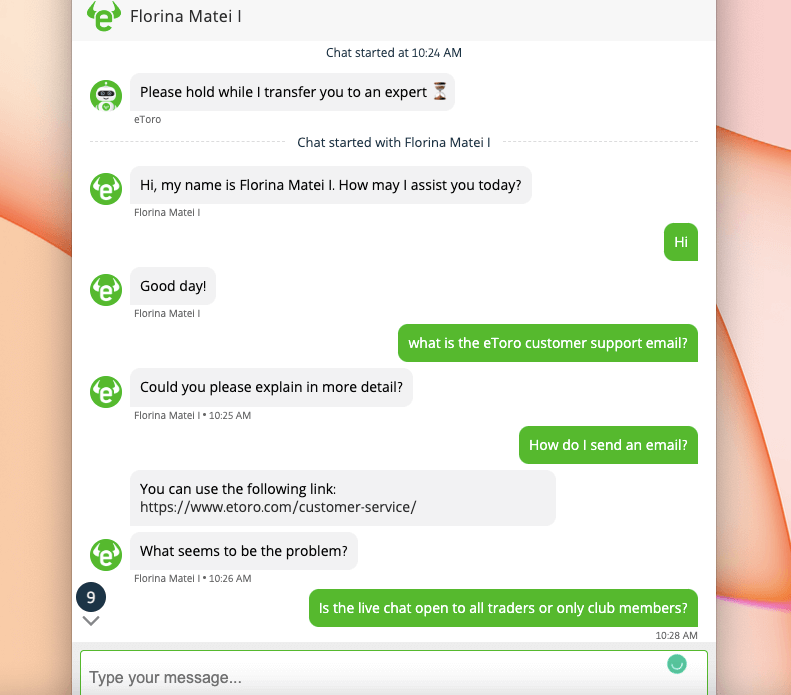 2) Email/Ticket support: eToro offers email support to all customers via the customer service page of their website. You can open a ticket by filling out the inquiry form or send a direct message to the eToro email address at [email protected].
The eToro email support is available on business days only.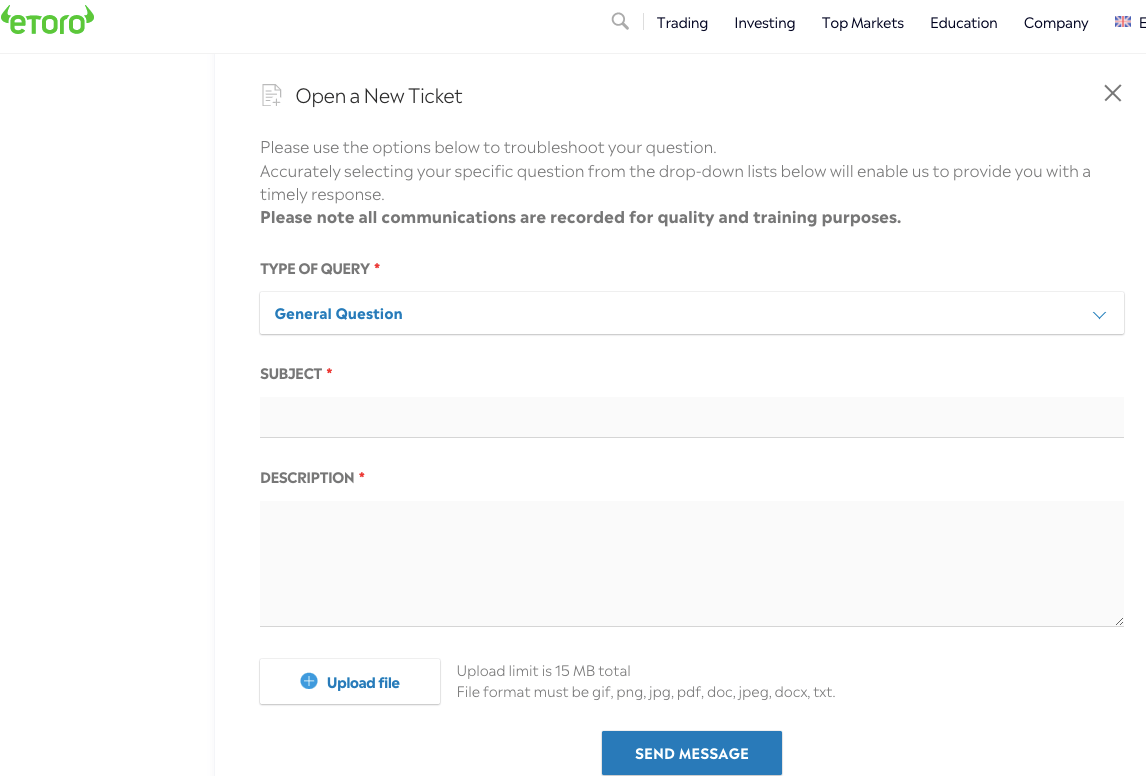 3) Help Centre: eToro has a Help Center section on their website which features answers to frequently asked questions and provides information with articles on the features of the trading platform and trading conditions.
4) eToro Phone support: eToro does not offer any phone call support to clients in Malaysia.
Do we Recommend eToro Malaysia?
We recommend you try eToro because they are regulated by Tier-1 and Tier-2 financial regulators. However, there are other regulated brokers with better trading conditions and accept traders from Malaysia.
The copy-trading feature on eToro appeals to many of the platform's users, as does their ability to trade cryptocurrencies. They also have a user-friendly interface. They also offer Professional accounts for those who want higher leverage or Islamic accounts for those who do not want to pay swap fees.
The fees on eToro are fair, as they offer commission-free trading with competitive spreads. The broker charges inactive account fees and withdrawal fees while offering free deposits.
eToro's customer support is quite limited, as they are not available 24/7, and the live chat option is restricted to eToro registered members only.
eToro Malaysia FAQs
Is eToro Trustworthy?
eToro is considered trustworthy because they are regulated by the Australian Securities & Investment Commission (ASIC), the Financial Conduct Authority in the UK, another Tier 1 regulator, as well as Cyprus Securities & Exchange Commission (CySEC). This means that the broker is in compliance with global standards to protect the funds of traders.
Is eToro safe for Beginners?
eToro is a good option for beginners because they offer a demo account which you can use to get accustomed to trading and an educational resource where you can grow your knowledge.
They have negative balance protection so you cannot lose more than the money you have deposited. Although the minimum deposit of $50 is relatively high, they offer commission-free trading, and there are no account inactivity fees until after 12 months.
What is the downside to eToro?
The downside to trading with eToro would be the high non-trading fees such as $5 for every withdrawal, $10 monthly inactive account fees, and the currency conversion fees for non-USD deposits.
The limited customer support options, which are also slow are another downside to eToro.
Visit
Note: Your capital is at risk
Note: We may earn a commission if you decide to sign up with the broker via the referral links in this review. This help us cover the expenses of running this website, but this does not affect our honest & transparent review process. Thanks for your support.