City Index is a UK-based forex broker. They are licensed with multiple tier-1 regulatory bodies and offer a good range of CFDs. Their CFD markets include indexes, shares, forex, oil, commodities, metals, and bonds. Apart from trading CFDs, City Index also offers spread betting on these instruments.
In Australia, City Index is regulated with the Australian Securities and Investments Commission (ASIC). On a global level, ASIC is a top-tier regulatory body. This is why we consider City Index as low-risk to trade with.
Traders in Australia can open a standard account or MT4 account. You can fund your account via bank transfer, PayPal, credit/debit card, and other available channels. You can also deposit in Australian Dollars (AUD). City Index is not just a CFD broker with an online presence. They have a physical office in Australia too.
City Index Summary
Broker Name
City Index
Establishment Date
1983
Website
www.cityindex.com/en-au
Address
StoneX Financial Pty Ltd, Suite 28.01, 264 George Street, Sydney, NSW 2000.
Minimum Deposit
AUD 150
Maximum Leverage
30:1 (retail traders), 300:1 (professional traders)
Regulation
ASIC,FCA, CySEC, and MAS
Trading Platforms
MT4, Webtrader, City Index Mobile App
Visit City Index
City Index Pros
City Index is licensed with ASIC
Stop loss is guaranteed for a premium price
You can deposit and withdraw your funds via bank transfer
AUD-base currency account is available
City Index do not charge extra commission for forex pairs.
Good customer support with little holding time
City Index supports MT4 and offers a proprietary trading platform.
Your account is protected against negative balance.
City Index Cons
City index charges account inactivity fee.
The forex broker does not offer MT5.
Limited CFD range on MT4.
Regulation and Safety of Funds
As we said earlier, City Index is a low-risk broker because of their top-tier regulation in Australia. A forex broker with multiple tier-1 regulations has considerably lower risk. With their ASIC regulation, City Index is also licensed with the Financial Conduct Authority (FCA). The FCA is another top-tier regulator for financial services providers. Here is a closer review of City Index's regulations and licenses.
1) ASIC: City Index is licensed with ASIC as Sotnex Financial Pty.Ltd. All financial services providers in Australia are issued an Australian Financial Services License (AFSL) Number. City Index's AFSL number as seen on ASIC's website is 345646.

2) FCA: The Financial Conduct Authority (FCA) is the United Kingdom's financial services regulator.City Index is licensed with the FCA as Stonex Financial Limited. Their FCA reference number is 446717

3)CySEC: CySEC is Cyprus Securities and Exchange Commission. City Index is regulated with CySEC as StoneX Europe Ltd. The company registration number is 409708 with license number 400/21.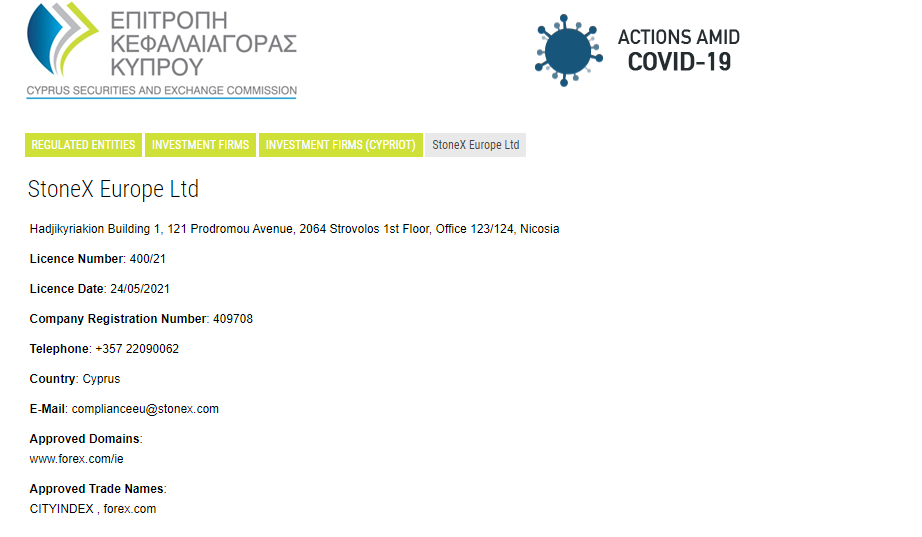 4)MAS: MAS means the Monetary Authority of Singapore. City Index is incorporated in Singapore as StoneX Financial Pte. Ltd.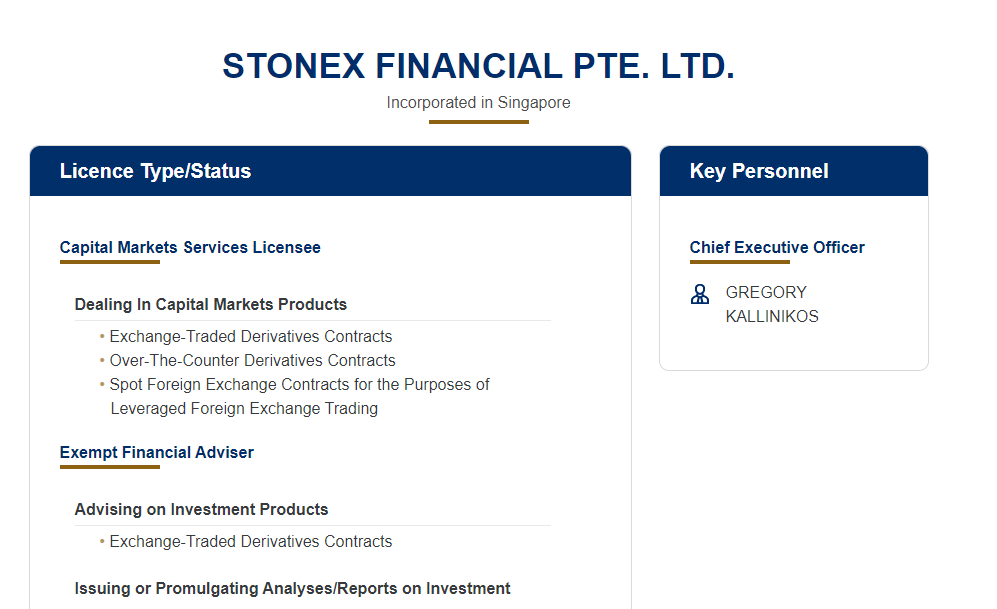 If have any dispute that you couldn't settle with City Index, you can take the matter to the Australian Financial Complaints Authority (AFCA). This is possible under the external dispute resolution scheme for ASIC regulated CFD brokers.
City Index Leverage
Maximum leverage for fx pairs is 30:1 for retail traders. Professional traders can leverage up to 300:1 for fx pairs. The table below shows City Index's range of instruments and their respective leverage.
| Instruments | Professional Leverage | Retail Leverage |
| --- | --- | --- |
| Indices | 300:1 | 20:1 |
| Gold | 300:1 | 20:1 |
| Shares | 30:1 | 5:1 |
| All other commodities | 150:1 | 10:1 |
| Cryptocurrencies | 15:1 | 2:1 |
Note: Be careful not to overleverage. It can result in damaging losses.
City Index Account Types
City Index offers three account types in Australia – Standard Account and MT4 Account
Here is a breakdown of the two accounts:
1)Standard Account: The Standard Account has variable spreads (as low as 0.5 pips). Traders are able to access over 6300 markets on City Index's proprietary trading platform. The platform has advanced analysis tools and TradingView charting. No extra commissions are charged on this account except for shares CFDs.
2) MT4 Account: Metatrader 4 is the only trading platform available for this account. It has variable spreads (as low as 0.8 pips). You can use expert advisors (EA) and no extra commission is charged on all CFDs.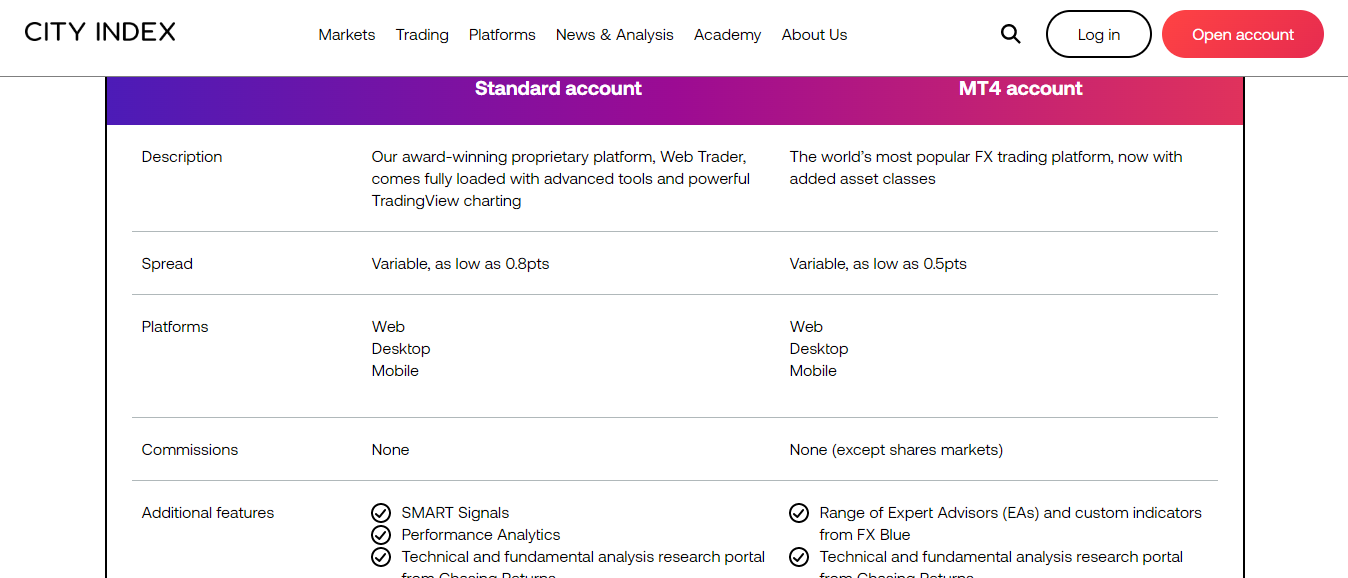 3) Corporate Account: This account is for companies. With a corporate account, you will be able to trade in your company's name using your company's funds. This account also allows you to have multiple users. This means you can have more than one person trading the account.
4) Professional Account: This is for traders with experience and who trade in large volumes. This account does not have some pecks that come with retail accounts. For example, there is no negative balance protection. This means traders on this account can go into debt should they lose all of their money.
Therefore, there are certain criteria that must be met before you can open this account. They are
– You must have placed a minimum of 40 large-volume trades within the last year
– A financial instrument portfolio of €500,000 or equivalent
– A year minimum of professional experience in the financial sector.
If you meet these conditions, you are eligible for a Professional Account with City Index
City Index Fees
Australia-based traders can find City Index's spread, commissions, and other non-trading charges on their website. Here is a simplified view of their charges:
1) Spread: City Index offers variable spreads across their two accounts. They are as low as 0.5 pips on the Standard Account. On the MT4 account, they are as low as 0.8 pips.
| Major Currency Pairs | Spread |
| --- | --- |
| GBP/USD | 0.9 pips |
| EUR/USD | 0.5 pips |
| AUD/USD | 0.5 pips |
| USD/CHF | 1.5 pips |
| USD/JPY | 0.5 pips |
| USD/CAD | 1.9 pips |
| NZD/USD | 2.2 pips |
2) Swaps: The swap depends on the currency pair you are trading. It is high for some while it is low for others. The table below displays City Index's swaps for major currency pairs
| Major Currency Pairs | Long | Short |
| --- | --- | --- |
| GBP/USD | -0.84 | -2.58 |
| EUR/USD | -3.75 | -0.32 |
| AUD/USD | -2.20 | -1.27 |
| USD/CHF | -0.24 | -4.00 |
| USD/JPY | -0.06 | -0.50 |
| USD/CAD | -0.29 | -0.26 |
| NZD/USD | -1.60 | -1.94 |
3) Commissions: City Index does not charge any commission when you trade CFDs on their accounts. A commission is charged on shares CFDs on the Standard Account alone.
4) Non-Trading Fees: Non-trading fees refer to funding fees, withdrawal fees, and inactivity charges. City Index charges low non-trading fees. See details below:
| | | | | |
| --- | --- | --- | --- | --- |
| Deposit fees | Withdrawal fees | Inactivity charges | GSLO Fees | Currency Conversion Fees |
| Yes (for some payment methods) | No | Yes | Yes | Yes |
How to Open a Trading Account with City Index
Here is how to sign up with City Index in basic steps:
Step 1) Go to City Index's website at www.cityindex.com/en-au.
Step 2) Click on the 'Open Account' button, highlighted in the red box, at the top right side of the page.

Step 3) On the next page, you will be asked to fill in your personal details, email, country of residence, etc. More importantly, you will have to choose your account type and set a login password. When you have filled in your details, click on 'save and next'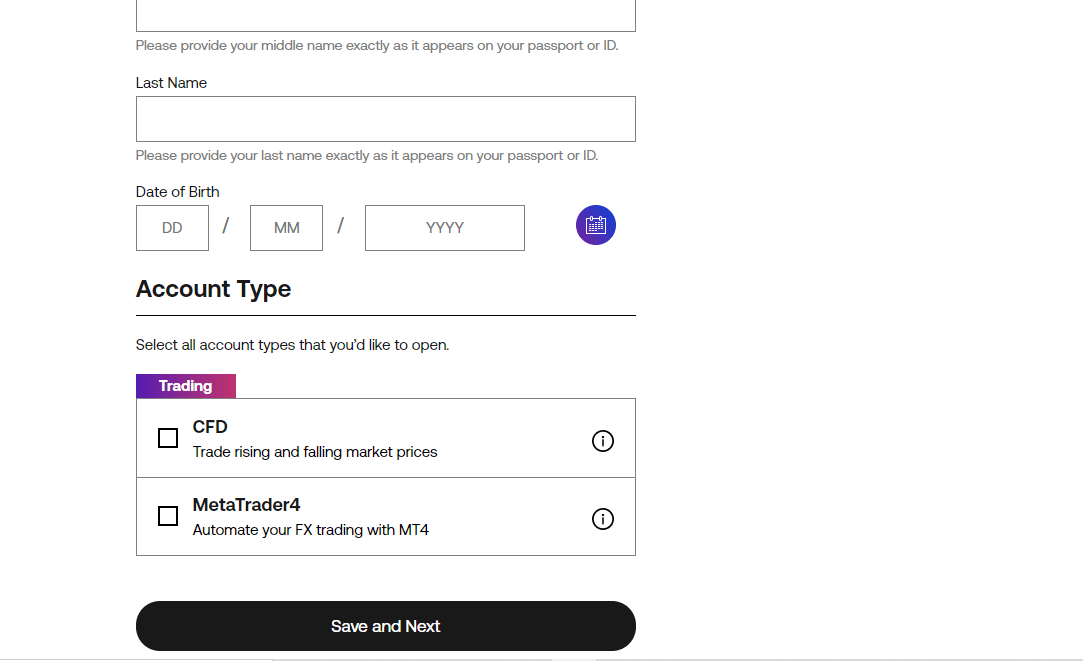 Step 4) On the next page, you will be entering your address, the region, you were born, and more personal details. A picture of this page is displayed below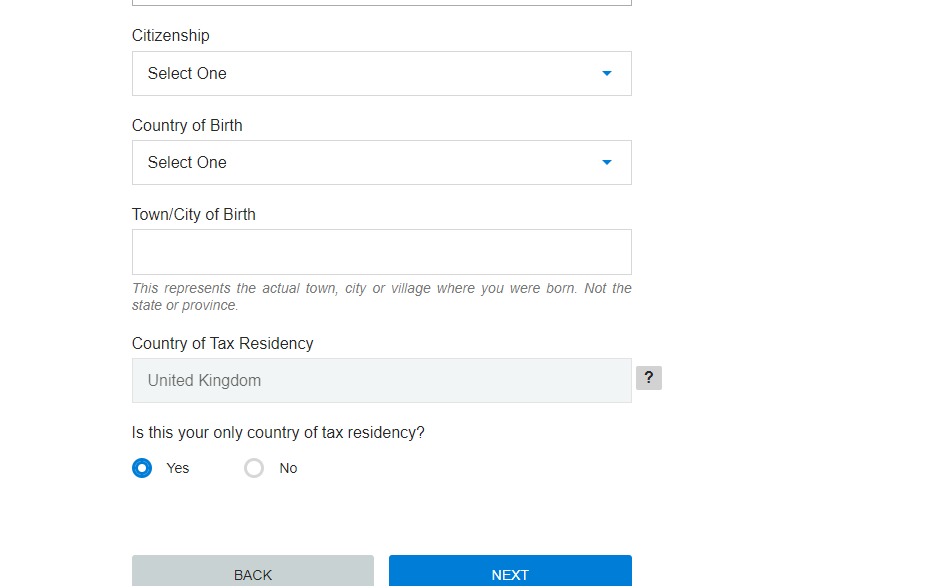 Step 5) At this point, City Index will be going deeper into what they want to know. Your employment details, your trading experience, and your annual income are key details required at this point.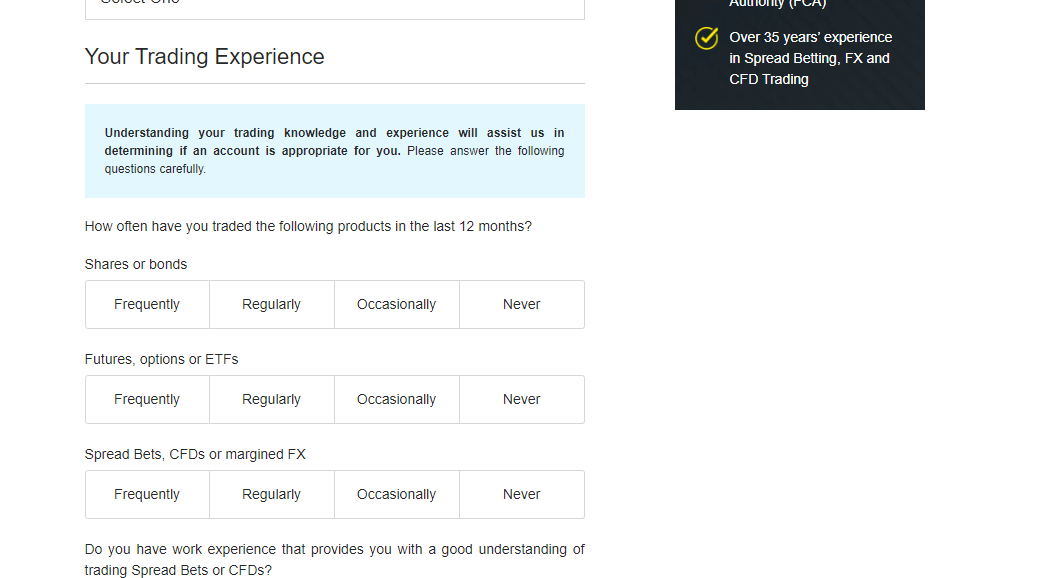 Step 6) For the next step, you will basically be asked questions about your understanding of the risks attached to trading CFDs and Spread Betting. You will also choose your means of communication (email, SMS, phone call, or mail). Finally, you agree to the terms and conditions and click on 'submit application'. It will take about 30 seconds for your application to be approved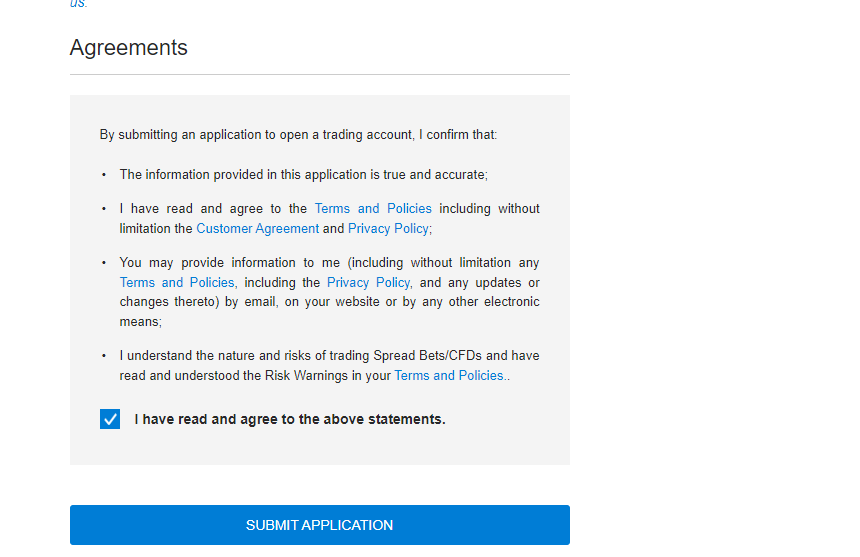 Step 7) The final step is the KYC. You will submit documents to verify your nationality, identity, and address. Once your account is verified after you submit the documents, you can begin your trading with City Index
City Index Deposits & Withdrawals
Traders in Australia can deposit funds into their trading accounts via multiple means. City Index supports credit/debit cards, EFT, BPAY, PayID, or PayPal. You can withdraw your funds via credit/debit cards and bank wire transfer.
What is City Index's Minimum Deposit?
You need a minimum deposit of AUD 150 to open a Standard or MT4 Account with City Index. City Index also recommends you have more than enough money in your account to cover drawdowns and margin costs. This is why their recommended minimum deposit is AUD 2000.
What is City Index's Minimum Withdrawal?
The general minimum withdrawal is AUD 150 or your current account balance. There are also minimum withdrawals that depend on how you choose to get your money out. If you are withdrawing online without credit cards, the minimum withdrawal is AUD50,000 in a single transaction. This means you can carry out multiple transactions but you cannot exceed the AUD50,000 limit per transaction. There is no withdrawal limit for bank transfers.
How do I Deposit/Withdraw Funds?
Deposit/withdrawal is easy and convenient. Simply click on the 'funding' section of the trading platform and click on 'Deposit' or 'Withdraw'. You will be able to choose your preferred deposit/withdrawal method from there.
Trading Instruments at City Index
City Index offers over 6300+ CFD trading instruments.Here is how they are classified:
| Instrument | Availability | Number |
| --- | --- | --- |
| Forex | Yes | 95 |
| Indices | Yes | 17 |
| Commodities | Yes | 19 |
| Shares | Yes | 6000+ |
| Cryptocurrencies | Yes | 8 |
City Index Trading Platforms
MetaTrader 4: City Index supports MetaTrader 4. It is one of their third-party trading platforms. They even have an account dedicated to MT4 only. City Index MT4 is available as web trader, on desktop, and mobile phones (Android and iOS)
TradingView: TradingView is City Index's second third-party platform. TradingView allows you to integrate your trading account with their platform. In addition, it comes with some of the best drawing tools in the industry.
City Index Platform: If you prefer City Index's proprietary platform, you can use their mobile trading app or web trader. The web trader has 14 timeframes with advanced drawing tools. SMART signals and performance analytics make up a kit of the platform's intelligent trading tools.
City Index mobile app is available on iOS and Android phones.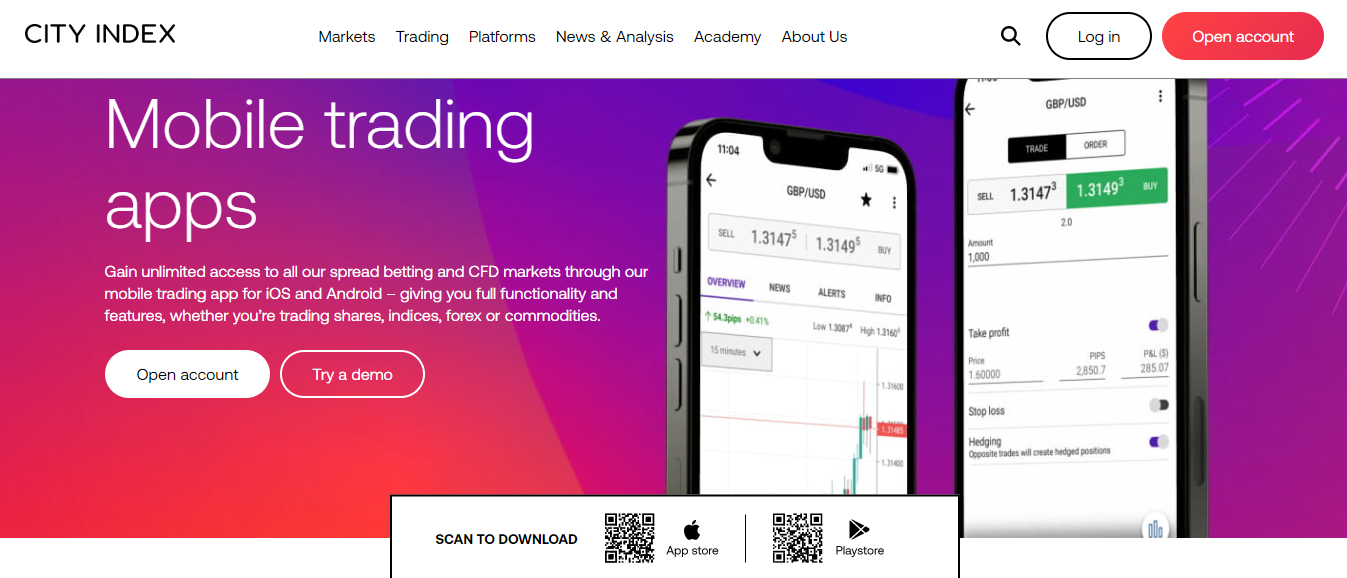 City Index Execution Policy
City Index Australia is a hybrid broker. Their pricing and execution are a combination of ECN and market maker. They source their pricing from and liquidity from exchanges, liquidity providers and ECNs regularly. This is to ensure that you get the best prices. However, they do not offer variable spreads on all of their markets. Some of their CFDs have fixed spreads which is typical of a market maker. Also, they do not stream these prices directly to traders. They adjust it according to their own spreads.
City Index assumes that retail clients rely on them to get the best execution. The forex broker has a system to ensure this. However, it is possible that you do not get the best execution. According to City Index's documents, it is possible that your orders are executed by a trading desk.
This trading desk is an in-house desk that carries out proprietary trading and pre-hedging against City Index's capital. It is a pointer that City Index also has a market maker model. Under this condition, best prices are not guaranteed.
Another provision made for improved pricing execution is what City Index calls aggregation of client orders. Under this provision, your orders can be aggregated with other clients' transactions in City Index's account. This is done only if there won't be a disadvantage to you and the other clients.
City Index Education and Research
On City Index's homepage, you can find the different ways to learn under 'Academy'. Here are the channels of learning with City Index.
1. Demo Account: City Index offers a demo account for retail traders. The only issue is the account expires in 30 days. Traders can re-apply for another demo account. However, the account will be as good as new. All settings will go back to default and you might not be able to track how well you are doing in the long term.
2. Courses: City Index's courses are divided into basic, intermediate, and advanced levels. Each level has different courses and each course contains at least 3-4 lessons. The lessons are in text form and can take up to 5 minutes to read. There is also a progress bar that helps you track how far you have gone with the courses.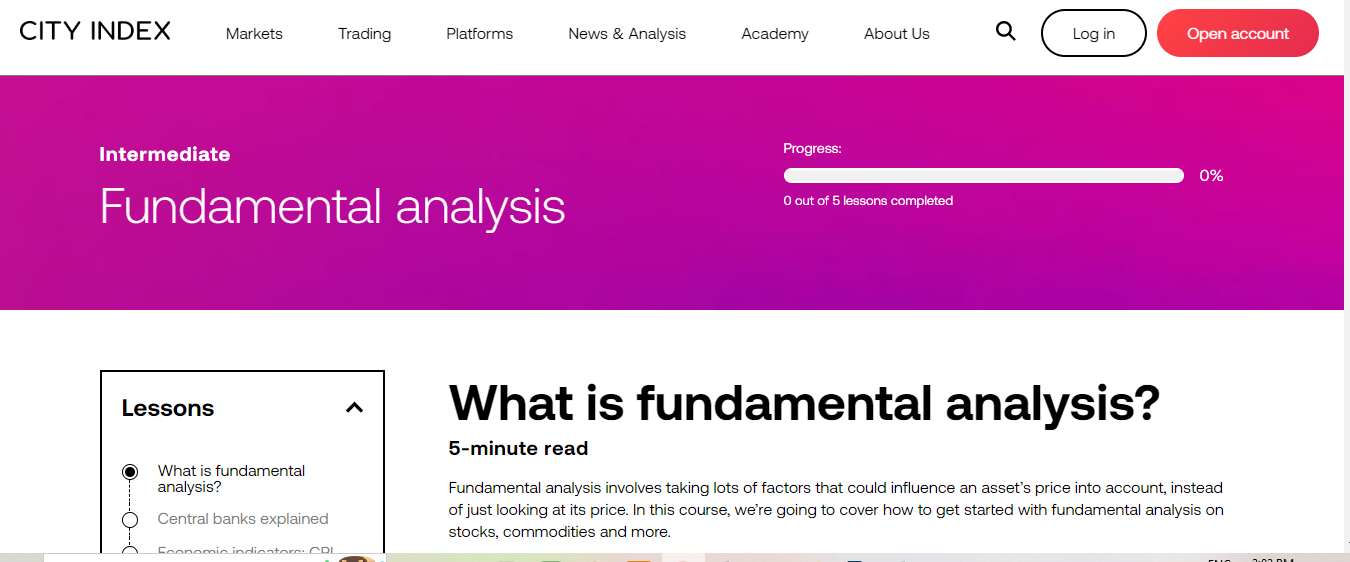 3. Glossary: Glossaries are good for getting the definition of terms quickly. City Index has a glossary for the definition of terms and some financial instruments. In addition, the glossary is easy to navigate and arranged in alphabetical order. This saves you time and helps you search quickly.
4. News: This section covers economic events and information that traders can use for research. Events or information that affects forex, commodities, shares, and indices are shared and analyzed by top professionals and market analysts.

There is quite a number of news covered in this section. But we discovered is that City Index made it possible to filter out old news and focus on latest research only. We found this feature to be time saving as we carried out this review.
4.Quick Lessons: If you are looking for a short explanation on various trading topics, City Index quick lessons is where to look. It is part of the forex broker's academy and is not structured like the courses. It is more like a combination of different topics that you can access directly.
5. Webinars: Financial Markets experts are available on City Index's webinar. They are certified by reputable financial bodies like the CFA. The webinars are well structured so you can track when they hold. If there is no webinar holding, you can watch the previous ones. There is also a filter you can use to know the most watched webinar. This is useful as it lets you know what other traders are watching.
City Index Customer Service
Good customer service is important. As a trader choosing a forex broker, you might have questions and inquiries. This is why we have reviewed City Index's customer support in Australia.
1) Live chat support: City Index has a live chatbot. It will be the first to respond to you on the live chat. When we got connected to the customer service representative, we had a few seconds of holding time. We got quick responses to our answers (within one minute). The answers were simple and relevant to our questions.
2) Phone number support: City Index have a phone number on their website. It is under their 'contact us section so clients change t support by calling this number – 1800 354 182.
3) Email Support: Australian traders can get email support on this [email protected]. We contacted City Index Australia on this email address and got an initial response in two minutes. The answer to our inquiry came after many hours.
4) Client Wellbeing: There are not many brokers that cater to their clients beyond business. Under city index wellbeing, the broker is willing to help if you are going through serious personal issues. Examples include losing a loved one, losing your job, retiring, mental health issues, physical disability, etc. City index encourages you to share these details with them so they can offer adequate help.
They also have a policy that protects all sensitive and private information you share with them. A form is provided for you to supply certain information like your name, email address, and account number. After this, you can go on to describe what you are going through (in a maximum of 10,000 characters) and submit the form.
Do we Recommend City Index for Traders in Australia?
City Index is low-risk to trade with. They are regulated by ASIC and the FCA. These are recognized, top-tier regulators. Also, the FSCS guarantees that your money is safe and can be refunded to you.
There are also risk management tools in place. Negative balance protection and guaranteed stop loss orders ensure that your losses are limited. You will also not fall into debt because you cannot lose more than your trading capital.
City Index Australia offers over 6300 CFD Markets without extra commission for currency pairs. Considering the above, you can choose City Index as your broker.
FAQs on City Index Australia
Is City Index an ECN broker?
No, City Index is a market maker, not an ECN broker. They also have a dealing desk.
Is City Index regulated in Australia?
Yes, City Index is regulated with the Australian Securities and Investments Commission under AFSL number 345646. Their registered company name is StoneX Financial Pty Ltd.
What is the minimum deposit at City Index Australia?
City Index require traders to deposit a minimum of AUD 150 to open an account. For either Standard or MT4 Account, the minimum deposit is the same
Does City Index have AUD Account?
Yes, you can deposit in AUD and make also choose AUD as your account's base currency.
Visit
Note: Your capital is at risk
Note: We may earn a commission if you decide to sign up with the broker via the referral links in this review. This help us cover the expenses of running this website, but this does not affect our honest & transparent review process. Thanks for your support.